7:51 a.m. on November 26, 2013 (EST)
GaryPalmer

244 reviewer rep
5,239 forum posts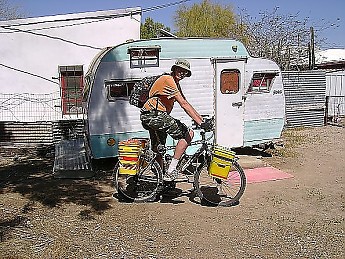 Me on my previous bike tour starting in Tucson last April 1st.
I have just 5 days work today through Saturday the 30th, then I am off on vacation from Dec 1st to March 31.
I will be packing my bicycle panniers and rack on Sunday, then after sun rise on Monday the 2nd I will be heading towards Zion Nat Park on the first leg of my journey. Its about 18 miles from my trailer house to the East entrance of Zion and another 6-10 miles to the Zion Tunnel which was cut through solid sandstone in the later 1920's. I have to hitch a ride through the mile long tunnel as bicycles and pedestrians aren't allowed in it. On the other side is a 3 mile downhill of switchbacks to the mouth of Zion Canyon.
My plan (weather permitting) is to stay near Zion and do some day hikes for 2-3 days and then bicycle on to my next stop of St George Utah 40 miles down the road.
I am going to camp often and sometimes stay with hosts of a bicycle tourer's site called www.warmshowers.com Its a website that covers all of the world. I just go to it, look at the map of the area I am cycling and find people who will allow me to stay either in their yard in my tent or in their homes in a spare room. Some also offer use of the kitchen, a shower,laundry and conversation. 
This past summer since late May I hosted about 2 dozen cyclists on their bike tours. My last were a couple from Spain and Italy. They stayed a couple night and are now in Arizona either still in or having passed Douglas on the southeast border of the state. They have been on tour for 4 years since leaving their homes in their countries. They are on their way to southern Argentina and spent 3 months touring across the USA.
So anyway I will be on the road for about 120 days. I will be traveling through the 5 states of UT,NV,CA,AZ,NM and back into Utah between December and March. I am not sure the total mileage yet but something around 2-3000 miles? 
I will post some of my pictures as often as I can get online here at Trailspace under Trip Reports of course. I hope many of you that can will follow me on this my about 63rd bike tour since 1982. I have averaged 2 a year usually from place like Wyoming to Arizona, from Massachusetts to upstate New York, around the USA, across Alaska and around the southwestern states many times. My longest tour was in the early 1980's when I rode 7000 miles from WY to NY, to AR to AZ and back to WY. In 2007 I rode across Alaska on a 30 day/ 1000 mile ride from Denali Park to Homer Spit,Then a ferry to Valdez up to Paxson and across to Cantwell near Denali Park again and back to Anchorage.
Last fall I rode 2500 miles and this spring about 486 miles. I have covered something like 100,000 miles since Sept 1st 1982. I have had a dozen different bikes, mostly mountain bikes with my first tour on a road bike from NW Wyoming the SW Arkansas 1900 miles in 21 days.
Now I average 30-50 miles a day, but on one 7 hour "wind at my back" day in the early 80's I went 156 miles, barely pedaling with a strong tail wind pushing me down the road in Wyoming from east Yellowstone Park to the Black Hills. My shortest day was 3 miles during a strong sandstorm head wind near Monument Valley on the AZ/UT border. I spent much of the day in an old Navajo Hogan away from the biting sand.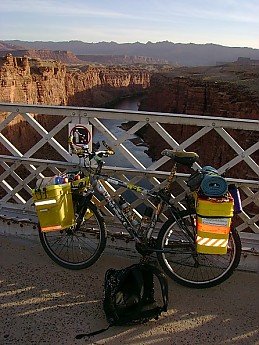 On Navajo Bridge over the Colorado River in mid April