4:54 a.m. on January 29, 2014 (EST)
GaryPalmer

244 reviewer rep
5,239 forum posts
I found this mountain in my research for backpacking in the Gros Ventre Wilderness/Range in northwestern Wyoming near Jackson Hole. It is 11.404 feet high. It is within the mountain area I plan to be backpacking this summer. I am hoping to summit it from the other side this year in July or August.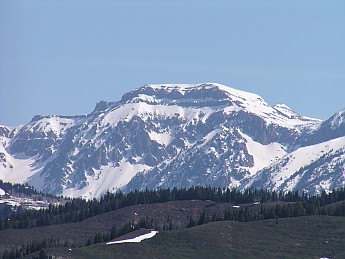 Palmer Peak above, shown in late spring.
Gannett Peak in the Wyoming Range just southwest of Palmer Peak, is 13,809 feet which is the highest peak in the Rocky Mountain's outside the state of Colorado.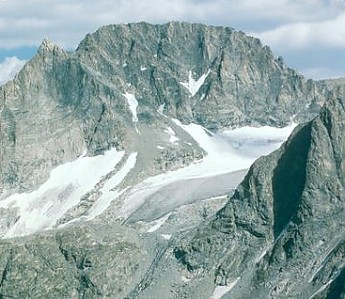 Gannett Peak
Again my summer plans are to backpack the Gros Ventre Range east and south of Jackson Wyoming in the northwestern part of the state. By summer I mean the 3 months of June, July and August during 75% of the months on 1-2 week trips, with resupply trips back in the town of Jackson when I also will leave trip reports here at Trailspace.
This will be my first "entire summer" backpacking trip since 1979,when I was in Denali Nat Park in Alaska. I have been in the habit of working summers since 1982 to support backpacking and bicycling adventure travel from Sept-May every year. I have wanted to take a summer off again ever since but have yet to do so. I have been working since last April to save enough money and buy new equipment to do this trip. I don't plan to look for work again until next winter in Tucson AZ in November after I leave my job here in SE Utah in May.
This link shows the area I will be backpacking. The town of Jackson is in the upper left corner. You can change to a topo map in the bar in the upper right where it says Hybrid by clicking the down pointing arrow. A Topo USGS USA is in meters, the Topo High USA is in feet:
http://www.mappingsupport.com/p/gmap4.php?ll=43.422301,-110.584646&z=12&t=h 
You can also zoom in and out on the map. 
I have 3 more months of work before I leave here the first week of May.