9:31 p.m. on December 22, 2009 (EST)
trouthunter

1,663 reviewer rep
3,956 forum posts
Hey guys, here is a trip I'm planning....and looking for some input from those of you who use Google Earth.
The picture below was generated by Google Earth. I like to use the program to find fishing holes in mountain streams.
The stream pictured below is the upper section of North Chickamauga Creek, located in Sequatchie County, TN.
35 15' 22.36" N 85 16' 48.98" W
If you look closely you can see the stream, large boulders, and rocks piled up along the inner bank of the bend. The white is well,......white water, or what we call the run. If you look just to the left of the bend in the stream you will see a dark patch in the stream, that indicates deeper water, or a 'blue hole' hopefully. I think this one is 6' to 10' deep, just an educated guess as I've fished the stream a good bit. There is another one I have marked with a blue balloon further downstream.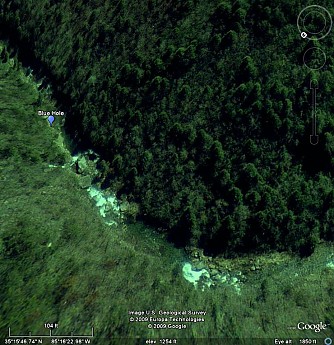 My plan is to backpack there from an existing primitive campsite close by. It is about a 7 mile hike to get to the campsite, and the course I have plotted from the campsite to the blue hole is another 1.5 miles, off trail. I plotted the course with the ruler tool on Google Earth, mostly just to estimate distance. Later I will plot a course on the actual topo I'm taking.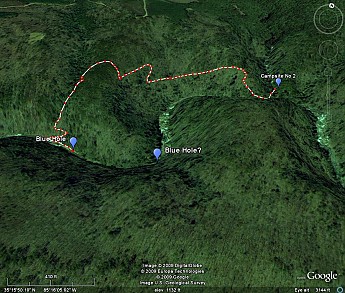 This is the course (dotted line) from the campsite (far right) to the first blue hole in the stream (blue balloon). Experience tells me I probably will not be able to stick to this course, I always end up modifying the route as I hike.
So....any tips, tricks, or advise you guys can offer concerning planning with programs like Google Earth? Add ons, links?