12:46 p.m. on September 8, 2010 (EDT)
GaryPalmer

244 reviewer rep
5,237 forum posts
If you are staying at Cottonwood Camp and want to spend some time seeing the
inner canyon, hike down the North Kaibab Trail towards Ribbon Falls and about
1/2 mile the trail crosses a side creek with a small waterfall on the west side
of the trail. This is Wall Creek Canyon. It goes northeast and is about two
miles long. Its an interesting lil side canyon. In places the creek may have
dissapeared beneath the gravel and sand but its still there flowing steady. When
after a couple miles the creek comes to a "Y" take the left drainage and follow
to its end. Its kinda brushy near its head but eventually you'll come to a
Dripping Spring, where the water flows out of the canyon wall at a slow drip
rate.
The canyon is full of view's of the many layers of sediments going in and coming out. Look for Big Horn Sheep
tracks in the gravel/sand of the creek bed. I have also found deer in the
canyon.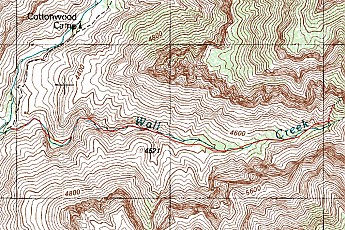 Wall Creek and Cottonwood Camp are near the North Rim along the North Kaibab Trail. Cottonwood is the northern most caming area in the inner canyon.
Another interesting hike is up Transcept Canyon which starts just above Cottonwood Camp and heads northwest below the Bright Angel Hotel on the North Rim. It only requires crossing Bright Angel Creek which is relatively easy except in spring runoff and after a rainstorm.
The Transcept as its called on the map goes for about 4-5 miles to the Redwall at its upper head. Sometimes there is a waterfall at the upper end. This "V" shaped canyon also has deer and sometimes Big Horn Sheep in it.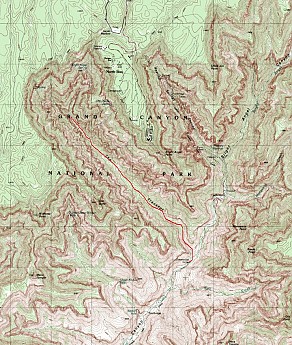 The Bright Angel North Rim Lodge can be seen on the point above the upper middle of the Transcept Canyon. Cottonwood Camp is near its mouth with the Bright Angel Creek and North Kaibab Trail.