Grand Canyon South Rim Snow?
7:06 a.m. on January 17, 2011 (EST)
11:07 a.m. on January 17, 2011 (EST)
I hope you made reservations for hiking. Permits in the Grand Canyon can be hard to get without a reservation, which are usually made months in advance. The Grand Canyon is one of the most heavily visited parks. The rim may have snow but within a few hundred feet down inside the snow and ice dissappears and as you decend it gets warmer. At the bottom at Bright Angel Camp and Phantom Ranch the temperture may be 50 degrees warmer than the rim. December and January were my favorite months to hike the canyon when I spent them there between 1983 and 2003, because it is so much warmer inside. Summers can be brutal as temps at the bottom reach 120 F in the shade. Otherwise spring in March and April and Fall October and November are the nicest times to go.
I am not sure what the snow conditions are like but do know they are expecting highs in the upper 40s. Here in Flagstaff we are about 1000-2000 feet lower than the South Rim and much of the last snow that fell between here and the rim is gone. It last snowed on the end of the year weekend.
If you cannot get an immediate permit for hiking, you can get on standby by getting to the backcountry office very early in the morning and getting a number. Then if someone else who has made a reservation does'nt show, they go down thru the standby numbers till they get to you. And you then can get your permit.
If you do have to stay on the rim because you could not get a permit on your first try, the campground may be cold, tho being from Fairbanks it might seem mild compared to up there. I worked at the south rim many years ago and there was this young woman from Alaska who even in midwinter wore shorts and a tshirt saying, "This is not cold!, You should live in Alaska in the winter!"
Even tho it is winter and not as hot and dry as summer, be sure to carry plenty of water. The inner canyon is a desert and water is still not available in many places. If you hike down the Bright Angel Trail, the first water will be at Indian Gardens about four and half miles down. Then after that it will be 5 miles to the Colorado River and then 2 more miles along the river to Bright Angel Camp and Phantom Ranch. Going down you may not drink as much and it will only take a few hours to do. But coming back up will take most of the day unless you are used to climbing Denali every day. Its a 5000 foot descent to the bottom in about 9 miles. And when you return it is 5000 feet back up. The lack of having water and something to munch on that will keep your energy level up is manditory. In places the trail seems very steep and you may find yourself huffing and puffing and feeling very exhausted. Take you time and rest and drink water often. Don't make your first trip into the canyon your last.
When I was in my prime in my 20s and 30s I could hike out in 5 hours and I was hiking the canyon everyday from October to April. I have met day hikers coming down and at the river with nothing but a camera in one hand and a soda can in the other (which is empty cause they drank it many miles back). They usually want to know how much farther it is to the Phantom Ranch and I ask them if they are staying there tonight? Most of the time they say "no, we are staying on the rim at one of the hotels" And I say well its whatever time in the afternoon and that it will take them at least 5 hours to hike back if they leave now or it will be dark. "Oh, its okay if we can't make it out the park service will take us out by mule" Yes, I say when you have died and you are strapped over the mule!
It is a strange reality but the canyon can be very hard. I have done it hundreds of times in 20 years and still do not like hiking out. It takes me much longer now in my 50s, tho I have not hiked there since I was 47 in 2003. I hike around Flagstaff and up the San Francisco Peaks in summer and thats as much uphill as hiking out of the canyon at about 5000 feet. Last summer it took me 5 hours to hike Mt Elden which is only about 2000 feet.
Good luck, stay at the Grand Canyon Hostel in Flagstaff  for the cheapest night. Its very comfortable and you'll meet many others from around the world. Its on South San Francisco Street south of Hwy 66 and the railroad tracks a couple blocks. Its about $20 a night with a kitchen and hot showers. Or you could stay where I work the Monte Vista Hotel and pay about $120 a night. Its a historic oldplace built in 1926-27 and is said to be haunted by a little girl who died there in the early 1900s.
Anyway if you go to: http://www.nps.gov/grca/index.htm This is the Grand Canyon National Park website, there yoiu can find access to all the information about the canyon including weather and snow conditions.
Have fun and tell us all about your trip when you get out!
1:19 p.m. on January 17, 2011 (EST)
Hi Gary, thanks for the reply!
It's nice to hear that the last snow between Flagstaff & the Rim is mostly gone.  I've been watching weather reports & webcams but it's hard to really know what's on the ground.  I do plan to camp on the rim the first night so I'm interested in what's there.  I see that they're forecasting a chance of snow Wednesday but not calling for it to accumulate.
I don't have the backcountry permits yet.  I spoke with the rangers at the backcountry information center as I was planning the trip (at the beginning of the month) and with the information they gave me I'm moderately confident I'll be able to get them in a day or two.  The permits take at least 2 weeks lead time to make it through the mail, and I was pushing it for time so I'm winging it.
What I'm not winging is everything else :)  I always cringe when I hear "I'm from Alaska, this isn't cold!"  Freezing is freezing is freezing, and I don't care if 25 degrees feels warm (which it sometimes does) it can still kill you if you're not paying attention.
While I'm not coming loaded for bear (as it were) I will have winter gear with the anticipation that I could be in 10 degrees & 2 feet of snow, and will be carrying & drinking water.  We are bone dry up here, especially in winter so I'm very accustomed to hydrating.
I plan to do a 3-day corridor loop: day 1- down South Kaibab, stay at Bright Angel Campground, day 2- up Bright Angel to Indian Gardens Campground, day 3- Bright Angel & out.  I'm in moderately good shape, but I am concerned about the elevation which is why I'm not coming up in one day. 
Thanks also for the Flagstaff recommendations.  I may look into the Hostel, but I don't do ghosts!
-Audrey
1:53 p.m. on January 17, 2011 (EST)
Well good I hope your three day trip goes well! Thats the way to do it down in one day then have a couple days to explore. If you get down early enough be sure to hike up the North Kaibab Trail into an area called the Box. Its a narrow section just a mile above Bright Angel Camp.
Also be sure to buy a post card at the Phantom Ranch store, and have it mailed from there. It will bear a postmark saying "Delivered by mule from the bottom of the Grand Canyon."
And on the way up to the rim after stopping at Indian Gardens and get a camp spot, hike out to Plateau Point about a 1.5 miles one way easy level hike. At the point you can look up and down the Colorado River and look down on it which is nearly 1000 feet below.
Be sure to use the food boxes at the campgrounds even if you are just going to the bathroom. There are Ringtailed Cats, Spotted Skunks, Ground Squirells and Ravens that would love you to leave your vittles on the picnic tables or in your tent where they can munch while you are out.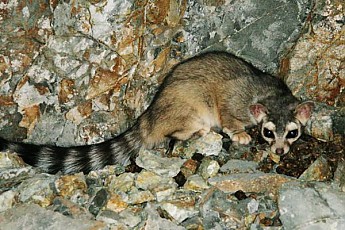 Ringtailed Cat (about the size of a housecat)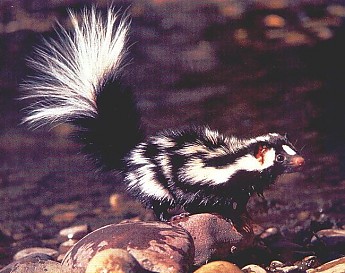 Spotted Skunk
The Ravens and ground Squirrels are like the ones in Alaska.
I worked in Denali Park in the summer of 2006. I worked at the Denali River Cabins from May to the end of July.
I also lived in Alaska back in 1977 to 1979 living and working in Anchorage during the winters and took the summers off to hike in Denali. I bicycled across Alaska after my summer in Denali in 2006. I flew from Denali to the North Slope and then cycled all the way down to Homer Spit, and returned to Anchorage. The hitched a ride with a Frenchman back to Denali, over to Paxson then down to Valdez where I caught the ferry back to Seward and took the Alaskan Railroad back to Anchorage. I stayd in Anchorage till the end of the year then flew back to southern Utah
What do you do in Fairbanks? Are you leaving Alaska or just taking a vacation? Are you flying into Phoenix and renting a car to get here and the canyon? Let me know when you are in town and I would like to meet you. I know a lot about the Grand Canyon after 20 years hiking it. There are also a lot of interesting places to see around Flagstaff.
4:01 a.m. on January 18, 2011 (EST)
Ahh, you're one of those crazies who biked the Haul Road eh?
I'm semi-joking :)  I do think that the folks who bike that route (Slope to Peninsula) must be a little nuts, but at the same time, it must be a pretty amazing thing to see so much of the state by bike.  Did you do any hiking in the tundra north of the Brooks Range?  That is friggin amazing country yes?  Up closer to Prudhoe it feels like the sky goes forever...  Anyhow, that's quite a trip you did.  I haven't traveled the Denali Highway end to end for quite a while and I'd like to bike it one of these summers.  Harder to plan when you actually live here :(
This trip is a vacation, I'm not planning to live outside AK ever again.  Don't want to go on & on about land ownership and such, but the public lands here are a pretty big deal to me.  We've lived in Fairbanks for 9 years (my husband & I have a photography studio here) and I grew up in Eagle River.  There's still a lot of the state where I'd like to live, so I'm not sure I ever see a need to leave! 
It would be great to meet while I'm in northern AZ, but I'm doing kind of a whirlwind trip through and I've set a pretty tight schedule for myself.  I'm flying into Phoenix, picking up a car and going straight to the GC.  Once I'm out I'm driving across to NM, north through CO and visiting my Grandma in Western Nebraska.  I plan to camp at Petrified Forest & Bandelier then I have family in Colorado Springs that I'll stay with for a night.  I may end up at KOA's instead of Petrified Forest & Bandelier, I'm in negotiations with my husband.  He's concerned about my safety as a solo camper, so we'll see what shakes out.  If I do end up waiting for backcountry permits I'll shoot you an email and see if you're available for a last minute day hike or something?  It would likely be around the 21st.
Thanks again for the Canyon tips/info.  I can't wait to get there!
-Audrey
11:14 a.m. on January 18, 2011 (EST)
Yes, I did hike the tundra above the Brooks Range. Saw many foxes and yes the sky looks huge up there with no mountains in the northern area to block the view. I thought the days were long when I worked in Denali but down there the Alaska Range makes the sun drop below the horizon. Not so above the Brooks Range where the ground is so flat that when the suns goes to its lowest point its still above the horizon like a 3 hour sunset/sunrise.
I left my job at the Denali River Cabins the 29th of July and by the first was up at the North Slope. The pilot that took me there from Cantwell bought me dinner at the oilmans cafe. I met a lot of the workers there and they thought I was nuts to be cycling all the way down to Homer. But I assured them I had done many bicycle tours before and other than the vastness of the country it should go without a hitch.
The mosquitos were'nt too bad, and it rained so much like every other day. The tempertures were about 60-70 degrees. The hardest part of the ride over the Brooks Range was all the truckers, being the road is not paved thru the range the dirt and dust was almost too much. I had to wear a bandanna around my face and I even stretched a piece of clear plastic over my glasses to keep the constant dust out of my eyes.
Going down the south side of the Brooks Range was okay and it took me about 30 minutes to go 56 miles at one point. I was swerving in and out of the truckers and RVs. At one point there was a two dead moose that had wandered out during the night and were hit by two trucks. The huge bodies laid besdie the road and were quite mangled.
The best part of the trip was when I crossed the Yukon River, getting out in the middle of the bridge and seeing the water roll by. Only the Mississippi in the lower 48 compared to the view.
In 1983-84 I rode my bike leaving September 1st 83, from Jackson Hole WY to Rochester NY, then down to Hope, AR. Then after a the winter in Arkansas I headed west across Texas to Tucson AZ, then back north to Jackson Hole. The whole trip not counting time in Arkansas took me 6 weeks and 7000 miles. I was 27-28 years old. I have done many other rides mainly from Jackson Hole to Arizona in the fall and back in the spring, about every other year since 1985 to 2007. My first ride was from Jackson to Hope AR in 1982. Before that I had hitchhiked everywhere. In 1977 when I was 21 I hitchhiked 8000 miles around the entire USA, I went from ARkansas to New York, to Wash DC to Denver CO, to Glacier MT to Seattle WA, to Los Angelos AC and back to Arkansas from June -September. I then hitched back to Seattle in October 1977 and flew Alaska Airlines to Anchorage. I worked at Wendys from October to January at the Post Office Mall downtown on 4th Ave and C Street. In January I got a job at Bob Big Boy on Northern Lights and C Street and worked till May. I quit and went up (hitchhiked) and spent the summer of 78 in Denali Park till late August. Then hitched back to Anchorage and worked back at Big Boys till the following summer and went back to Denali again in 79 for another summer. I went back to Anchorage once again planning to stay another winter and worked at the Capt Cook Hotel in downtown but around Christmas was layed off so I decided to come back to the lower 48. I didn't work again till the summer of 1982 when I first started going to Jackson Hole. I had saved about $4000 in Alaska and had all new backpacking and camera equipment. I spent from Jan-May of 1980 in Yosemite winter camping, then just hitchhiked and backpacked all over the west.
Since then in 80 I have spent my life working the summers in Jackson and taking the fall winter and springs off backpacking in places like the Grand Canyon, Zion, Yosemite, Glacier , the Tetons and down around Tucson. My life has been semi-retired only working about 3-6 months a year. I am currently living and working here in Flagstaff AZ saving to take a year or two off exploring southern Utah after the spring of 2012.
I live cheaply when I am not working, living only out of my backpack and spending no more than it takes to eat month to month. I can live on about $1200 a year if I only bought food and lived in my tent. I will be 55 this Friday and hope to continue this lifestyle till I am in my 70s. Chances are I may die in the mountains, as food for Ravens and scavengers.

More Topics
This forum: Older: Sequoia/Kings Canyon in Feb....need advice Newer: Camping store at Grand Tetons
All forums: Older: Dell Latitude XP laptop Newer: Kids in the Backcountry
Topic: Grand Canyon South Rim Snow?