7:12 p.m. on September 14, 2011 (EDT)
Patman

2,155 reviewer rep
2,129 forum posts

It was back to the more familiar trip last weekend; a dash to the Smokies after work on Friday. I wanted another shot at catching the views from the "Sawteeth" which is a ridge section of the AT through the GSMNP that I'd never experienced in good weather.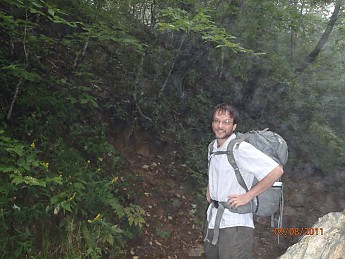 The excursion started about 7 PM on a cool and windy evening at Newfound Gap (around 5100 feet).
The three mile "access hike" to the Shelter only took an hour or so. Editorial note: This section of AT was built by hand with picks and shovels in 1932, wow.
I startled a little black bear that was drinking from a small run-off cascade on a big rock in the trail. I tried to get a picture to no avail. It's really hard to get a bear pic while hiking. They bolt so fast. But such behavior is good and healthy for both us.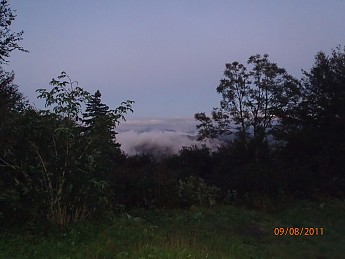 This was the view from Icewater Spring shelter (where I arrived to find two folks already holed-up in their sleeping bags on the shelter "shelf"). Nice fellows as it turned out; we were all three solo hiking with different itineraries, converging at that spot for the evening.
Here is where my planning fell short: I hadn't brought a sleeping bag, only the narrow Therm-a-rest "tech" blanket from the summer kit. The blanket was rated to 35 degrees F, but I would now say that is probably the temperature at which it will keep you alive, not comfortable. According to my key-chain thermometer it got down to 38 that night (may have been colder but that was the low when I looked). It seemed as if every time I shifted, the narrow blanket exposed some body part to the air. I wound up putting on all the clothes I had brought and my rain gear. So I didn't sleep very well that night. It was quite a contrast from my last trip to theGrand Canyon! Even though summer isn't officially over, that little blanket isn't getting back in to my pack until next year, lol! (Better to bring the 20 degree bag and not need it than to need it and not have it, right?)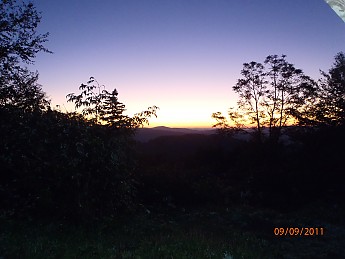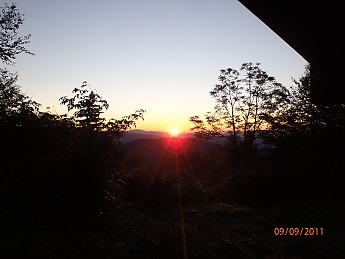 This was sunrise from Icewater Spring shelter. (At sunrise the temp was still only 40 degrees F which I confirmed with hiker Brian who also had a thermometer)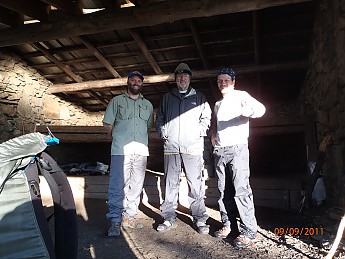 The shelter fellow line-up (Brian from Charlotte, NC, Charlie from Lexington KY, and me from Knoxville,TN)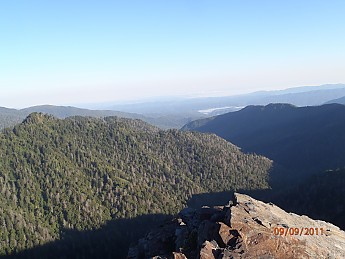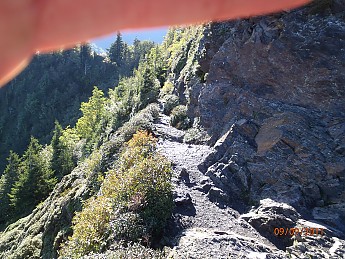 I was passing by the Bunion in the morning light.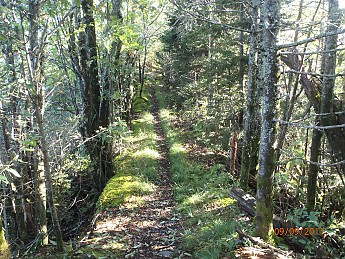 This is an example of the narrow ridge-top type trails across the Sawteeth formation; a fully pleasant trek as always on this section.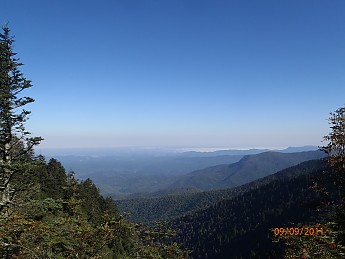 Views to the North (Tennessee)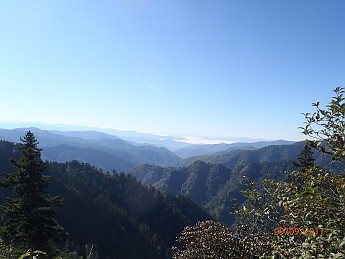 And views to the South (North Carolina)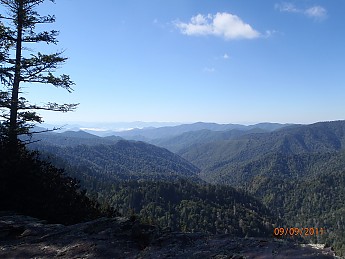 This view is from the location of an old Shelter at False Gap (removed in 1980).
It was great to finally see this area without rain or fog! It took several attempts but hey it's the Smoky Mountains not the Clear Mountains right?
I left the AT and turned south on Hughes Ridge trail and stopped at Pecks Corner Shelter for first lunch. It was a very peaceful place to have all to myself.
While I generally love (and prefer) high elevation trails, this day I was looking forward to descending a bit so as to warm up. I was still just a bit chilled from the night before despite the 7 mile hike between shelters.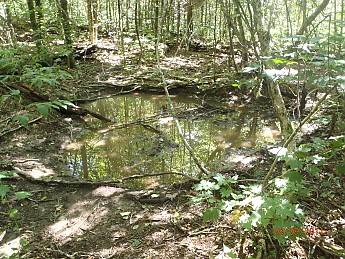 I don't know the origin of this mud seep but it's in a heart shape (which would be an odd natural occurrence indeed).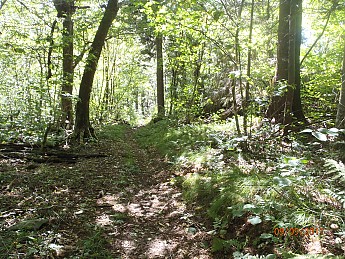 Hughes Ridge stays fairly level for quite a ways and is a great trail for solo ambulation (and if anyone needs to know you can get Verizon signal about two miles from Pecks Corner, but only in a narrow spot for some reason).
Editorial note from my history book: this area was home to 49 Cherokee families who had been ceded land by treaty in 1819 and became U.S.Citizens (allowing them to resist the Cherokee removal of 1838). They were joined by fugitives from the Trail of Tears and eventually became the Eastern Band of the Cherokee.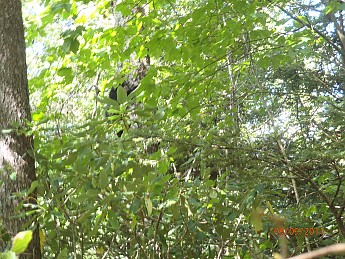 Here is a little black bear up in the tree. I accidently startled mama and she ran off like a scalded dog. However, she was HUGE and I didn't linger to get a better picture of junior.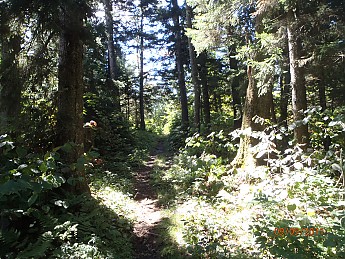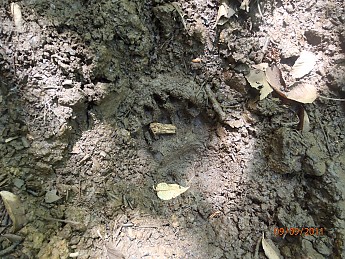 Continuing on down the ridge and thankfully it was getting noticeably warmer. Another big bear somewhere around here (or maybe this was mamas print?)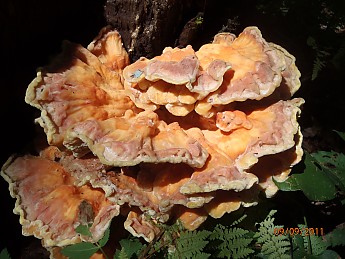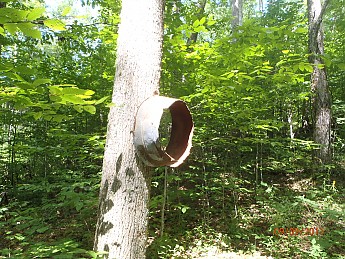 I took a right on Bradley Fork, the destination being Cabin Flats campsite which would make about a 14.5 mile day. It was a lovely hike and not quite as far I usually wind up going on Saturdays but I was bit worn down from the lack of sleep. Sometimes that makes for a "low energy" day, I suppose.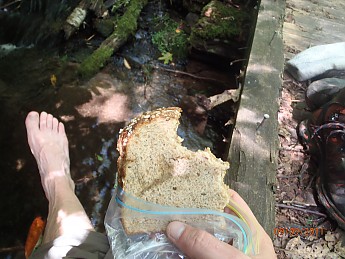 At a little horse bridge, I had stopped to soak the feet and have second lunch.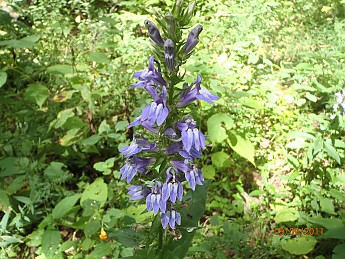 A summer bloom was hanging in there.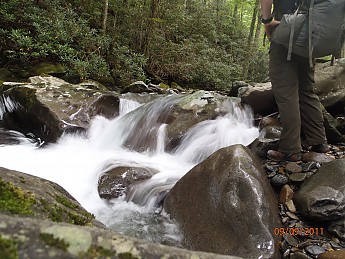 Bradley Fork had many beautiful small waterfalls and cascades. Pictured is white water near the intersection with Cabin Flats trail.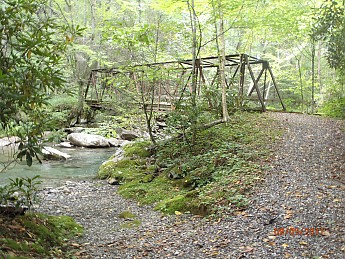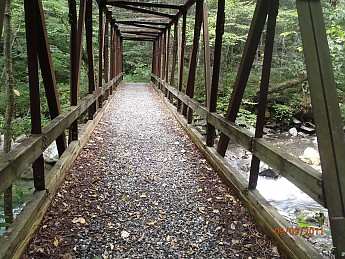 After starting up the trail I came to this cool old bridge.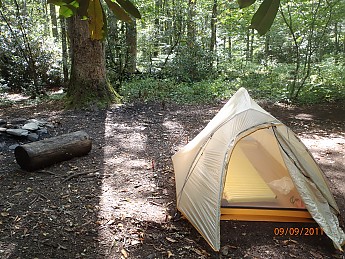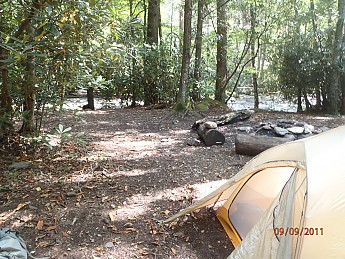 Cabin Flats was a very nice camp site and aptly named. There were several nice areas with fire rings and about six sets of bear cables.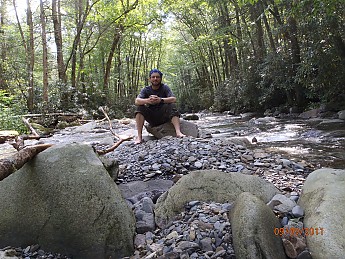 I was glad to be somewhere with tent pitched and all "camp stuff" done that particular afternoon, it was time to relax (yes, even on a rock in the creek).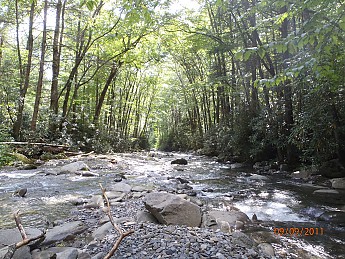 And it was a much more beautiful scene without me in it of course.
I spent the evening in achilled out fashion; absorbing the natural ambience and reading until the light failed. I was treated to some excellent visibility for star gazing ( always a treat).
I had the whole place to myself (at least while conscious) that evening. I awoke to find that someone had arrived during the night and setup a few spots down from me. Per logic, it wasn't as cold at this elevation (I estimated it to be about 2600 feet based on the topo lines on my map) and I slept very well with just the little blanket.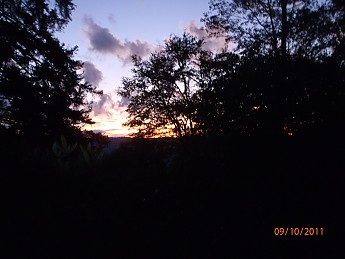 I was up early and decided to start the day by headlamp. I took the Dry Sluice Gap trail back up the AT. This picture is sunrise from that trail about 2 miles from the AT. (Total exit hike back to the car was about 8.5 miles).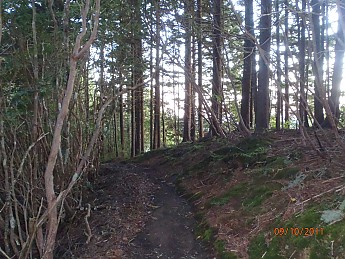 The hike from the junction of Dry Sluice Gap and Grassy Branch Trail was surprisingly level and a nice change after the climb out of Cabin Flats.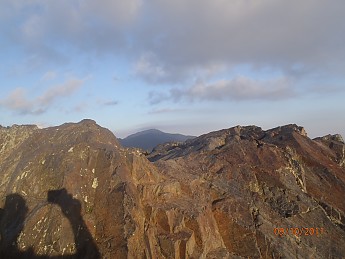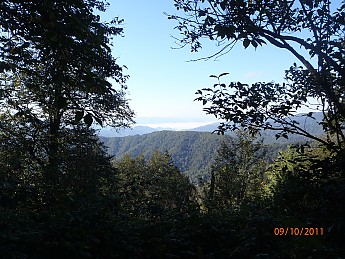 There were a few more nice shots on the way out although these are "back track" pictures as I looped back down the AT to Newfound Gap and my car.
I just never get tired of these mountains; every trip holds great joy for me. Even with a low energy day and ill preparation for the weather, this was a nice outing and so very good for my head.
I'll close with an encouragement to get out there and go see it in person;
 Strap your house on your back and go! Now!
Happy trails....