4:59 p.m. on October 23, 2011 (EDT)
GaryPalmer

244 reviewer rep
5,248 forum posts
Last weekend I did my first small backpacking trip near Tucson AZ. I biked from Tucson to the edge of the Catalina Foothills at a place called Bear Canyon. My goal was a place called Seven Falls.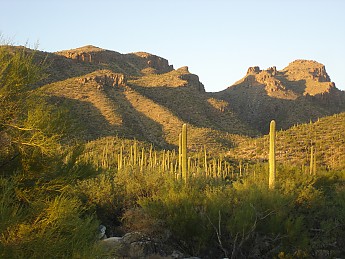 Starting the hike late in the afternoon I camped near the trailhead. I shot this at sunset just after I sat up my tent,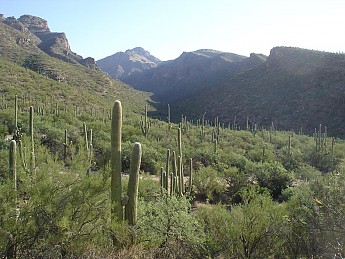 Morning at sunrise on the second day, looking up Bear Canyon still half in shade. Luckily the shade lasted till I arrived at Seven Falls about 3 miles up the canyon. Even in late October the early morning sun can make temps in the 80s.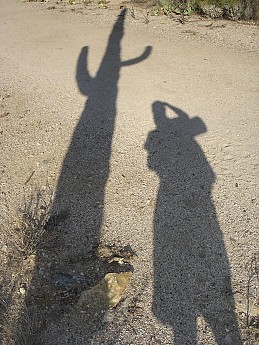 Saguaro and me in the early morning light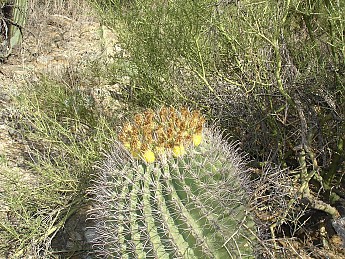 A Barrel Cactus covered in fruit. The small fruits look much like a pineapple and have a texture like a pepper and have a lemony flavor.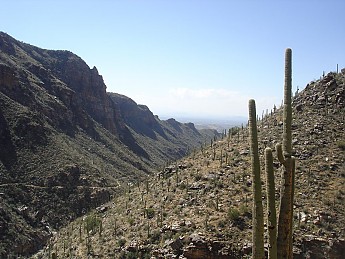 Saguaro Cactus and lower Bear Canyon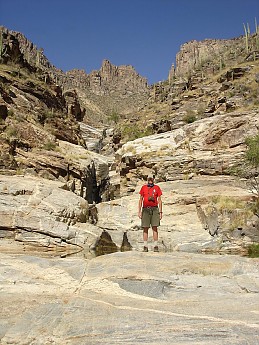 Seven Falls, I was the first to arrive. This place is not as popular as it should be. Many first time hikers arrive and find a place that even after years in Tucson marvel at a place so close to the city yet they have never been here. I have been to the falls a few dozen times because it is so little known and usually have it to myself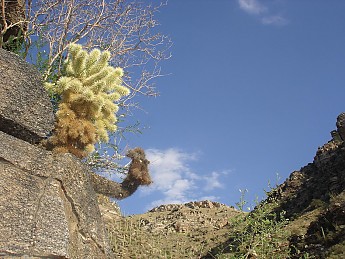 Cholla Cactus clinging to the rock above the falls
A garter snake who seemed to like the cool water too. I thought it may have gotten in the pool by mistake and took it back to dryland. But it headed right back to the place I found it. Later I found a shedded skin from it in a rock crevice near on of the falls.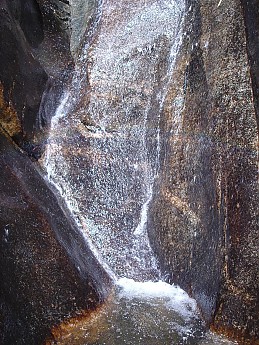 One of the falls drops into a narrow cleft andsprays water all around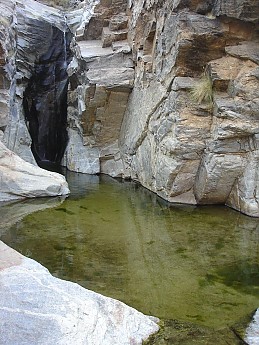 This is the pool below the falls above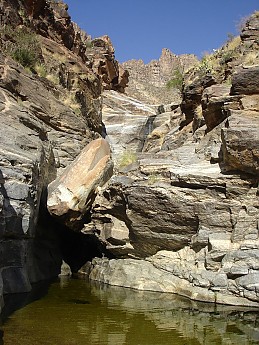 This pool had a cool rock wedged in it above, its falls were behind and below the rock.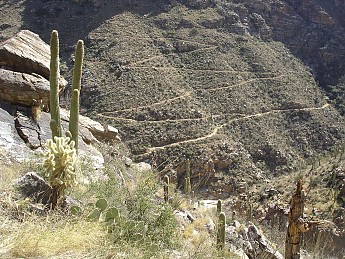 The switchbacks are opposite the falls and lead to the upper sections of Bear Canyon
At sunset the light reflects off a granite monolith above the falls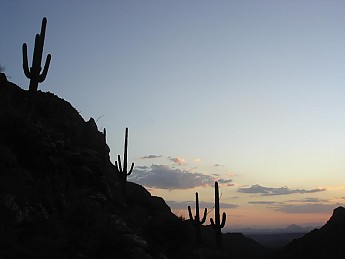 Saguaros at sunset looking down Bear Canyon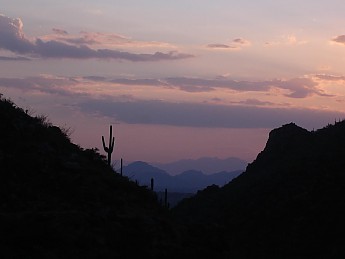 As the sun disappears in the west the desert below turns colors of blue to purple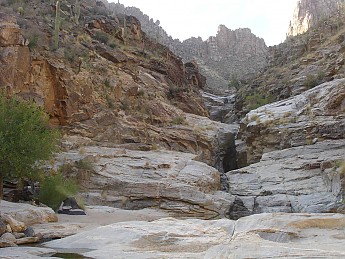 Camp in the sunset light at the base of Seven Falls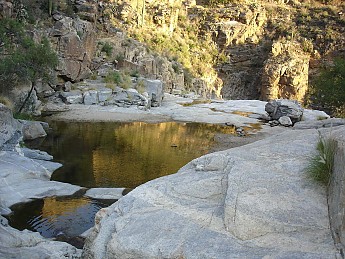 Even the lower pools reflect some of the evening light
Below the falls the water spills down over white and black Granite before falling to the canyon below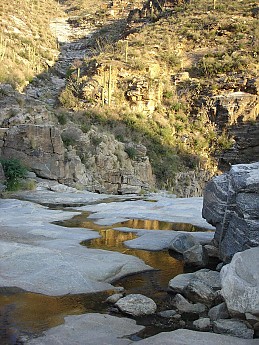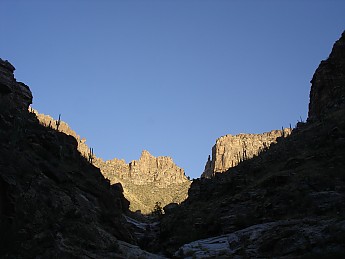 Sunrise the next morning shines high on the cliffed ridge above the falls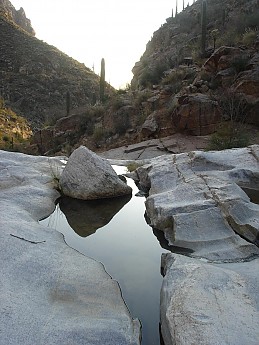 Early morning light on the 3 day at Seven Falls