8:29 p.m. on October 27, 2011 (EDT)
Patman

2,155 reviewer rep
2,119 forum posts
Fall hiking is one of the really, really good things in life. Most choices of destination are fine ones this time of year but a desire to avoid my fellow man and enjoy some peaceful solitude led me to the place that usually provides such: Big South Fork, TN (and KY).
I originally intended to hike a loop requiring a ford of the river but when I got there and saw the water level I realized that wasn't going to happen. So I decided to head out from the Leatherwood Ford parking area on the John Muir Trail to see a new-to-me section.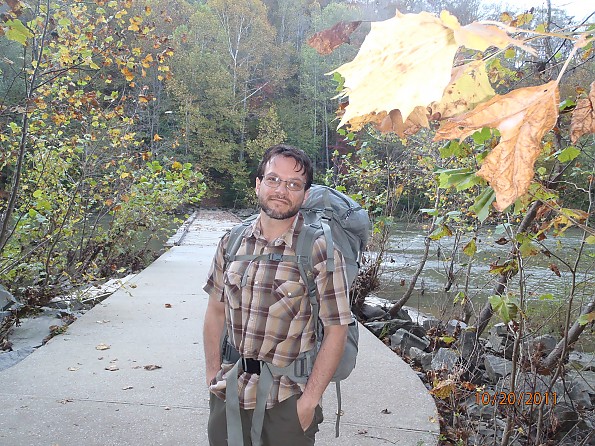 Here I was starting out after a trying day at work and a 1 hour, 27 minute drive to the trail head. The river was up to the bridge behind me which was a bit high for that spot. I talked to a ranger earlier that said the CFS was 2500 the day before.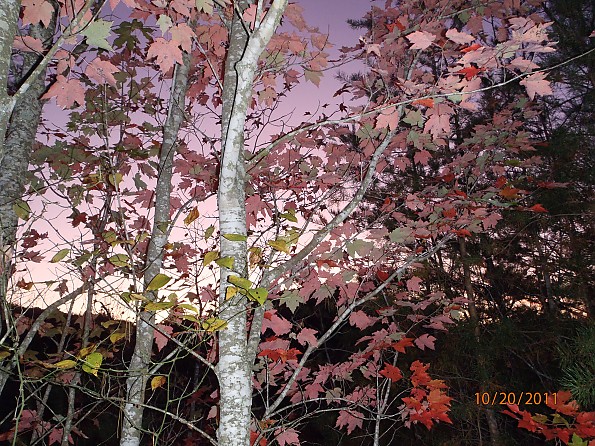 I was bound to night-hike a little with the late start but I knew the first several miles ahead very well, (so it wasn't stressful like more recent night hikes in other areas).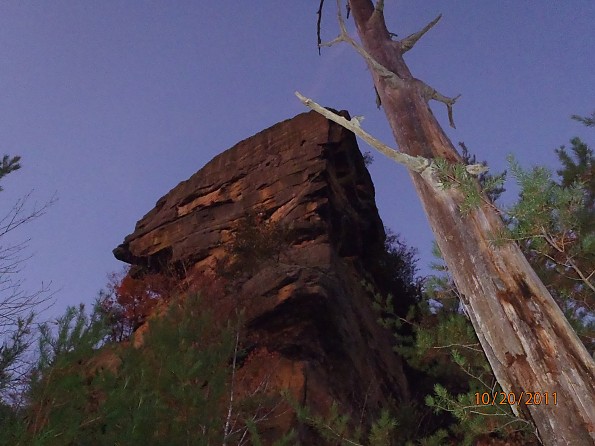 This was an up-shot of the Angel Falls Overlook I hiked North on the JMT; the woods behind the overlook was my evening's destination. Although from there it was only 200 ft above me, it was still a winding trail for about .75 miles.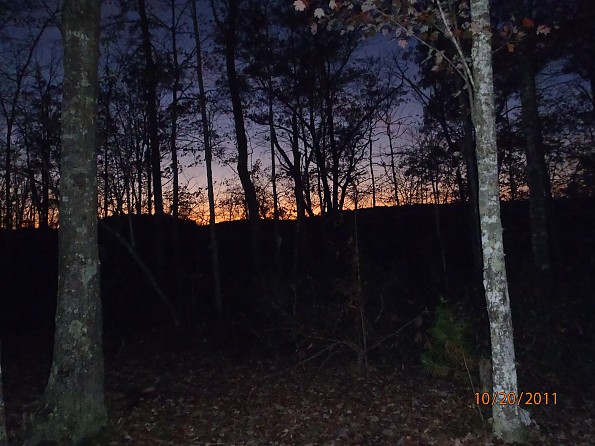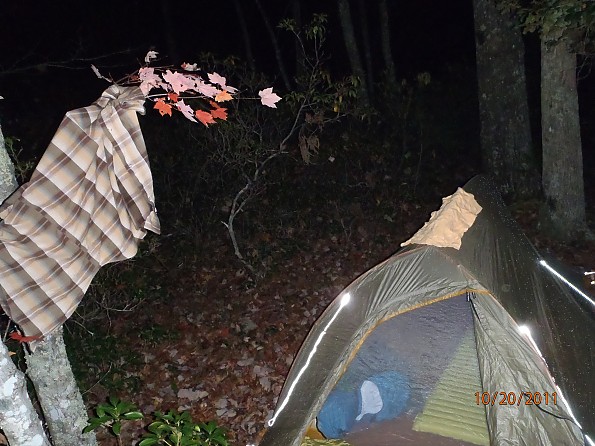 I meandered back in to the woods until I found a likely camp site and made a quick camp.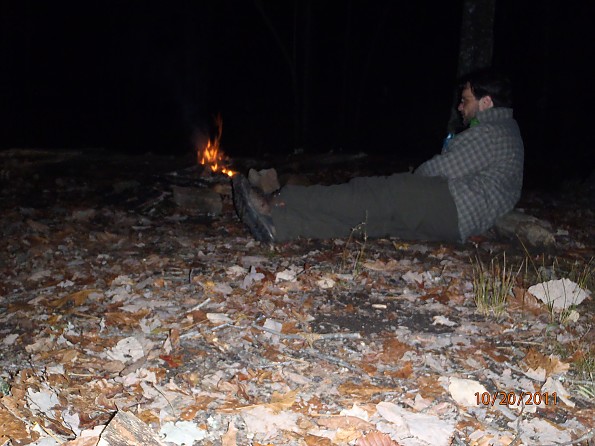 It became cold quickly after the sun was down and I made a little fire but of course the down sweater I had on under my shirt was way more effective for warmth than a little open flame.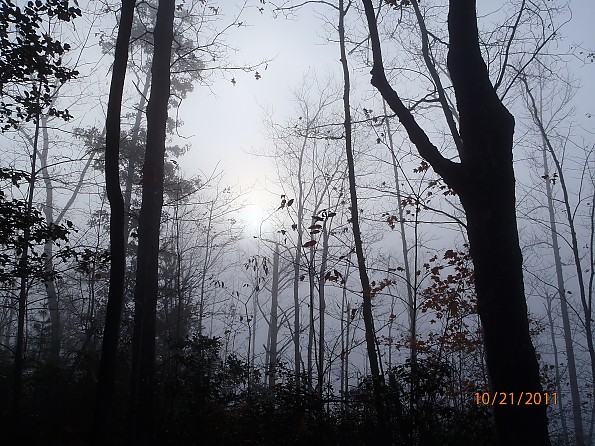 The morning of day 2 was cold and wet. I'm not sure if it actually rained but the heavy fog created a rain-like condensation on everything. I found it hard to get going…It's never fun packing up a wet tent.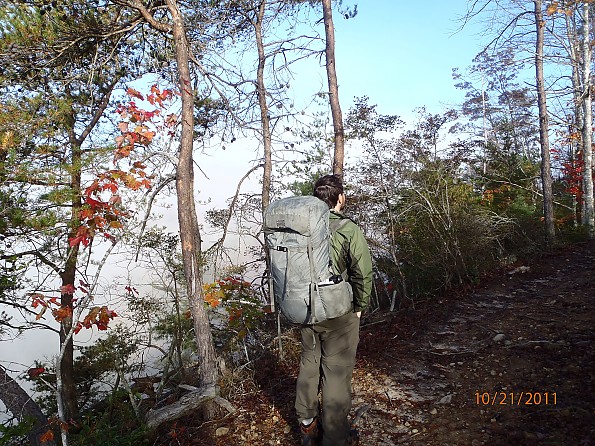 After making a side trip for water I was packed and headed out. I forgot my bandana so it's bed-head day. To my left in the picture is about a 500 foot cliff but it's too foggy to see the gorge below.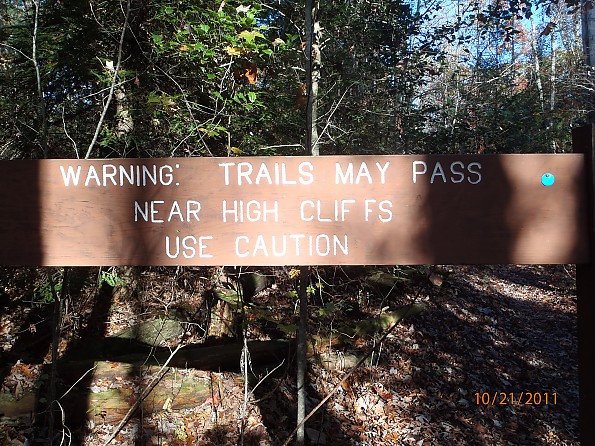 Trails with caution signs are usually better than those without.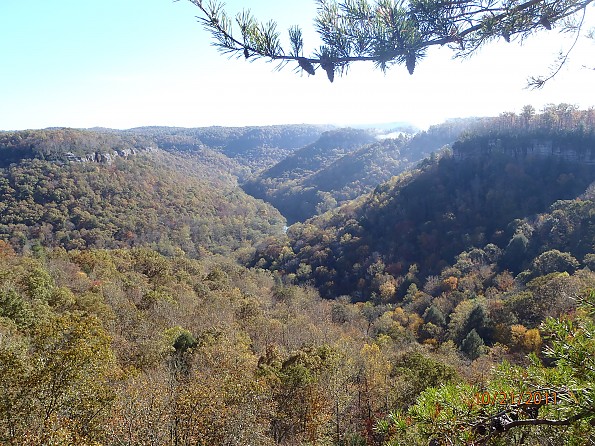 This was the first stop of the morning to check out the river gorge view.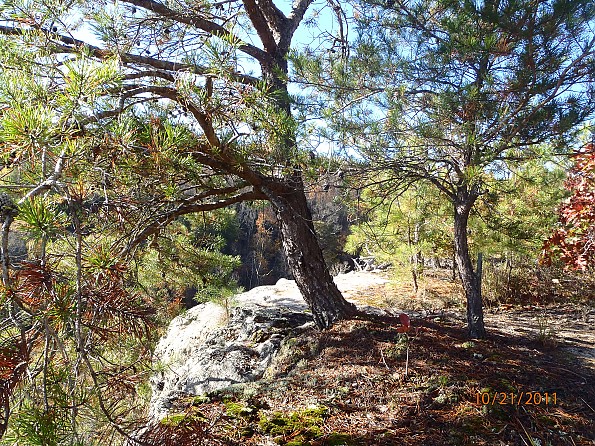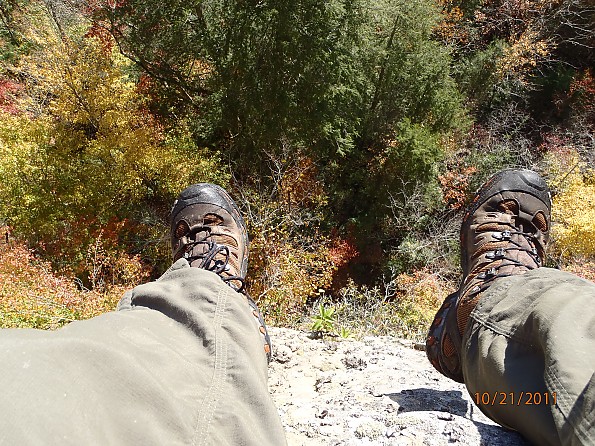 It's fun to dangle.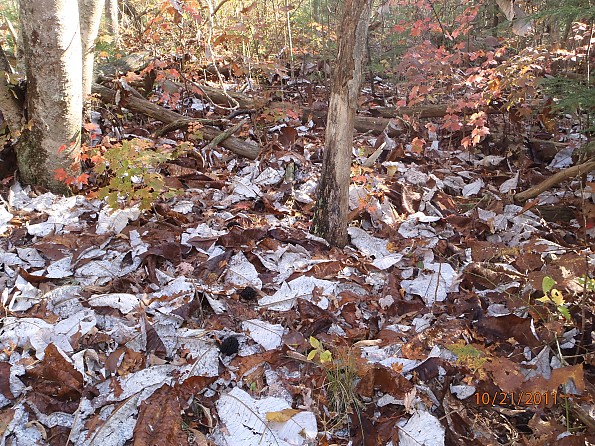 At first glance those huge downed leaves like paper trash.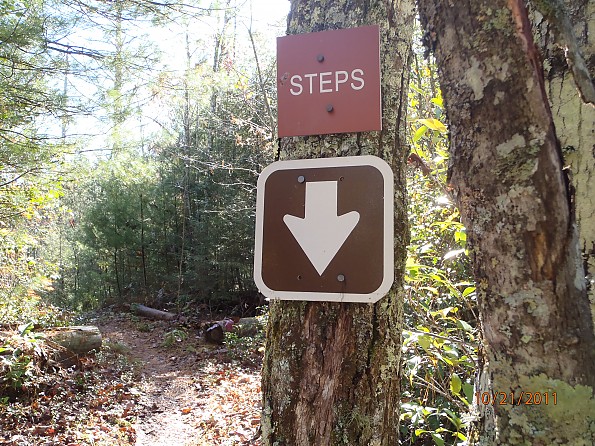 Oh yeah…that trail was open to mountain bikers. I'm sure they appreciate having the steps marked with signage.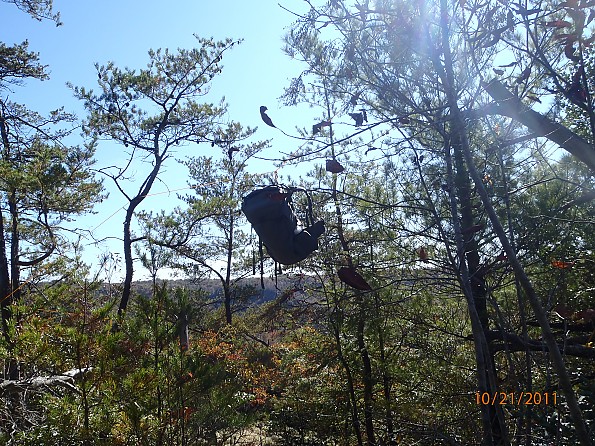 I left the main trail for a promising looking spur and was rewarded by finding a very nice campsite on a bluff overlooking the river gorge. I decided to call it home. I hung my tent to dry and hung my main pack to keep the critters out. I then donned the little Sea-To-Summit day pack and continued on a day hike of the JMT needing to find a water source.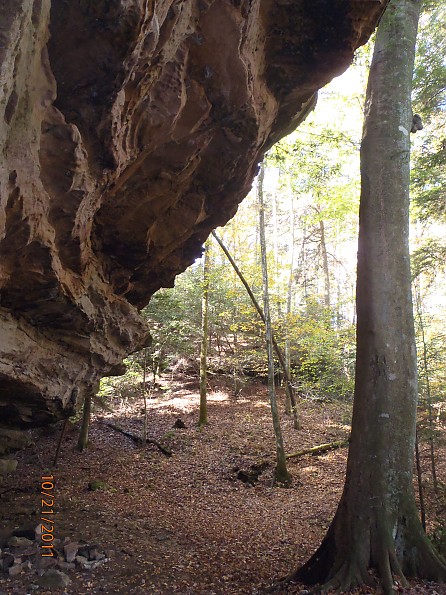 There were many rock overhangs and rock-houses that had established camp sites. With a bit of planning a person could leave the tent behind in this area.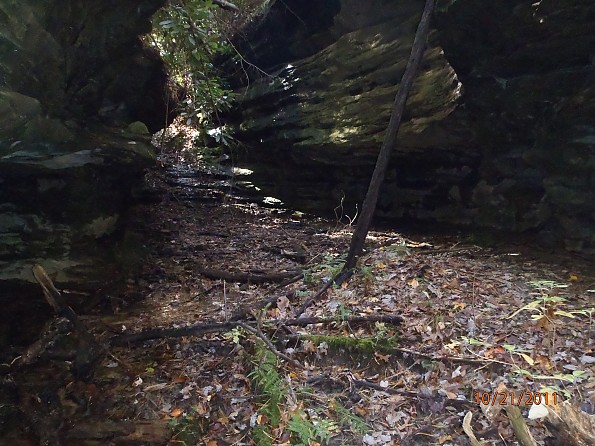 I eventually found a spring by tracing damp soil up into a crevice behind a rock house.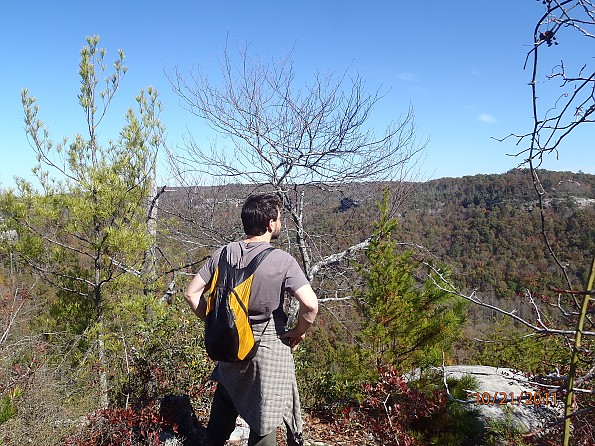 And soon came to another nice bluff overlook….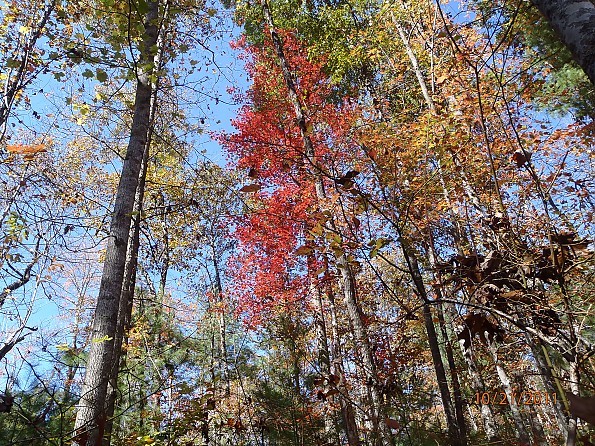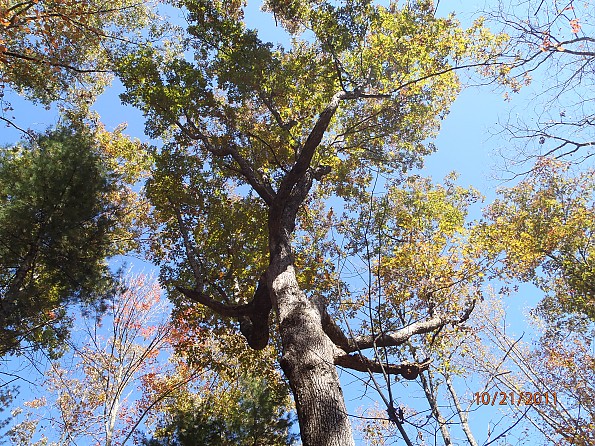 The trail wound from cliff side gorge to mixed forest on big lazy curves for the next several miles. (Very easy nice hiking)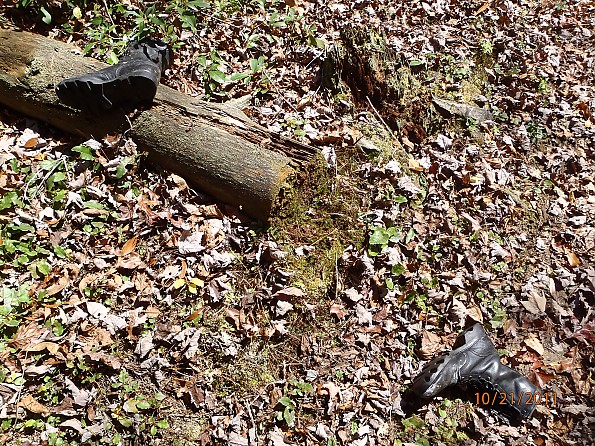 Castaway boots have been everywhere this year. Its funny how most backpackers can emotionally identify with the notion of casting off a pair of ill fitting boots. Though inanimate, non-sentient objects, boots seem capable of having loving or hateful relationships with us.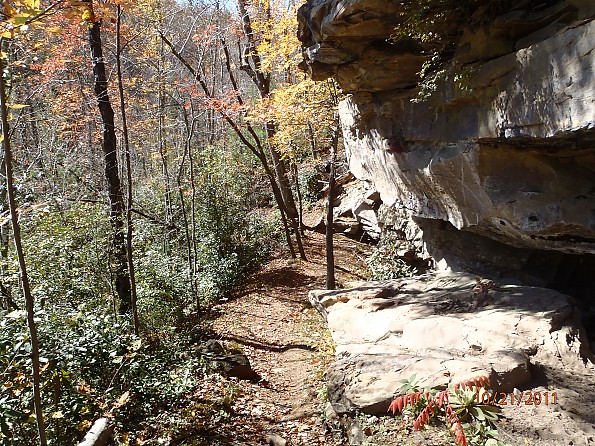 I went within a couple miles of Station Camp (where I was going to cross before seeing the high water) and turned back. I've been dealing with some recent foot pain and I would pull about 13 miles on the day by turning back then. I unfortunately had to moderate the miles.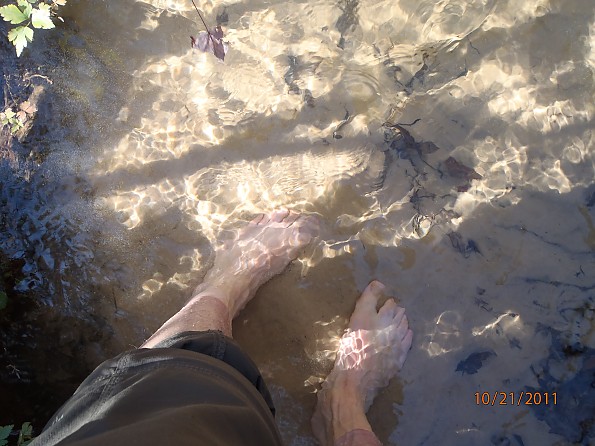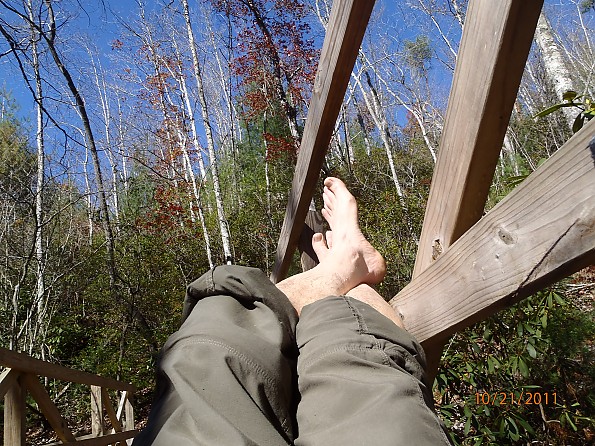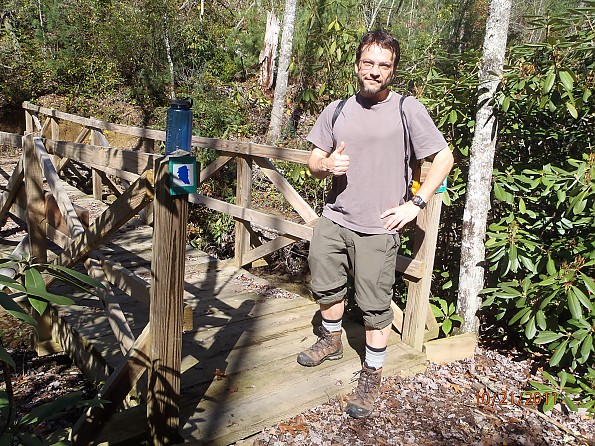 I stopped at a little bridge and stream in Duncan Hollow for a siesta in the beautiful autumn sunshine.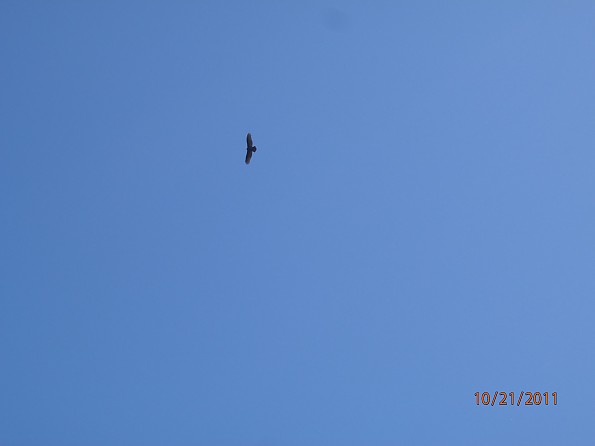 I spied a hunting hawk.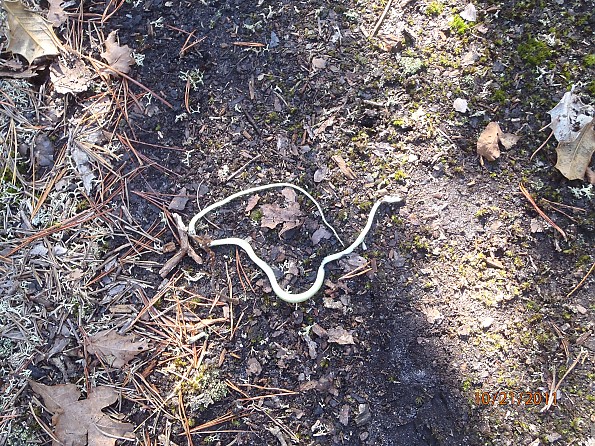 And an expired little snake.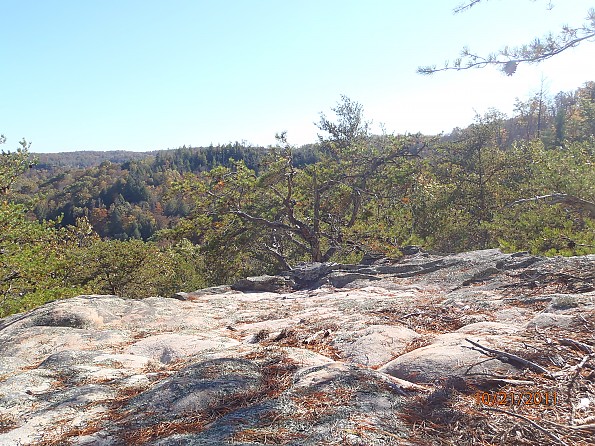 Arriving back at my "quilted" rock top overlook, it was time to relax for the afternoon.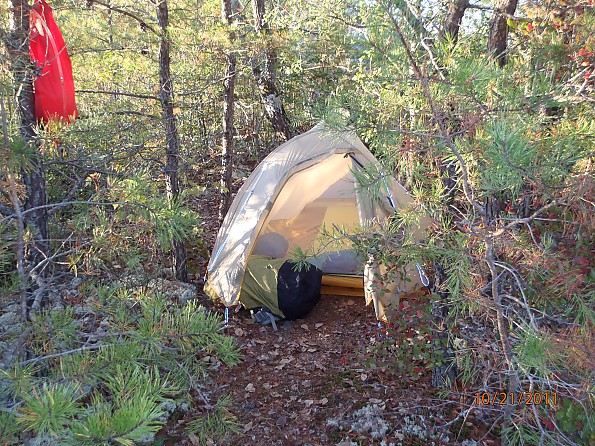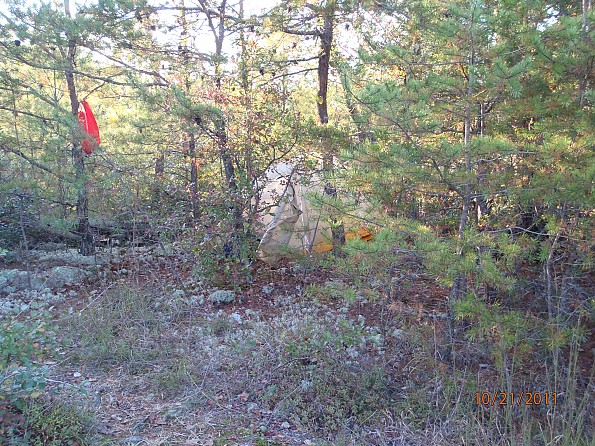 I found a cozy spot to pitch the now-dry tent.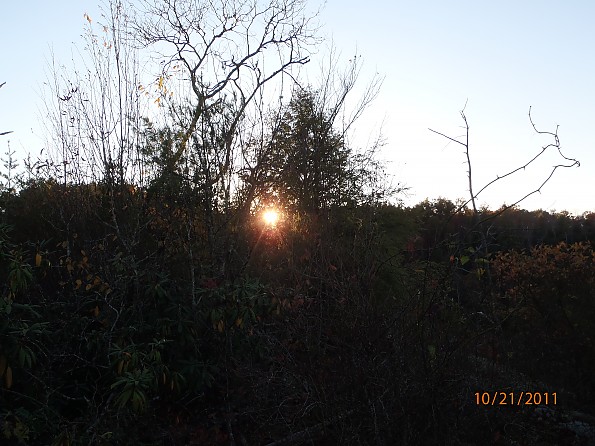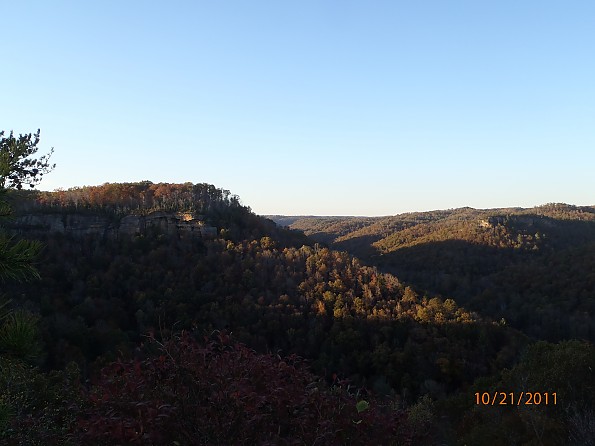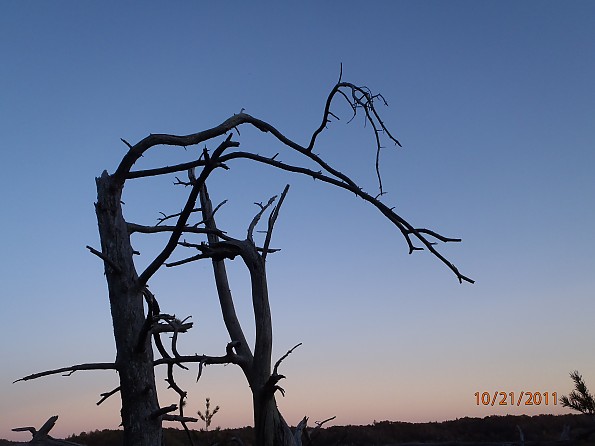 I enjoyed a mellow sunset as the golden light and resultant shadows draped over the river gorge valley below.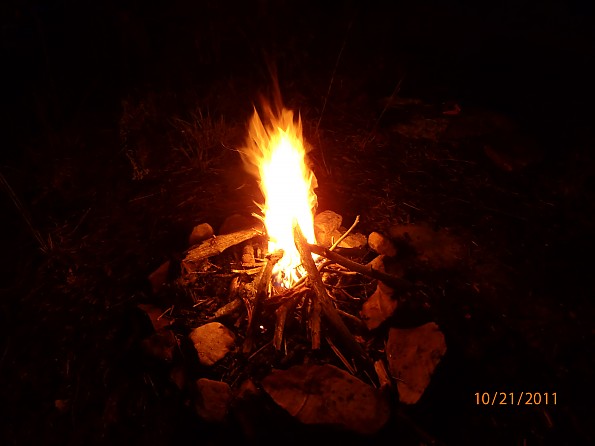 Bone dry old cedar was all over the place and it made a fun little jet of a fire.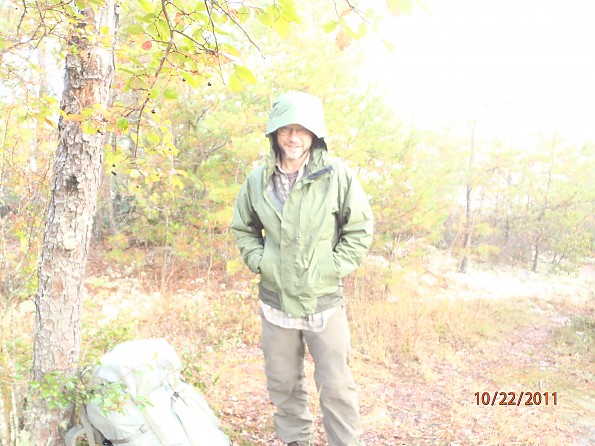 After a lazy morning on the now cold and wet bluff I was ready to start the exit hike. This picture turned out strangely colored but kind of neat.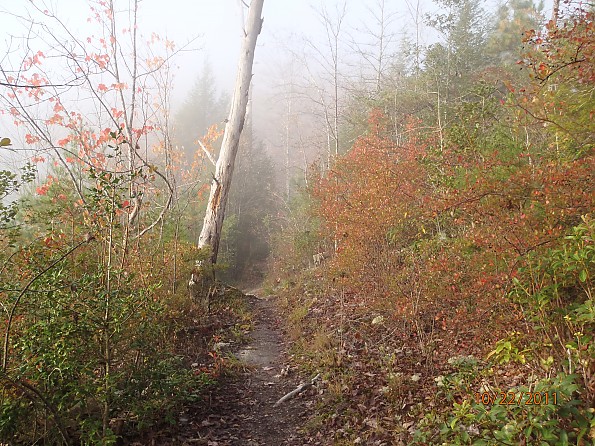 A foggy cold ridge running trail was the flavor of the morning.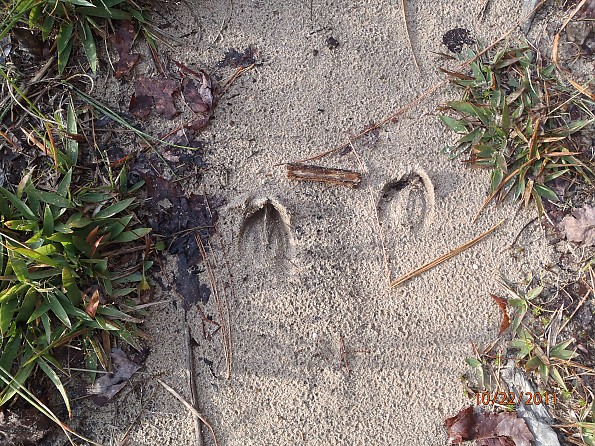 Hey, I never heard it but a deer came right by.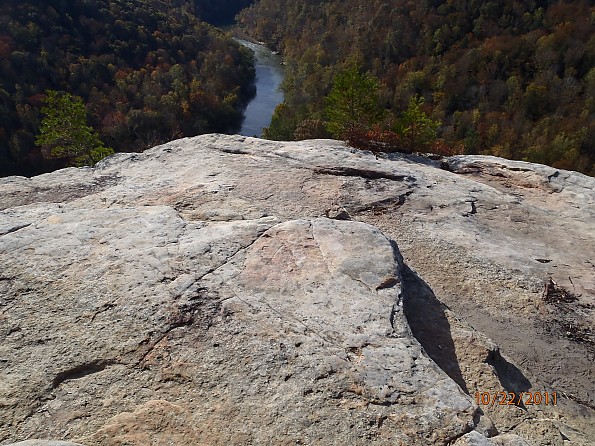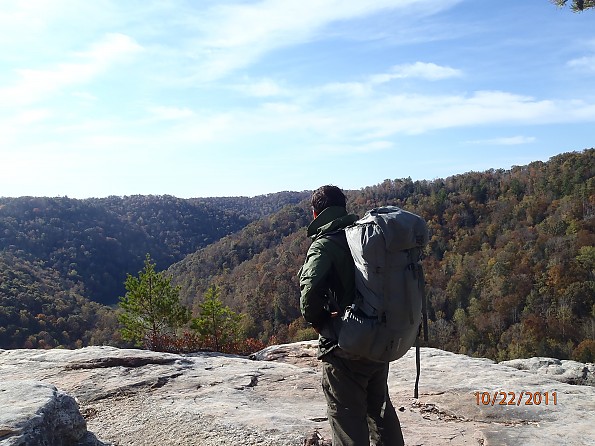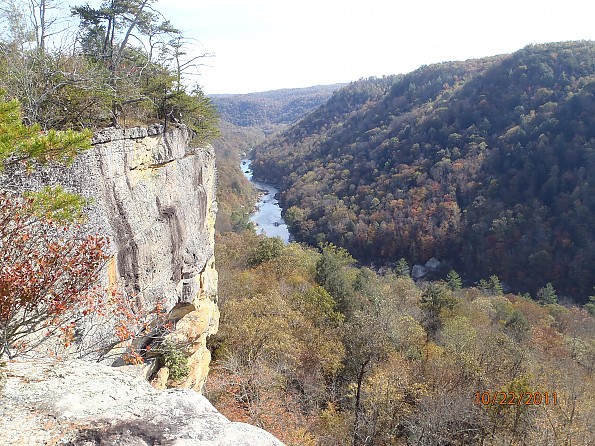 I stopped back by the Angel Falls overlook for a morning peak.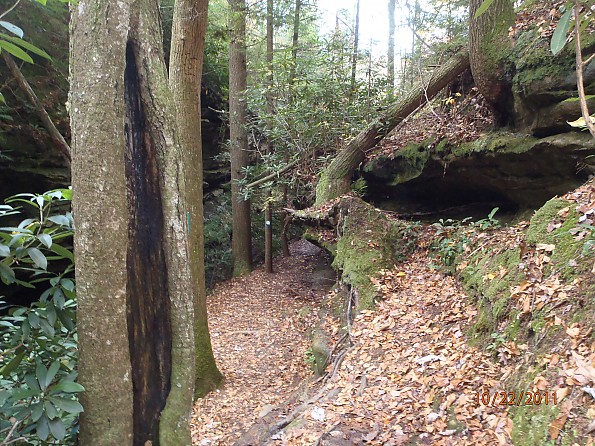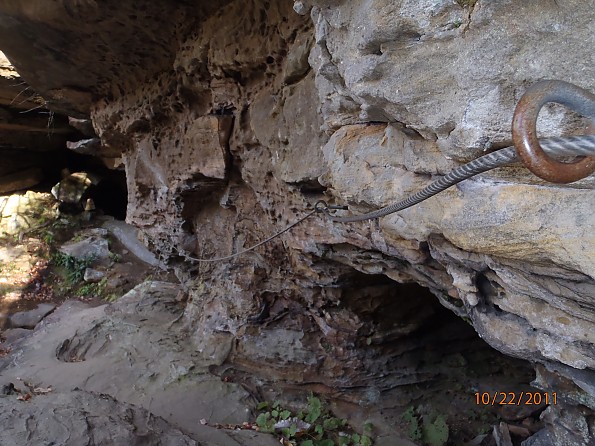 The route back down to the river was very nice and cables are always appreciated.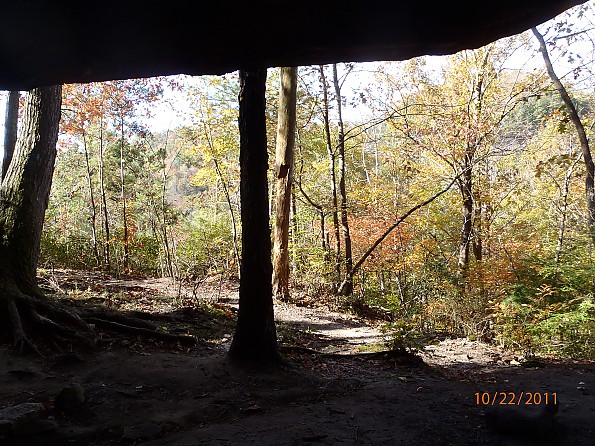 This was the last rock house of that day.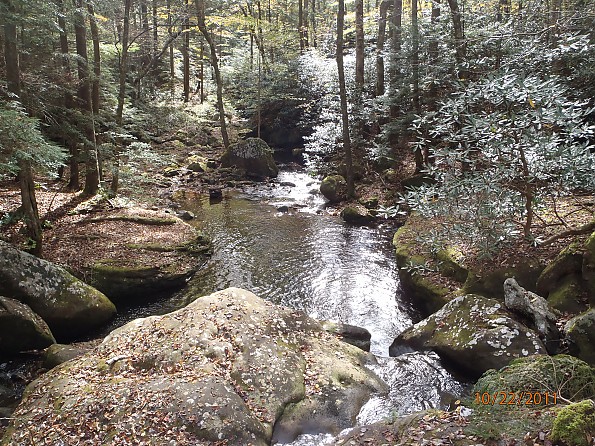 And this was the view passing over Laurel Fork on a foot bridge.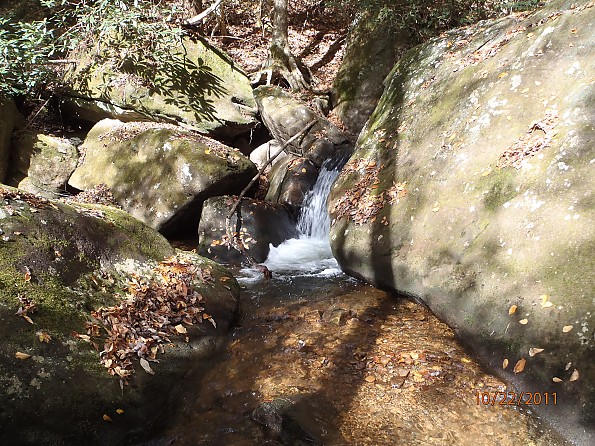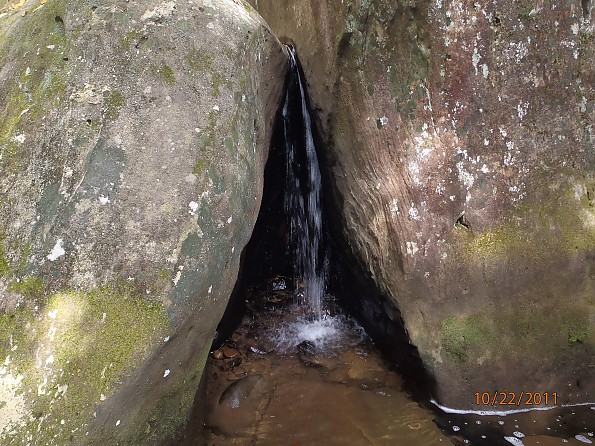 I left the main trail and pushed up Laurel Fork until blow-downs impeded the route but saw some nice spots.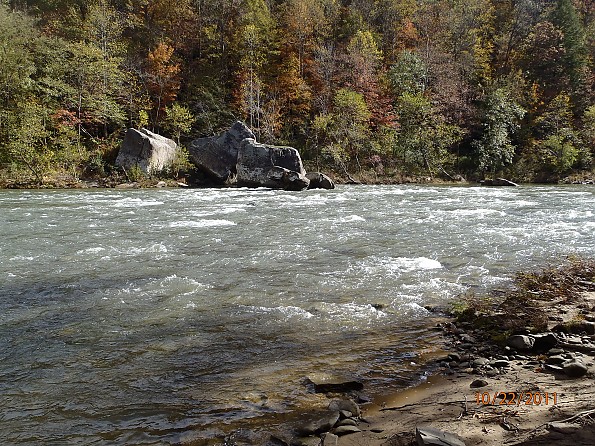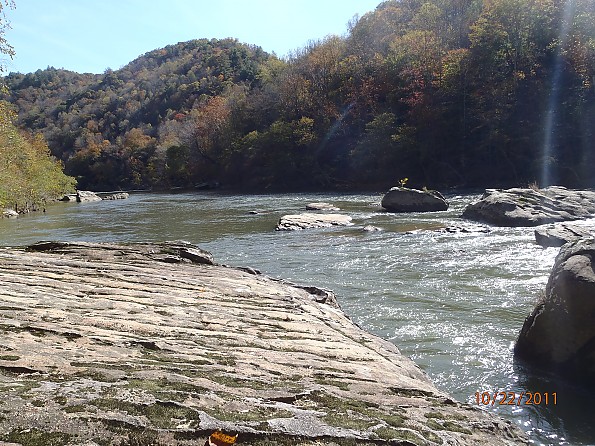 The South Fork was still pretty high that day.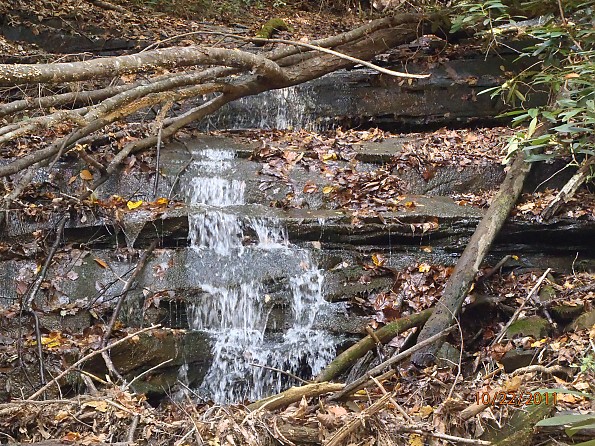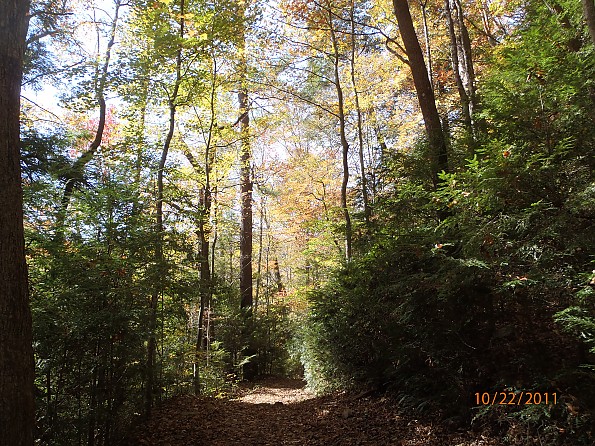 And finally a couple nice parting pictures before making it back to the car.
Another nice trip in the BSF!
Happy Trails!