1:16 p.m. on October 29, 2011 (EDT)
GaryPalmer

244 reviewer rep
5,239 forum posts
On Tuesday last I went by myself to hike up Sabino Creek to Hutches Pool then a day hike from my camp at Hutches Pool to Cathedral Peaks saddle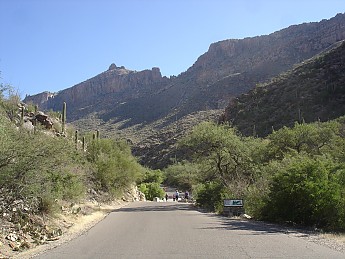 The hike began with a walk up the Sabino Canyon Road, a paved route that goes 2.7 miles to the trailhead to Sabino Basin and Hutches Pool. Thimble Peak is above. The ridge separates Sabino fron Bear canyon where 7 Falls is on the other side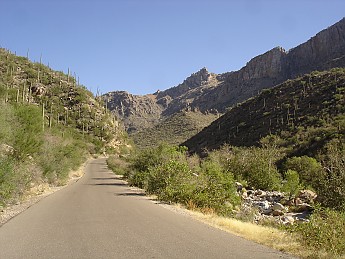 Further up the Sabino Canyon Road
Looking back down Sabino Canyon from the trail early in the morning at about 8 am, Sabino Creek below runs over white and black Granite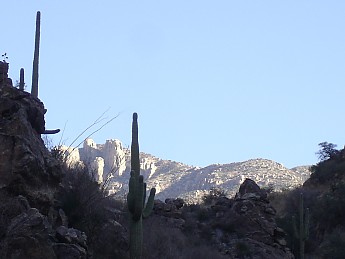 The Wilderness of Rocks is visable thru the Saguaro's ahead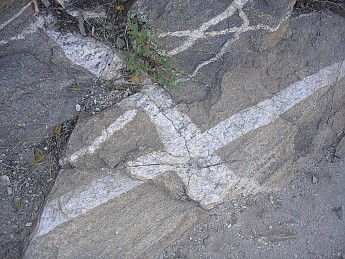 White quartz viens in black Granite criss-cross's itself along the trail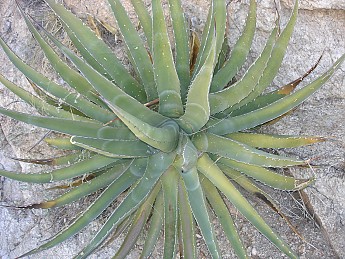 A Century Plant Yucca makes new leaves till one day it sprouts its stalk and blooms. Once thought to take as long as 100 years is how it got its name. Actually it takes about 20 years, still a long time in flowering plants.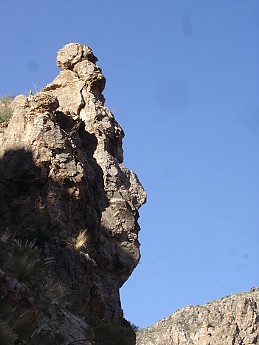 Walking by this cliff I saw two faces on ontop of the other looking out from eternity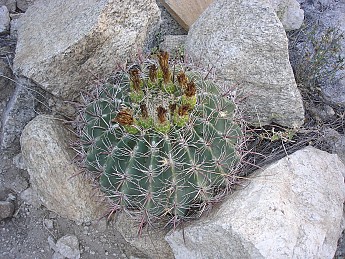 A young Barrel Cacti with pineapple-like fruits. Distinquished from a yound Saguaro by the curved needles. This one was about as big as a basketball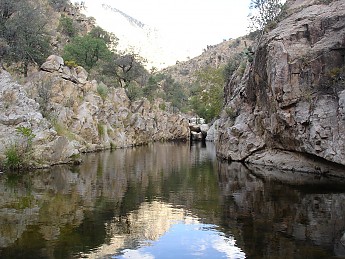 Hutches Pool a long narrow deep pool in the middle of an otherwise dry canyon.
I left Hutche Pool to hike up to the Cathedral Peaks (Rocks) this is from above the pool
Agave Yucca on West Fork Trail and Cathedral Peaks above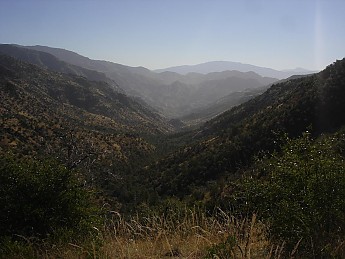 The Rincon Mountains in distance to the SE from West Fork Trail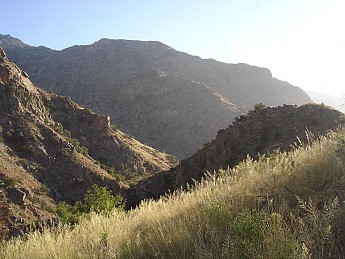 Upper Sabino Basin from West Fork Trail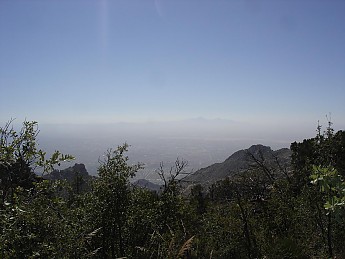 Santa Rita Mounatins on horizon from saddle below Cathedral peaks looking south, Tucson is in haze below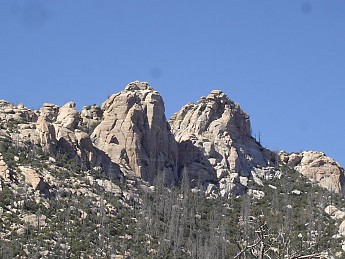 The Cathedral Peaks (Rocks, as named on maps) I chose not to hike to top as it was merely a route. I was near the top in 1986 with a friend who knew the route well
Looking south down Esperrero Canyon towards east Tucson in haze
Self-portrait with Cathedral Rocks behind me, I knew that Alaska hat would come in handy someday. In the direct desert sun it has worked well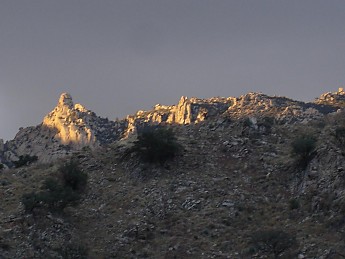 Sunset on the Marshall Peaks above Hutches Pools mark the end of another great hike