9:05 p.m. on November 13, 2011 (EST)
Rocklion

0 reviewer rep
155 forum posts
Went out and overnighted the Savage Gulf Ranger station this weekend. Went from Savage Ranger Station to Hobb's Cabin. It's an easy 10-mile hike. We did an in and out, so got the 10 miles both ways.
My buddy, Chad, and I took off around first light Saturday morning. Walking in, you cross several  swinging bridges. Those pics have been heavily advertised by hikers over the years so I'm going to begin with something different.
We took a leg off the trail a couple of miles in to get a look at Savage Falls. We heard it, looked over a rock ledge and saw this.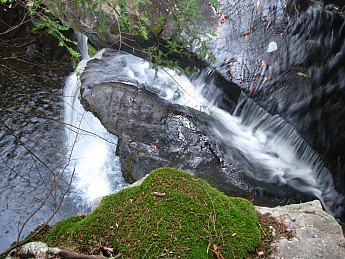 Of course we went to the bottom of the falls and got a look at them. The water seemed a little down. I'm betting after a good rainfall those falls are really rocking.
But don't get me wrong. They were nice. We actually headed back up to the Savage Day Loop Trail and I got some good pics from another overlook.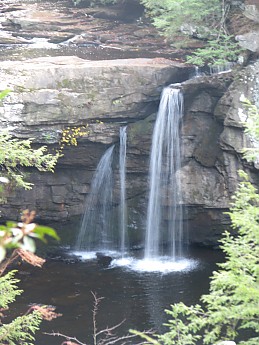 My buddy snuck behind me and got a pic of me.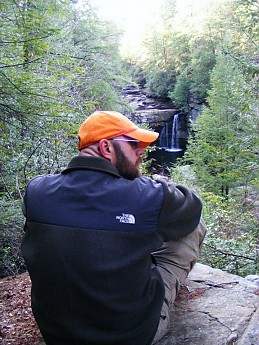 The next point of interest was Rattlesnake Point where you get a bird's eye view of the gorge in front of you. I had hiked all the Savage Day Trail and half the North Rim Trail once before. The thing about the North Rim Trail is the amount of overlooks up and down the trail. For me, the big reason I wanted to do this trip was just so I could go check out this log cabin they had built out in the middle of the woods and you could stay in.
But here is the first overlook. We hiked along the rim of the plateau directly in front.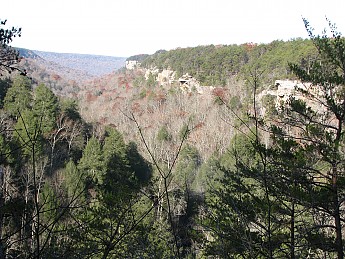 We took our time most of the day stopping and enjoying the sun on the bluffs and looking at the leaves down. The amount of leaf droppage was surprising to me. I live only about 45 minutes away from here, but all the leaves were off the trees. Down where I'm at, we're probably at 50 percent gone.
One of the last overlooks we came upon was called Tommy's Overlook. It was an awesome view. You had three gorges meeting all at the same time. A pic of me in front of it.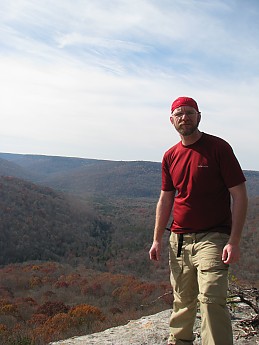 Then just a pic of the gorges themselves.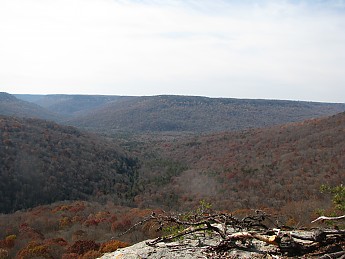 The picture doesn't begin to show the awesomeness of the place.
We kept going and within an hour were at the cabin. After a 10-mile hike and arriving well before daylight, why  not do this?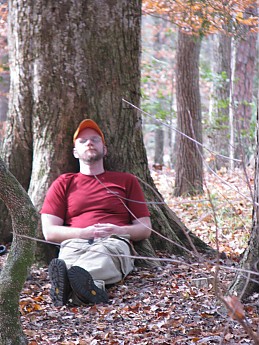 My buddy Chad popped a squat in front of the cabin and got out his old wooden pipe.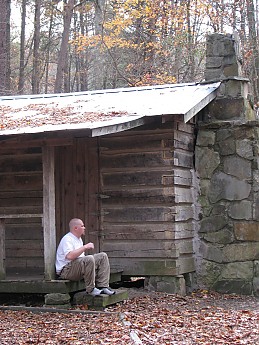 A little later, I joined him on the porch.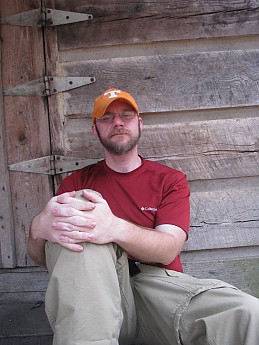 Then we started getting ready for the night and collecting firewood. As the day pressed on, more and more people started showing up but most of them decided to go to several campsites in the area. A family showed up with some boy scouters and decided they would stay in the cabin with us. They made us look like ultralighters with all the pots and pans they brought in.  But was a fun night. A bit of a highlight for me was when the boy scout troop leader kept bragging about how his son won some Iron Chef Boy Scout competition and was talking about how his son was a great cook. His draw nearly dropped when I brought out fresh tomatoes, lettuce and started cooking up chicken and cajun-style rice fajitas. He yelled into the cabin, "Jesse! You better get out here. There's a guy who will give you a run for your money!"
Not going to knock the boy, though. I've got 20 years on him. He'll overtake me someday.
So, we got us a fire going in the cabin. Sat around for a bit and then the boy scouts went to bed by 6:30. We ended up jawwing with a group from Murfreesboro for a little bit by their fire while I drank my Scotch.
Slept in the cabin and woke up the next day. Cooked up some sausage and egg flatbread sandwiches then me and Chad headed out.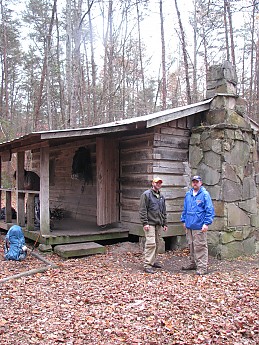 Second day was overcast so we just powerhiked out.
So, I finally got to see that cabin. I thought I read in the brochure there was a heated pool, sauna and a view to die for. Guess those were closed for the winter. lol.
But seriously, was a nice walk in the woods. The bunks were kind of narrow. Don't know, though. Seriously thinking I'm going to stay off shelters the next few overnighters though. Been getting a serious douse of them recently and there's a lot to be said about having your own tent away from everything.