1:08 a.m. on January 24, 2012 (EST)
Patman

2,155 reviewer rep
2,130 forum posts
For various reasons it's been a slow start to the backpacking year for me. I finally was able to do more than day hiking. And apologies to Mike G (Trouthunter on Trailspace); I told him I would give heads-up when I was going out again but did not because my 'packin trip wasn't planned until the night before.
Before I get to the backpackin trip: while I normally don't post day hikes, here are a few pics some may find interesting: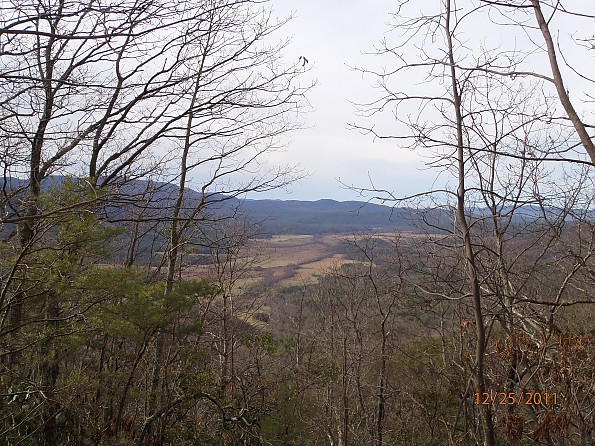 This is a rare vantage (you only have this view in winter) of Cades Cove in the Smokies as seen from the Crooked Arm Ridge trail.
I was standing here to get the photo above. (Notice the Starbucks in the backpack...yep it's a day hike).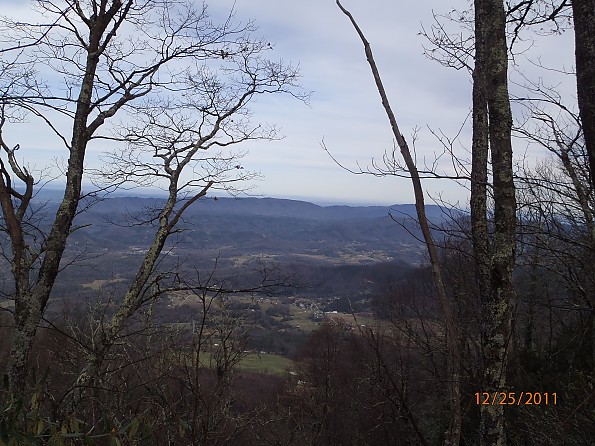 I typically avoid park boundary trails because they can spoil my illusion of remoteness, but this one wasn't bad in that respect. This is the view into Townsend from the Indian Grave Gap Trail.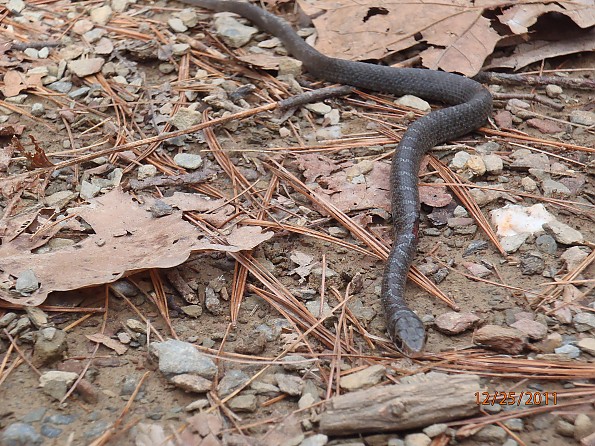 And finally a poor little snake that died in a way that makes him look alive.
OK, the big hike begins at Big Creek on the East side of the Smokies. I had planned to start early to allow a long day of hiking and plentiful down time at camp but the weather derailed that plan. It was lightining and thundering so hard I waffled about continuing but after waiting out the storm for three hours I was finally able to start (albeit in a driving rain). I was initially disgruntled about the wait until later when I realized that this same storm system actually killed some people in Alabama; I was merely inconvenienced. Perspective means a lot.
 All "rain-geared up" and giving my "what the heck" pose to start the trip up Baxter Creek Trail. This trail starts at 1700 ft and rises to 5800 over 6 miles. It's reputed to be the toughest trail in the Smokies (depending on who you ask), but I don't think it's any worse than any other tough climb. To me that rating depends on my energy level at the time, my pack load, the weather, and my mood (besides length and elevation variance).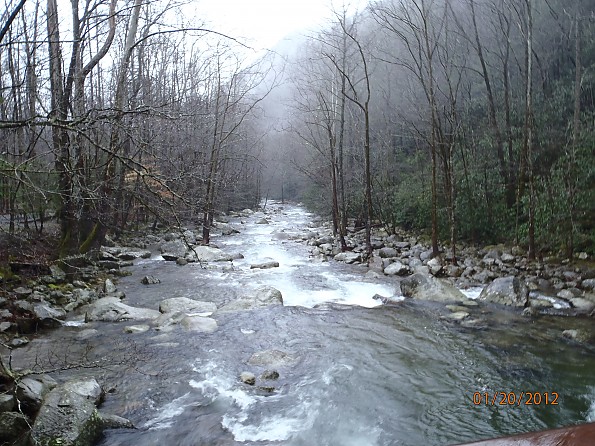 The hike begins on a foot bridge crossing over Big Creek.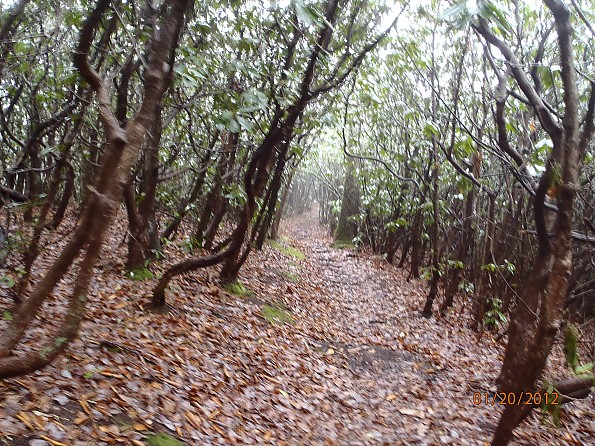 Sorry this is blurry but this was a very cool long rhodo tunnel; these are nice to hike through in bad weather (keeps a little rain off of you)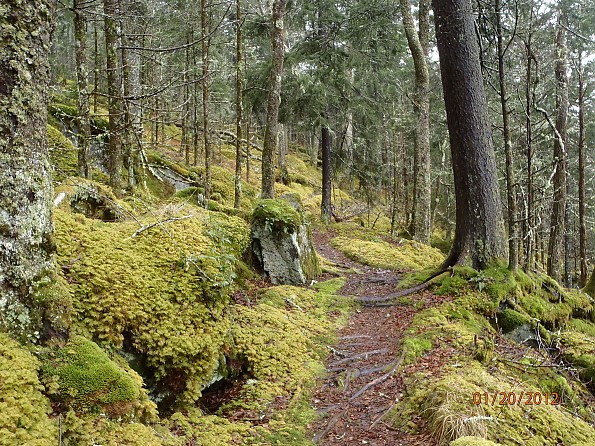 This shot was about four miles forward and over 5000 feet. I absolutely love that ferny looking moss and conifer forest.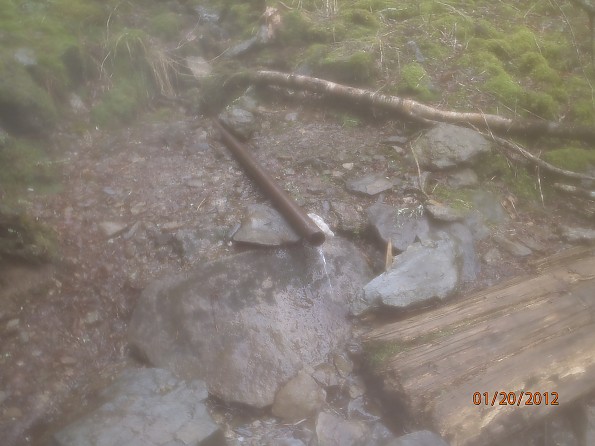 I stopped to get water at the spring about a quarter mile from the top. The camera is waterproof but sometimes fogs over.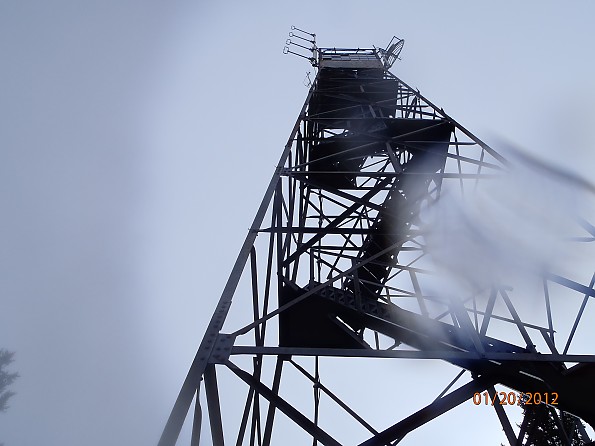 Here is the fire tower atop Mt Sterling. I planned on climbing it to get some great area photos but it would have been wasted effort in the dense fog.
I considered stopping to camp on Mt Sterling (no I didn't have a reservation but I highly doubt there were any other fools out that day); my reservation was for campsite 37 in Walnut Bottoms which was still six miles away. I wasn't sure if I would have enough daylight to make it there and set camp before dark. But it was only 2:30 and I really wanted to get some exercise so I went on.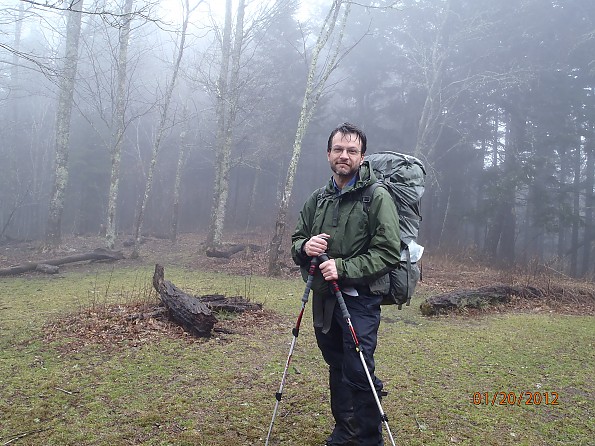 I made it to Pretty Hollow Gap in short order and thankfully the rain had subsided. But I was thoroughly soaked. Sometimes it just seems silly to wear rain gear when you sweat as much as I do. Every stitch of clothing I was wearing was completely wet one way or another. I left the Benton MacKaye trail or Mt Sterling Ridge trail or whatever you want to call it and went down the 4 mile Swallow Fork Trail (which was beautiful). I misjudged the depth of one of the last creek crossings and finished the soaking by getting my shoes and wools socks sopping wet too. That completed the wet rat routine for me.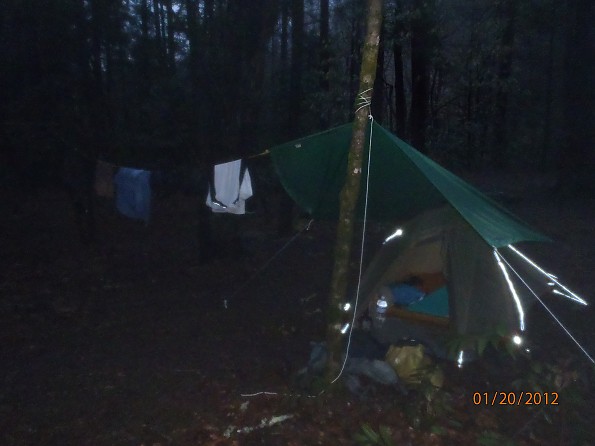 I rushed a bit to make it camp before dark. After getting out of those wet clothes I started to feel human again. I had brought extra trail shoes which were a last minute "throw-in" and I was sooo glad I did. I had also brought a small tarp to supplement my UL tent and give me a dry entry. I hung all my wet clothes on my bear line while it was rain free. Looks like a week long camp but I was only there for the night.
I did poor job of capturing the beauty of Walnut Bottoms in photos but it's just as well; I don't want my reports to be a spoiler for anyone. I was camped not far from the raging river and there were cascade waterfalls all around. The rushing water was all you could hear at that site. It's quite nice.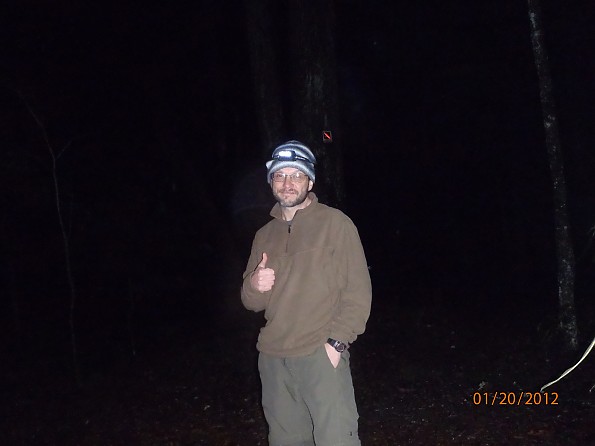 The rain didn't come back and that lifted my spirits even more. I went for a night hike along the river but that's not as fun by headlamp as it is by moonlight.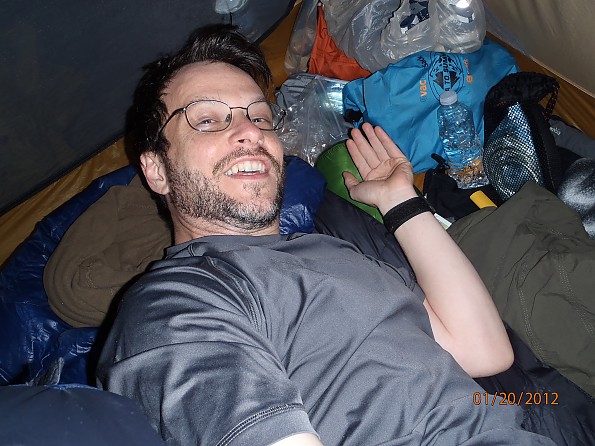 Not a flattering pic of me but that's what the inside of my tent looks like when I camp.
The next morning was going alone fine until I brought food down from the bear cables. My dry bag was hanging funny and I'm sure I had a perplexed look on my face. Upon closer examination I realized that my food bag had been violated by a rodent! As many years as I've been going to the Smoikes I've never had anything get to my food on the Parks' steel bear cables. They are all at least 10 feet up, 10 feet out and have "plates" that the cables pass through to keep things from crawling over across the cables. Oh well.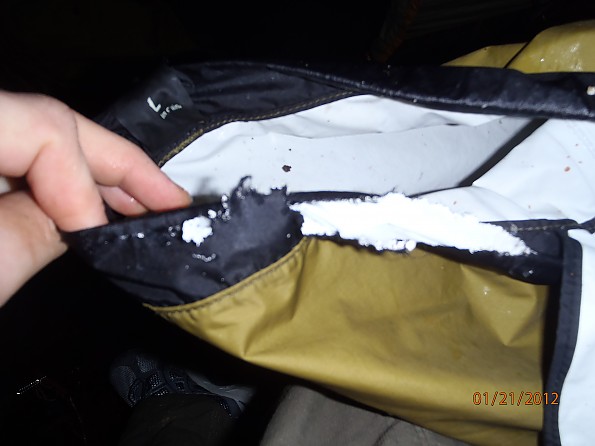 This is the chewed-through top of the bag. The draw string was completely gnawed through also.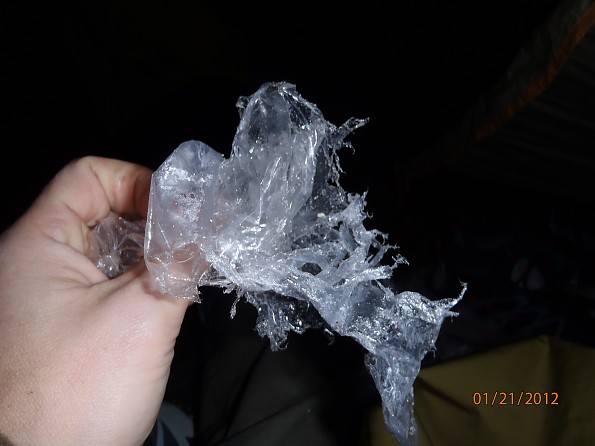 The sucker liked plastic.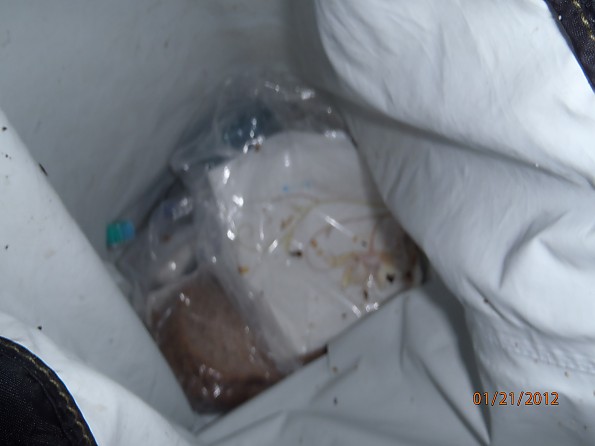 Insult to injury: it crapped all over the place!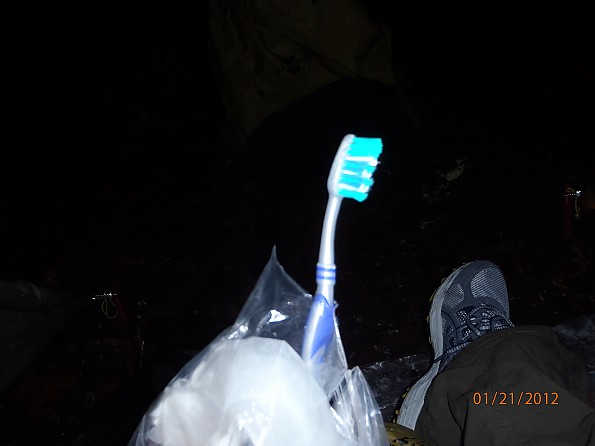 No relief in sight: it chewed on my toothbrush! Beyond the pale…
Strangely it took no food. It only took one piece of garbage; the "cook-in" bag of Mary Janes Farm Black Bean Hummus from dinner the night before. I guess my hummus garbage was an effective decoy.
I considered going without food (my stuff is unclean!) but I was famished and had 15 tough miles on the agenda. I boiled up a liter of creek water and used my Dr Bronners soap to wash my cook set twice. (my bowl, spork and cup were loose in that bag with the turds).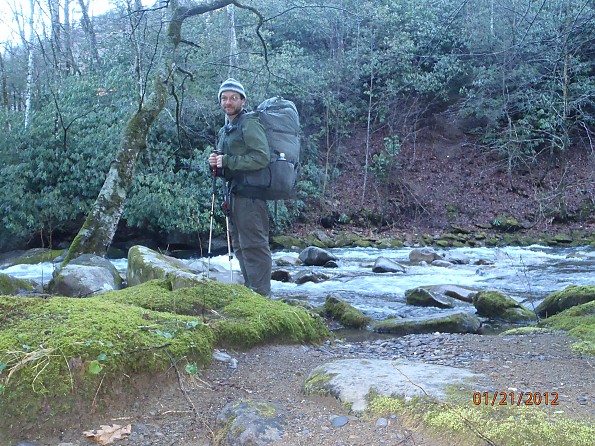 I had packed up and was ready to hit the trail post rat-trauma. The tent fly and tarp were very wet as were the previous day's clothes and shoes ; it's always somewhat distasteful to pack up a wet kit.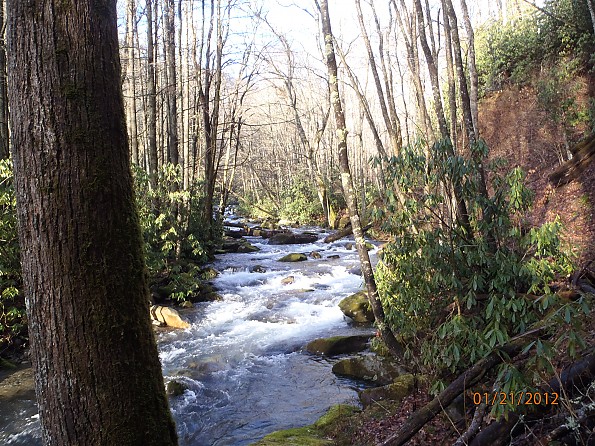 Camel Gap Trail was a lovely creek side jaunt for the first couple of miles.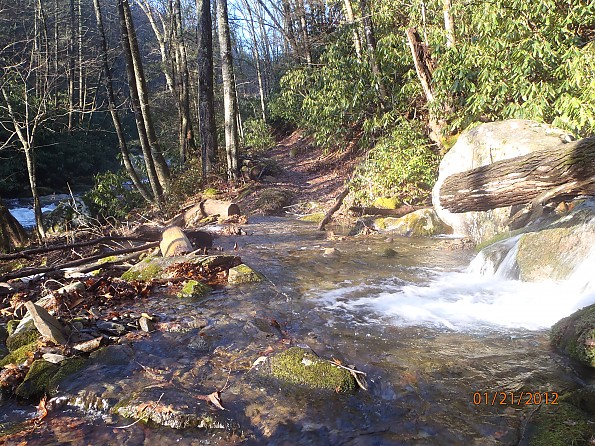 Crossings like this one can normally be skipped over but the heavy rains made this spot a "de-booter".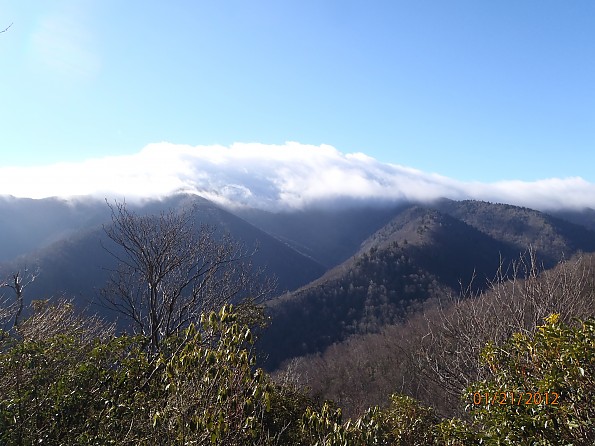 This is looking across to the BMT as I climbed Camel Gap. I believe that's Laurel Gap, beyond which is tribal lands of the Cherokee.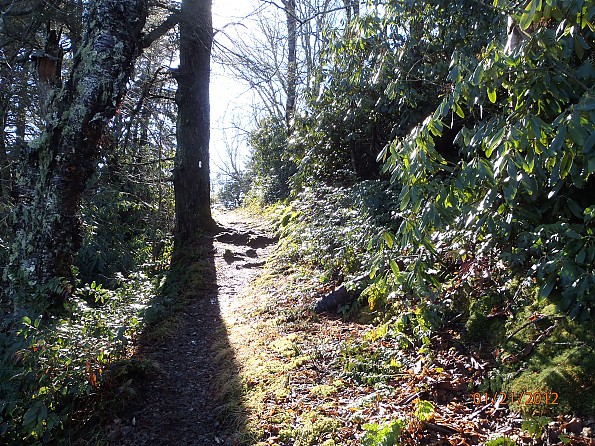 I had finally made it up to the AT and this was a section south of Cosby Knob.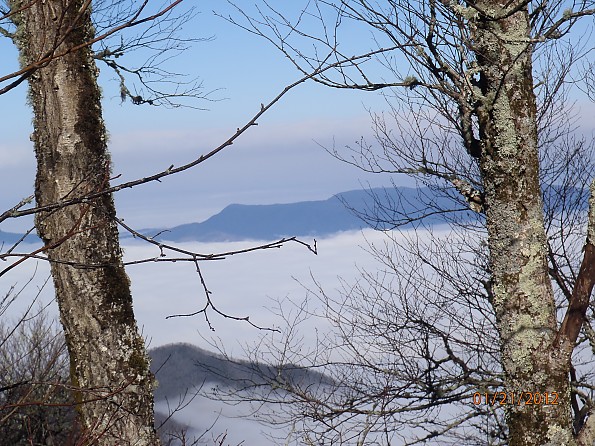 Looking North across the ocean of clouds.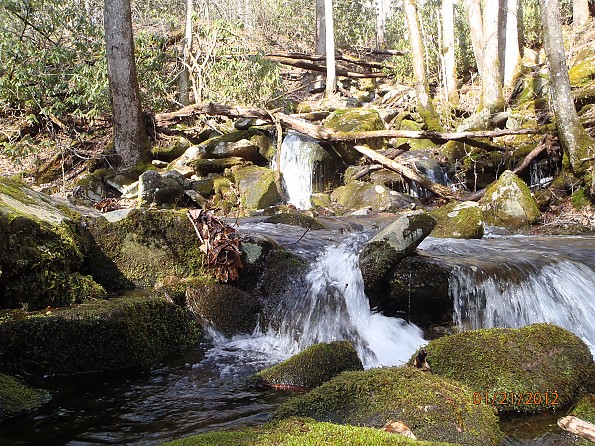 After rounding Cosby Knob and stumbling down that wet and rough section of trail I turned down Low Gap Trail. I left the trail about halfway down, took a compass bearing and went off in search of somewhere cool to break for lunch. I found this spot about a quarter mile east and over a few small ridges.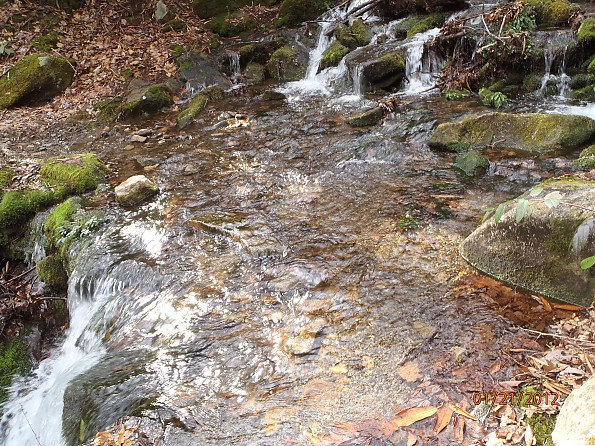 Yet another swollen run-off caused debooting just before tying back into Big Creek.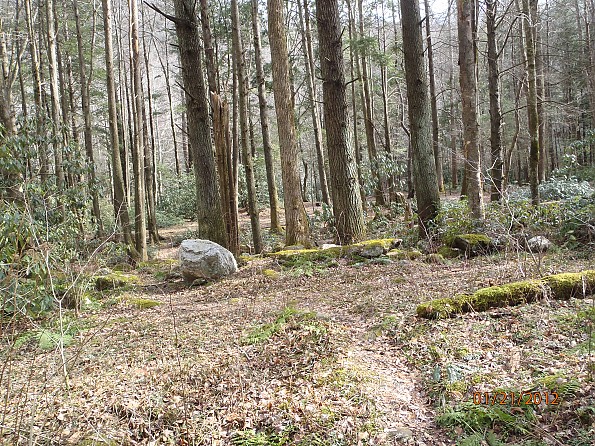 I arrived back at Walnut Bottoms after a nice 10 mile loop and it was time to start the last 5 miles out on the horse trail.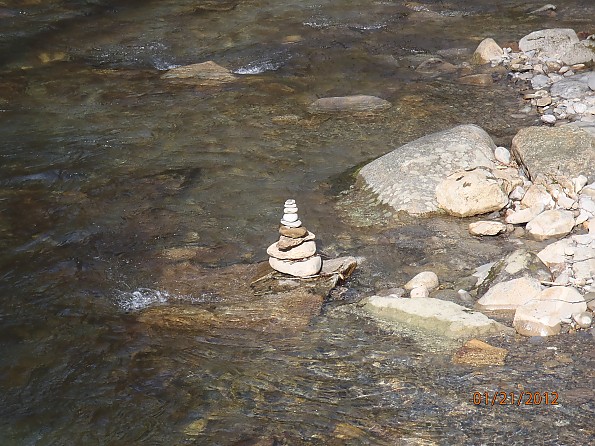 Those cairn stacking hippies do get around don't they?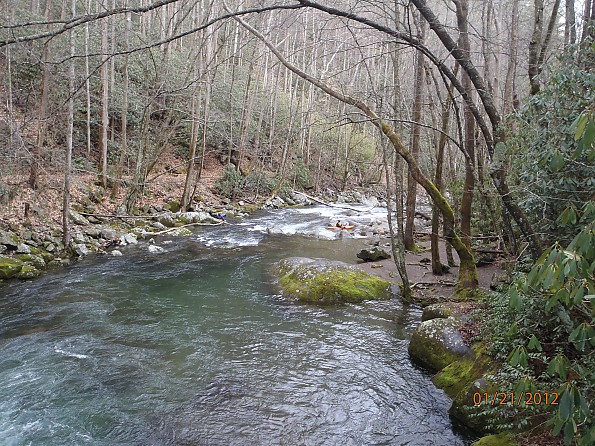 Hey those kayakers are having fun.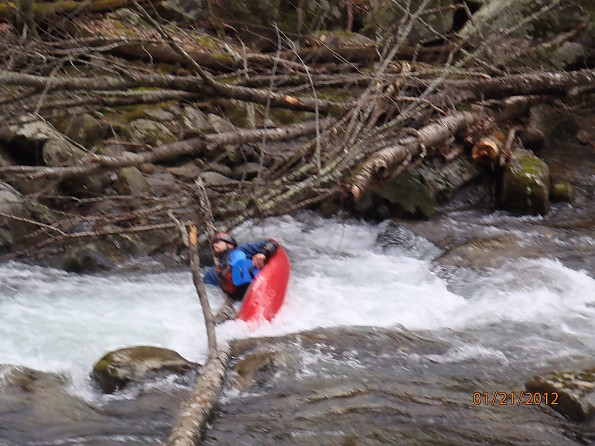 Well, except for this fellow who appeared to be stuck. I stopped and took off the pack and fished out my bear-line and offered to throw it to him (seen too many movies maybe). But his buddy was coming to get him and he declined my help. Notice the hand paddle things? Weird… he didn't have any other paddle.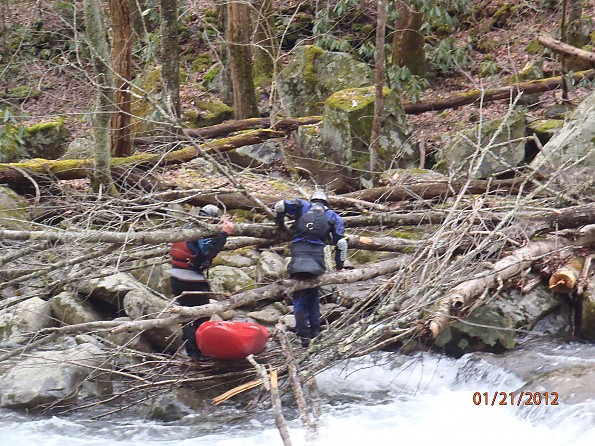 He could have gotten out but waited for help to make sure he didn't lose his boat. OK then.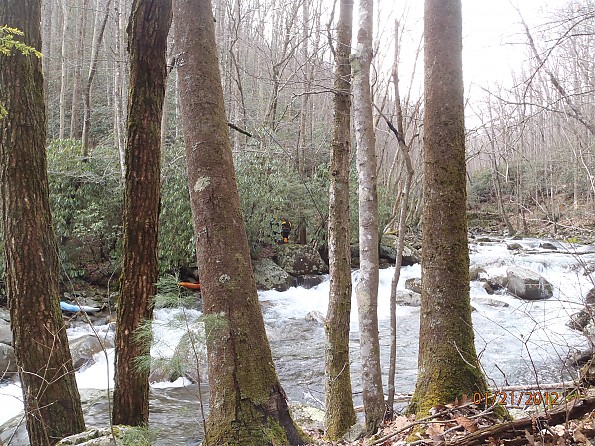 And here is little better view of the section they were running.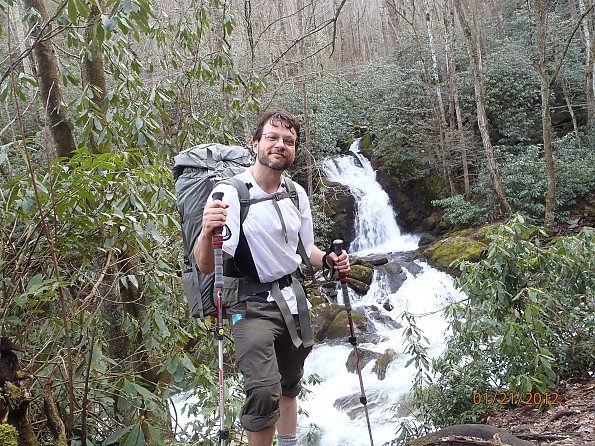 A bit furhter down the trail and I stop by Mouse Creek Falls for a mug shot.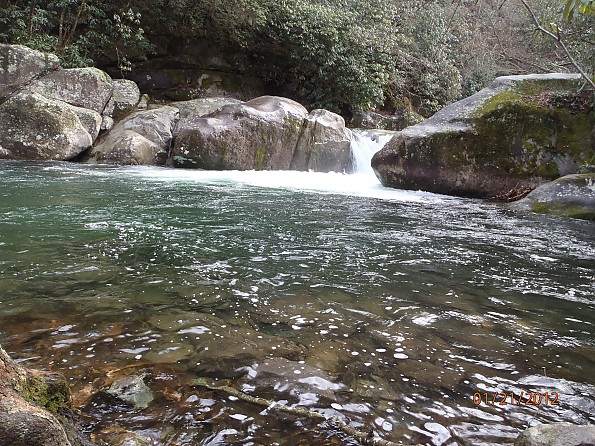 And finally my favorite swimming spot in the park: I don't know why but it's called Midnight Hole.
This was an excellent trip and worth noting that I only saw other humans within 2 miles of the major trailheads. So even though the GSMNP is the most visited National Park in America (by more than double) you can still find solitude if you're willing to go a little further (well… and endure some rain I guess).
Happy Trails everyone!