2:37 p.m. on January 31, 2012 (EST)
Ian F
98 reviewer rep
13 forum posts
Monday, Jan. 23, 2011: I arrived at the Myakka River State Park entrance gate and told the ranger I was there to backpack, so there was no "day use" fee. I parked and went inside, paying for two nights at Panther Point campsite and two nights at Oak Grove. Then I drove to Ranch House Road and parked to the side of the gate, and my backpacking trip began.
The road was wide and shaded, then intersected with another road. I turned left, believing that to be the road that would take me past Bee Island campsite and to Bee Island Cross Trail. It would have, if I had taken the fork to the right a short time later. I did not, and instead of heading east I was heading northeast. Unfortunately, I did not discover my error for about an hour. I took a compass bearing on the road, and took a GPS reading, and decided the best bet was to backtrack to where the road had crossed the orange-blazed loop trail.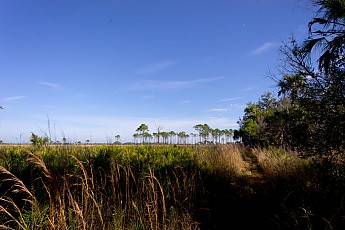 I went south on western side of the loop trail to Bee Island Cross Trail toward the east, then south on the eastern side of the loop trail to the Bobcat Cross Trail toward the south, and finally east on the southern part of the loop trail to Panther Point. Although there was some shelter on the Bee Island trail and shortly after that, most of the hike was in full sun through palmetto scrub. Even though it was not very humid, 80 degrees in full sun was a bit more heat than I wanted, and a bit more exposure as well. My legs sunburned a bit, and I had forgotten to bring sunscreen – always a bad idea in Florida.
Panther Point was a nice campsite, with fire rings and posts for hanging gear. Water at the campsites in Myakka is from pumps, and the pump at Panther Point was tough to prime and yielded very little water with each stroke. There were also far too many wild hogs about for my taste. That first evening I was grunted at in a manner that seemed threatening, but nothing came of it.
Tuesday, Jan. 24: Day-hiked a bit more of the loop trail to the east in the morning. Mostly flat, open palmetto scrub. Watched three wild hogs in the palmettos for a bit, until the wind carried my scent to them and they skedaddled.
From the shade of some oaks, I watched for about ten minutes a large bird of prey that I believe was a bald eagle (it was too large for a hawk) cutting, flying and drifting on the wind over the palmetto scrub in the distance.
That afternoon a ranger came by the campsite and told me I had to take down my hammock because, he said, the straps rub the trees and kill them. I decided it made no sense to argue, and took the hammock down.
That evening a young(er) backpacker showed up to share the camping area. He was surprised the trail was not easier. He had been used to backpacking 10 miles a day on the Appalachian Trail, and felt he would be able to do 16 miles a day in relatively flat Florida. Yet 12 miles was more than enough for him.
I tend to concur. Hiking in relatively flat Florida is not as taxing as hiking in the mountains, but it's not as easy as most would assume. I don't like to go much more than 8 miles a day in mountains, and I find about 10 miles a day is a reasonable limit for me in Florida.
With another person about, the hogs did not seem to be as much of an issue. Perhaps I was just a bit less worried about them.
Wednesday, Jan. 25: I meant to get an early start so I would be out of the palmetto scrub – and the sun – before the sun was too high, but I didn't break camp until about 8. I was thankful that I had a fairly short hike to Oak Grove campsite – about five miles – and after about two miles going east on the southern part of the loop trail I was mostly in shade as I passed from palmetto scrub into oak hammock and then wooded, damp Deer Prairie Slough on the Deer Prairie Slough cross trail.
I knew it was drier than when I had hiked this trail several years ago. Then, I had needed to wade through water that was standing on the trail in a number of places, and had to ford a creek or two. But how dry it was didn't hit me until I got to the slough, a low-lying usually swampy area. I could not see any standing water this time until the very north end of the slough.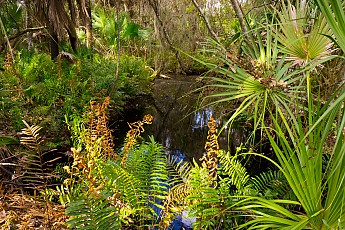 Hiking was, as I said, mostly shaded going past the slough, then it was over a bouncy footbridge and back on the loop trail, now going west on the northern portion of the loop to reach the spur trail to Oak Grove.
Oak Grove is very shaded and very dry, but the pump here worked much better.
Thursday, Jan. 26: I took the risk of setting up my hammock again, this time stringing it between a post set up for hanging hiking gear and a dead branch. It was a great place to relax in the shade and the breeze and read. A hammock in the shade and the breeze is my favorite place to read, probably because when my eyes get tired I can just put the book down and nap.
I had already finished re-reading The Hobbit and was working my way through Max Lucado's He chose the nails, so I figured I'd start through South, the story of Sir Ernest Shackleton's ill-fated polar expedition. Somehow, I felt guilty lying in a hammock in a sub-tropical breeze and reading about the men enduring on the ice for something like three years.
Another ranger came by, meaning that I had now seen two more rangers on this trip than I have seen in all my other backpacking trips put together. We talked about how dry everything was – which I was soon to regret saying – and she offered to take my trash out for me, since I had already picked up the trash around the campsite.
Later I had several sightings of an armadillo scratching his way around the campsite, and that evening and into the night it seemed he continually scratched and dug and made noise. I now officially hate armadillos.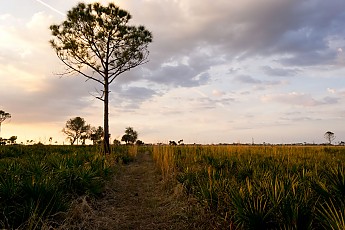 The evening was clear and bright, and I was thinking that even the quarter-moon might provide enough light for me to hike out early Friday morning, before sunrise. I knew much of my hike would be through palmetto scrub, and I wanted to get out of it near the Bee Island Cross Trail before the sun was up so I did not get sunburned any worse.
Friday, Jan. 27: I had set my alarm for 5 a.m. but awoke about 4:15. I heard a very deep rumbling and I had no idea what it was. About 4:30 I realized I was not going to be able to get back to sleep so I got up and started packing up.
With the very full canopy at the campsite, I saw a couple of mild flashes of light but it did not register what they were. My intent was to have a quick breakfast, but as I was packing up my tent I saw that it was starting to sprinkle. So I hurriedly packed everything up and I headed out of Oak Grove about 5 a.m.
Outside the oaks, I realized it had completely clouded over and there was lightning in the distance. I needed my headlamp to see the trail. As I hiked I counted off the time between seeing the lightning and hearing the thunder, and almost always got to 30 before hearing anything. About one time in five I got to 25 or so, so the lightning was distant.
About 5:30 the rain started, and I donned my poncho. Between the low light and the rain on my glasses, I had a bit of trouble following the trail a couple of times and had to backtrack to be certain. But soon I was in the palmetto scrub and the trail was clear.
I continued to see lightning, continued to count, and it continued to be distant.
Until about 6:15.
I was counting … one-thousand one, one-thousand two, one-thousand three … one-thousand nine, one-thousand ten, one-thou – BOOOM!
I dropped to my knees on one side of the trail and tossed my aluminum trekking poles to the other side. Bent over with my face almost on the ground, I reached behind me to hold my poncho over the pack and my rear. I feared I was still about the tallest thing in the scrub, but I stayed low and kept counting the time between lightning and thunder.
After 15 minutes, when nothing had been anything like close, I picked up my poles, stretched out my stiff shins and calves, and hastened down the trail.
The lightning finally eased up about 7:30, and the rain a half-hour later, but it continued to rain off and on as I went west on the northern loop trail, west on the Bee Island Cross Trail and north on the western part of the loop to the road – essentially retracing much my path on the first day.
I finished up the nine miles about 9 a.m. back at my car. I drove the gate office to let them know I was out of the backcountry, and took the opportunity to change into dry clothes for the three-hour drive home.
Just a couple of gear notes …
Grand Trunk Nano hammock: Six ounces well spent, especially with a Jacks R Better suspension.
Jetboil Zip stove: So fast at boiling water, I have to make sure I have everything ready before firing it up. And very stingy on fuel.
Gregory Z30 pack: I fit everything for five days into the Z30, but nearly 35 pounds seems like a bit much for the suspension of what is essentially a daypack. Next time I'll leave the extra lenses for my camera behind. I never used them.
Armadillo repellent: Need to find some …