6:31 p.m. on February 20, 2012 (EST)
FromSagetoSnow

5,970 reviewer rep
1,621 forum posts
Saturday weather lent its self better to skiing than climbing so we hit the local ski hill and got the younger two girls up on skis for the first time.  With 6" of fresh wet snow it made for a good day to learn; soft and slow.

Sunday broke with halleluja sunshine and a text from my new climbing partner that we ought to go hit the rocks.  Whats a guy to do?  We spent an anxious hour in church praying for the weather to hold and the rocks to warm up, sprinted home and took off to Frenchman Coulee.  I only took the older boy, his big sis being grounded (She did not like being left behind I am here to say).
Our targetted climb; Party in Your Pants 5.8, was just getting cleared when we arrived and I set up my toprope and tossed my perfectly flaked rope down, only to get it swept off-route by the wind.  We got that sorted out and I walked down and around to the start.
I made the first run and to stemmed and jammed my way to the top.  This is a longer climb with only six to eight feet of rope on the ground with the middle mark at the anchor chains.  I didn't set any speed reccords. 
Next the partner sent it in much better style and finally the eleven year old crushed it. 
"Am I half way yet?"
My son is the little white dot 2/3 of the way up.  I'm in the brown shirt belaying.
Picture quality deteriorated with uploading.
Any time the kids climb is a good day.
The next two pics are from three weeks earlier; NOT a good climbing day.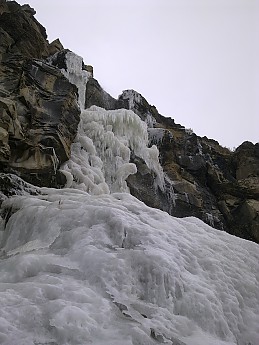 Frozen waterfall, no I don't climb these.   Yet?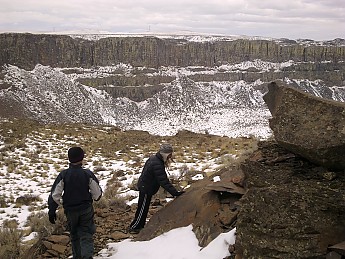 The pillars in the distance are just like what we were climbing yesterday.

Cheers!