12:49 a.m. on February 26, 2012 (EST)
azrhino

38 reviewer rep
395 forum posts
This was a return to Reavis Ranch where I went on my last trip 4 days in the Superstition Wilderness.
This time it will be an overniter using 4 different trails to make a loop.
Campaign Trail 256, Fire Line Trail 118, short time on Reavis 109, Reavis Gap 118.
Ive never hiked this route before but it was recomended by a friend to be a much more intresting way to Reavis Ranch. It lived up to that for sure.  18 miles of thorny brush over growing lots of steep rough and rocky trail.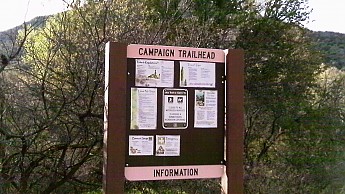 Campaign Trail runs along Campaign Creek going up and down thru some  low hills dropping down to cross the creek several times
the times away from the creek are very overgrown with lots of thorny brush
heres a look at a section of the Fire Line Trail. I keep waiting for it to start doing switchbacks but it never does, it just keeps climbing thru the brush, lost it once.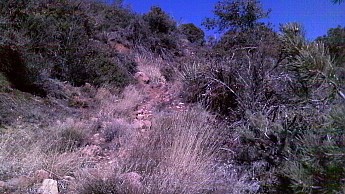 Fire Line is steep and rocky going up and the same going down into Reavis Valley. There is a nice level stretch along the top of the ridge around 5200' with pines and even a little leftover snow hang'n around
Staring down off the ridge heading into Reavis Valley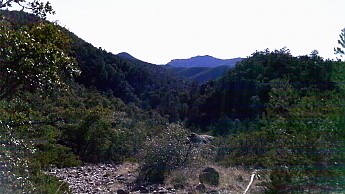 again camera lets me down thru here :( but its the same story for the most part, steep rocky trail down thru the canyon into Reavis Ranch. The thorny brush has eased up atleast.
I finally make it to the Ranch.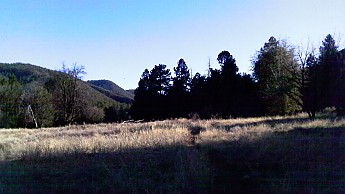 Its been a tuff 10 mile day! Ive got just enuff time to get camp set and some dinner before the sun goes down. Was a chilly 25f at night but slept like a warm n toasty baby.
Reavis Creek is flowing nicely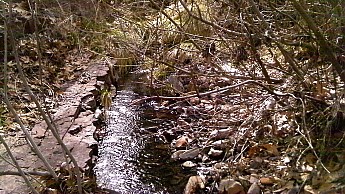 Day 2 starts refreshed well rested and ready for battle again. I'll be taking the Reavis Gap Trail back to the Campaign Trail. Let the climb out begin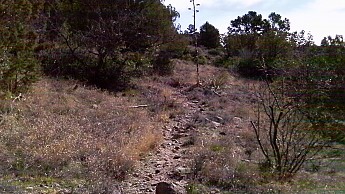 looking back/down at the Ranch and Apple orchard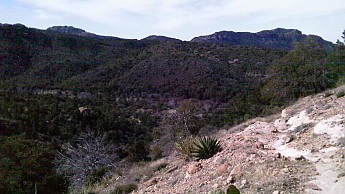 Lots of up and down on more tough trail
Im still amazed sometimes how diverse this area is. From where I stand in pic above this is whats on hillside to my left. Short hardy grass with some shrubs and small Junipers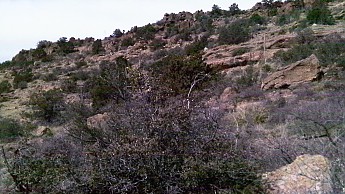 180 degrees to the right across the canyon. Tall thick Junipers and heavy growth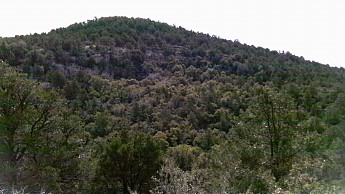 Back to trash'n and crash'n down to Pine Creek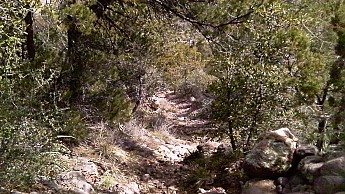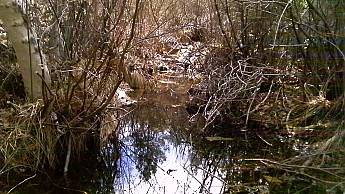 Now I know this is probably normal for most of you, but for a desert rat like me, leaves stuck to my pole tips is a strange sight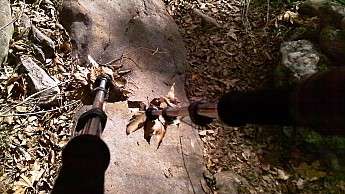 at times its hard to believe this is a desert. check out the thick green grass.
I truely believe this trail has a sick distorted sense of humor. Now and then ya get brief smooth stretch as if it was saying "Really, I'm just a nice trail meandering through the mountains."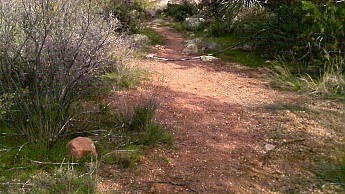 Just to say "AH HAHA!! You fool, you fell for it again! AH HAHA! Let the punishment continue!!
found this old ruin that was pretty good size. Would like to go back and investigate this another time.
made it back down to level ground on Campaign Creek. Thankfull its only about 1 mile to go. The late afternoon light makes the creek look totaly different than it did yesterday morning
once again, sometimes its hard to believe this is a desert
Beat up, scratched up, and just plain TIRED, its good to see my soft comfy chariat waiting at the TH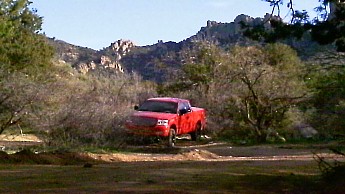 There wasnt alot of those grand views to be had along this route. They were there at times but camera just didnt coperate. Still a beautiful route with great scenery. Definitly more challenging then my previous route of Reavis Trail 109 in and out from the north TH.