7:54 p.m. on February 27, 2012 (EST)
Patman

2,155 reviewer rep
2,119 forum posts
I planned a meeting with Gonzan for this trip, although in this case planning was just a couple of PMs exchanged here on Trailspace. I was fortunate enough to get off work a little early to offset the 2.5 hour drive to the Trailhead of choice: Joyce Kilmer Memorial Forest picnic area in TN/ NC.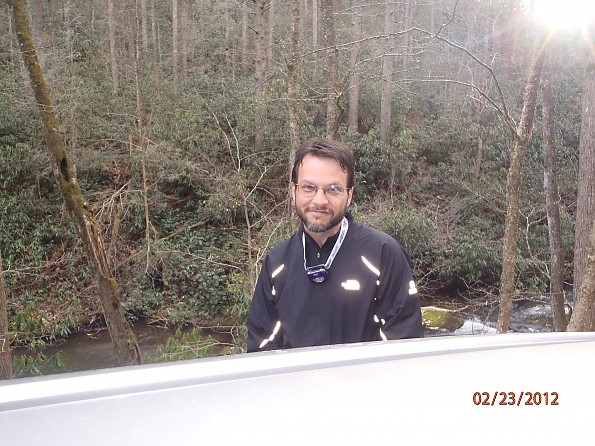 I was ready to begin a short road hike in the Memorial Loop trail to catch my next junction.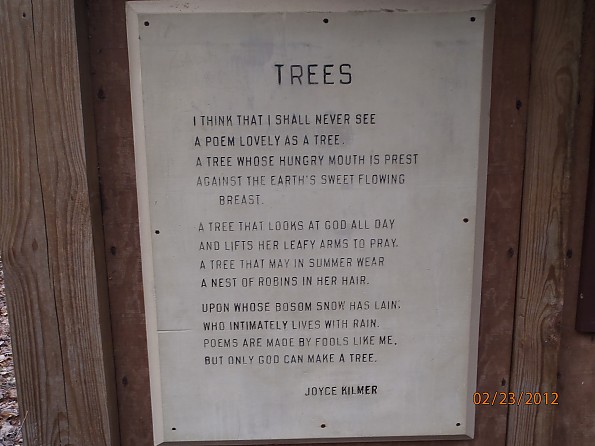 And here is the poem that made Mr. Kilmer famous and caused this forest to be named after him.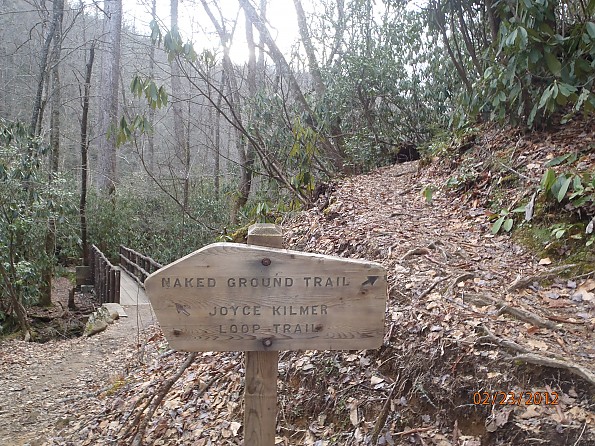 Here was where I deviated from the Memorial Loop trails and took off up the Naked Ground trail. This trail is very special because it is one the few trails that is an actual footpath and not a logging cut. The valley traversed on this path is a never-logged old growth forest: quite rare in these parts.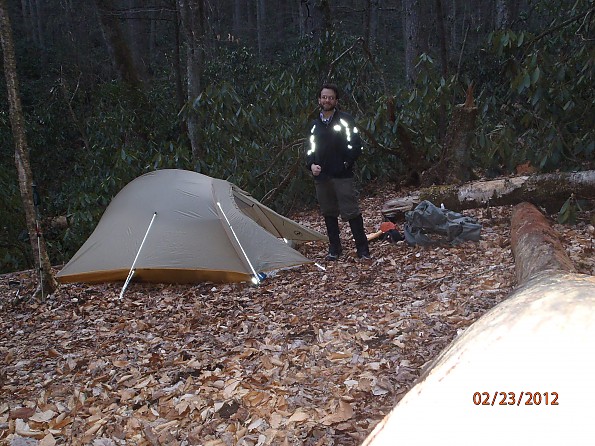 It was getting dark with such a late start and went ahead and made camp at the first likely spot I found (area is open camping but level spots are hard to come by). This was a creek side site complete with soothing babbling brook sound.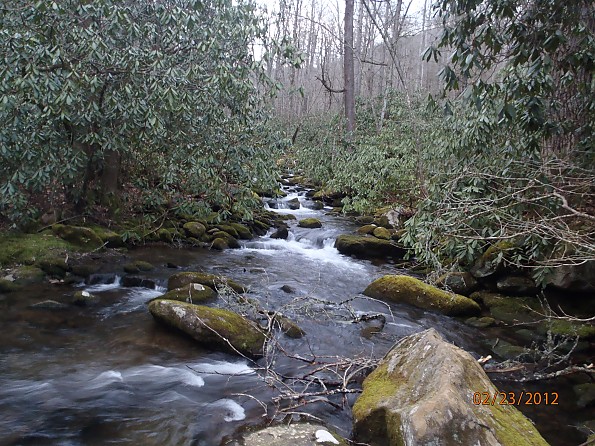 And this was the brook behind my tent.
 I read with great interest the recent Trailspace discussion of food hanging techniques but couldn't follow all those complicated charts and diagrams. So I just did what I always do and tied a rock around my rope and threw it over two limbs.  Don't blast me here folks…just funnin'….I acknowledge that those techniques are crucial with heavy loads so as to protect the trees.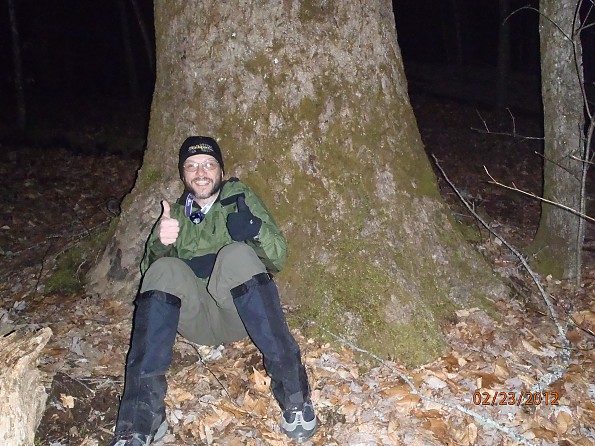 Here I'm showing off my new Trailspace Ibex merino wool beanie while reclining against a grand old tulip poplar. I had wonderful evening of moderate temperature (just below freezing I'd say, based on the presence of un-melted BB sized hail), and clear skies. I slept like a baby that night.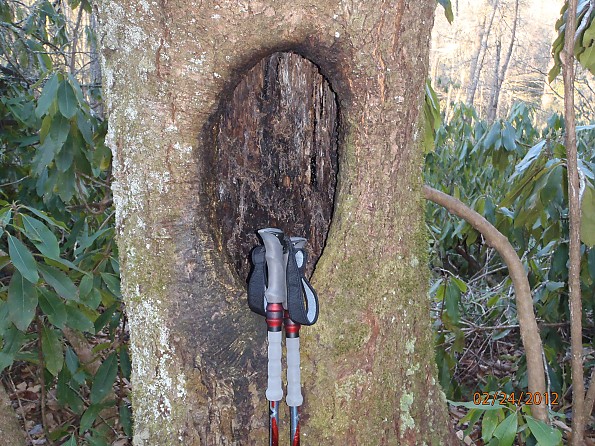 I passed this bit of neatness the morning of day 2 as I continued up the trail.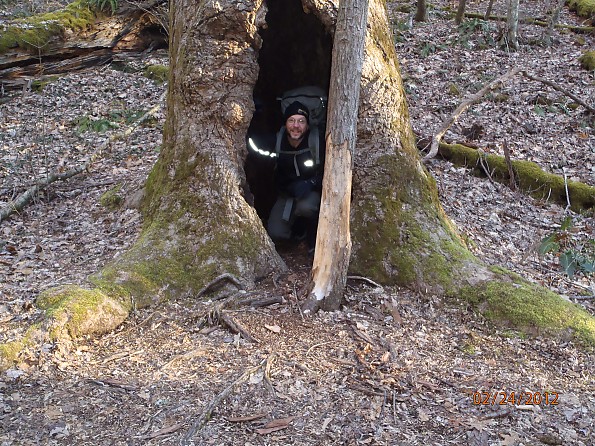 And I'm sure this is a standard picture spot as well.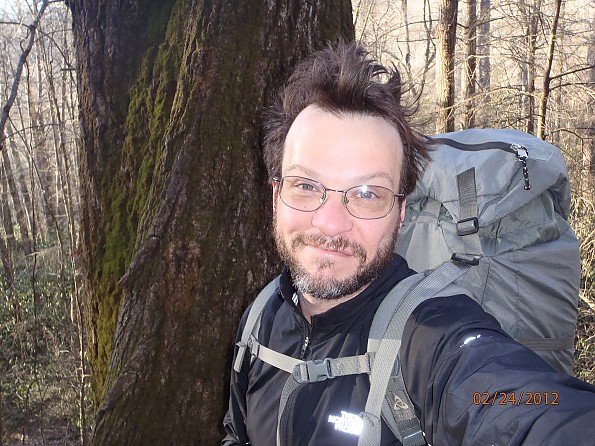 I decided to rock the bed head for a while. Hey, if Andrew Skurka can do it so can I! Reality trip reports…oh yeah.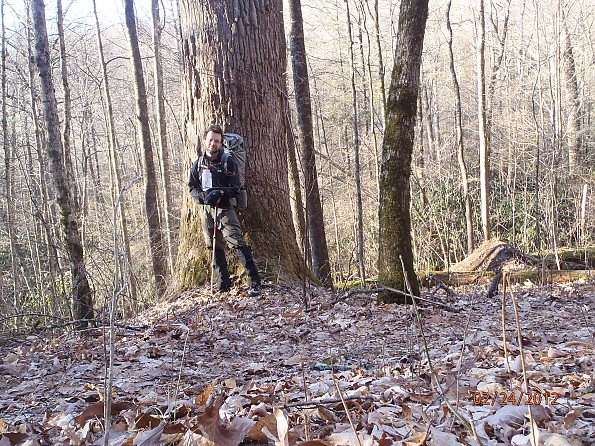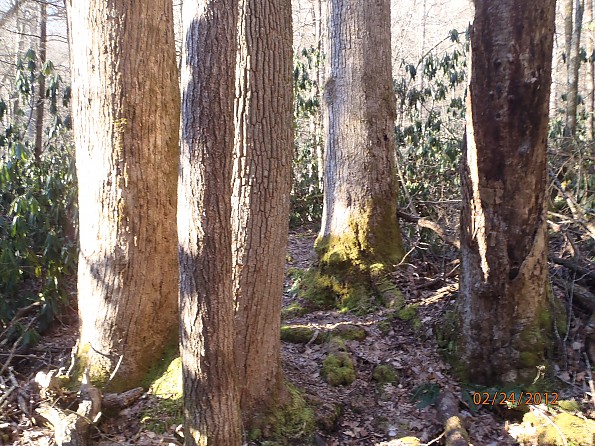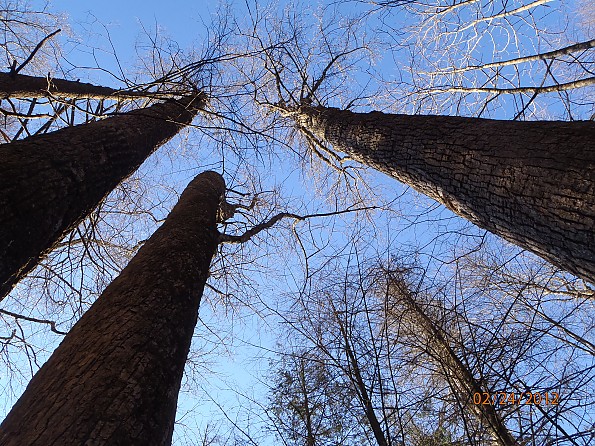 It really lifted my spirits to see all the old growth trees.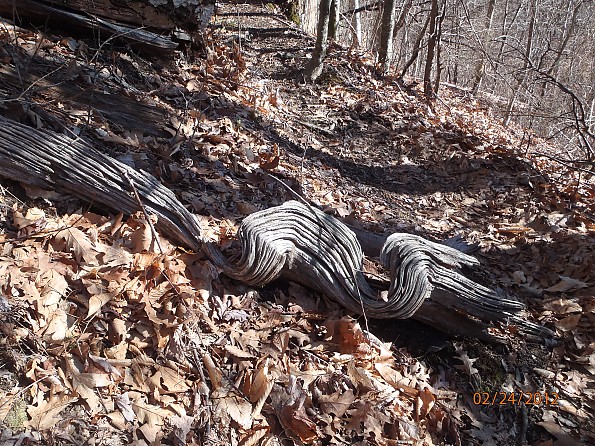 This was neat a twisted pattern broken away from a fallen giant.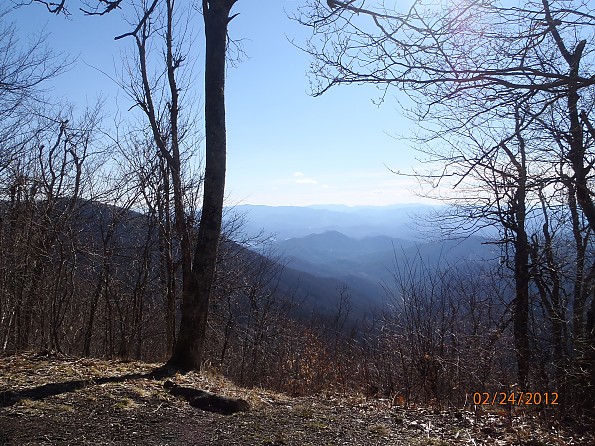 I had arrived at Naked Ground where I was greeted by this view.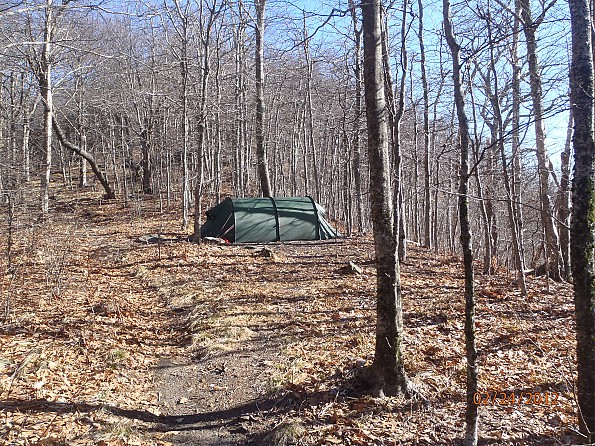 And just up the trail was this familiar tent! I was wondering if I would run in to Mr. Walter up there but was surprised to do so immediately! After greeting with a flourish, Tipi told me I was the first and last person he had seen in 18 days (since my last trip report). Wild. My other greeting up there was the fierce and unrelenting wind. It compelled me to add some layers after standing around for only a few minutes. In fact it was so strong I climbed in the "back door" of Tipi's Keron to seek shelter for a while.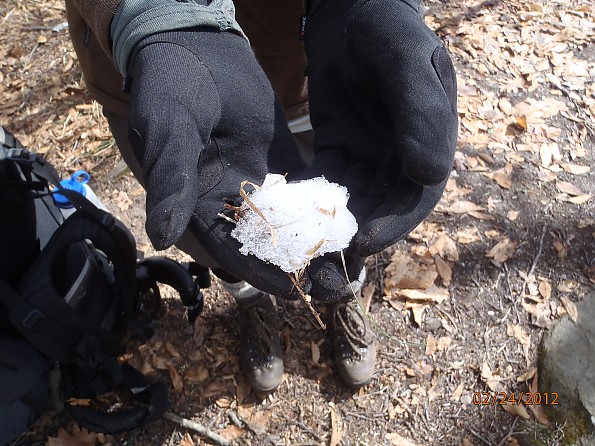 Here is Tipi showing the remnants of the previous nights hail. He was going my way so I hung out while he packed up and we trekked on up the ridge together.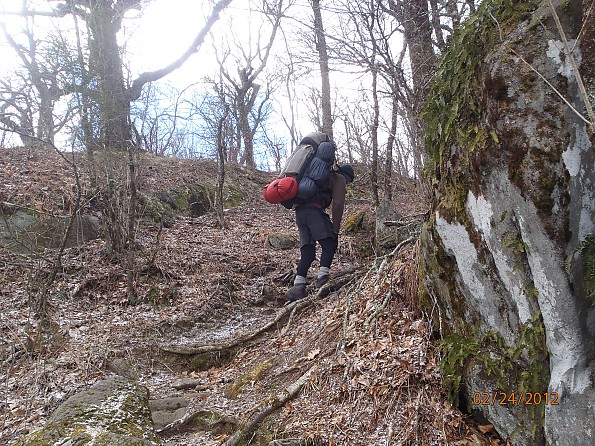 Here is an example of "humping a pack up a mountain". My back hurts just looking at the picture, lol.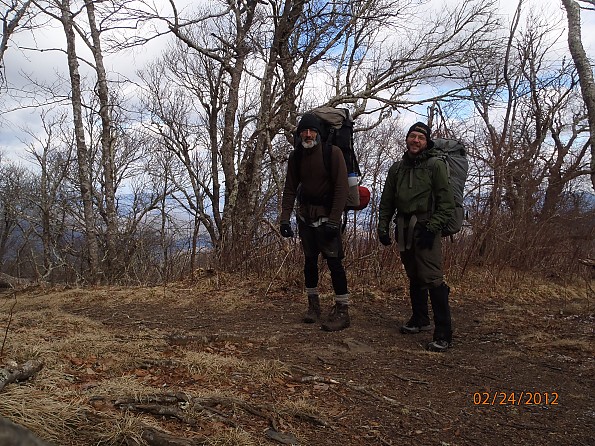 We paused for the obligatory photo near "butt rock".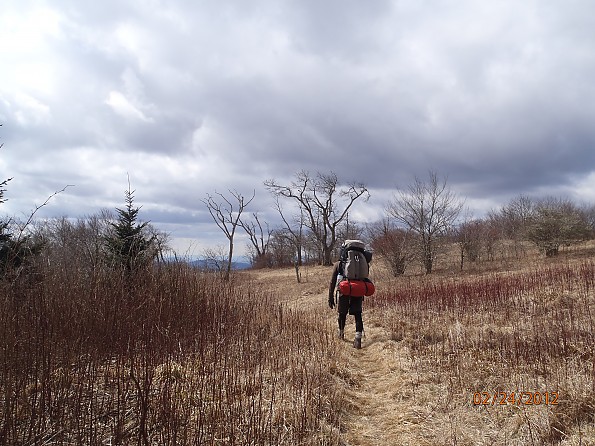 This is my favorite shot of the trip: Tipi breaking out into the clearing of Stratton Bald at 5200 feet.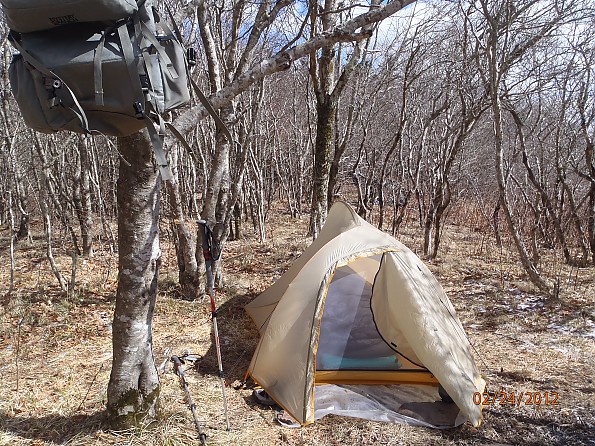 This was my chosen camp site. I wandered all over the area trying to pick a spot that was less windy. To my slight dismay, the wind had no primary direction and whipped around from every angle. So I figured the trees might offer some dilution (they didn't).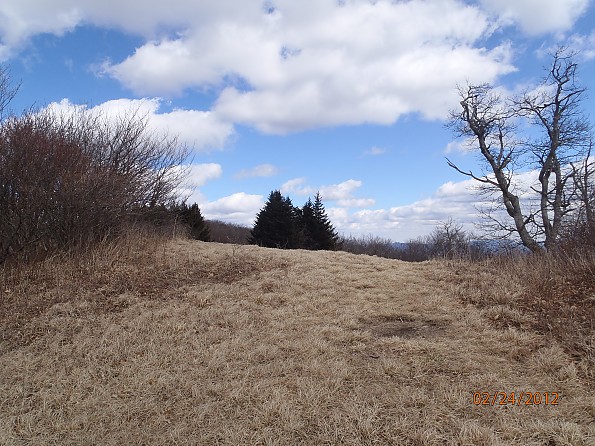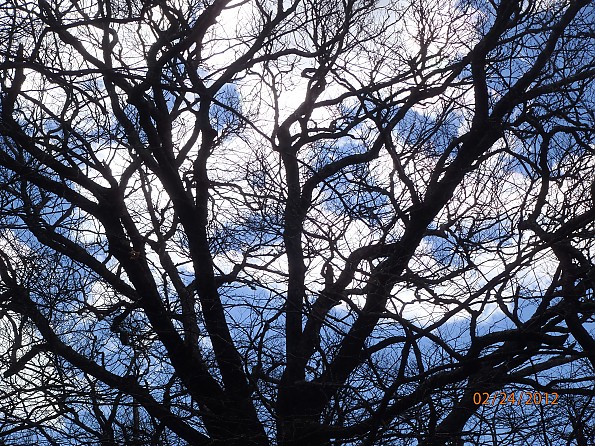 Another beautiful day on the Bob. I still had some energy to burn and decided to hike around for a while. I headed down the other side of the ridge and went up and down several trails just messing about.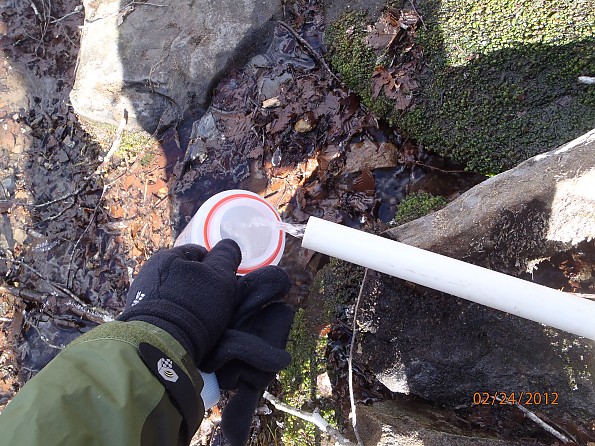 I passed this known-good spring and filled up. That pvc pipe is just laying in a pool secured with a rock on top of it (A thoughtful addition to a natural high elevation spring).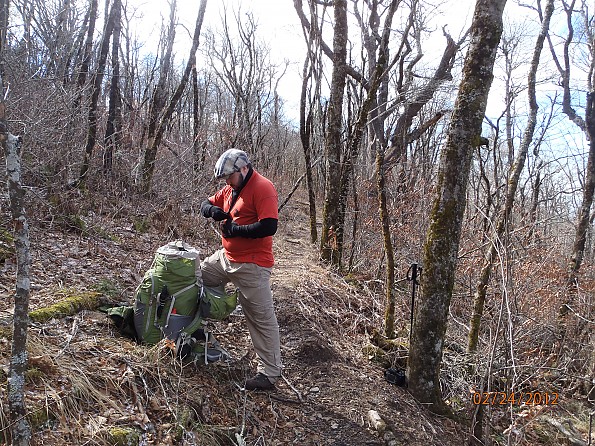 I had started to move on when I spied Gonzan busting up the trail! He stopped for some spring water and we gabbed for a while. He also treated to me to my first taste of Hemlock tea; it was really good!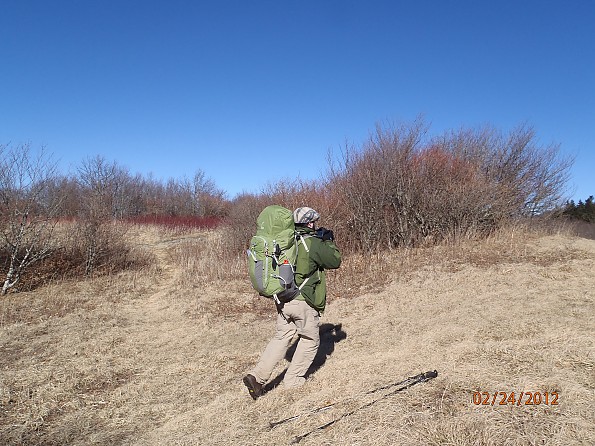 Here you see Gonzan in action mode with his fancy camera!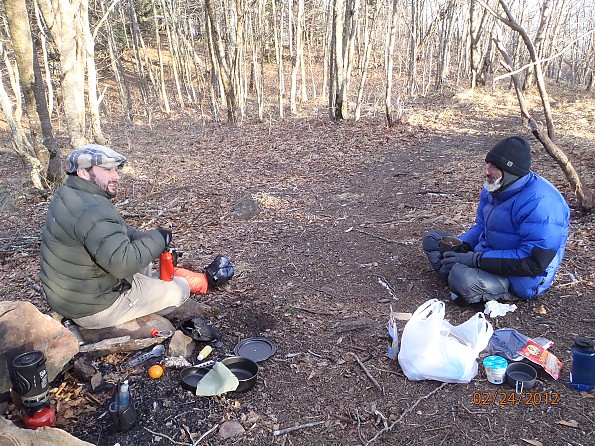 The three of us had the place to ourselves and we all camped in the trees on the high ground. This was dinner time at Tipi's camp. Gonzan applied some Trailspace knowledge and made a huge steam baked blueberry muffin (thanks Rambler!). It was really good on that cold mountain.
We had a nice evening but it grew too cold to sit outside so we eventually holed up with TW for a while in his huge tent so we could all have a chat before being forced into survival mode by the cold.
It was funny stuff and felt like a childhood fort; quite nostalgic for me. But you gotta have a big tent like that for such things… I like those guys a great deal but not enough to share my UL tent. Ugly thought, that. 
 The next morning we eventually packed up and posed for three cameras. Gonzan and I had planned to hike out together back to my car and then I would shuttle him back to his.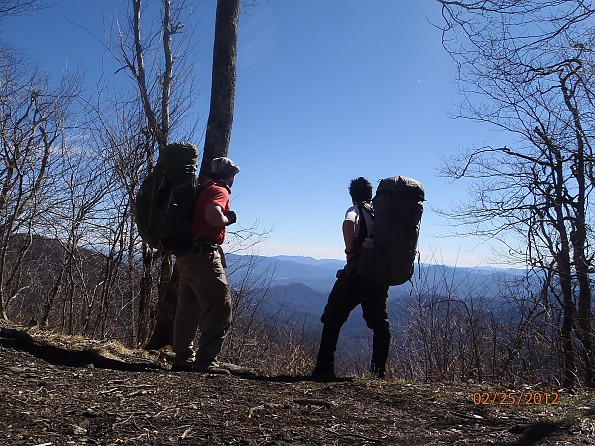 This is my next favorite picture on our exit hike.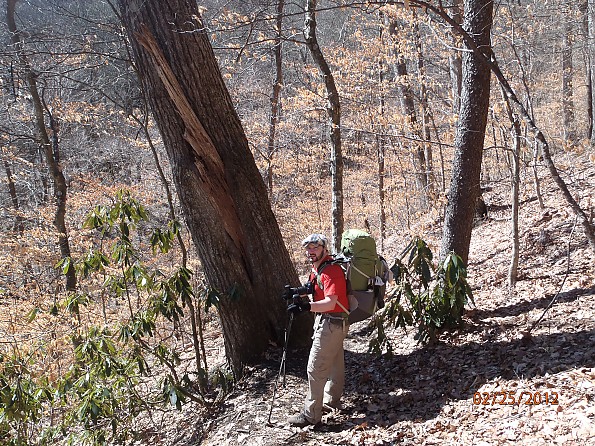 Gonzan fell into that giant tree and it tilted over….he doesn't know his own strength.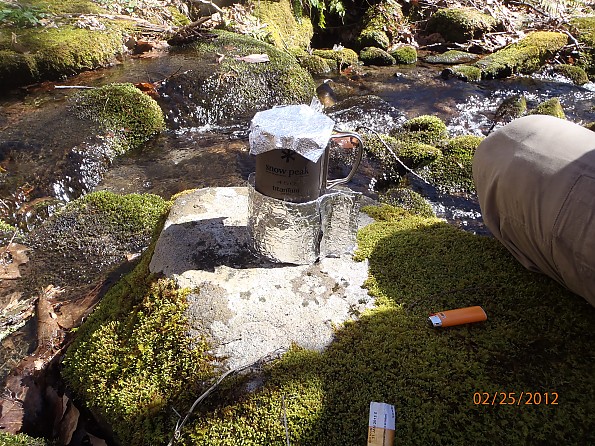 We stopped for a break after losing a couple thousand feet off the mountain. I like this shot of Gonzan making coffee with his home-made alcohol stove.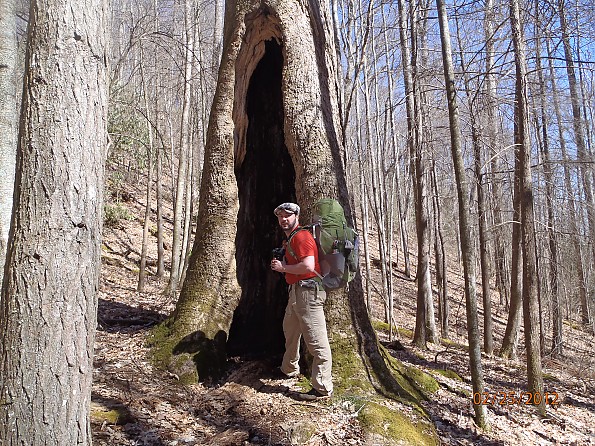 I asked G to stand there for perspective….what a great forest!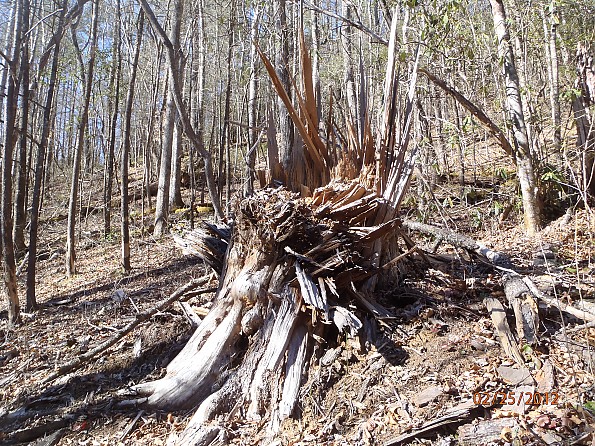 Ever see a dynamited tree? It does indeed look explosive!
 And we ended that hike at my car. Hey my hair looks similar to the exploded tree trunk! I had great time meeting up with Tipi and Gonzan (per my new usual!) and can't imagine having any finer company for a wilderness excursion.
It was a pleasure to trek with people who enjoy nature and wilderness as much as I do.
Happy Trails!