2:12 p.m. on February 28, 2012 (EST)
Rick-Pittsburgh

1,711 reviewer rep
3,962 forum posts
I recently decided that my "Cabin Fever" was getting the best of me and I knew the only thing that would cure my illness was a bit of time in the hills.
So I decided to get out and play on the ridges here is SW Pa for a few days. 
I left Friday and made my way up too the mountain.
As I was getting my gear on a Ranger pulled up next to me. He knew who I was and then told me that we were going to be getting hit with a pretty good surprise snow storm and asked me if I was prepared for it. I nodded my head and told him yes.
I wasn't aware of snow being forecasted but hey its winter trekking. Things like this happen, ya know the whole expect the unexpected thing.
I looked at the forecast days earlier and I was aware of the high winds that were being forecasted but there was no mention of snow.
I had the gear to deal with it though so no biggie.
So I arrive at the shelter site(Grindle Ridge) and set up camp. 
The wind was blowing but it wasn't anything drastic. There was no snow on the ground and the temps were in the low 40s.
I set camp for the night.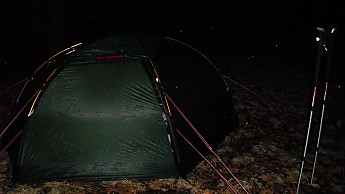 Now as the night went on the wind increased dramatically. As I was laying in my tent I compared the wind to a freight train rolling through. I could hear the gusts rolling through the ridge. It was kinda neat hearing them coming in and then hearing them rolling out.
Good thing I had daylight when I set so I could check for widow makers. :)
The next day I woke up to SNOW !!! Finally...
Now for those of you out there that have seen some of my recent posts I have been complaining for the lack of snow this year. No worries on this trip lol.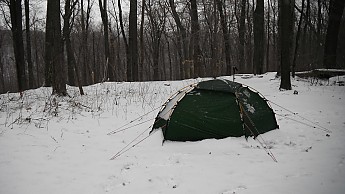 So I broke camp and got all of my gear packed up into Big Blue so I could get on my way. It was at this time that I realized that I forgot something in the car(which was now back in Pittsburgh.)
MY MAP !!!
I wasn't going to ask anyone drive all the way back up here to bring my map to me. That would just be cruel. It was my stupidity and I just had to deal with it. 
Oh well, what can ya do. Things like this happen right? I am very familiar with the trail so I should be ok.
As I was making my way out of the shelter area I noticed something that I had not noticed on my previous trips.
Now I am use to seeing new cairns along the trail but this was different.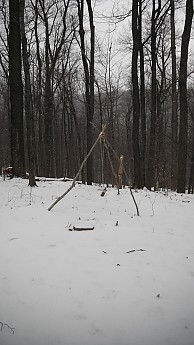 So I studied this structure for a bit and got on my way. 
It was at this time I realized a few things. I was close to the shooting range due to all of the gun fire, the snow was starting again, and the winds that were present last night were still present. 
Out came my handy dandy pack cover.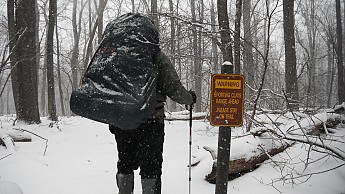 Awhile down the trail Big Blue was complaining that he was tired and needed a break so I decided to let Big Blue take a nap.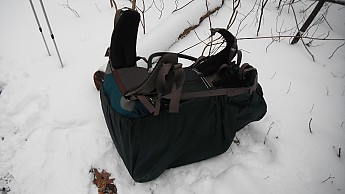 After Big Blue's "siesta" we once again got on our way.
After a few hours on the trail I made my way to Seven Springs ski resort.
This is the area of highest elevation on the trail (2950ft) and it is completely exposed. The wind was rolling up here and the snow was blowing sideways. There is a large pond up here as well that is utilized for the water supply for the snow making machines on the slopes.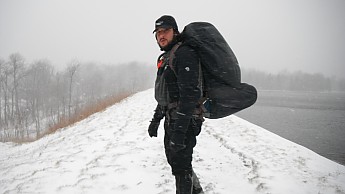 Let me tell ya... The wind whipping off the water was frigid. Granted I was geared up for it but it definitely left a tingle on the ol' nose. I've got a big ol' honker so it was a big ol' tingle. :p
Now in this area the trail crosses paths with the slopes. 
As I was navigating my way through this area trying not to get blind sided by a skier/boarder I had a kid on a ski lift yell down "hey, you're not supposed to be here." I on the other hand disagreed.
This was exactly where I needed to be. 
I did lose the trail a few times due to poor visibility but got back to where I needed to be without much trouble. A map would've helped lol. 
I had quite a few people stop and tell me that I was nuts for being out in this weather.
Maybe they were right but regardless of whether or not I am nuts I was still happy to be where I was doing exactly what I was doing and to me that was what mattered. 
So I once again made my way through the frozen terrain to my next camp site. 
I set up my tent and hunkered down for the night. It was pretty cold out and the wind was once again beating on my tent.
I would estimate with windchill it definitely dropped into the negative side of the spectrum when it came to the temps at night.
I awoke the next day to clear skies, massive amounts of sunshine, and no wind.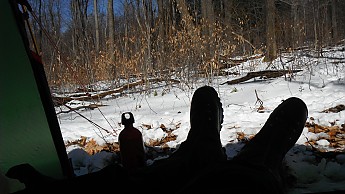 I made my typical breakfast of oatmeal and go-go juice.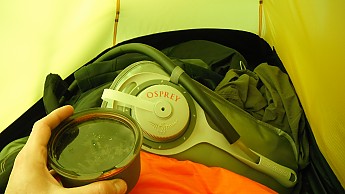 So it was Sunday. My last day up here.
I wasn't being picked up until around 7pm and I was pretty close to my pick-up point so what can I do to burn the daylight up?
Hmmmmm....
I know. I will hike to the top of the ridge, veg out for the day, just soak in the view, and maybe catch the sunset. 
As I am making my way up the ridge I found a deer that had seen better days.
(thanks for the offer but I had breakfast)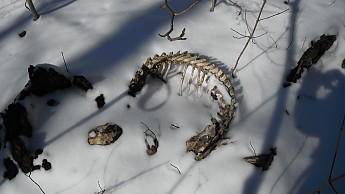 The temps were alot warmer(maybe due to the lack of wind) and the snow was melting.
There was quite a bit of run-off coming down the ridge. There were many sloppy areas on the trail caused by the melt.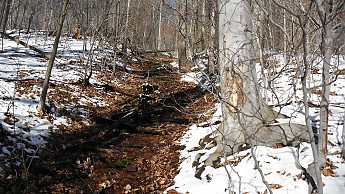 I found a small cut in the trail where I had my 1st view of the ski resort from the opposite ridge. I figured I would stop for a sec and soak it all in.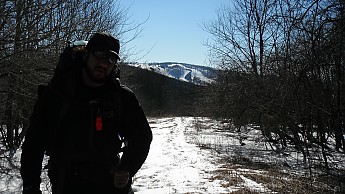 A short time later I made my way to the top of the ridge.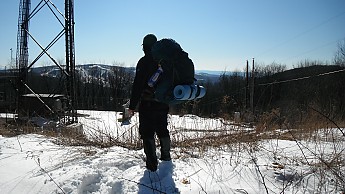 It was really nice and quiet up here. You can see Seven Springs ski resort(slopes) on the next ridge in the distance.

There is a tower in this area but other than that there isn't much of anything else other than a great place to just sit, watch, and listen. 
(you're a tall one.)

It was at this time that Big Blue once again told me that he needed a break. I'm beginning to think Big Blue is just plain lazy.
So I figured "why not" and let him take a rest on the ridge. I just sat there soaking in my surroundings.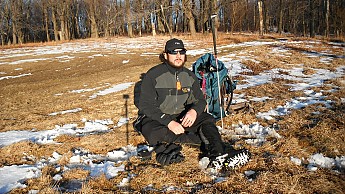 While sitting up there I was greeted by a Red Tailed Hawk that flew down the ridgline in my direction.
It circled me quite a few times. Maybe it thought I was a potential meal?
I spent the remainder of my day up there just staring into the horizon. It was quite peaceful and very therapeutic.
It was really nice just watching the sun travel its path through the sky as daylight slowly made its way into nightfall.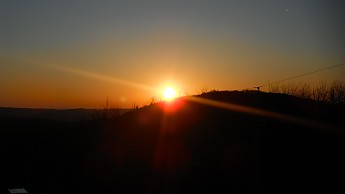 I figured now was just as good a time as any to get out my headlamp and being the temps were dropping quickly I added a bit of warmer protection for the bean.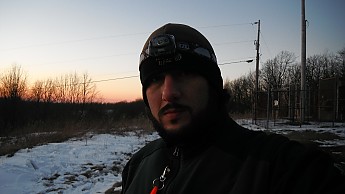 As I was sitting there on the ridge I hear a loud pop emanate from my headlamp. 
Wth was that? It definitely scared the crap out of me being it was pretty loud and quite unexpected. So I took my headlamp off for a closer look.
Well, one of my batteries had a crack in it and the acid was starting to bubble out of it. That was different.
I yanked the battery before anything leaked into the headlamp, replaced them all with a fresh set, and all was well. 
I then resumed my staring into the horizon and just watching. The sun was about gone.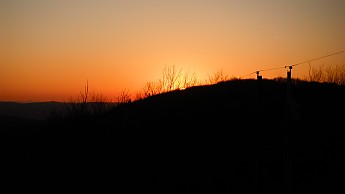 I took quite a few more photos while I was up there. It was just so beautiful.
(This shot came out a bit blurry)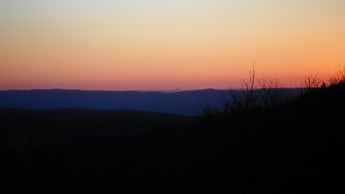 I was told that the Moon, Jupiter, and Venus were coming together on this night. I snagged up a photo of that as well.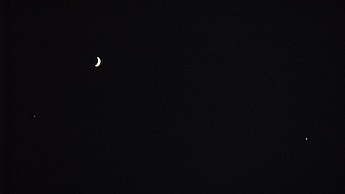 The sky was just so beautiful up here. I couldn't get enough of it.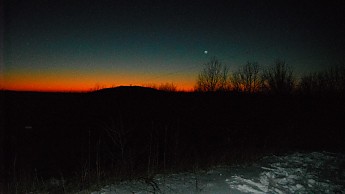 Well as I always say all good things must come to an end. It was about time for me to make my way down the ridge to get picked up. So I woke up Big Blue from his "slumber" and got on my way.
It was a rather short trip compared to what I am typically use too but nevertheless I wouldn't have changed anything about it for the world. 
Hope ya like the pics. Thanks for taking a look.
Happy hiking.