8:35 p.m. on March 12, 2012 (EDT)
Patman

2,155 reviewer rep
2,119 forum posts
I was itching to do a bit longer hike and was ready for a return to the GSMNP. So here is my "old-fashioned" trip report with point-and-shoot pics only. :)
But I did include this map: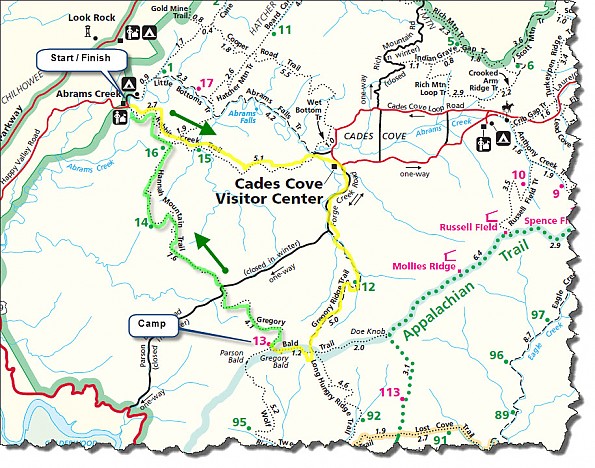 The yellow highlight is day 1 and the green is day 2. 
My loop started from the Abrams Creek Ranger Station on the west side of the Park. I originally estimated the day 1 route at 21 miles and the day 2 return-route at 14.5 but I trekked through some fields and cut out a bit of road walking. So day 1 turned out to be about 18.5 instead (still with 6300 total feet of gain, whew!).
Disclaimer: I'm not listing my miles to be boastful in any way. I've no desire to impress (or underwhelm as the case may be) anyone. I only do so to give an idea of the scope of the trip and my love of endurance exercise.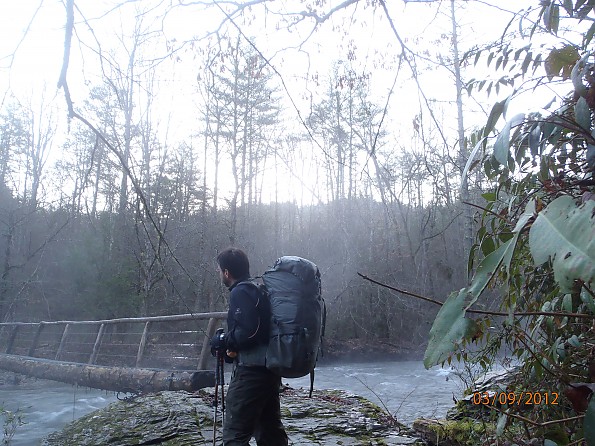 The trip started with a crossing of Abrams creek on a nice footlog on the Rabbit Creek Trail.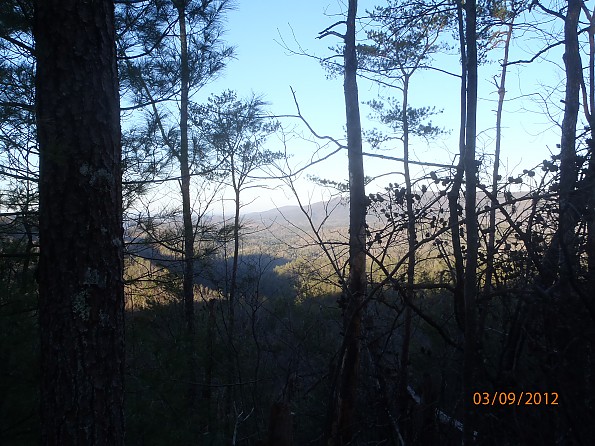 I was looking back across Happy Valley (where my wife's uncle was raised) here as I ascended Pine Mountain (distant view not part of the Park).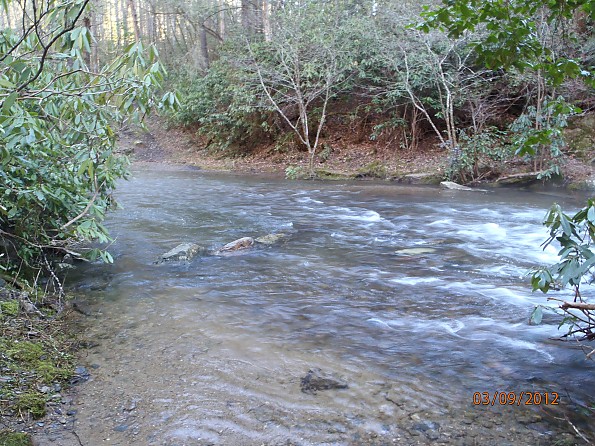 And this was the first fording of the day (Rabbit Creek). It looked deep in spots so I went all "Colin Fletcher" and stripped for this one, but it was only thigh deep (better safe than sorry as Arson may attest). The ambient air temp was probably high thirties at that point.
 Rabbit Creek trail is more of road than trail at times but was a nice soft surface for trekking in stretches.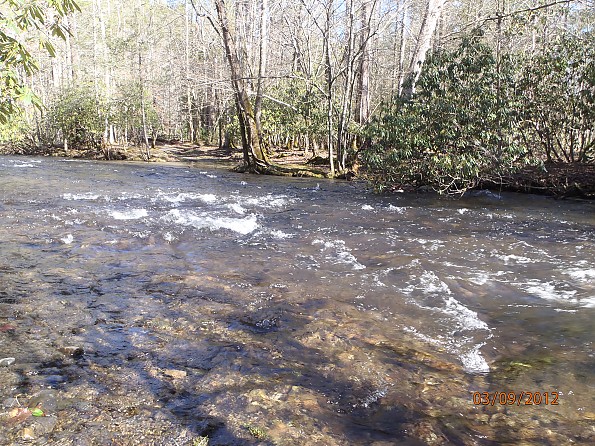 And skipping ahead (mile 7.8 of the day) here was the second fording of the route (Mill Creek) at the Abrams Falls trailhead in Cades Cove. It was only a little more than knee deep (and there were other humans here so I chose to risk getting the shorts wet…lol)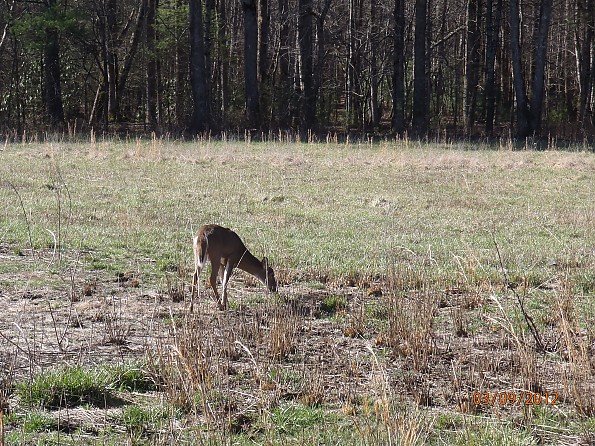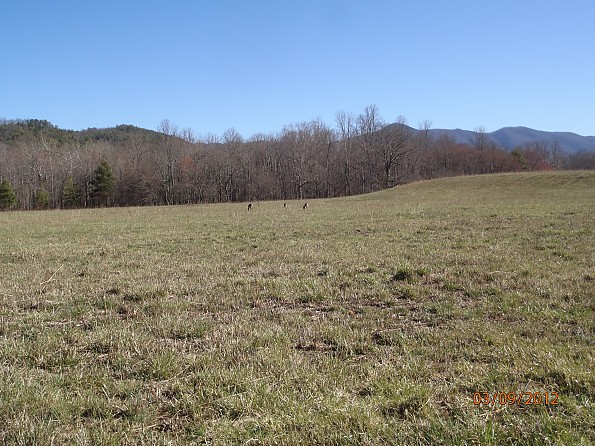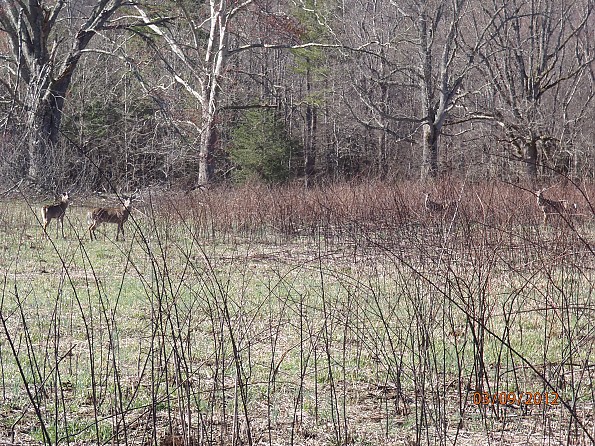 This was the section where I decided to cut through the cove fields rather than walk the road and the deer were out en masse. That last young buck didn't trust me.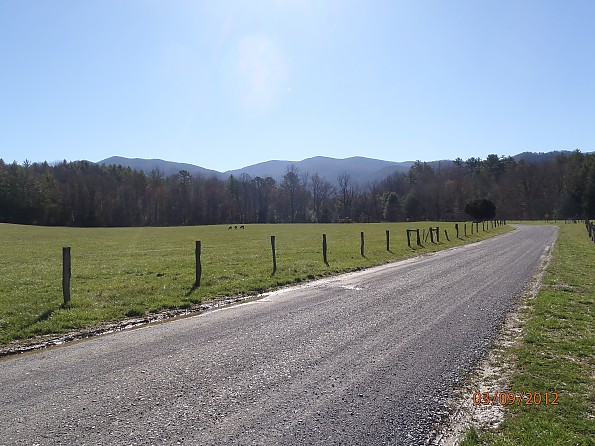 This was where I had to leave the fields and walk Forge Creek road to my next trailhead.  As the sun beat down on my head, it was hard to believe I was trekking and camping in snow just three weeks ago. You can see where the trail cuts up the woody valley ahead.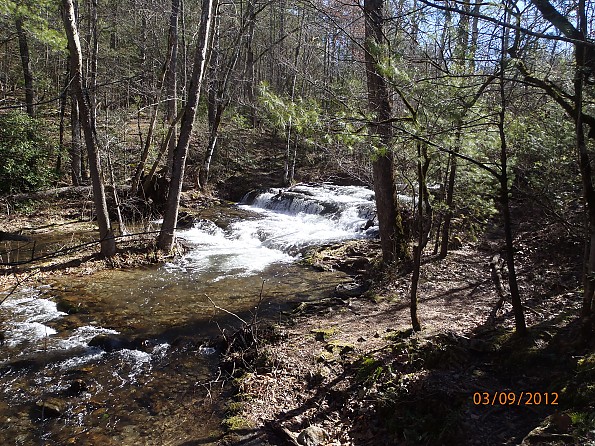 This was somewhere on my road-walk after gaining a forest surrounding amd leaving the fields behind.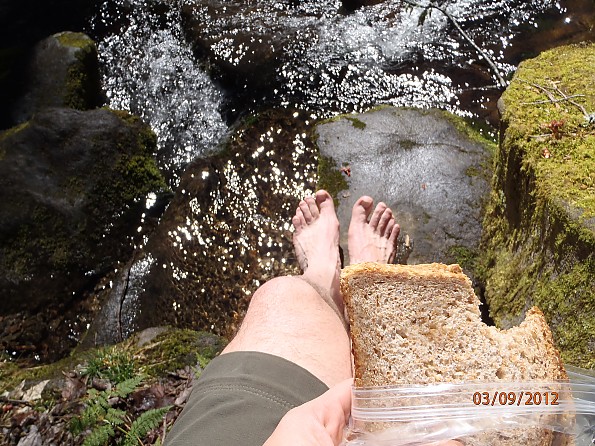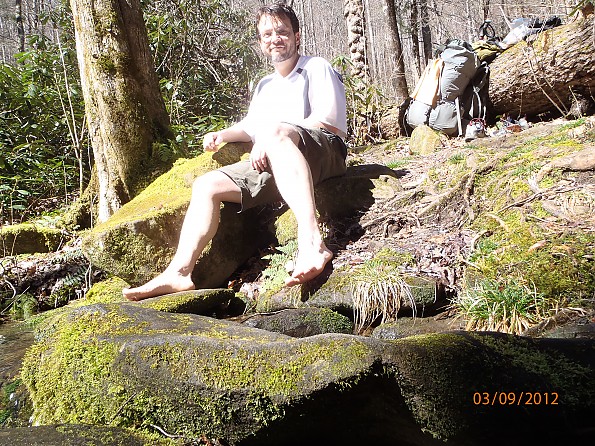 I had reached Forge Creek camp on Gregory Ridge trail about 13 miles into my day and just before the serious climbing began. It was a good time to eat lunch and soak the feet in the cool mountain water.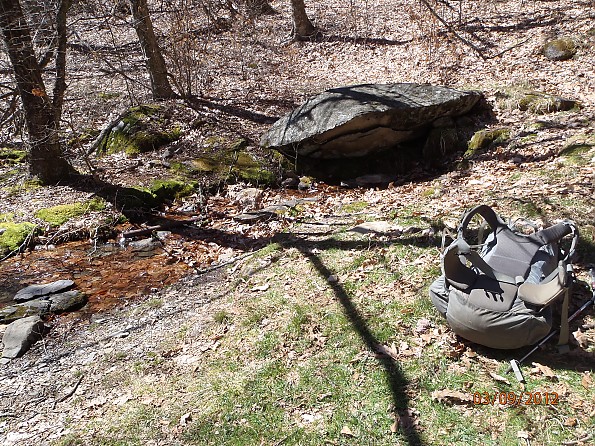 Although my evenings destination has a good spring just beyond it, I made the half mile detour to Moore Spring (no horses allowed) to fill up. I got 6 liters to make it through lunch the next day. This spring water tastes better than others. I have no idea why.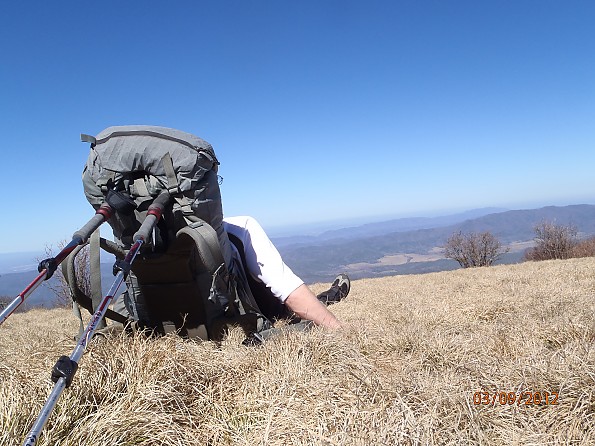 The last five miles to Gregory Bald (and highest spot of trip) also included 3200 feet of gain so I was ready to chill for a while after pulling 18 miles to this point.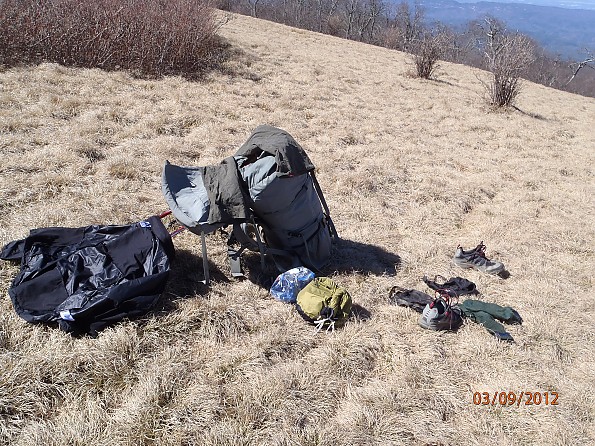 Sun drying the sweaty stuff.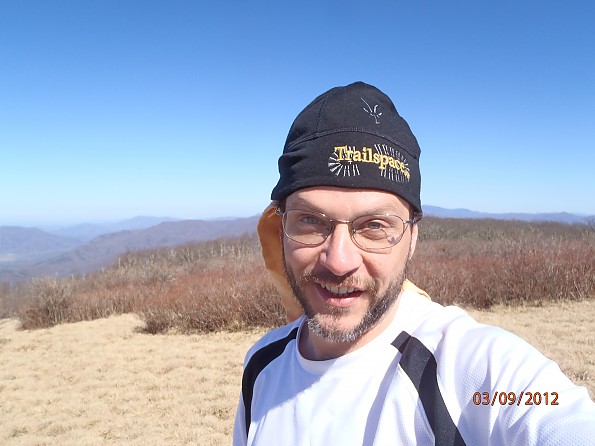 I was getting sun burned (every year I get surprised by extreme sun before I remember to bring a wide brimmed hat, geesh), so I tucked my sham-wow under my Trailspace beanie to protect my lily-white neck.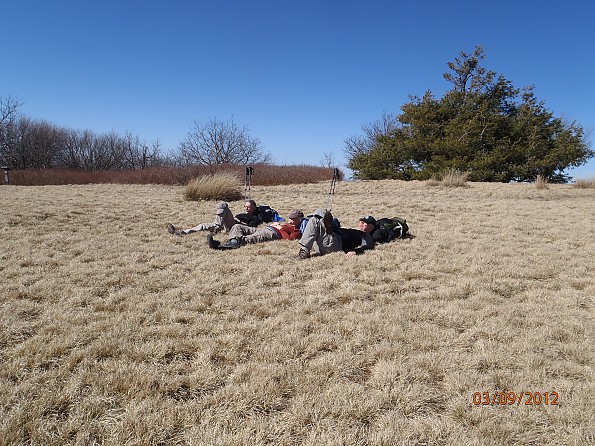 Soon these three fellows from Charlotte arrived with the same destination although they had started from a different place.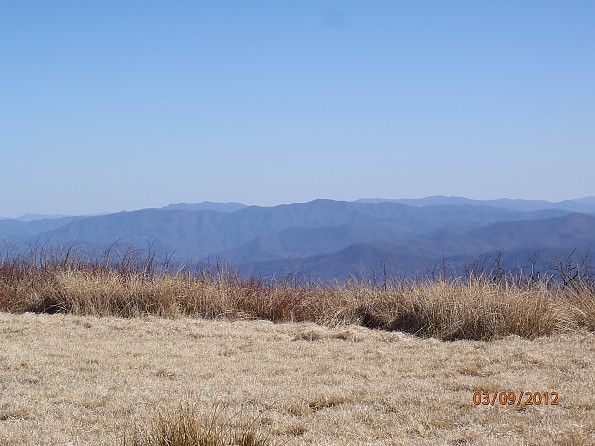 This was looking south from the Bald: that's the Unicoi range and Tipi Walter was out there somewhere. Still is most likely, huh?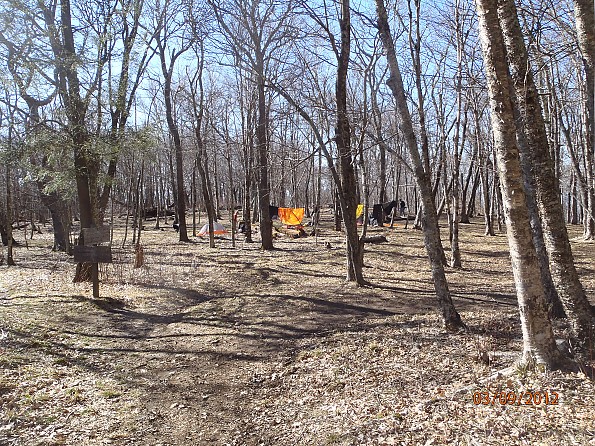 After hanging out on the Bald for another hour or so, I went to camp at Sheep Pen Gap where the Charlotte three and already settled in.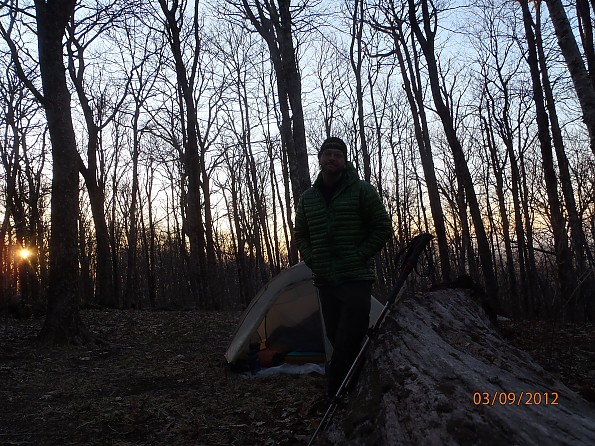 I was pretty beat so I was unconscious by about 8:30 PM.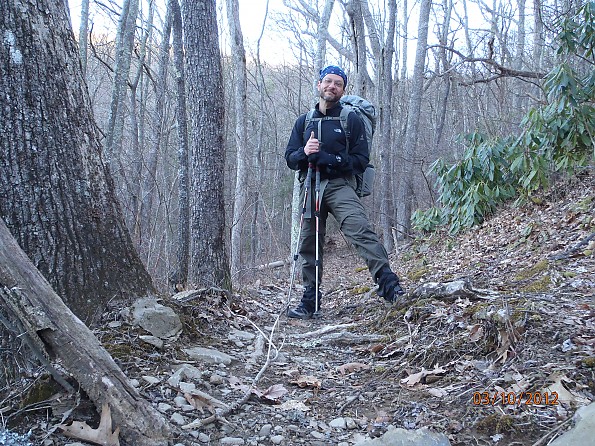 The morning of Day 2 and I was up early anticipating a great day of hiking.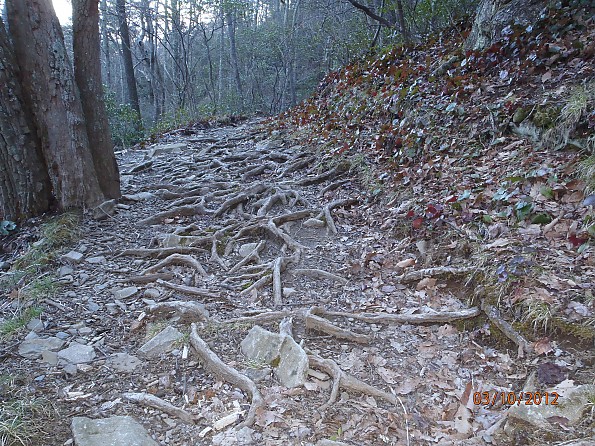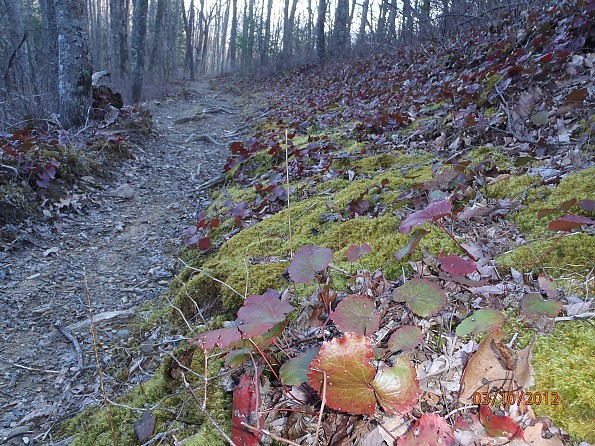 A root filled and pretty path it was, going down Gregory Bald trail towards Hannah Mountain.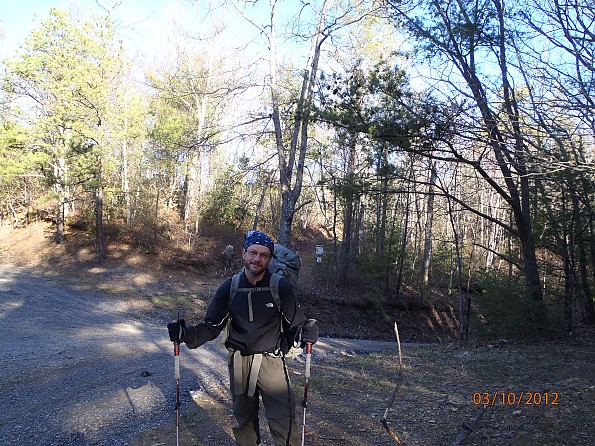 Here was the junction of Gregory Bald, Parsons Branch primitive road, and my next trail: Hannah Mountain.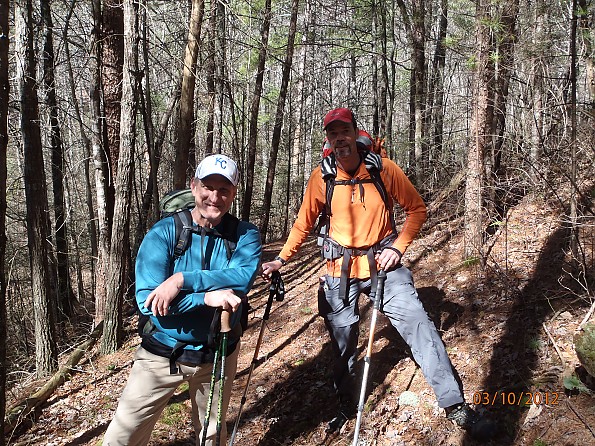 Are you kidding me? I ran in into Jerome and Bob, my backpacking friends from Alabama. Without planning I've ran into these guys about four times now in Tennessee! It was nice to catch up a little but we were going in opposite directions and they were racing the sun for their route. Good to see you guys!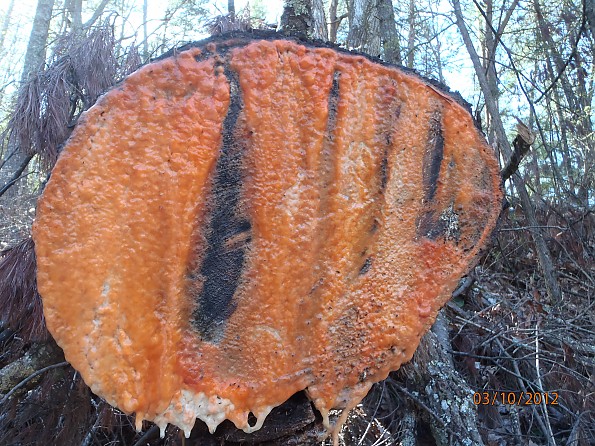 Well I don't know what this goo on the log was (I bet Gonzan does), but it was my last interesting picture of the trip.
I went back across Rabbit Creek for the final leg, finishing my 14.5 mile day and 33 mile loop. What a great hike!
Happy Trails!