7:27 p.m. on April 2, 2012 (EDT)
Patman

2,155 reviewer rep
2,130 forum posts
It's been a busy spring and hard to make time to break away for the passion, but even though I only had Friday night after work and a long Saturday to use, I went to a place I hadn't been in some time: Frozen Head State Park. It's a relatively small park (13K acres) but has 13 peaks high enough to offer some exercise (up to 3000 ft +) and quite a few fun trails.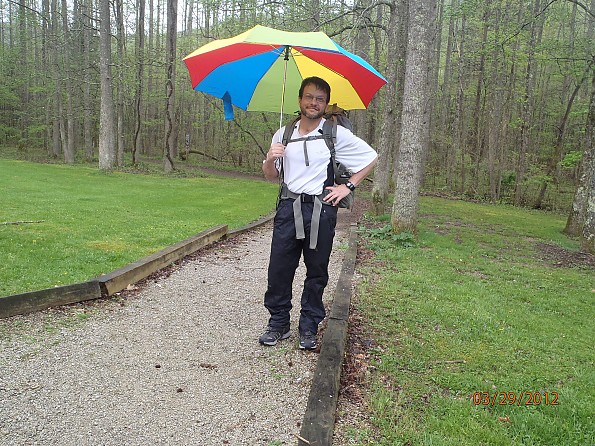 I began trekking in a steady drizzle from a trailhead parking lot in the center of the park. My goal was to make a campsite known as "Chimney Tops" before dark (a bit of a push given that I had a 1 hour fifteen minute drive after work) It was just too warm for a rain jacket (mid 70ies) so I used an umbrella. I wore the Marmot Precip pants but might as well have not bothered. I sweated so much I was soaked beneath the pants anyway. I miss the winters cold temps already. I think high thirties to low forties is ideal hiking weather.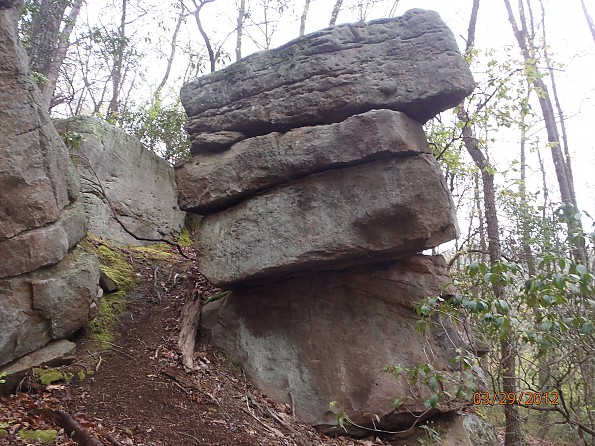 The trail was punctuated by neat rock formations like this one.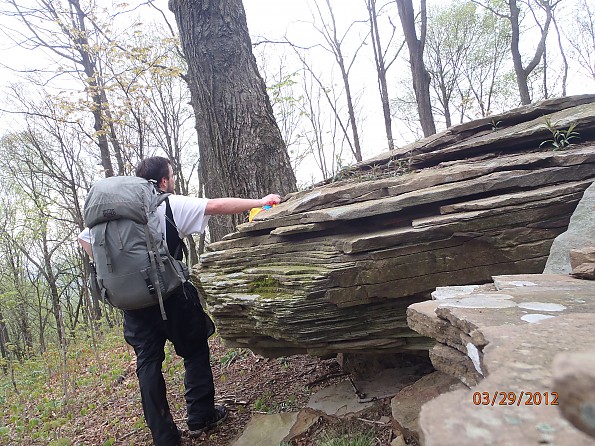 And this one.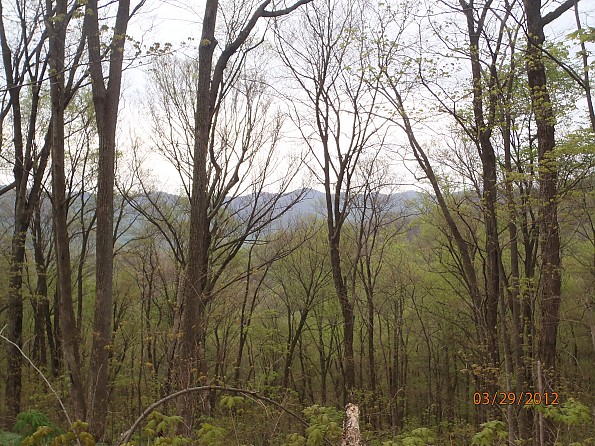 The ridge line across the valley would be on the next day's route.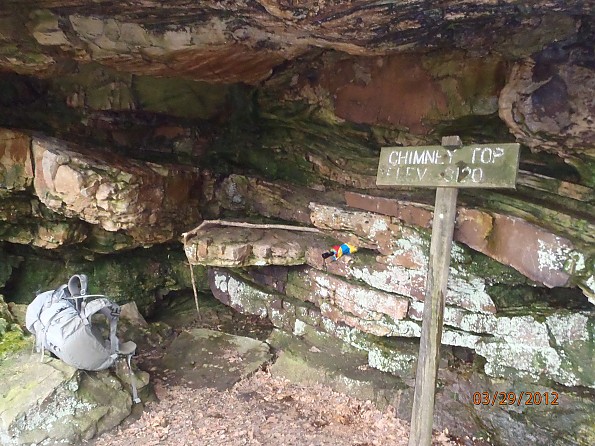 Here was the official Chimney Top campsite. I had read that the site was under a rock overhang and was looking forward to sleeping with no tent.
 But I could not find a really dry spot to lie. There were big drips perfectly placed sp as to keep a person from lying in a comfortable position. And if I were going to pitch the tent I may as well find a better spot.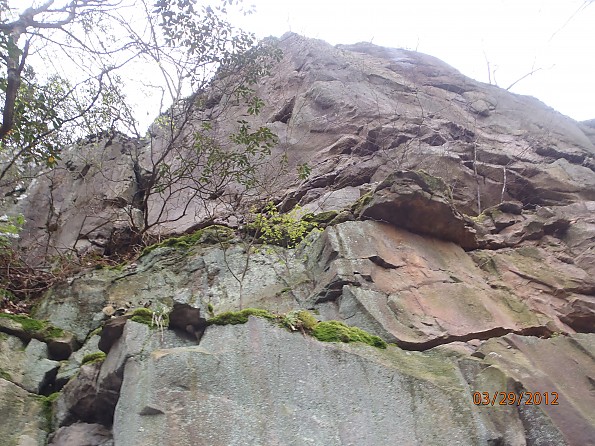 I wondered if I could get up there on top of the chimney.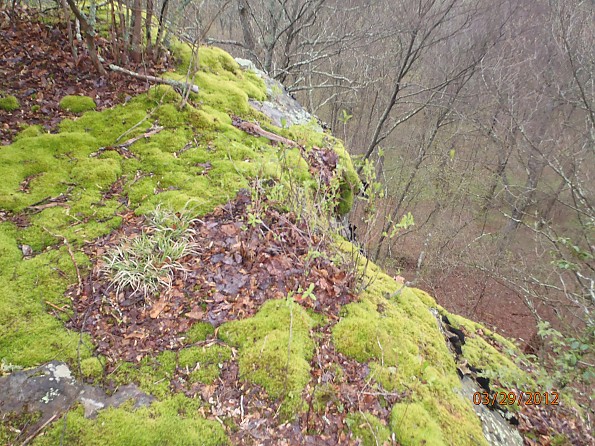 Why, yes I could. Was there a level enough spot to pitch my little tent?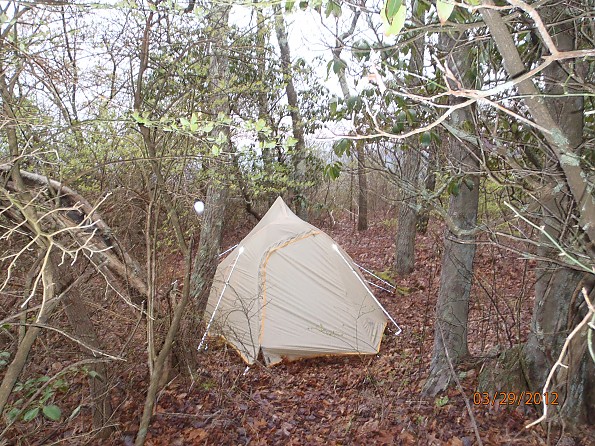 Yep, there was. Although I had to groom the spot carefully (lots of little pokey things waiting to penetrate my floor).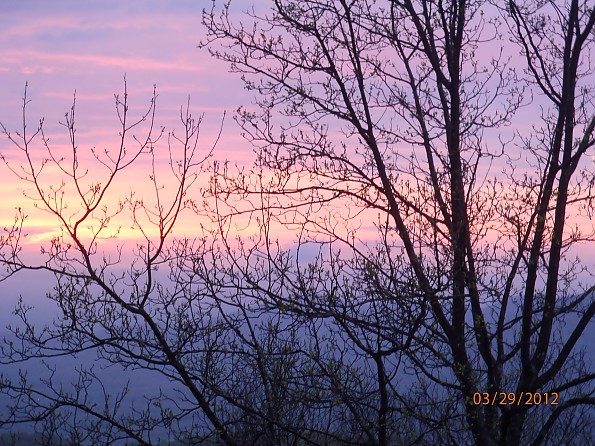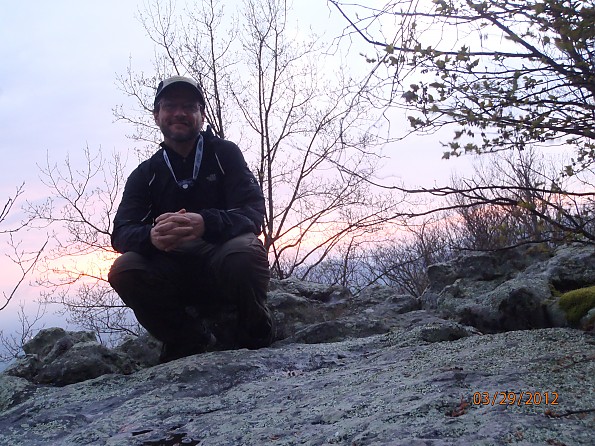 My higher perch offered nice sunset views that I enjoyed after being chased in by the rain for a while. (rained most of the evening really)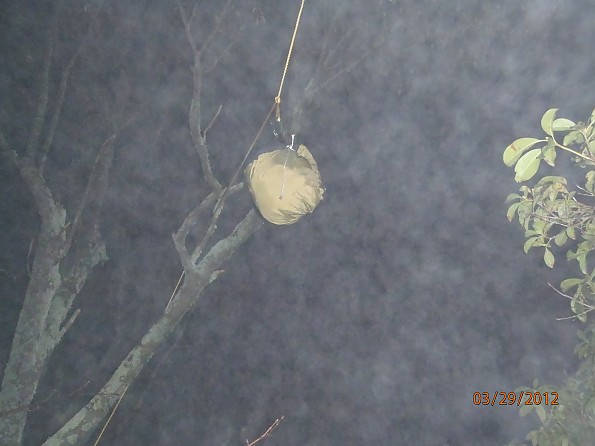 I woke up in the middle of the night realizing I forgot to hang my food. So I went out to do it in the dark foggy rain. A hasty job as it were.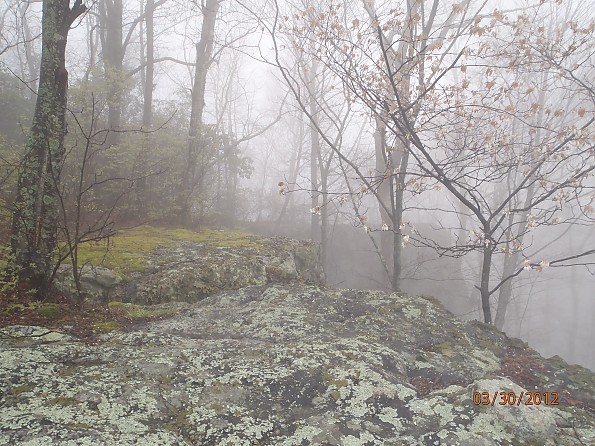 The next day I awoke to a dense fog on my chimney top roost. Unfortunately most of my morning pics are too foggy to show.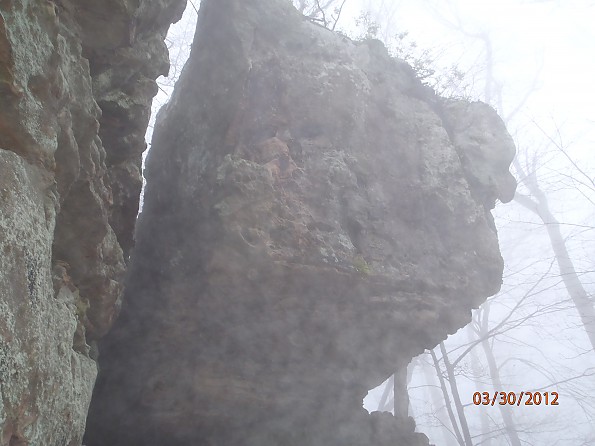 Still foggy but this was a giant rock Sponge Bob about to pounce.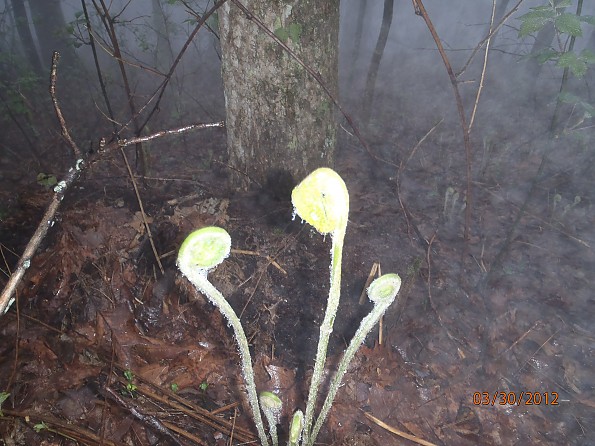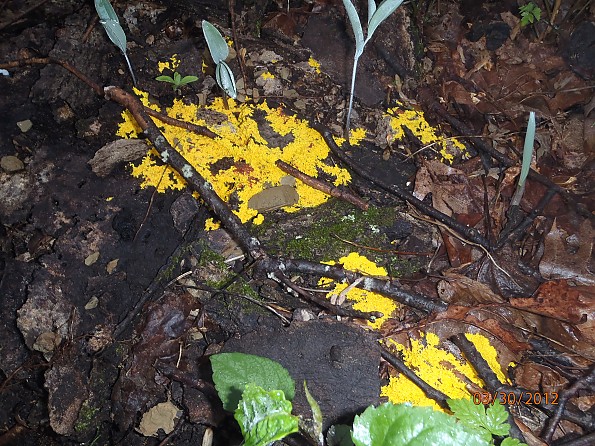 Some cool flora and fungi.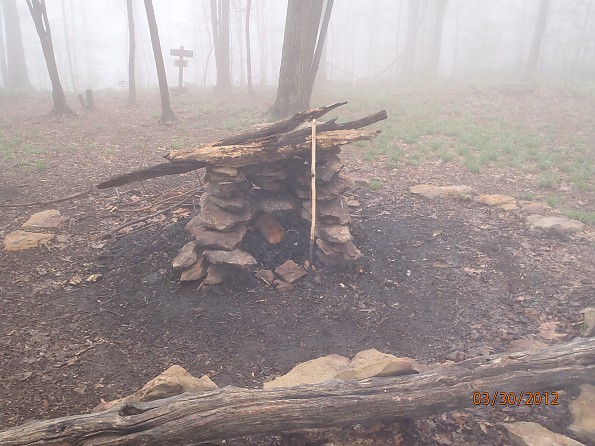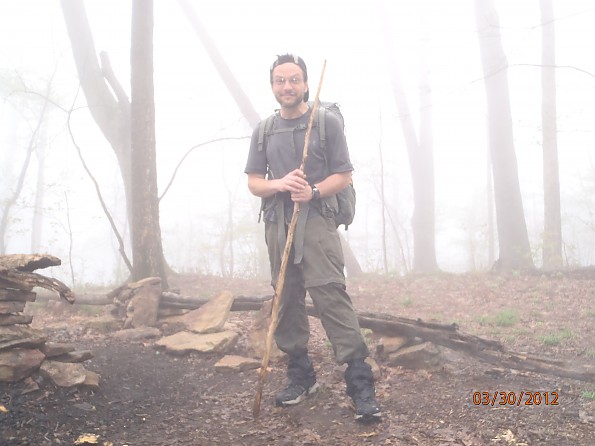 This was a neat campsite I passed after a while….Mart Field camp if you ever come here and want to find it.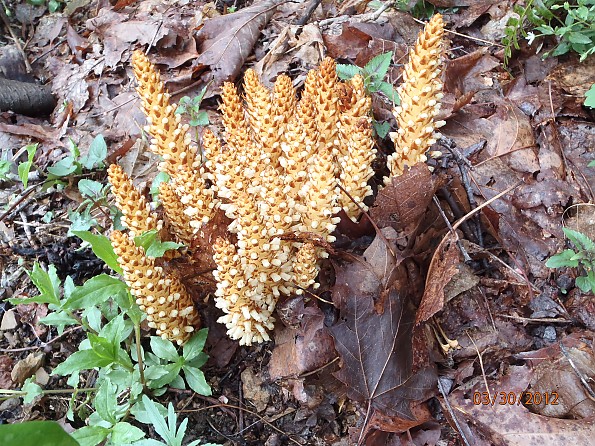 Some fine "bear corn".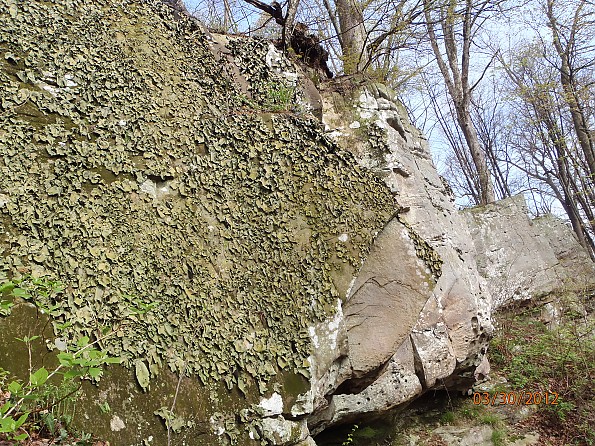 Cool stuff.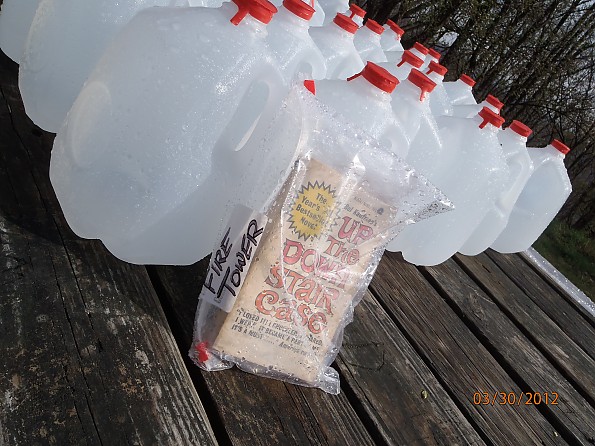 I had reached the Fire Tower and found this surprise cache of gallon jugs presumably full of water and a book in a baggie. Curious…..I later learned that a 100 mile adventure race was taking place at that time and these accoutrements were part of the race. It's called a Barkley Marathon. I passed five runners later it the day that all thought I was in the race and wondered how I got ahead of them. Funny stuff.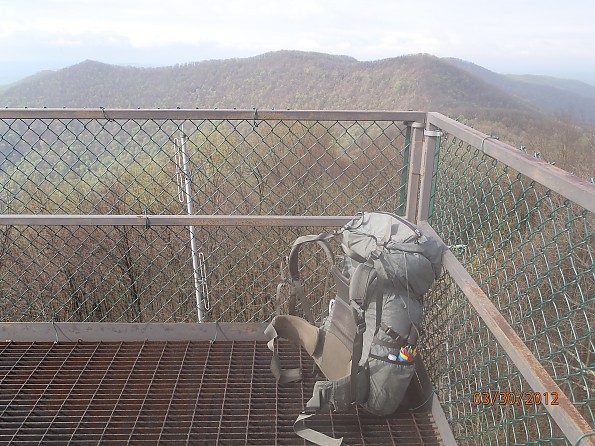 This was a view from the tower where I stopped to change in to some dry socks and consume first lunch. The ridge is what I had just hiked across that morning.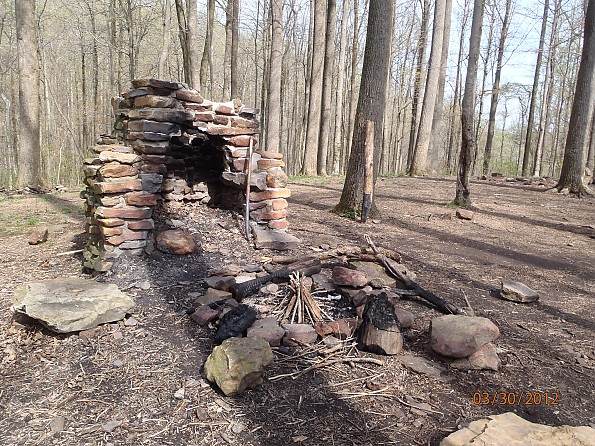 Here was another nice campsite I passed named "Tub Springs". The spring didn't look all that special to me and I was glad I had filled up at Mart Field before getting there.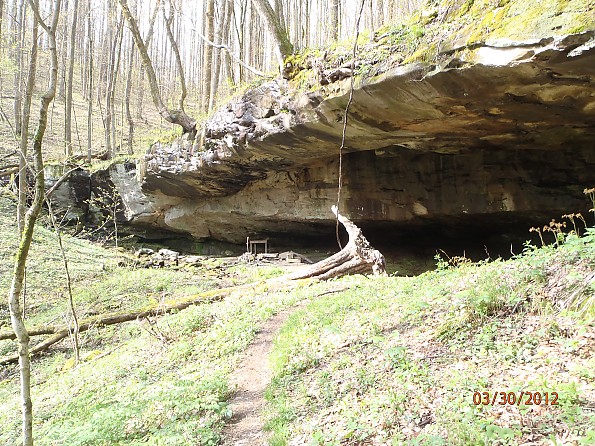 And some distance later here was "Panther Gap Rock House". This one was big enough to actually camp under, although there were some drips. That is a table in the back (about elbow height to me..,for scale)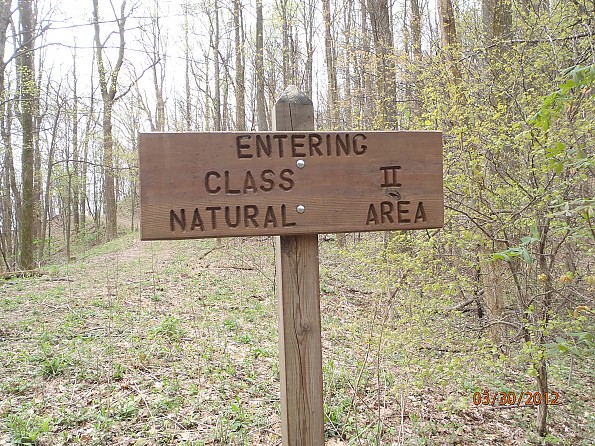 At the next trail junction I decided to take a detour down the ominously named "Coffin Springs" trail and discovered that I had been in a 'Class II Natural Area". Hmm, not sure I was authorized for such, lol.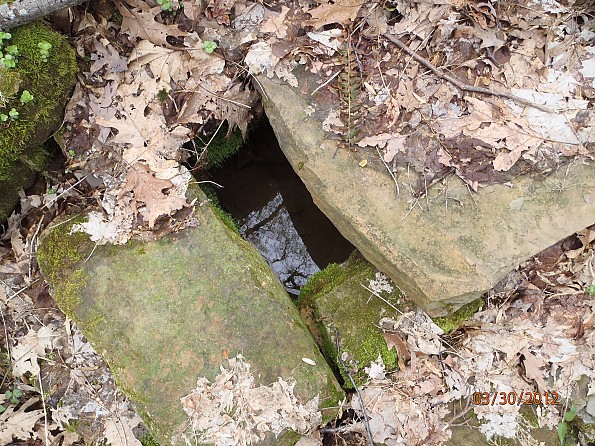 Here was Coffin Spring and until seeing it in person never knew the significance of said handle. Well that didn't take much imagination to name I guess. Some years ago I met on area old timer that told me this was the best tasting water he ever drank. I was still full of water from earlier and didn't want to empty out to try it. Probably should have.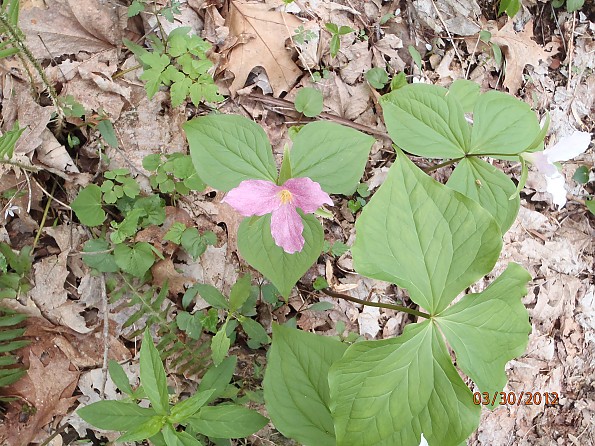 The hot March was really messing with the wild flowers. This painted trillium was so early.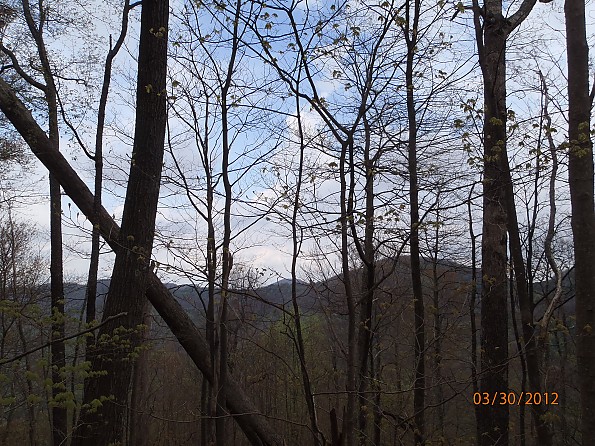 Some miles later this was looking back across to the ridge I hiked the evening before.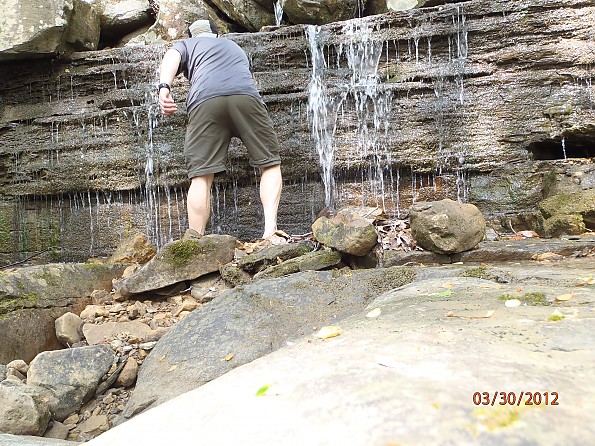 This picture didn't turn out like I hoped. I was barefoot and trying to turn and pose for the camera but nearly fell instead. So smooth.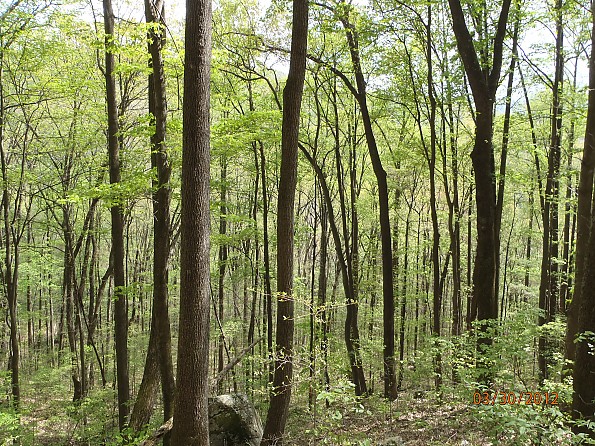 And I'll end with a nice new growth forest shot taken just before looping back in to the realm of the day hiker.
This is a fine little park and worthy of a visit if you're close. There are many more beautiful trails, waterfalls and rock formations to see than I've shown here.
Hope you enjoyed the report and Happy Trails!
Patrick