7:35 p.m. on April 14, 2012 (EDT)
Oldman Mike

584 reviewer rep
170 forum posts
Laguna Mountains: BLT trail.
Saturday 14, at 5:55AM
Weather: Heavy Snow with 40 to 50 mph gust: 8 inches on the ground with lots of snow coming down.
Started trail at penny lane, wind was coming at me. The snow plows cleared this small parking lot which was nice. I had small problem with mile markers they were all snow covered which made locating other trails very hard, unable to park (even if I was the only person on the road). I plan to do Sunset trail but snow plows covered the entry point which was approximately 3 feet of snow. I started trail and notice that the plants were frozen, which indicated that it rain a lot, before it started to snow. I could see black oak trees that had broken branches from the high winds. The jeffery pines could handle the winds with no problems. I did see animals tracks this time (not big foot) which were rabbits and birds. I didn't spot any larger animal tracks, I guess they were smart not to come out during a snow storm. While I didn't get cold the wind was causing some problems with my face, I had a wool hat with my hard shell over the hat. I put my sun glasses on which help, but the snow felt like little pin pricks when hitting my face. I feel the wind chill was around 12 degrees and lower. I know this area, and didn't have a problem with locating the correct path, but I must say it looks totally different when it's full of snow. I turn around to check my progress on the trail and found my foot steps were disappearing very fast. Being lost was not my concern, I had my GPSr, Compass with maps and the most important thing was my wife knew my location. I love the sounds, from my foot steps to the birds moving around as I got close to them. My normal pace in this area is around 5km per hour, now it was reduced to about 2km per hour, I didn't have snow shoes which I don't know if it would make my pace faster, but I wasn't in a race. I cut my trip to 2 hours because of prior plans but had great fun just enjoying the moment. I learn while getting things out of my pack, to put my rain cover on the pack so snow would not buildup on the pack, and for a while I felt like I was in Colorado again and loving life to it's fullest. The following is a few pix and film of this trip.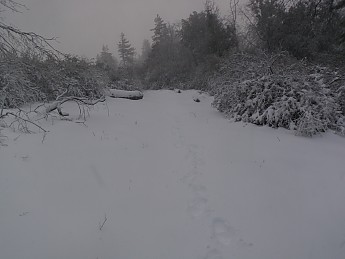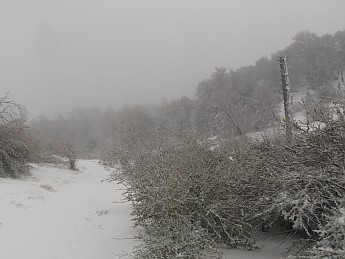 One last note; I had gloves just took them off to operate the camera.