9:16 a.m. on April 15, 2012 (EDT)
Peter1955

1,379 reviewer rep
1,339 forum posts
Did a nice little trip to Nordegg AB at Easter. For those who don't know, it's just outside the eastern boundary of Banff National Park. I took half-a-dozen people and we met at the local hostel - showers and a hot tub, but the ice climbing wall was already down.
Because of the avalanche risk at elevation, we had to stay low. We started with the Siffleur Falls trail. Not much elevation but some great views and a bit of clifftop exposure. The trail starts with a walk across the Saskatchewan River Valley, then climbs beside the Siffleur River.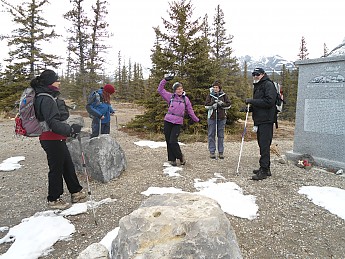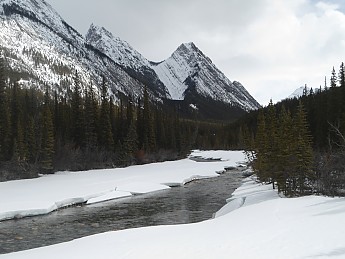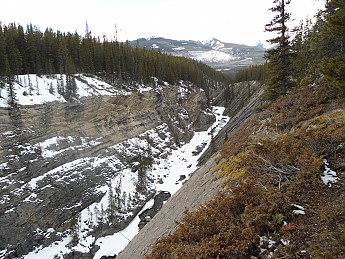 The trail to the first falls is only about 4 km each way (11km to the 3rd) and we did it on the first afternoon. British SARTechs do their training on the Siffleur trail - they've lost six men so far over the years, and there are plaques and other memorials to the tourists who've fallen  over the years, too. Not real impressed with the graffiti ones, though.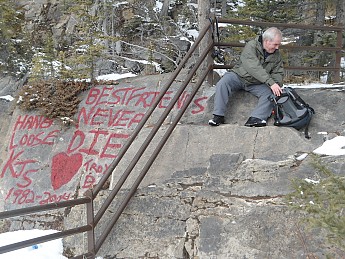 We opted for the safer routes wherever possible. Where the trails were icy, we used our Microspikes - tricky to get into without sitting down, but very helpful once on.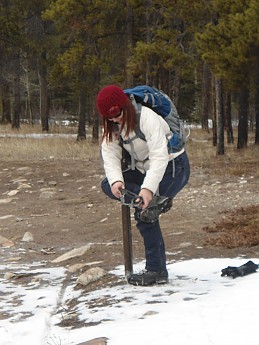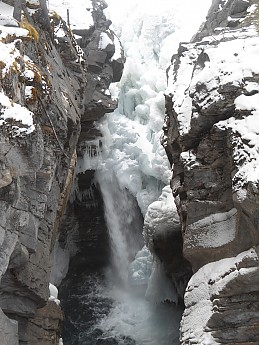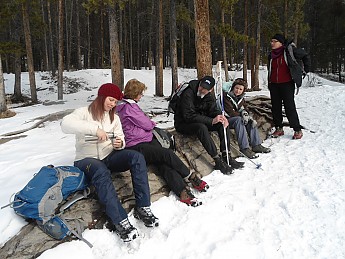 A stop for a snack at the falls, then back to Nordegg for a soak in the hot tub..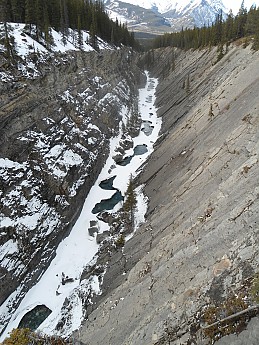 In summer or early fall you can backpack in to the thirds falls and camp there, but the trail past the first falls is unmarked, unmaintained, and treacherous. You need dry conditions for good footing, and you have to have some experience with cliff traverses.