10:58 a.m. on April 19, 2012 (EDT)
Peter1955

1,387 reviewer rep
1,339 forum posts
I took a dozen people down to Waterton National Park last September, and while it's a long drive, it's well worth the journey.
The Crypt Lake trail has been rated as one of the best hikes in Canada, and it certainly has a few things that make it stand out. For the most part, it's an easy walk up a valley, but it is one of the only hikes in the national parks that's rated as a Level III. Distance is 17.5 km round trip but the elevation gain is an easy 700 metres.

Particularly once Labour Day is past, your hike has to be timed to match the boat schedules. One leaves for the Crypt Lake TH at 10:00 and there is only one pickup, at 5:30. If you miss it, you're SOL. That gives you 7.0 hours hiking time, allowing 4 up and 3 back.
The hike starts with the boat ride from the docks at the townsite, which drops you off on the opposite side of Waterton Lake.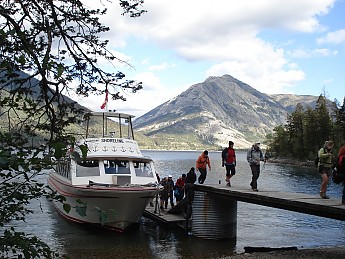 Getting a larger group organized takes a few moments, so we left the TH at about 10:30. The trail traverses slowly up through the forest. The switchbacks are slow and easy, making the first section with about 250 metres elevation gain an easy one.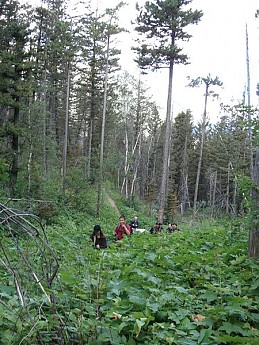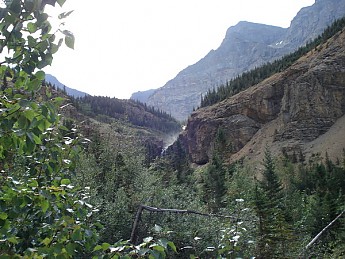 For a few kilometres, the trail wanders along above Hell Roaring Canyon, neither gaining nor losing elevation, but you never get a glimpse of the river itself. Eventually, we broke out of the treeline and began climbing a series of switchbacks up the valley. Nice views all around, and a decent (and well-traveled) trail. Since we'd started later than most of the other people on the boat, we had some catching up to do, but we assumed we'd have plenty of time.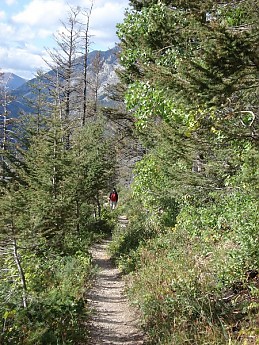 The switchbacks seem endless, but you can see both up and down the valley.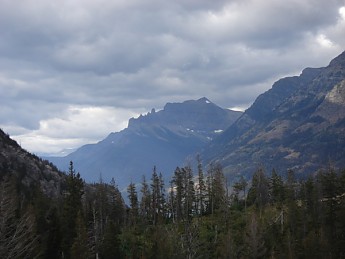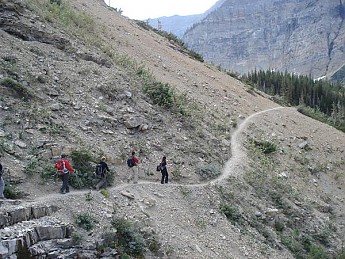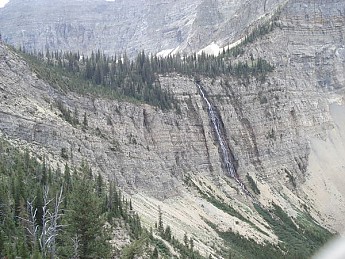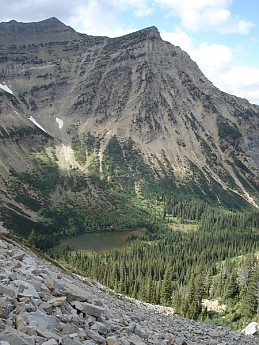 The next feature that makes the Crypt Lake hike unique is a traverse across a cliffside. The trail narrows down to a couple of feet in width, and a steep scree slope drops away for some 175 metres (600 ft.). My group had a few less experienced people in it. They were all pretty much aware of what they were getting into when they signed up, but for most of them it was a LONG way down.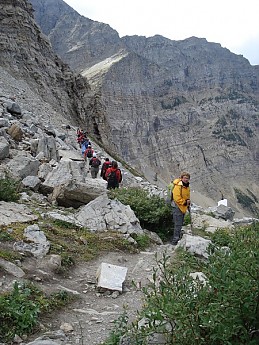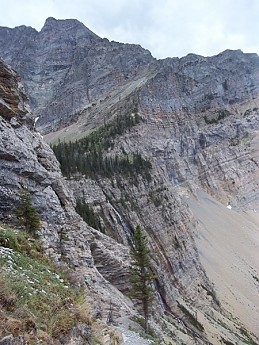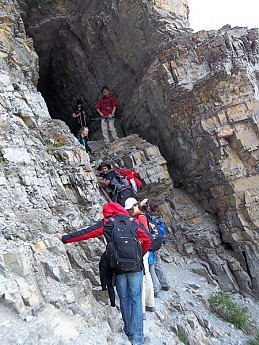 The traverse leads to a metal ladder that you climb to a cave tunnel that cuts through the rock. Hunker down and do a duck walk, or crawl.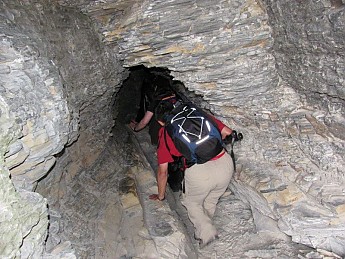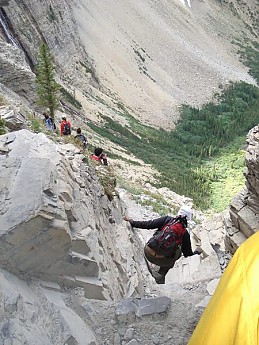 When you pop out the other side, there is a short scramble down to another ledge, then the hike gets exciting!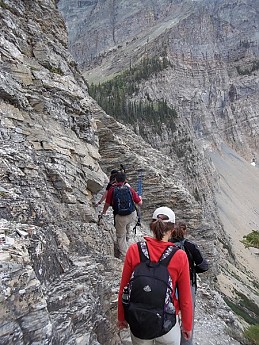 At the end of that ledge is a scramble. Unlike the ones earlier, a slip wouldn't mean a long slide down a 45° slope, but a free fall tumble for 600 ft. For safety's sake, a 50 ft. steel cable has been rigged to hang onto, but there were a lot of white knuckles as the group climbed up that section!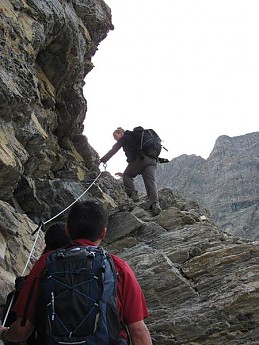 There is a walk out at the end of the cable,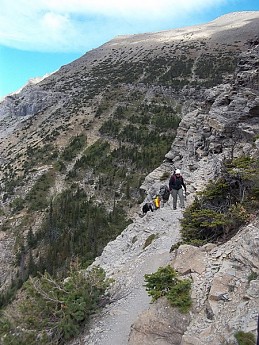 and a short walk through the woods to Crypt Lake.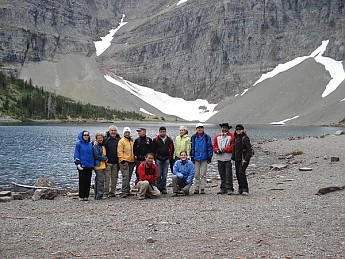 We could only stay for about half an hour - the boat would be waiting below for our return trip and if we missed it, we'd be camping overnight at the trailhead. Down again, back through the tunnel and down the ladder, then the traverse again.
After that, the descent was an easy one. All downhill and nothing to worry about except catching the boat and taking photos.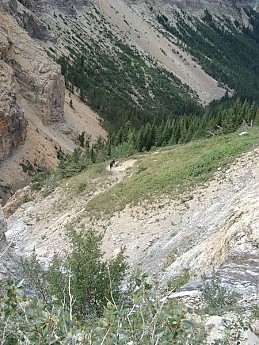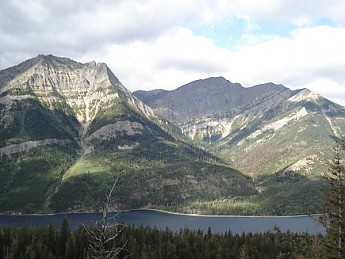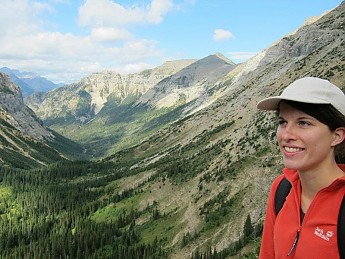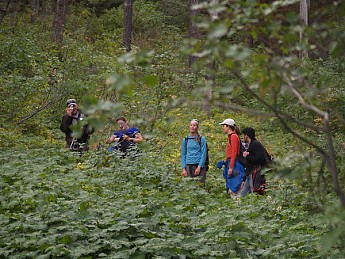 Unfortunately, the 'easy downhill hike' turned into a 'meander' and the group started slacking off.

By 4:00, I was checking my watch on a regular basis, and trying to push the group a bit without being obnoxious about it. At 4:30, I pointed out that there was still another 150 metres of elevation to lose and a few kilometres to go. at 5:00, I got mean, and we made the landing by 5:15.


The return boat arrived at 5:30 on the nose, and we all boarded. Back to town for supper and a hot shower.

I like to think that when I take a group somewhere, I'm taking them somewhere they've never been before and showing them things they've never seen. I also want them to experience things they've never tried before, and push themselves into accomplishing things they never thought they could do. The Crypt Lake hike is a good one for all of those.

"It is not the mountain that we conquer, but ourselves"
Sir Edmund Hillary