5:01 p.m. on May 8, 2012 (EDT)
Ashleigh

4,096 reviewer rep
603 forum posts

My friend Ryan, my husband Jay, and I decided to do a 2 night/3 day hike from Newfound Gap to Standing Bear Farm Hostel, just outside the park in late February of '11. Seemed like a great idea, but for some reason we were told that we couldn't do it (shelter/campsite may have been full). So, Ryan devised a way that we could do about half of the section that we wanted and it would still be able to get the amount of hiking in that we wanted. We parked at Standing Bear Farm Hostel and had Curtis shuttle us to Smokemont and we would take a couple trails to the AT, then walk north to our car at Standing Bear. We planned to go from Smokemont up the Bradley Fork Trail to the Chasteen Creek Trail and camp at #48 for the first day. The second day we were to finish the last bit of Chasteen Creek and pick up Hughes Ridge, then hop on the AT and stay at Tricorner Knob Shelter. All of that worked out, but there was too much snow, so we had to change the plan and take the Snake Den Ridge trail down to Cosby so that Curtis could come back and pick us up. We would have never made it to his house before dark because the snow was so deep!
I will do my best with descriptions, but I am not 100% sure on some!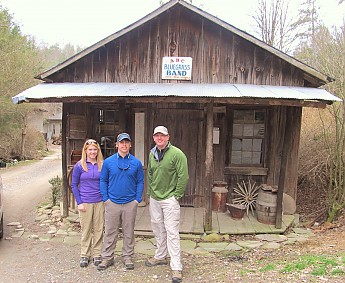 Ryan, Jay, and me at Standing Bear Farm Hostel, before Curtis shuttled us to Smokemont. Curtis is AWESOME and has lots of great stories!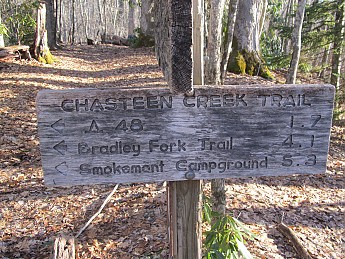 We didn't take any pictures on the trail the first day. This is the Chasteen Creek Trail/Hughes Ridge Trail junction.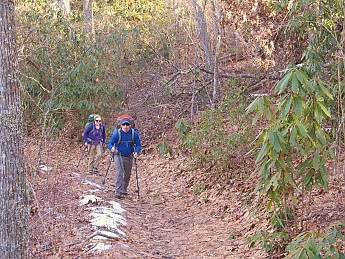 Jay and I on the Hughes Ridge Trail. When we started in Smokemont, we were somewhere around 2000 ft elevation and it was 65 degrees. We expected to see some snow at around 6000 ft. Here, at around 4000 ft, we see our first snow. I remember getting so excited to see it (being from middle SC), and Ryan said "Oh no! We should NOT be seeing snow yet!" HE WAS RIGHT!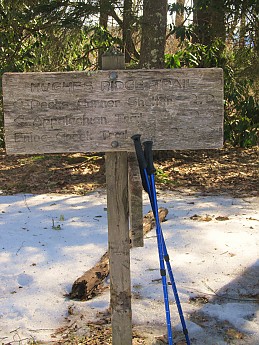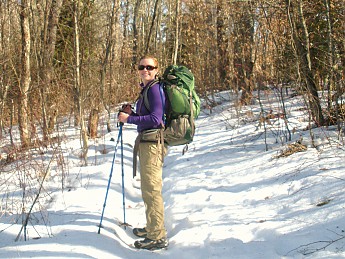 SO excited about the snow! (that changed after walking about 8 miles in it with a full pack and no snowshoes or Kahtoolas!!!!)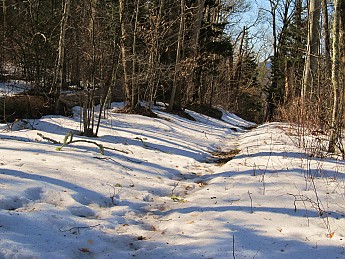 Snice - ice that is disguised as snow. Very dangerous!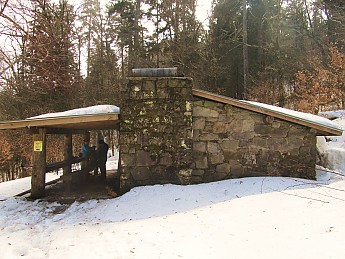 Stopping for lunch at Peck's Corner...Completely under snow. Let the 5 miles of postholing begin!! This is where Hughes Ridge and The AT met.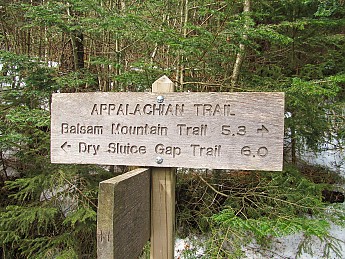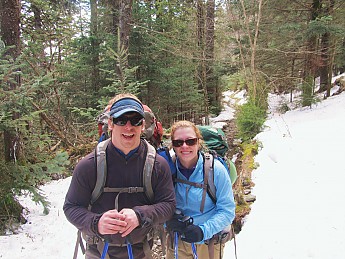 Still smiling and happy!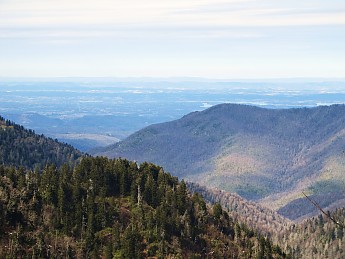 This is from near Mt Sequoyah on AT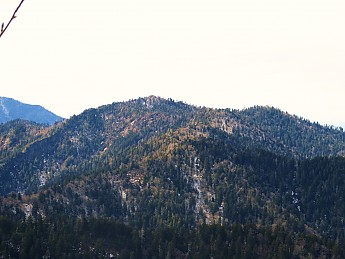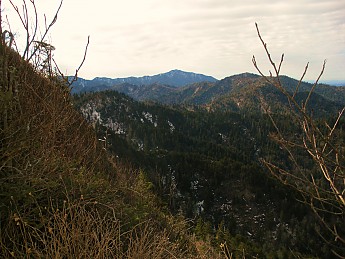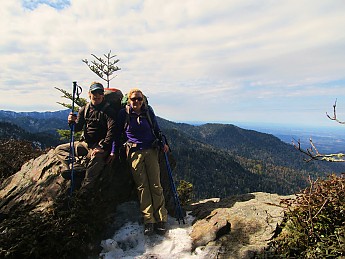 Great view! "Snice" under my feet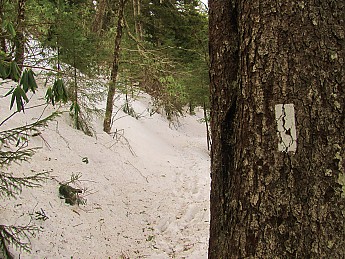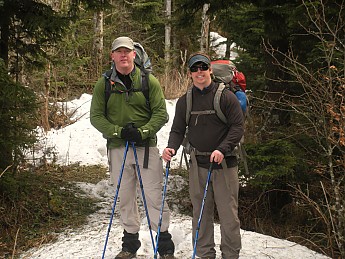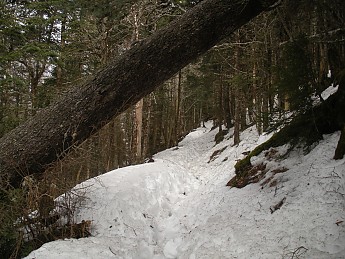 Deep snow! It got up to waist-deep in some sections. We were walking just fine, then all of a sudden would take a step into waist-deep snow. It was very hard to get out of with a heavy pack on. So pretty though!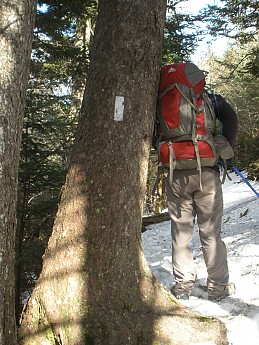 While at this picture, I have to say how much I appreciate Gregory packs. Jay posing with his Baltoro 70.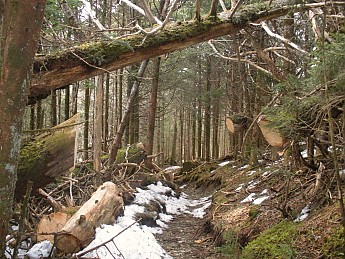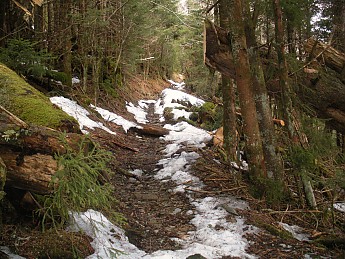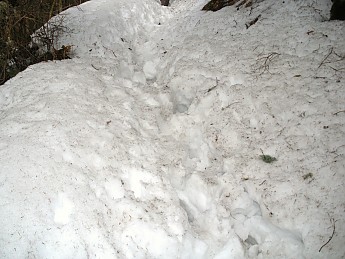 Right about here is where I hit my first ever hiking wall. Full and complete meltdown. I thought we would never make it to Tri-Corner Knob by dark and was officially done! Thankfully, I had my former Marine Corps Sergeant fiancee (husband now) with me to talk me though it! It turns out that if you hit a wall 15 miles in and 10 miles out and it is almost dark...TOO BAD!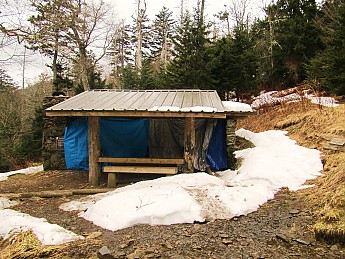 One switchback later...here it is! Tri-Corner Knob Shelter! I've never been more excited to see a shelter in my life! It even had a fireplace with a roaring fire, privy, and spring! Bless whoever put up that blue tarp! We met some really cool people in the shelter, as well!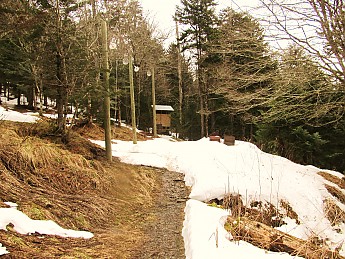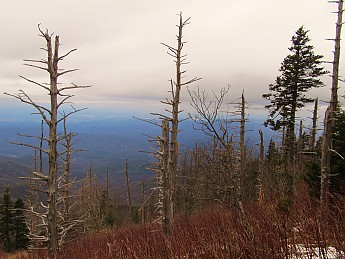 Amazing view. This is what it's all about!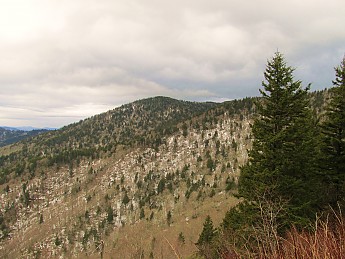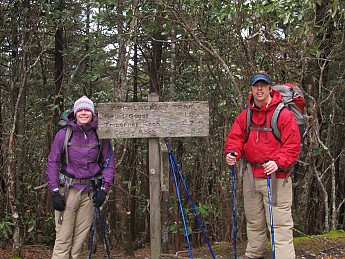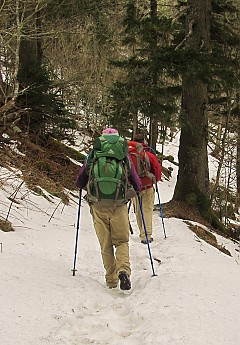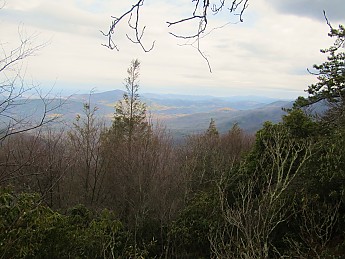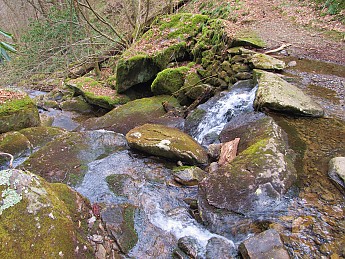 Almost finished! Dangerous creek crossing!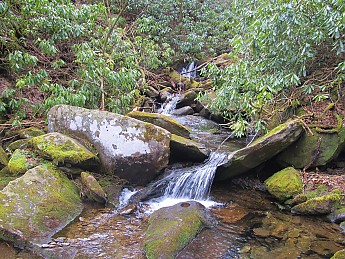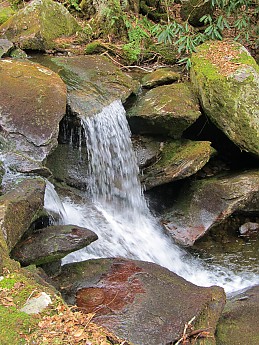 Really cool graveyard near Cosby Campground.
All in all, it was a great trip! I am so glad we did this. It was very strenuous (elevation change and snow), but I'd do it all over again. I learned lots of lessons and was very challenged. Trips like this are what inspires me to hike even more!
*** Pictures are half mine, half Ryan's!