6:29 p.m. on May 14, 2012 (EDT)
GaryPalmer

244 reviewer rep
5,245 forum posts
Been in Flagstaff now 2 1/2 weeks after my bicycle ride up here from Tucson last month. I am currently camping in the Coconino National Forest till I find a place to live and a steady job for the summer. I may just stay out camping the next 3 1/2 months till I leave after Labor Day weekend in September.
The following are my camps, I stay in a different spot every night and photograph them like I would if I were traveling. Seen some interesting views. The forest is Ponderosa pines and Oak tree's. In the evenings there are runners, mountain bikers and people walking their dogs in the woods nearby, but I have been the only camper since I started staying in the forest.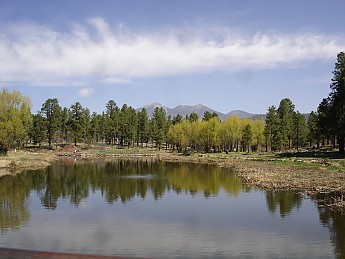 This is actually down lower close to town. The San Francisco Peaks as seen from a local park.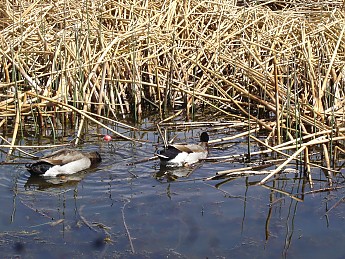 A couple lone Mallards feeding in the cattails near the same pond as above.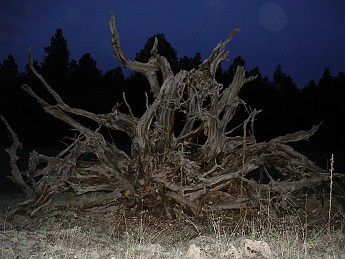 An old Ponderosa pine tree stump that fell sometime in the past.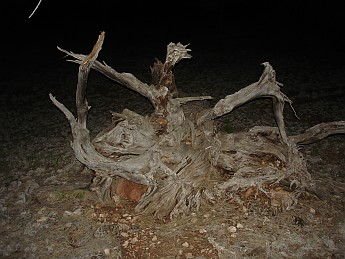 Another old upturned tree stump.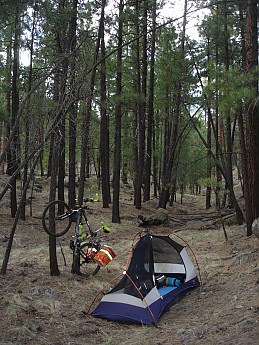 My first cam a couple weeks ago. The tree was too thick at the bottom for my Ulock so I lifted my bike up to where it would fit around the tree.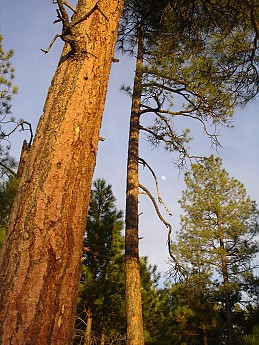 A large pine and a smaller one in the late afternoon sunlight.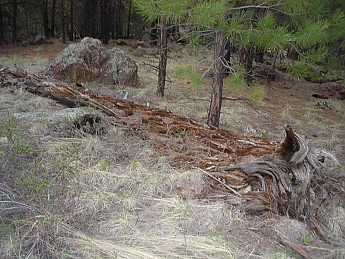 A long dead log is almost rotted away, just the stump stays longest.
An Elk and a deer skull left from a old hunting camp.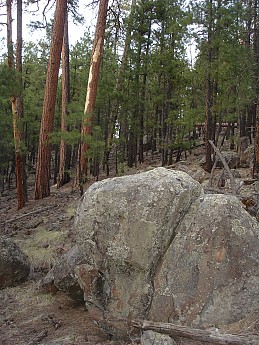 Volcanic rocks left after the San Franciso Peaks last erupted 250,000 years ago or longer. The area around Flagstaff is littered with boulders of every size and coler. Plus huge lava flows.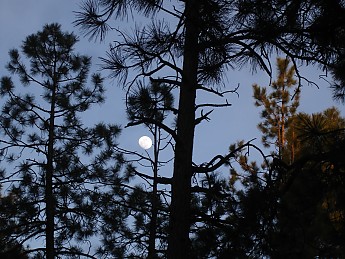 The full or sclose to full moon rises in the east above my camp.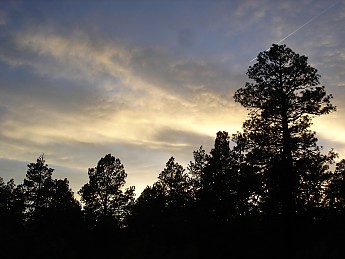 The setting sun lights the clouds above for one final moment.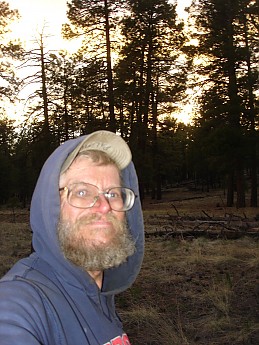 Me at sunset.
Another evenings camp shot. The trees are young here.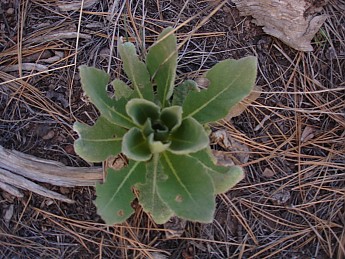 Lambs or Mules Ear weed. Edible when boiled, also a good toilet wipe! The leaves are soft like velvet.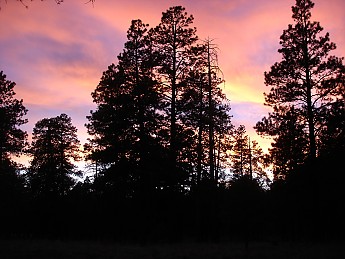 Another sunset in the forest.
The setting colors reflected by the pines and dead needles.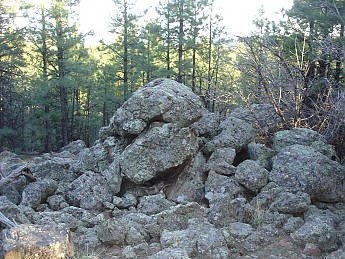 More lava boulders slowly erode away. Been there millions of years and except for some lichen growing and working on them they have changed little since landing here long ago.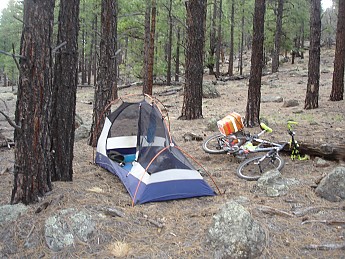 Yet another camp spot.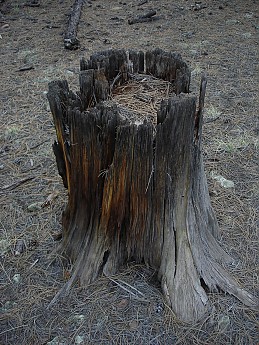 A over one hundred year old ponderosa stump from the late 1800s when logging was the main work around Flagstaff. Flagstaff literially means a Flag's staff. On the Fourth of July the woodsmen cut the limbs off a tree they would later fell and hung Old Glory on its top.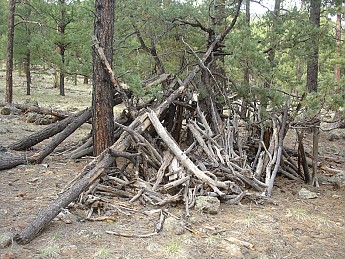 Here and there are old camps made by locals and homeless folks.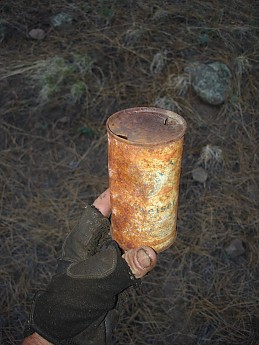 An 1960s Budwieser can with chuch key openings. I also found old Pepsi and Coors cans.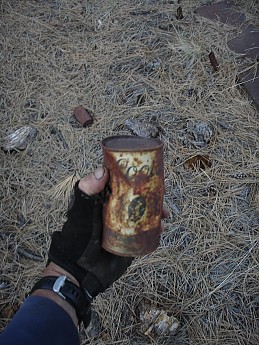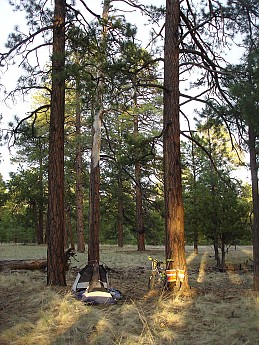 Camp between the pines.
While its brother still stands a pine tree dies next door.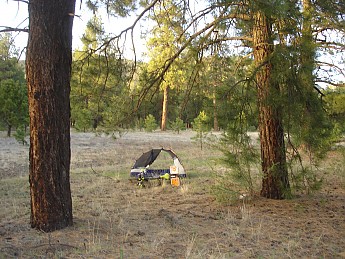 Camped in the open where the sun might be warmer earlier in the morn.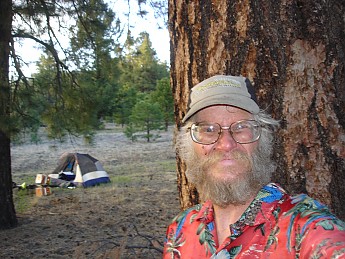 Mountainman and his camp.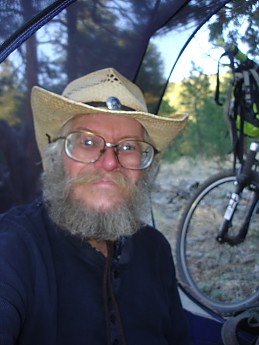 Bought a new hat at Goodwill. Looks more the wild style.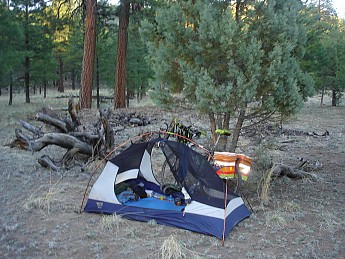 Little tree's and a stump for company this night!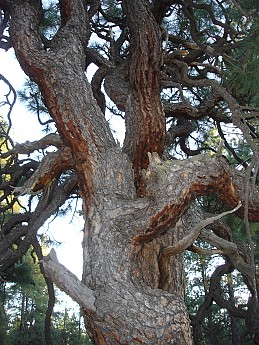 A stunted pine with huge knarled limbs.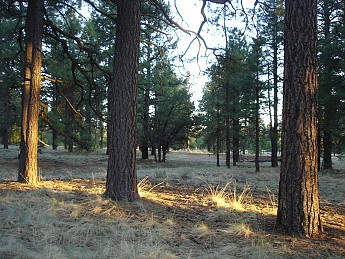 Streak of setting sunlight on the pines.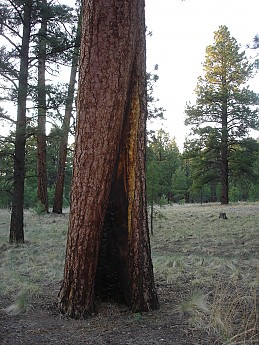 An old lightning struck tree slowly heals. Anyone got a huge bandaid?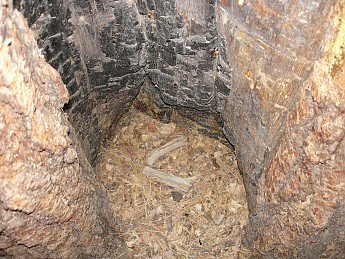 Inside look at the tree's scar.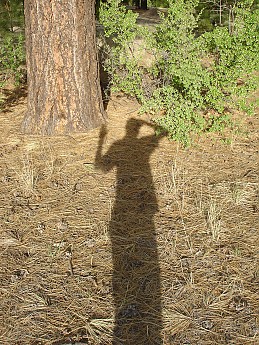 Say goodnight kid!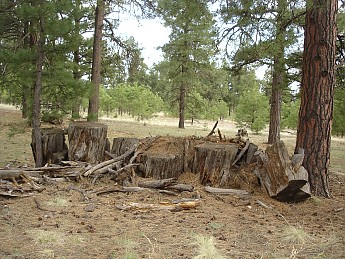 Another well made stump leanto from the back.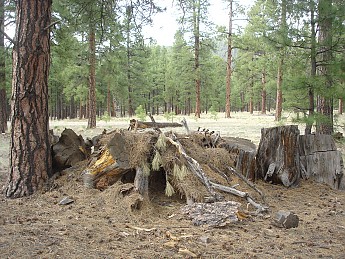 From the opening side and...
Inside! Room enough for one comfortably.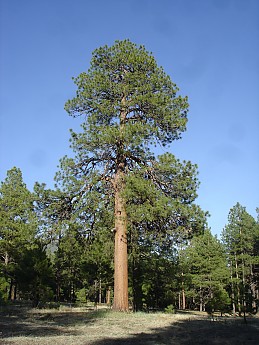 Giant old Ponderosa pine. Must have been too small in the 1800s to cut. It is now about 5 feet across at the base and 75 feet tall.
The trees sunset shadow reached back a couple hundred feet.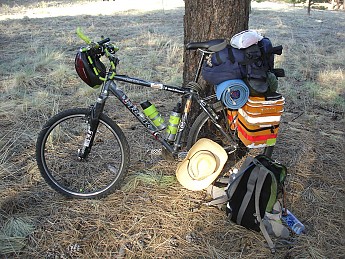 My fully loaded bike and daypack before I sat up camp.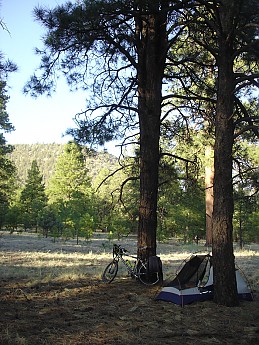 Last nights camp between two trees. The sun hit my tent this morning at 6 am. Earliest since I have been out there. Part of Mt Elden seen behind camp.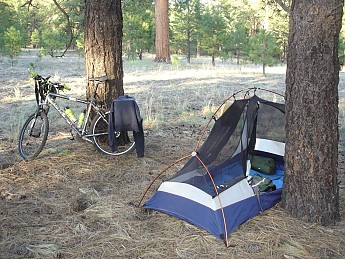 Covered saddle packs to camoflauge against raiders.
I am still looking for a place in town like I had in Tucson last winter. Have had a few answers to my ad, one was 18 miles away, on 10. I may have a bite with one close to where I am living now a guy on one care of land willing to exchange my labor for camping on his property. I want to stay for 3 1/2 more months but am tiring of pedaling around with all my gear everyday and then up the 1000 feet to where my camps have been the last couple weeks.