12:08 p.m. on May 22, 2012 (EDT)
Peter1955

1,379 reviewer rep
1,339 forum posts
Every May long Weekend for the past four years, I've done a little hike called the Backpacking Prep. It's a good time of year - there is the possibility of snow or rain, but usually (like this time) the spring buds are just starting to come out. Not many mosquitoes, and fresh new greenery all around.
A lot of people seem to have this idea that backpacking is 'Me and my little knapsack skipping through the mountains'. The purpose of the Backpacking Prep is for people to find out if they enjoy backpacking, and to get a feel for what's actually involved. This is also a good way to get warmed up for summer adventures in the mountains.
I do the event at a local recreational area which, while it has about 140 km of trails, is close enough to civilization for a help to be available in an emergency, or to walk someone out halfway through if they run into problems. There are also cross-country ski shelters where groups like mine are allowed to camp. Water and firewood is supplied. Each day involves 10-12 km of hiking.
Needless to say, there is a lot of preliminary planning involved, teaming up people to share tents and stoves, and making sure everybody is ready with the right equipment. Only one last-minute dropout this time, leaving me with a group of ten.
We met at the Waskahegan staging area at Blackfoot/Cooking Lake at 10:00AM on Saturday, and got organized.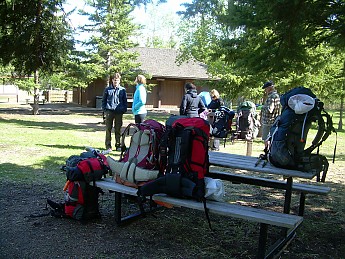 I brought my trusty little luggage scale, and the packs all seemed to come in at 35 - 40 lbs. Well, there was one woman who brought an extra tent (just in case??) and a heavy camping chair, but we convinced her she probably wouldn't need them. Then there was one guy, of the old-school hunter/woodsman generation, whose pack was about 45-50 lbs - his emphasis was more on gadgets and gourmet cookery than on going ultralight, but if he wanted to carry the weight, more power to him!
A quick consultation at the trailhead map, then we were off.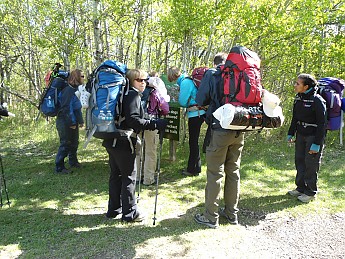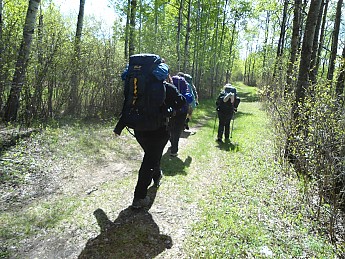 The Cooking Lake/Blackfoot area in an interesting environment. It's mostly aspen forest, but it covers classic post-glacial 'knob and kettle terrain' which consists of ridges and hills amongst deep potholes. Since it's a perfect habitat, the bumps and hollows have been sculpted by beavers, and you can easily see the ecological progression from creek to pond to meadow.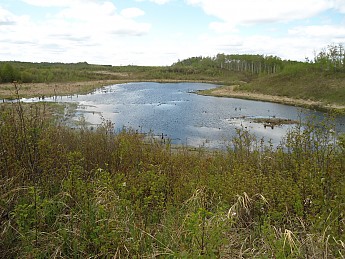 After about 5 km, I noticed that one woman seemed to be walking a bit strangely. Her pack was leaning more and more to her right and her shoulders were tipping more and more to the left. We re-balanced her pack and made other adjustments, but by the time we were looking for our lunch break, she was in a fair bit of pain. I carried her pack the rest of the way (2 km) to the shelter where we were stopping for lunch. One pack on the front and another on the back actually balances rather nicely, but it was still about 80 lbs in total.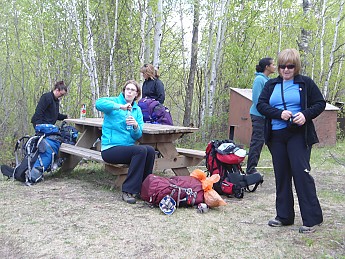 More pack adjustments when we got there, and I took her sleeping bag and half tent. We still had another 7 km to go, but with her lighter load, she seemed okay to go on. More beaver ponds and some very pretty trails...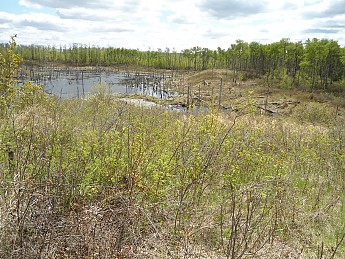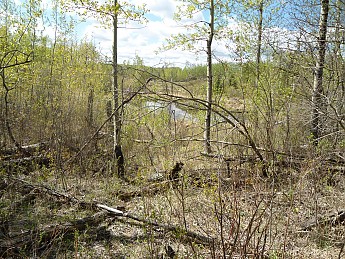 ... then we arrived at our first campsite at Winter Shelter. The tents went up and we made supper.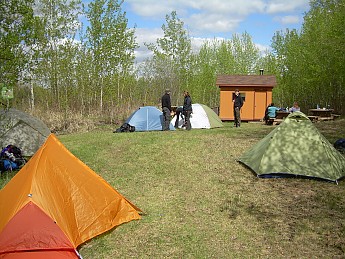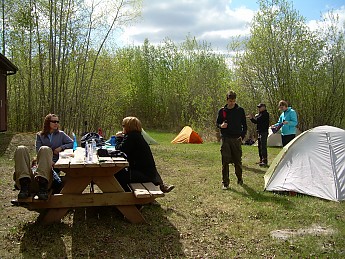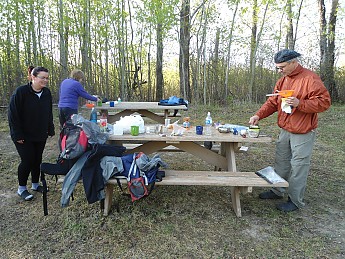 Always interesting to see the variety of tents, stoves and other gear that people have. Tents ranged from a 3-person Mountain Hardware to a Marmot 1-person UL Eos, and the stoves included a Jetboil, a couple of Whisperlites, my Trangia, and a Vargo with Coghlan alcohol burner.
Had a nice little walk after supper, but I turned back after just a few kilometres with the woman with the sore back. The rest had the thrill of a young moose jumping out of the bush just a few feet in front of them, but we missed that little adventure. Lots of clowning around in the evening, including some stretching and some dancing.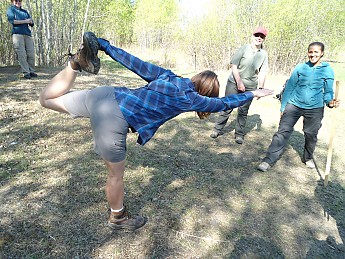 Breakfast the next morning while we packed up the tents, bandaged blisters, and split up the injured woman's load among us.With each person carrying one extra bundle, nobody was working too hard, and she was able to continue while her back recovered.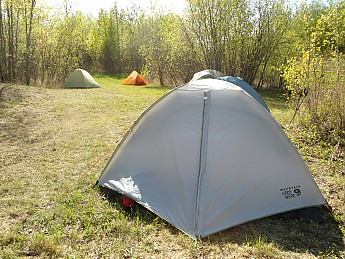 Another 10 or 12 km to go; more beaver ponds, more leafy trails, and a very nice day.
Our second stop was the Lost Lake shelter, out on a spit of land between two small lakes. Same drill - set up the tents right away, relax a bit, then cook supper.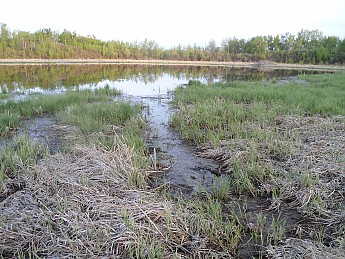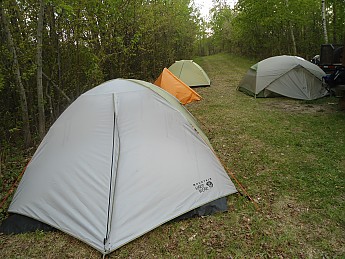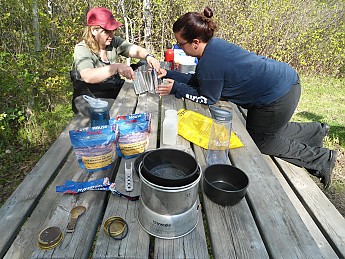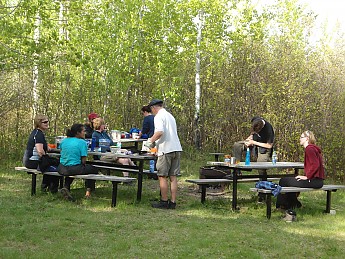 At least when you're only doing 10-12 km per day, you have the chance to add in more relaxed hikes when you're done, so we headed out again for an evening hike. Lost Lake to Islet Lake to Push Lake and back again.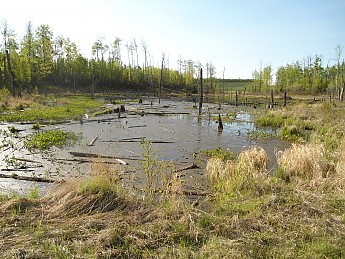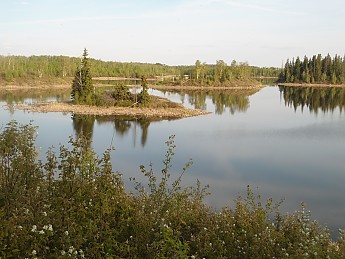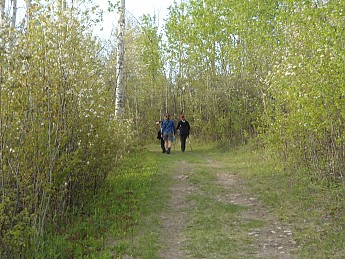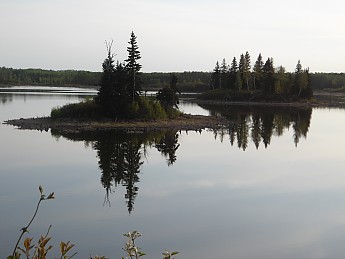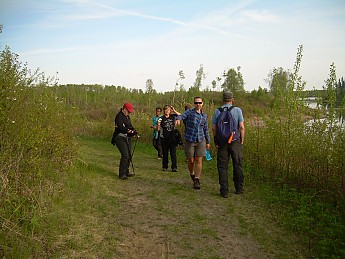 We got back at about 8:00, and two young people who'd stayed behind, decided they were going to do the same walk. I was of course concerned about the possibility of them getting lost as nightfall approached, but even in May, it's not really dark until well after 10:00. Nonetheless, I reviewed the trail map with them, and made sure they had a cell phone that was turned on and flashlights. I also mentioned the coyote pack that hunted in the area they were heading for, and told them that while they wouldn't have any problems, if the pack came to check them out to yell and throw things until the went away.
About 45 minutes later, we heard the coyotes suddenly burst into song, exactly in the area our two young friends were headed for. This is a large pack with around 12-15 members, and they are quite capable of taking down a deer or elk, but there was no real risk to two healthy young adults. But my cell phone rang, and a nervous voice advised me that they'd decided to turn back. I headed for the turnout to our campsite, just to make sure they didn't miss it in the dark, and waited for them to turn up.

The next morning, it was time for a few hard choices. The injured woman wasn't much better, and I had someone else with a nasty blister and a third person who was struggling with the weights and the pace. One nice thing about a recreational area is that, in addition to amenities like good signage, outhouses and potable water, there are often alternate routes to take.
I opted to send the larger, faster part of the group back out to the vehicles (13 km) while myself and the three casualties took a shorter, easier route out to a different access point. Still a nice walk, and Islet Lake looked very different in the morning light.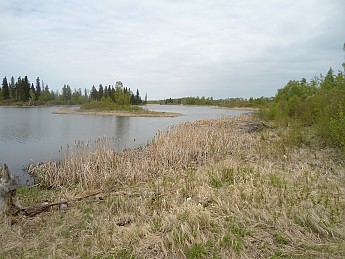 We caught a ride with some nice kids with a truck big enough to carry all our gear, and met up with the rest of the group back at our starting point.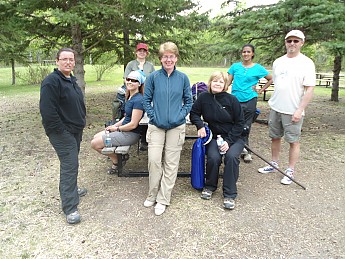 I tell people that there are three important elements to a backpacking trip besides just the hike itself: preparation, pacing and teamwork. I usually joke that the last mainly involves getting your partner to carry as much as possible without them realizing it! I was glad to see that no one took me seriously, that when we ran onto a problem, everyone stepped up to work as part of the team, to help out the member who was injured.
Should she have come at all? She knew she had a bad back, but she'd been doing a lot of hikes with a dayback just to see if she felt she could keep up. Everything seemed fine beforehand. Instead of buying a pack that was the right size for a three-day walk, she borrowed an 85 litre Osprey expedition pack. It was too big for her, and she didn't know how to set it up properly for herself. By the time anyone realized there were problems with the fit and the balance, she was already hurting.
And to her credit, she stuck out the whole trip, which meant that while the rest of us could carry on without changing the mission. And of more importance, the Backpacking Prep is intended to uncover any problems in a safe location, near to help, rather than halfway up a mountainside or halfway through a week-long trek. From that perspective, it did exactly what it was supposed to do.