7:42 p.m. on May 27, 2012 (EDT)
Bunion

0 reviewer rep
123 forum posts
I have appreciated some of your comments about how even "car-camping" is a good thing if it's all you can muster to make the "natural" connection.  I'd rather backpack, but I live 500 miles from the nearest mountain, so I put on my thinking hat and pondered the dust-covered mountain of gear (I call it "Someday Mountain") to come up with at least a hybrid plan.  If the mountain can't come to me, I MUST go to the mountain...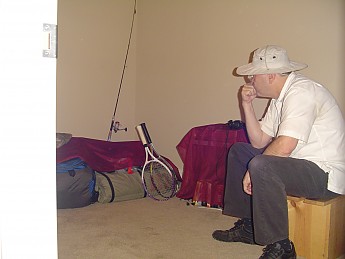 I used the excuse of this being the 30th anniversary of my first solo backpacking trip to the Joyce Kilmer and Slickrock Wilderness areas and motivated myself to a "reunion" of sorts.  So, I headed out with my Corolla full-up and a little trailer I put together myself from parts (got my 8X10 Cabela canvas tent, fold-up couch & easy chair on it for the "car-camp" part of the deal)...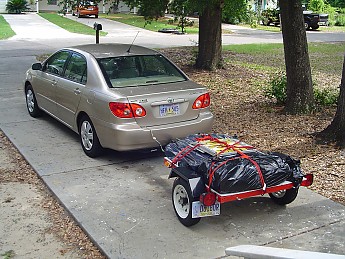 Plan was to go through Atlanta during the middle of the night (only way to even HOPE to change lanes) and then up Georgia hwy 19 through quaint Dahlonega and the beautiful forest north of there leading to a scenic ridgetop where the AT intersects hwy 19 at an old, stone homeplace long ago converted to a resupply store and hostel for through-hikers (nice gift shop for tourists, too):  Walasi Yi.  It was a "smoky" morning, but this is a picture of the front of the hostel part (notice all the discarded hikers' boots that have been thrown up into the tree limbs over time--hmmm?)...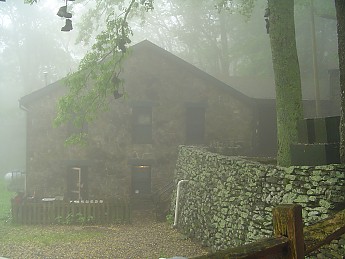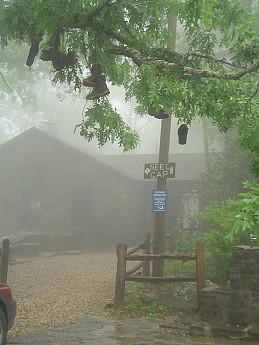 I was hoping to get trail maps at their store, but they were limited to local maps, so it became pretty much a "dead-reckoning" trip after that.
As I got to Robbinsville, NC, I discovered that the section of hwy 143 that runs to Tellico Plains, TN, is relatively new and is called the Cherohala Skyway--very popular with motorcyclists this time of year and a truly scenic and high ride...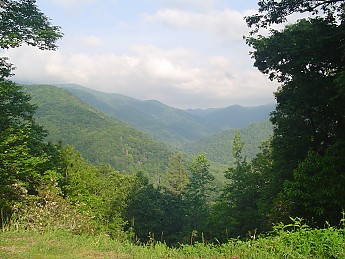 Near the road that leads off 143 to the Horse Cove campground, close to the trails near the entrance to the Joyce Kilmer Memorial forest (old growth poplars, especially), I wandered around and came across numerous car-camping spots on Forest Service road 81 where I found an old log cabin not too "haunted" with tourists...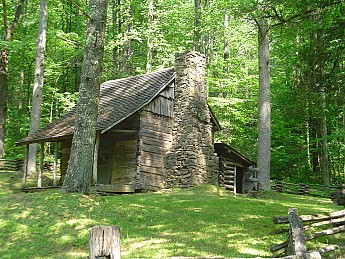 I settled on the Horse Cove campground and set up my "base camp"...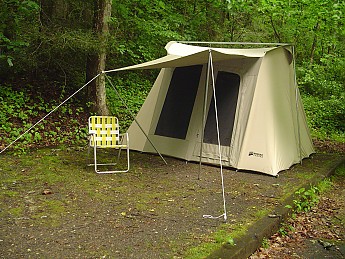 ...near the Little Santeetlah Creek...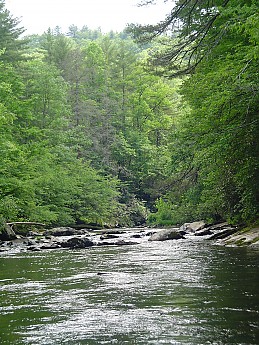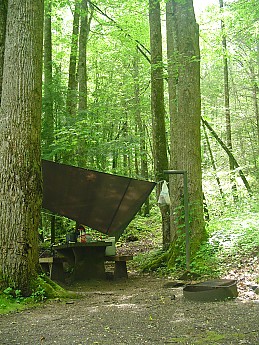 I spent a day just to get in the frame of mind the woods can teach, then did a dayhike on the Jenkins Meadow trail...

Nice woods, and the 30 years have been much more graceful to them than to me.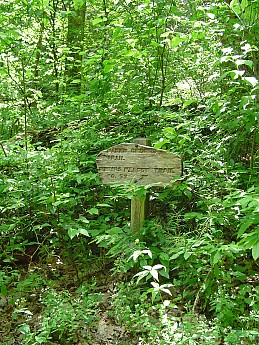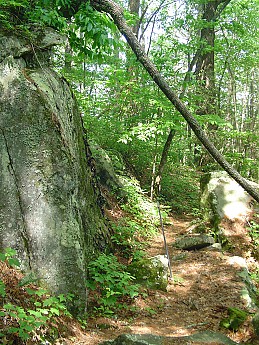 ...that's my 4 foot hiking stick to give you perspective.
Next day I hiked around the Joyce Kilmer Memorial Trail to get a picture of the plaque on the rock in the middle of the place memorializing the poet...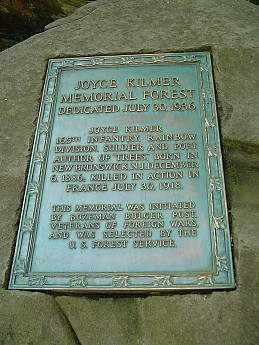 ...not a hard walk, even for us "30 years older" people.
Finally, I got ready for a couple of nights in the woods, packed up my Big Agnes, and wandered down the Cherokala towards Tellico ("flat" in Cherokee) Plains till I happened upon the Citico Wilderness trail towards Bob's Bald...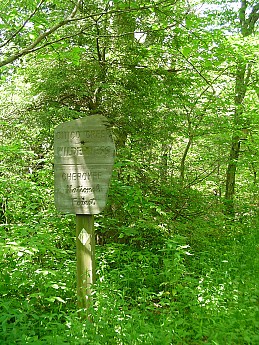 Not a bad walk either and mostly along a ridgetop...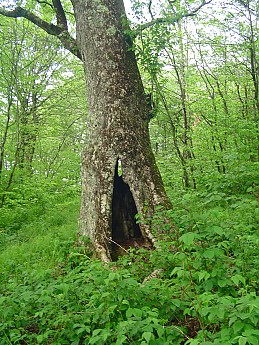 ...thick with big, old birch trees and handy water supply about a quarter mile down from Bob's to the Northwest--got to use my First Need XL Purifier which worked fabulously.
Finally got to the top, hung my stuff...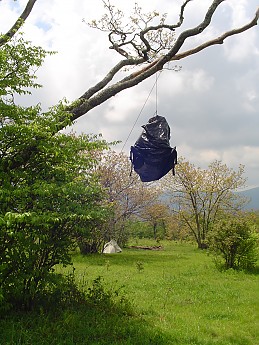 ...and set up Agnes under the triad of Silver Maple clusters--grass so soft it was like a cushion (good snooze those two nights)...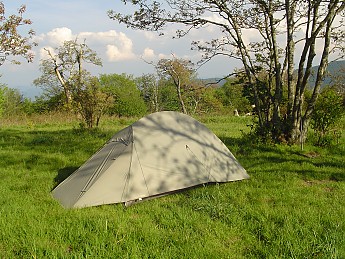 ...then, enjoyed two days of exploring the surroundings, startling what I think was a grouse family, a young adult bear ran off surprised, and entertained by a host of finches all the day long.  Some pictures I took around there (I refer you to many reports done on that spot, just enter "Bob's Bald" in the search bar)...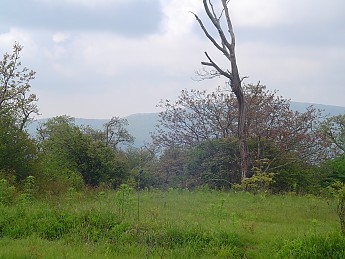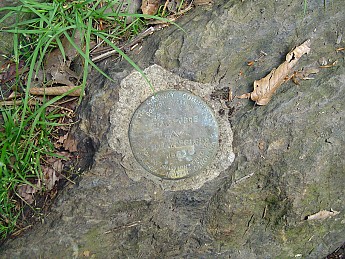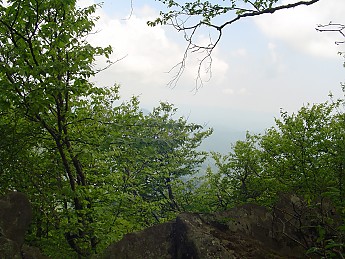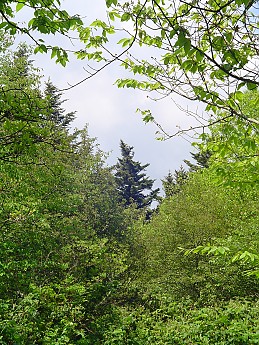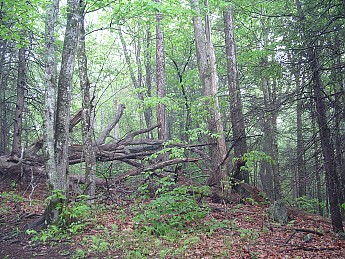 ...lovely, dark and deep, but I had promised myself a visit to the Bald River Gorge waterfall down the road apiece, so, I reluctantly fell off the Bald to the Northwest (143) back to the Corolla (in the wide-open, but unvandalized).
Regretfully, I don't have any pictures of the Bald River Gorge and parking was hard to find at the waterfall, but it is a trout fisher's dream and well worth the drive off hwy 143 to see.  Numerous car-camp spots along the stream there, some more primitive as you can drive for miles up the creek into what becomes a lush forest (if you don't mind traveling on gravel, Forest Service roads)--you eventually come back up onto hwy 143 at a higher elevation.  Not many trails to be found--that I was able to see--in the Gorge wilderness, though I WILL have a map next time.
I went into Tellico Plains and found the place a peaceful, quaint little town...
downtown...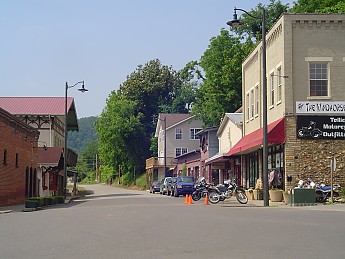 old, famous bakery and sandwich place worth the trip all by itself (closed on Sunday and Monday)...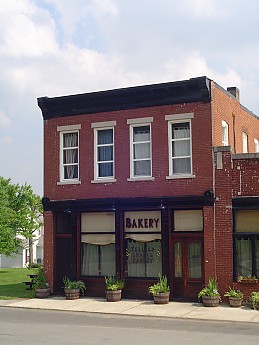 ...rooster free-roaming around the bank downtown...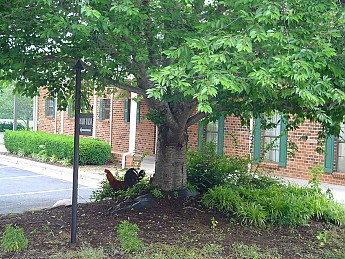 ...the famous Tellico river which is a highly rated fly fishing stream--they have a section well-stocked just for grandparents and grandchildren, I'm told (see the fly fisherman back behind and below the covered bridge)...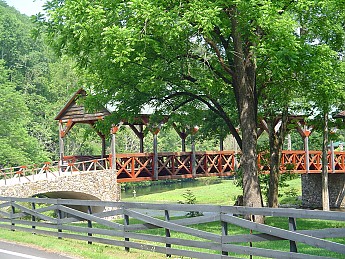 ...and I stopped for one of the famous hamburgers at...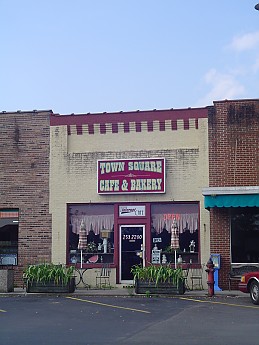 ...where the owner was gracious enough to tell me what a holy city/area this place was to the Cherokee nation back before the gold-rush days (which largely prompted the Trail of Tears).  Apparently, many of the Inter-Tribal Councils were held here here at the "flat plains."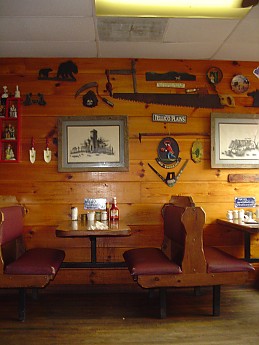 ...good food, good people.
So, I drove back to Horse Cove and spent a day reading and preparing for the culture shock of returning home after 9 days in heaven...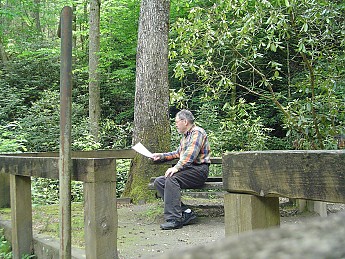 Thanks for taking time for my report.  Don't let "Someday Mountain" keep you on the couch!
P.S.:  here are some photos I took of various flowers, the first is a climbing rose bush in the campground--I've never seen it growing anywhere in the woods, so I imagine it was planted by a tourist?!
...and a couple of tree canopy shots: