9:18 p.m. on June 3, 2012 (EDT)
travelnate

14 reviewer rep
210 forum posts
Was supposed to go with some friends but at 630PM decided I'd just go solo.
Point Bridget is a smaller state park here in Southeast Alaska, about 25 - 35 minutes north of Juneau (depending where you start from).  Its a very nice, windy 2 lane road that follows Lynn Canal, and typically offers amazing pull outs for viewing whales & other sea life.  There are also a handful of small coves & inlets that provide for easy camping, and interesting enough, one area (Mile marker 33/34 area) even has a port-a-pottie!
this weekend is a bit of a rare one - we finally had a break from the rain & clouds so some pals & I were to go tent camping on the berm at Point Bridget, which is also home to 3 state cabins ($45/nt on weekend, $35 during week).   http://dnr.alaska.gov/parks/units/ptbridg1.htm
the trail is about 2.5 miles from the road to the berm, which gives a lot of Juneauites an easy trail with access to amazing beauty, free of most tourists!
The hike starts out on planks for the first 2/3rd of a mile, and its downhill, losing about 250 feet in elevation before leveling off.  The rest of the hike is on a mix of muck/plank/formed trail.  Problem is, because you are hiking in a rainforest, most of the virgin trail has resulted in deep pooling so many people have trail blazed around these portions.   Even part of the formed trail has sunk, and gets very wet, especially during high tide (which is +/- 16 feet at times!).  So plan on getting wet.
I did this hike in a bit over an hour and didn't pass anyone on the trail (a first for me).  I made it to the berm in time to catch the amazing sunset, pitched my tent, and relaxed in my surroundings.  There were a few pods of orcas (killer whales) offshore along with some sea lions.  Bald eagles & ravens the size of children were flying about.   At around 11pm it started to get dark & I was able to doze off.  Throughout the night, I'd wake up tossing/turning and waking to the sound of humpback whales - they are quite noisy when they come up for air.  Imagine an air compressor releasing hundreds, if not thousands, of pounds of compressed air mixed with water - and now imagine that every 2 minutes per whale!  Its a beautiful sound.
I expected to wake up to a multitude of people on the berm, but alas, no.. just me and the 2 kayakers who beached up in the night. 
The hike back was quite busy - I passed about 11 different couples, and the renters in the Cowee Meadow Cabin were still there (and staring me down as I passed). 
I ended up just barraging thru the water on the trail - my Merrell Ventilators performed beautifully even when wet!  I couldn't believe how nice my feet/shoes felt even when soaked...
I couldn't help but notice how unprepared some hikers were today - I even offered bug spray to an older lady with 2 dogs - people seem to forget that even though we live in a rainforest, we get tons and TONS of mosquitos.
Overall a very pleasant nice trip - 5 mile roundtrip hike with about 25 pounds of gear.  I ended up taking my Jansport Klamath II pack, Eureka Apollo 2 tent, North Face 40* sleeping bag, msr whisperlight (but didn't use it), and just a few other small items.   It didn't rain, so no need for the raincoat nor pack cover.... just lots of sun that we desperately miss in Southeast!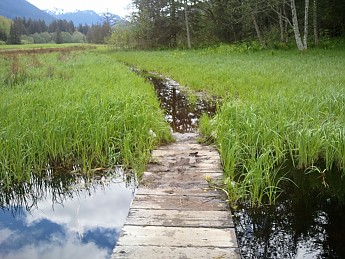 Part of the trail in the meadow...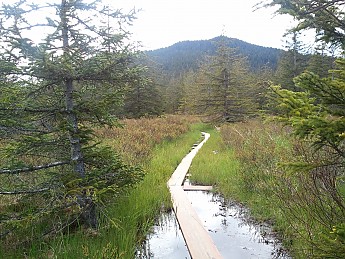 Planks & water.... don't plan on keeping your feet/shoes dry... just plan to get wet & your trip will be a lot more enjoyable!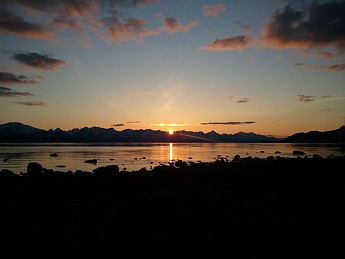 Sunset over the Chilkat Mountains along Lynn Canal.. and amazingly no cruise ships in sight!  and yes, we're looking north here.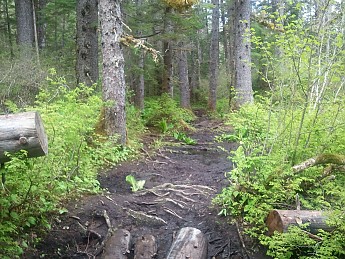 Some of the muck/mud you can expect.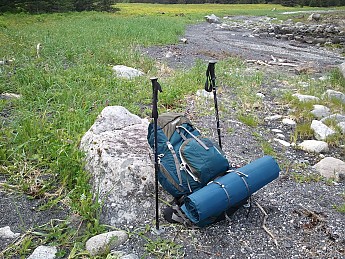 geared up and ready to get back.