12:25 p.m. on July 5, 2012 (EDT)
FromSagetoSnow

TOP 25 REVIEWER
REVIEW CORPS
6,158 reviewer rep
1,625 forum posts
What to do with ONE day off for Independance Day? On a Wednesday of all things. 
I grabbed a daypack with my climbing gear, gummi bears, kool aid and cold pizza and took off got Northup Canyon, a little slice of heaven in Grant County.  I walked in from the highway to avoid needing to buy the $30 Discovery pass and found some climbers near Gibraltar Rock who offered to share a rope. 
Matt and his wife/girlfriend (didn't ask, not my business) showed me a really nice 5.10a and I sent it on toprope and rapped it down.  I then went off to explore and do some scrambling.
This is Gibraltar rock, if you couldn't tell.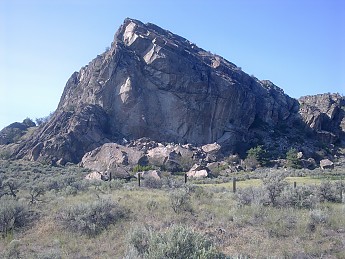 Noel the Wonder Dog came along with me.  This is her on top of Gibraltar with me.  She is exposure shy and crouch-walked down most of the slabs. Dogs aren't designed for downhill.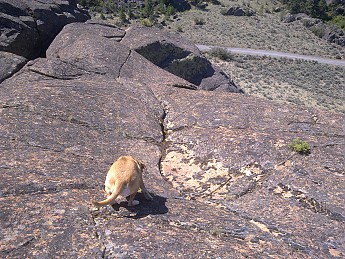 Banks Lake in the distance.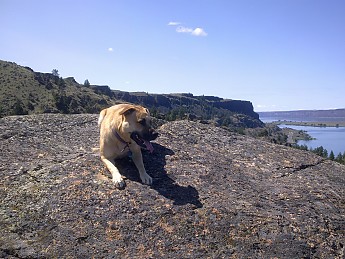 Northup canyon is unique to Grant County because it is the only place you can walk among ponderosa pine and douglas fir (red fir to some).  Its more like Leavenworth than Grant county, which is mostly sagebrush and irrigated farms.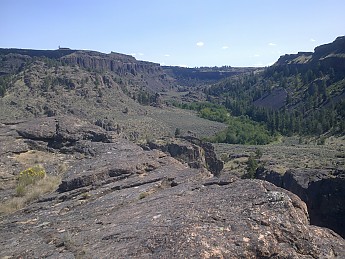 Honest to goodnes ferns and soft mosses; unheard of in jackrabbit and rattlesnake country.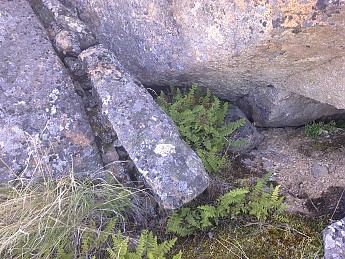 From Gibraltar rock looking at Steamboat Rock (the mesa-looking thing).
Rock geeks will note that Gibraltar is an island of granite in a sea of the more typical basalt of the area.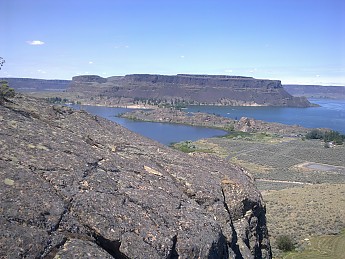 Doe and spotted fawn.  Noel was VERY interested.  I don't let her chase deer. 
These were the only ones I could get pictures of, we saw more.  Click the pic for a bigger version.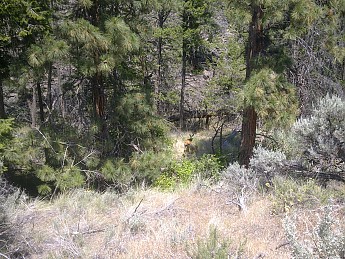 Up the canyon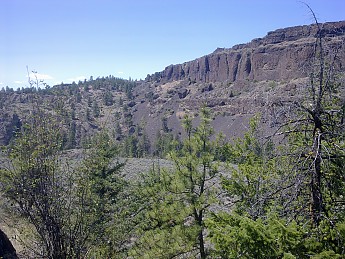 We found a scummy pond tucked up in the ridge.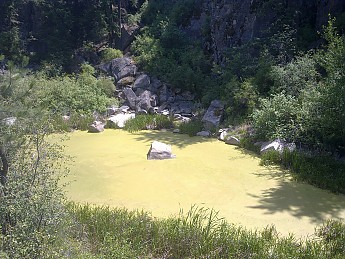 A cleaner pond a little higher up.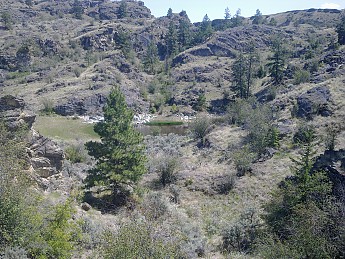 The pond wrapped around a tall crag.  Noel was thirsty and hot so we stopped and took a break. No trails up here.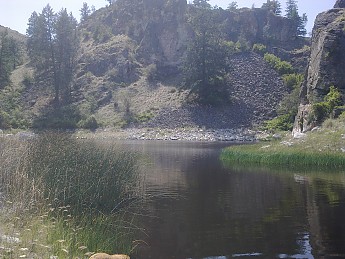 I washed my feet off but left the swimming to Noel; too muddy for my liking.  This might be swimable in some parts of the country.  If I cant see my toes in ankle deep water I leave it alone.  After swimming we both took a short nap.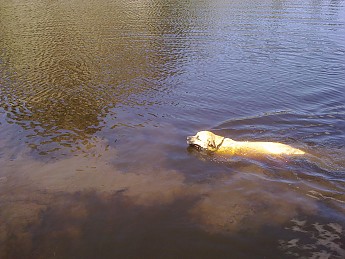 "The Beehive"  some sort of decayed basalt dome on one of the ridges.  Of course I had to climb (boulder) it.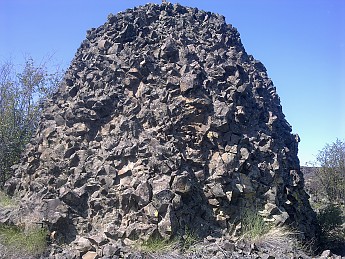 Ridge top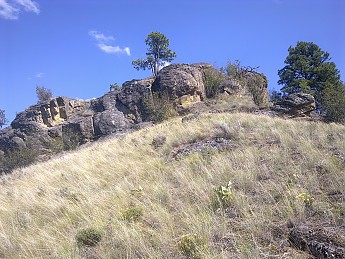 Looking back down the canyon.  this area is the nesting place for our local Eagles.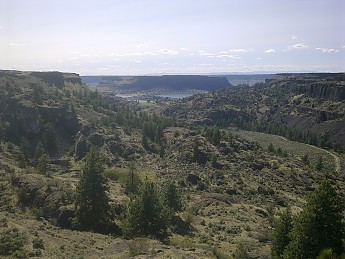 Cool twisted p. pine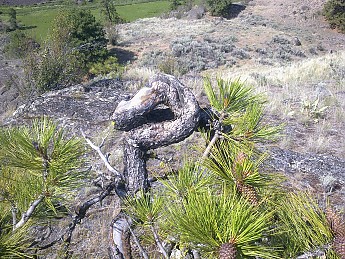 Back in the valley floor, a former farmstead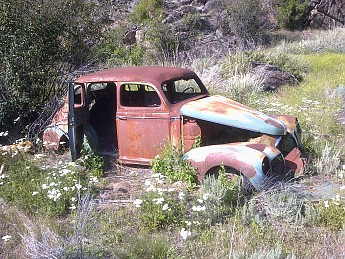 Down in the valley floor I had to stop every ten steps or so to remove ticks from my legs before the buggers could make it up my shorts. 
After the hike I pulled sixty or so off Noel (so much for monthly tick treatment) and ten or so from the inside of my shorts and tshirt.  If you get them early they wont have time to bury themselves.  Cool discovery: Underarmor Compression shorts are tick proof!!  They crawl over them and can't get underneath!!  A win for me!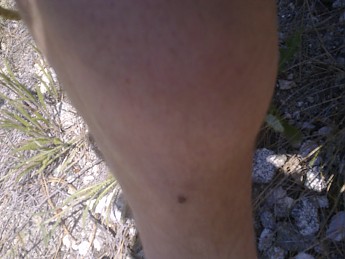 Nice flowers.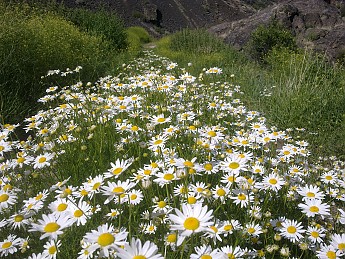 We finished with a swim in Banks Lake and a good tick picking.  I got another dozen off Noel back home.  I use a cup of alcohol (Isopropyl, not the good stuff) to put the ticks into. 

"Where are the kids," you ask?  They went to granny's house for the week with mom.  Its summer so they have every day off and they can go for as long as they please.  I'd say it was nice to have some solo time but I kept catching myself thinking how much the kids would love this place, another time perhaps.





Jeff