8:22 a.m. on July 7, 2012 (EDT)
Patman

2,155 reviewer rep
2,123 forum posts
So like Jeff (FromSagetoSnow), I decided to wedge in a little trip on my July fourth Holiday. I headed out Tuesday July 3rd after work and arrival at the trail head found me starting in a steady rain. 
This was also my first hike since turning 40 the week before.
Maybe I'm having a mid-life crisis and instead of buying a sports car or growing a pony-tail I just decided to go backpacking? Nah…I was already doing this but I'll put that in my bag of excuses if I need it later. :)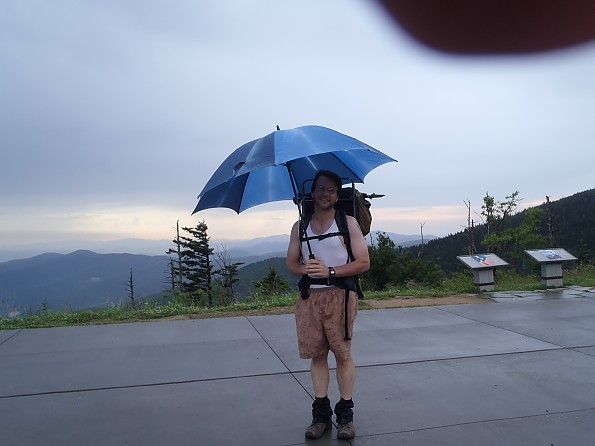 So here I was starting from Clingmans Dome parking lot. Yep, stylin' and profiln' in my dirty stained wife-beater, 20 year old swimming trunks, 10 year old external frame backpack, and dilapidated umbrella.
 I had expected to be hot and sweaty immediately but the rain had really cooled things off. (The temps were in the high nineties leaving home)
 As I descended the Forney Creek trail there were several sections where the trail was overgrown. That wet foliage will soak a person faster than a vertical rain.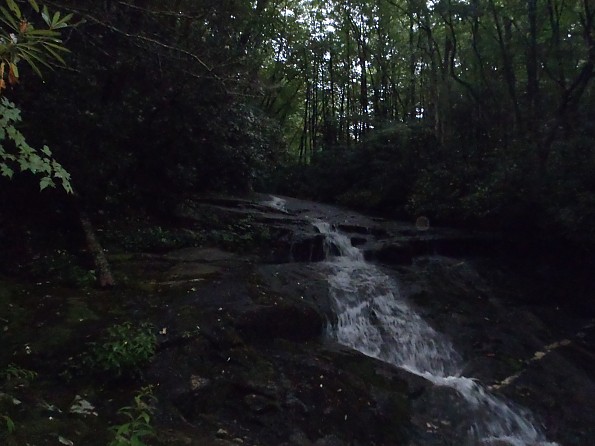 That cascade kept going for about 100 meters and turned into a fabulous natural water slide! It was getting dark and I couldn't get a good picture of the slide but it's just as well since I don't want to be spoiler. The slide went all the way down to the upper section of campsite 68 on the Smokies map. That was a really nice place to stay the night.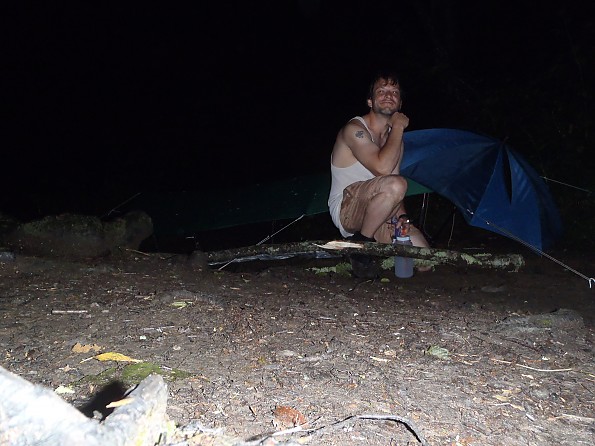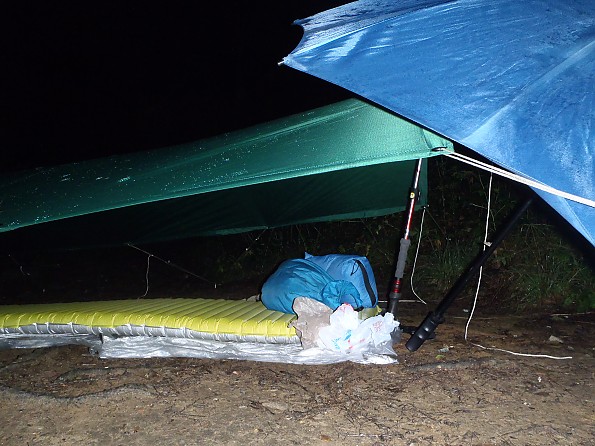 Here was my muddy dirt-bag camp. My wife saw these pictures and said "That just doesn't look like any fun to me." while shaking her head. You can't really capture the whole scence whit a little camera…that site was steps away fromForney Creek and the water slide and big sitting rocks.
 Notice I used the umbrella to create a wind block/ beak for my tarp. I chose a site to try and avoid the "lake effect" of pooling ground water but it never really rained hard enough to test my choice.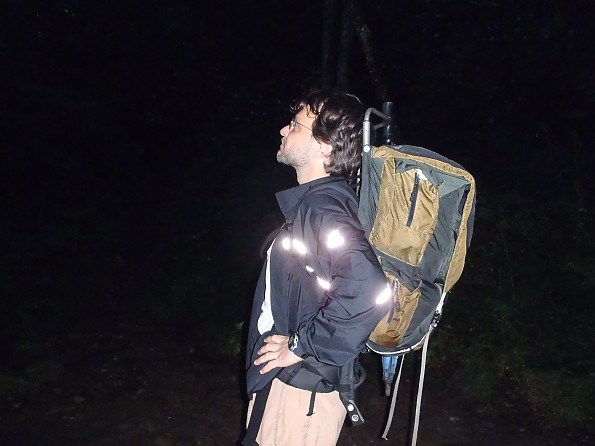 The morning of July 4th: I'm packed and ready to hike by 6:20 AM. My route for the day was 17 miles with 3800 feet of gain. It was an early start but I wanted to be home by 4:00PM if I could so I could join in any celebration my wife might be up for when she got off work.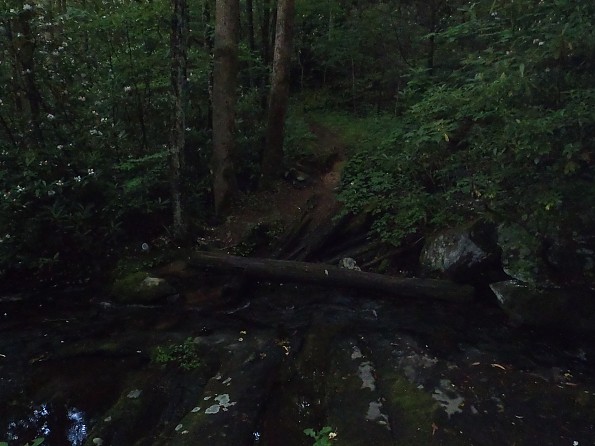 Forney Creek Trail is known for its crossings. Here is 1 of 7. This one was easy but slick.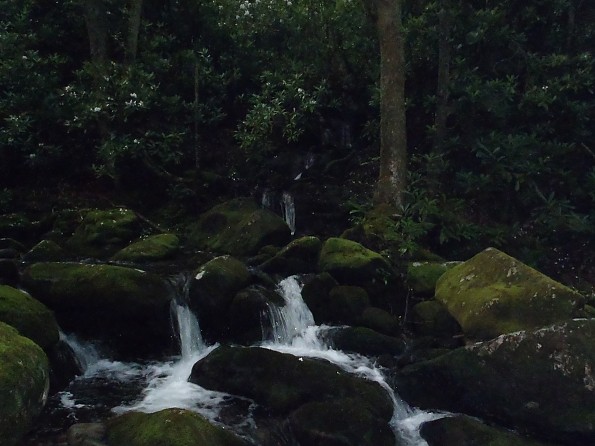 A nice cascade at crossing 2.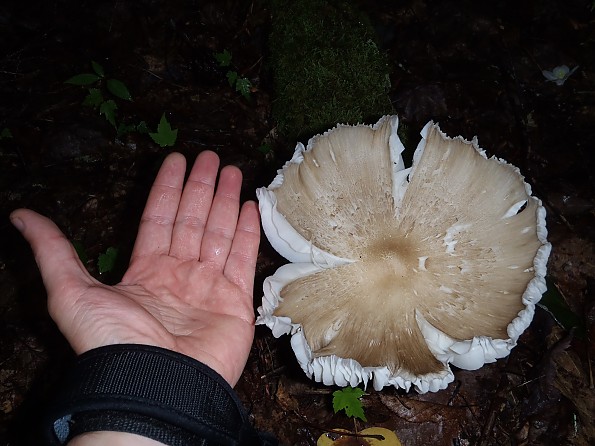 Big ole mushroom.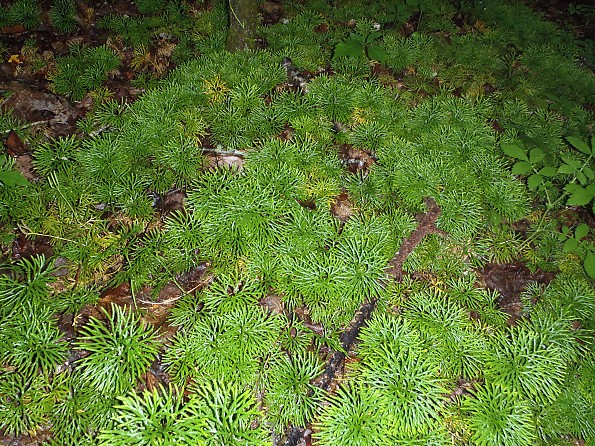 I like that stuff.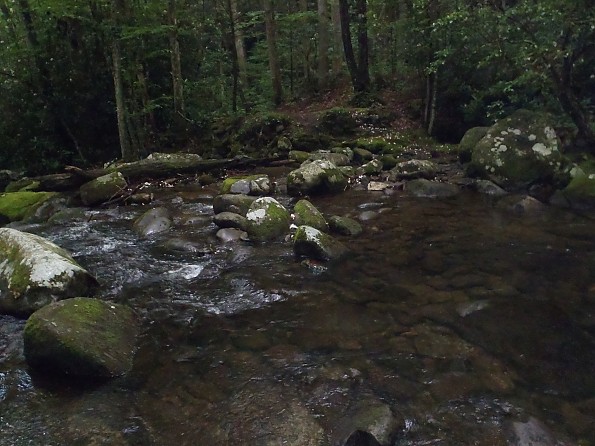 crossing 3 of 7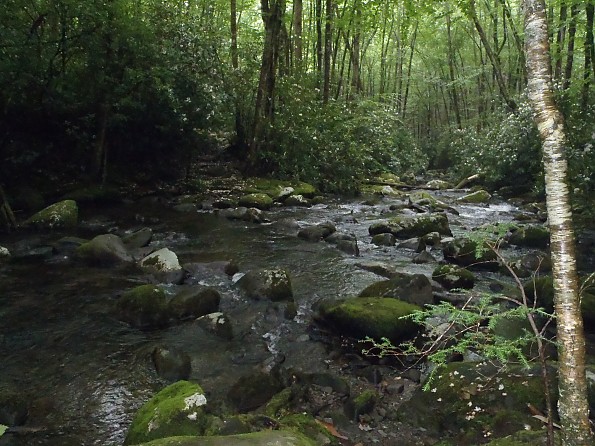 crossing 4 of 7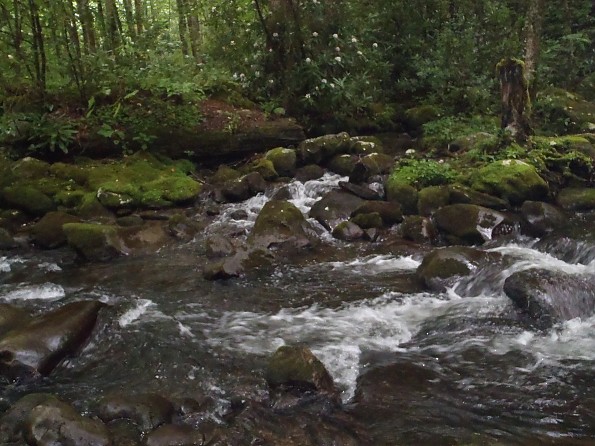 crossing 5 of 7….. getting monotonous aren't I?
 And here is 7 of 7 (didn't snap a pic of 6) which was more of a "wade" than a "ford".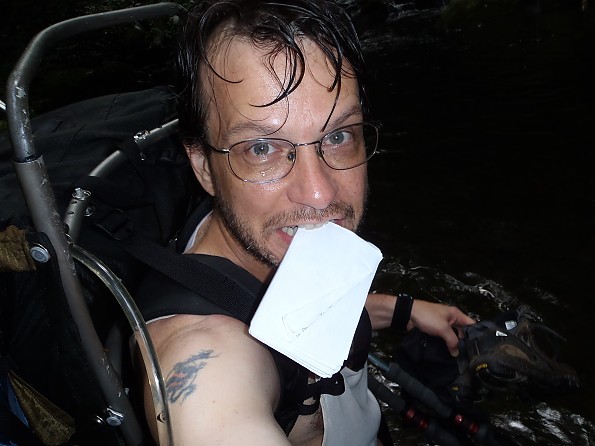 As I waded: here is a self pic while holding my trail guide in my teeth and using bad crossing technique: my pack straps aren't loose, I'm barefoot, and carrying my shoes and poles in one arm while holding my camera with the other. In my defense…after getting across I stopped to swim for a few minutes so I didn't care if I got all wet in the heat.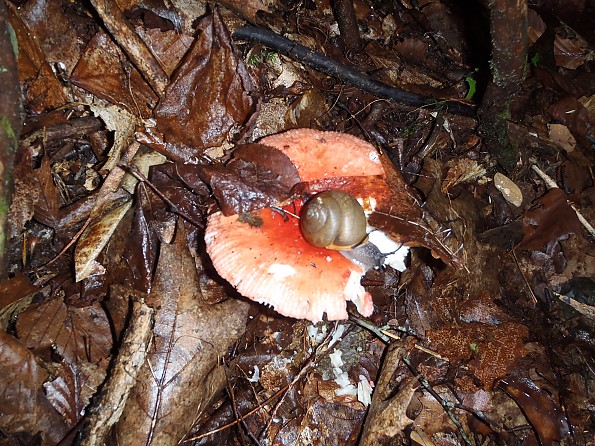 Hmm, after this I should look out for Alice.
 I really like these flower pedal trails. The fallen blooms extended as far as I could see.
 Campsite 71 was HUGE. The guide book doesn't say what kind of structure was here before the park but that was one big fire place (and uncommonly high foundation compared to others I've seen).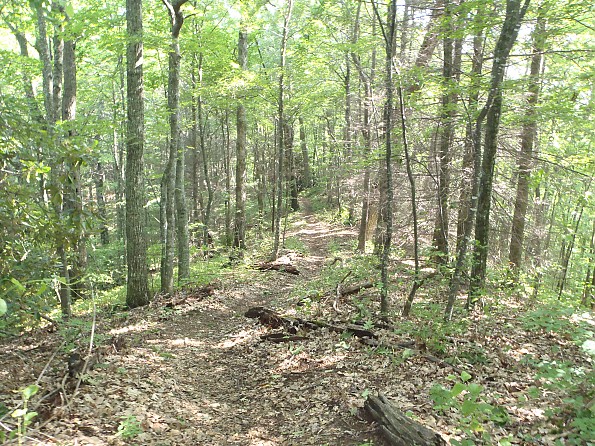 After a tough, hot hump up the Spring House Branch trail, I finally reached the foot-traffic only Forney Ridge trail. It was nice to be off the horse trails but the big climbing also started there.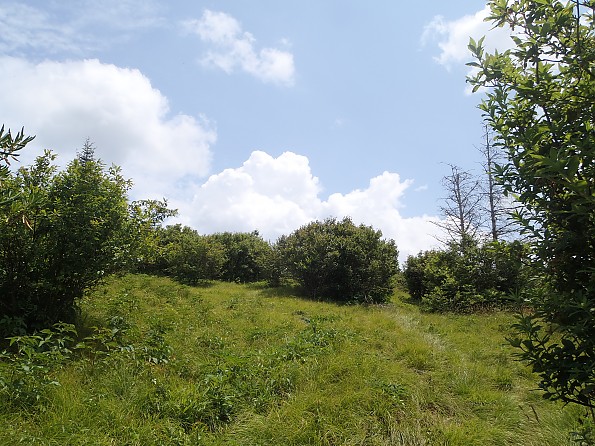 Here I was approaching Andrews Bald.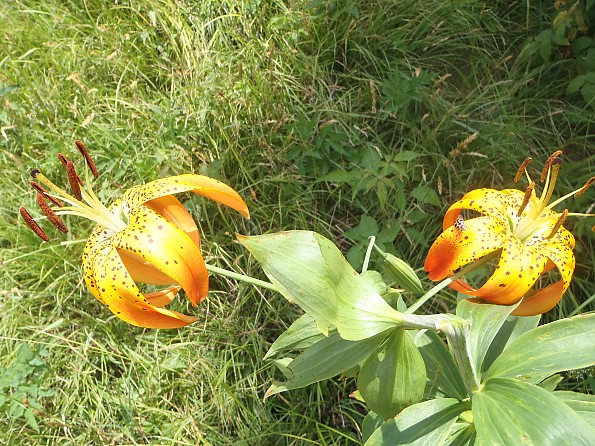 An Iris (I think)  close up.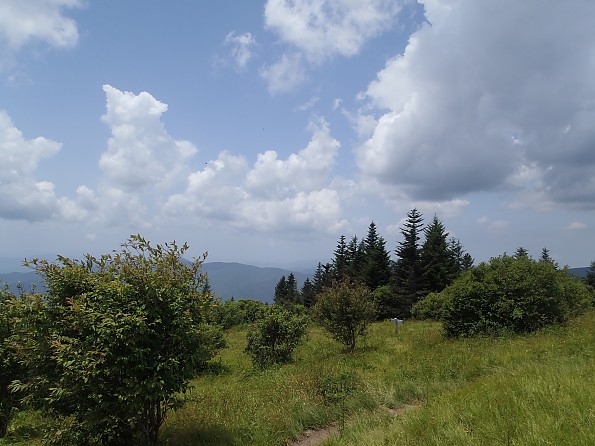 I'll end with this hazy hot picture taken from Andrews Bald.
It was a nice overnight trip and I highly recommend the Forney Loop (but it's a good trail-set to read-up on before you go).
Happy Trails!