11:04 p.m. on August 13, 2012 (EDT)
Peter1955

1,379 reviewer rep
1,339 forum posts
Remember this photo. Straight ahead, high on the rockwall, is a small round glacier called The Ghost. It is about the size of a city block - its elevation above the snow you see beneath it is about 500 metres (1600 ft)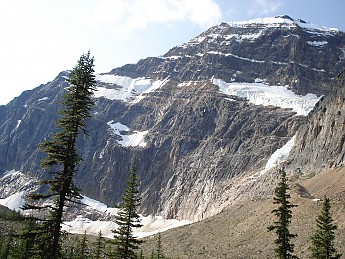 Day two with the couple from New Brunswick. Now that I was a bit more confident about their abilities, I figured they'd be okay with something a bit harder.
Mt Edith Cavell offers two hikes. One follows the valley floor beneath the Angel Glacier to a lake nestled in a jhollow at the top of the valley. Every day in the summer hundreds and hundreds of tourists take an easy stroll to see a real glacier from below.
The 'Path of the Glacier walk climbs the side of a lateral moraine crossing a stream or two...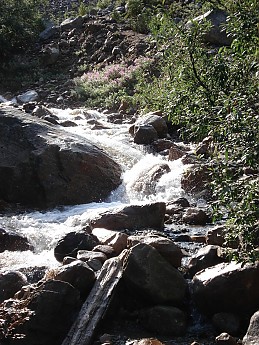 then drops back down to the lake before returning to the valley.
The Cavell Meadows crosses the same moraine, and climbs steadily through the notch between it and the forest on the side of the valley.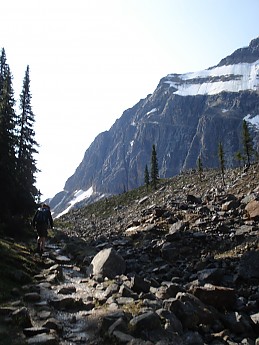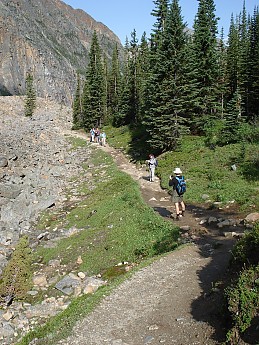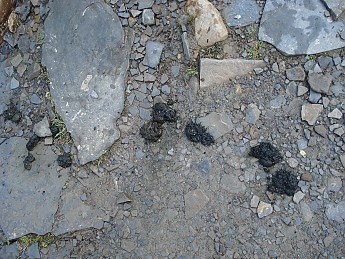 A bit of fresh grizzly scat on the trail to watch out for,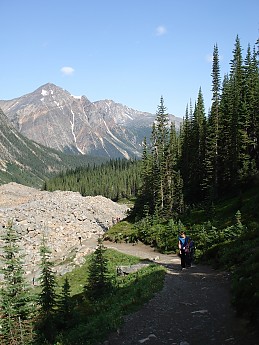 but great views of Angel Glacier high above on the opposite side of the valley.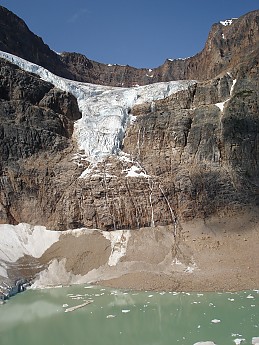 and of the Ghost above it on the headwall.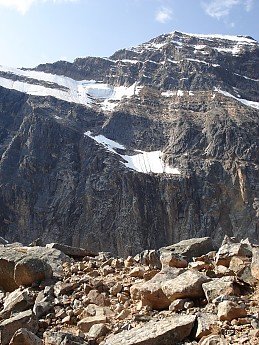 My people were doing okay, and we started the climb up through the forest. A bit of a grind with about 200 metres of elevation, but with a gentle enough gradient.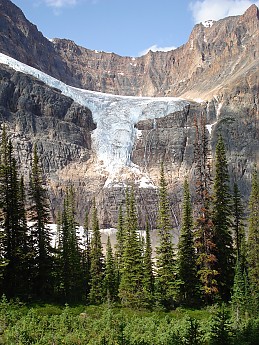 Soon enough, the trail breaks out of the forest, revealing more vistas of the glaciers, and opens up into flower covered alpine meadows.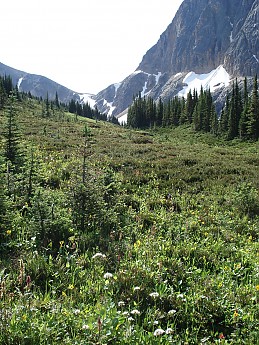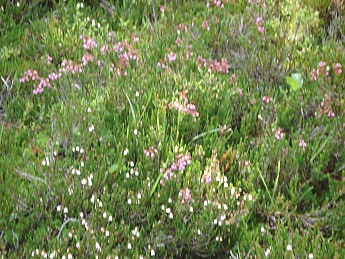 Lots of photo ops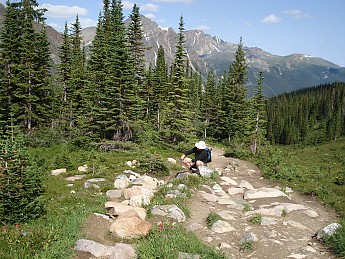 and a nice walk up to a scenic lookout. Glaciers and flowers - quite the scenic combination.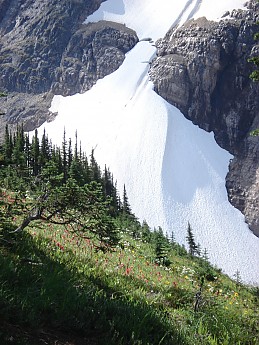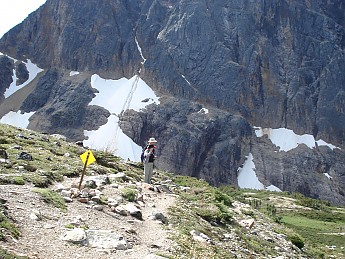 A turn upwards again and we all headed for the third (last 'official') lookout. At 500 metres above the starting point, it's a fairly good hike.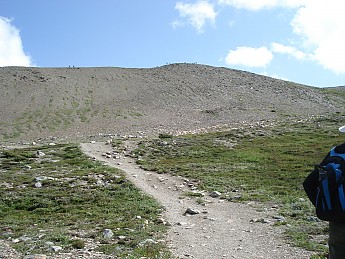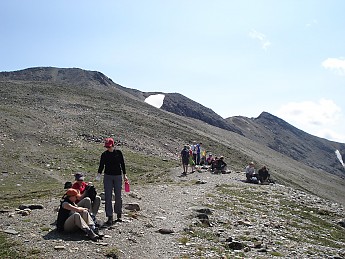 then a spot to pause for a snack and a rest. At about 2000 metres elevation (8,000 ft) you can feel the effects of the thinning air. The lady decided to stay there and enjoy the views, while her husband and I went on to the summit.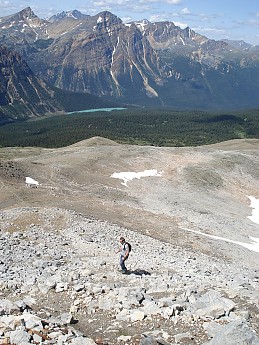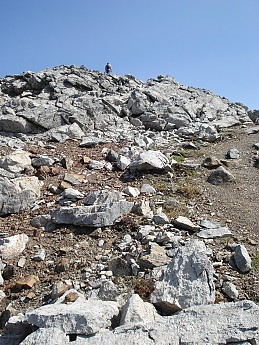 Nasty footing and a few scrambles, but great views.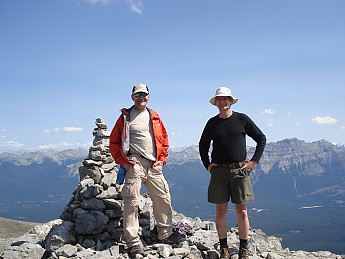 (note Trailspace hat!)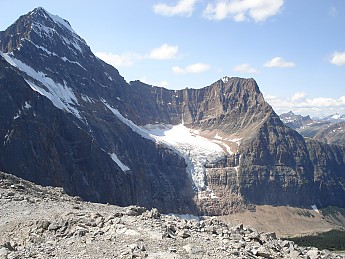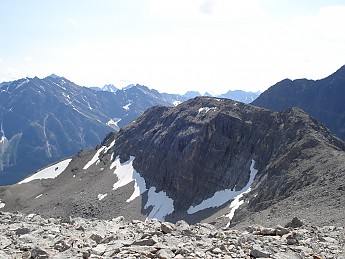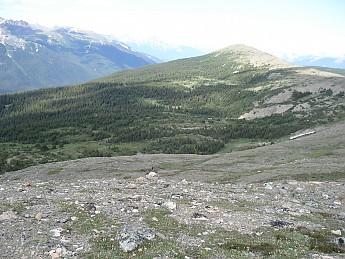 Summit, then down again. 
More flowers and some great views,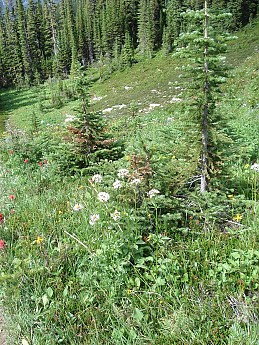 and a few animals...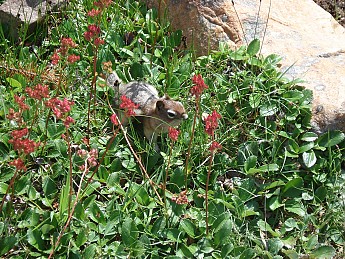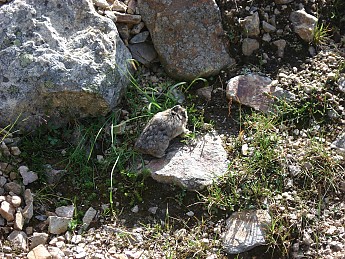 including marmots, golden mantled ground squirrels, and a pica or two.

We also got shots of some very large avalanches falling off the left side of the Ghost.
At 5:30 the next morning the Ghost slipped off the side of the mountain and landed in the lake far below. The resulting tsunami of ice, gravel and water swept down the valley for a kilometre, crossed the parking lot, then continued downward to block the road. Had it fallen during the daytime, when the valley was filled with tourists following the easy trail down the bottom, hundreds of people would have died.