6:13 p.m. on August 17, 2012 (EDT)
Patman

2,170 reviewer rep
2,136 forum posts
The names have been changed to protect the guilty and for personal amusement. (A real trip but fanciful report as it were.)
I splurged on this trip and paid for a shuttle to pick me up at the end of the route (where I left my car) and drop me off at points beyond. The shuttle service had an official name but was really just a nice fellow and his Subaru. 
I drove over an hour to the pickup point after work on Friday. I do the Friday night thing a lot as it lets me squeeze in one extra night as well as get positioned for a particular route. I think of these after-work jaunts as "access hikes".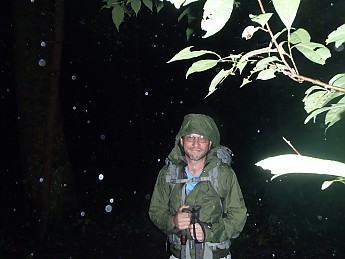 The nice fellow dropped me off after a 1.5 hour drive from my parked car and I began the evening's access hike at dusk in a steady rain from stormy skies somewhere in the mountains of Alleghania. I started about 2600 feet and climbed to 4700 feet in 5 miles.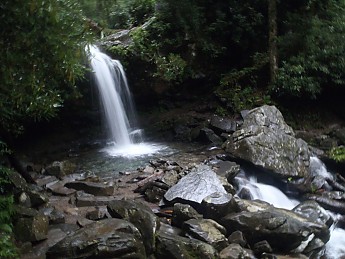 I passed Don't Falls, a lovely spot even in the rain.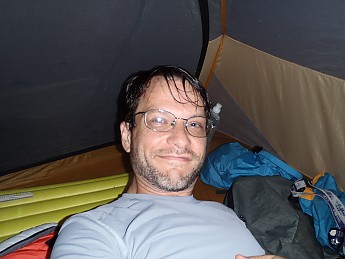 After about 5 miles I made it to Doofuss Gap and a super secret campsite scouted on previous trips. It might have been more "super" had I not been socked in a thick fog and cloudy rain. It was nice however to have cooler temps and the rain lulled me to sleep in a windy gap.


When I awoke the next morning it was still raining. After a quick burst out into the rain to take care of biological business, I jumped back in the tent to wait for an opening in the downpour to pack-up. Those are the times when I really envy people that get to go on longer trips with more freedom. I had been dropped off 50 trail miles from my car and needed to make progress that day; otherwise I might have stayed put and pulled a zero.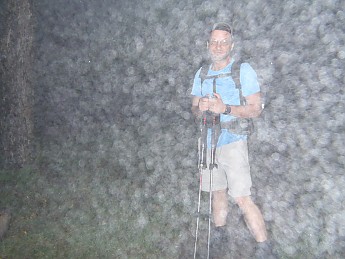 Eventually the rain subsided enough to jump out and do a quick pack of the tent with wet fly. However, packing the tent first compelled me to make breakfast under a drippy tree in the wet woods as I sat on a wet log rather than facing out of my vestibule as I prefer. Even so, it was better than the norm.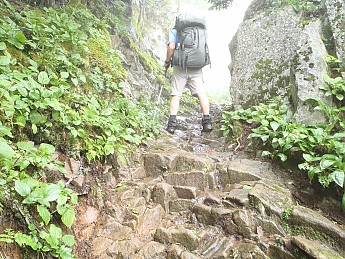 Here I was hiking up the trail to first summit and then go past Fecal Mountain. It was a beautiful trail with many outstanding overlooks but unfortunately I was hiking in a dense fog most of the time.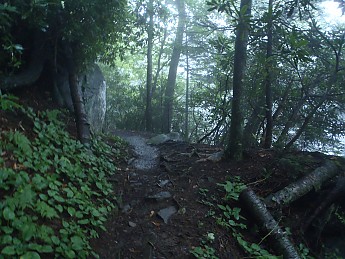 This was a nice spot on the way up.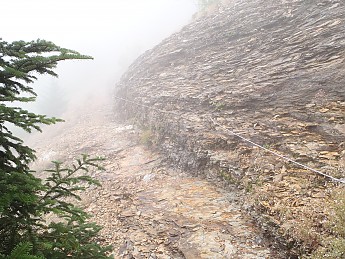 After four miles or so I had crossed over the summit and picked up the 5.4 mile Bleeding Wound Trail to connect with my main route.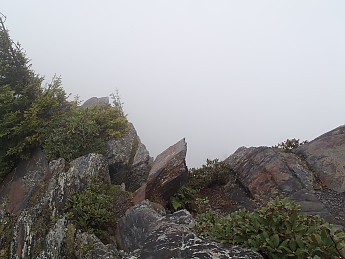 Again it was a shame about the fog since I passed many great views but in that weather they all looked the same.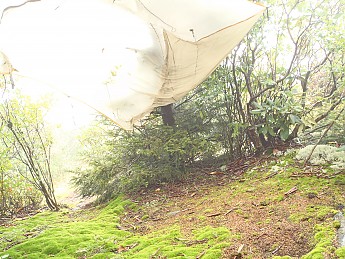 I had stopped at one of my favorite overlooks off-route from the main Trail and tried to take advantage of the wind to dry out that tent fly.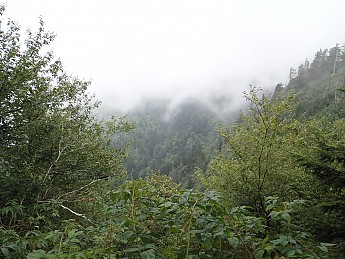 As I logged my fourteenth mile of trekking in the fog that day I finally saw some signs of better weather! Woo-Hoo!


I wasn't sure where I was going to stay that night and so I cameled up nearly a gallon of water in my extra containers in case I needed to camp dry. I drink a lot.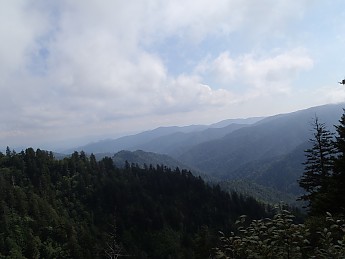 I wound up pulling about 18 miles that day (14 in the fog), and as it turned out I did camp dry at another super secret spot that was near the view pictured here.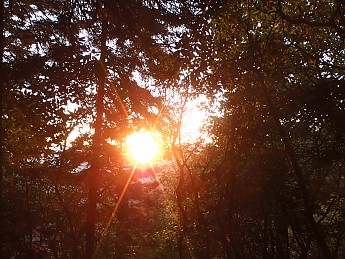 I believe that was the night of the meteor shower and I was just too exhausted to stay up; that was a pretty tiring 18 miles and I'm 40 now (hah, i gots me an excuse. lol).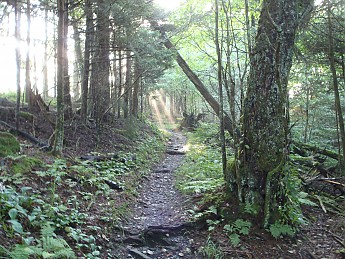 The morning of day 3 (full day 2 really though) and it was time to keep trekking.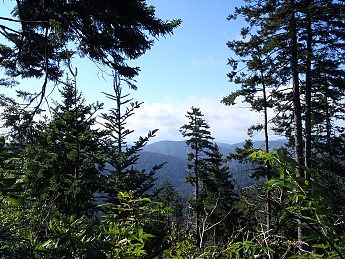 The weather was outstanding for the rest of trip and brought great views and good vibes throughout.
Funny note part 1: I met a couple guys at a rest stop and they left 30 minutes ahead of me. An hour later i see one of them coming back down the trail towards me. So I say " hey did you forget something?" and he replied "uh...., uh...., dammit! I'm going the wrong way!"  He and his partner had stopped for water and got confused about which way they were going. I pointed him back in the direction he should go (based on what they told me they still had over two hundred miles to their destination). I bet they have a long, long, long trip.
So I had considered staying at an established structure for hikers that night. But there was already a group of college students there who told me they were out getting "like leadership training and stuff, man". They had already built a big smoky fire and it was turning my stomach a bit so I decided to look for a more private camp even though I was ready to stop at that point.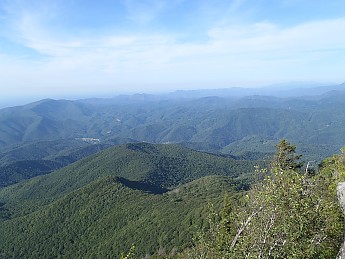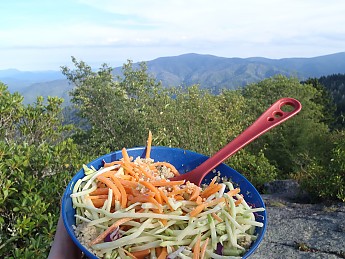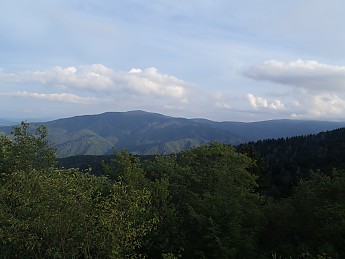 I wanted to stay at the place that offered these views.
But even though the scenery was fantastic I discovered that I could hear traffic from that spot (the first automotive noise in three days). It was killing my wilderness fantasy so I had to add another mile to the day to get out of there and find a more secluded spot.
Funny Note part 2: I had pitched my tent a good ways off trail but hung my food within sight of the trail to take advantage of good limbs. So about 10:30 that night I heard voices and saw lights coming down the trail. Guy 1 says: "Hey what's that?".....Guys 2 " You know what that is? That right there is TRAIL MAGIC!". So at that point I hollered form my unseen tent spot in the gruffest voice I could muster "Hey, that's my food!" and "Are you stealing my food?" They quickly started apologizing with many "no sirs" and "sorry sir". And then I recognized them as the same two that got turned around earlier .  (They must have gotten turned around again for me to have been ahead of them anyway).
And that finished off another 18 mile day.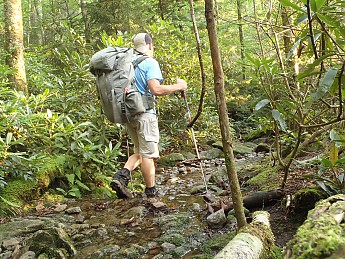 The morning of my last day and it was time to lose all the elevation I had worked so hard to gain.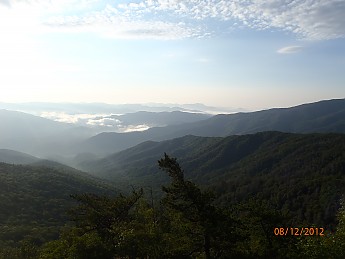 This is a favorite spot o' mine and I took a good long break there that morning.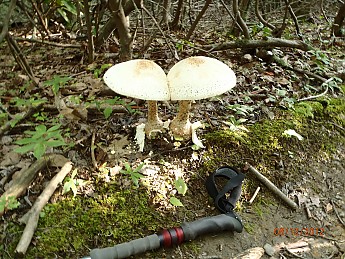 On the way down I passed these neato giant mushrooms.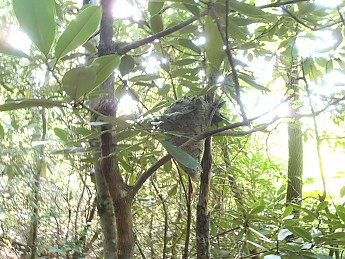 I also passed this "scary to photograph" giant wasp nest. (It was bigger than my head).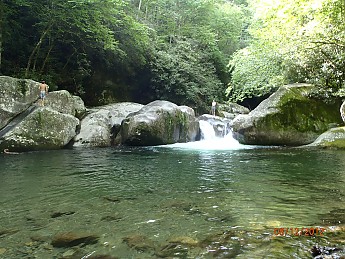 I finished the trip with a cold, cold dip in the area swim hole.
It was a really nice three night excursion and 'good for me head'!
I hope you enjoyed the report!
Happy Trails!
Patrick