4:18 p.m. on September 4, 2012 (EDT)
Peter1955

1,379 reviewer rep
1,339 forum posts
Once you reach Berg Lake, there are a number of choices available for hiking. Difficulty ranges from multi-day backpack trips across the passes from British Columbia into Jasper National Park in Alberta to easy walks of just a few hours.
We'd hiked into Berg Lake the day before, and we were looking for some easier walks that wouldn't involve carrying 40 lb backpacks! We'd been looking at a few local 'attractions', trails with scenic destinations, and had picked out one loop that looked promising.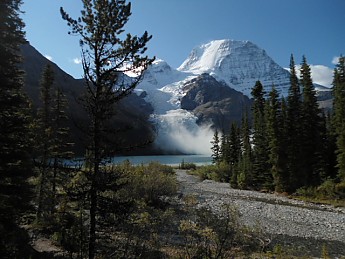 From our campsite, a creek led upwards with a trail following beside it.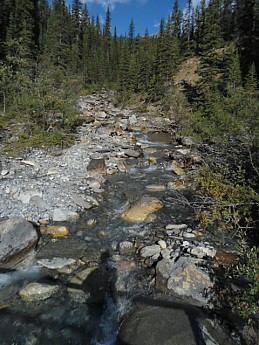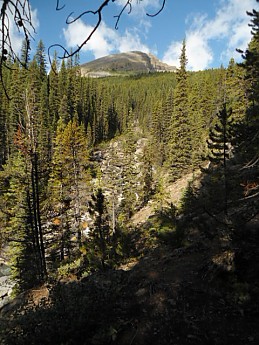 Nice views on the way up, of course, with Mt Robson and the lake below us.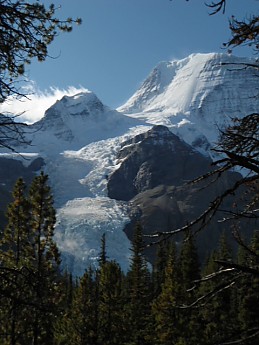 After just a short climb, we started getting nice views of something called the Tobaggan Falls, a series of waterfalls and rapids running down a rock slab, but which,while covering a lot of distance, seemed to be unable to decided whether it wanted to be a creek or a waterfall.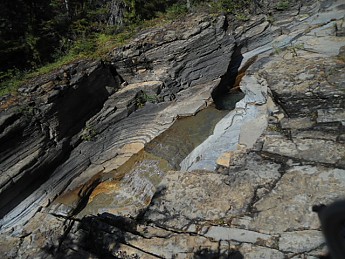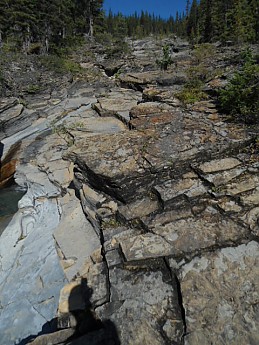 Looking up, and looking down.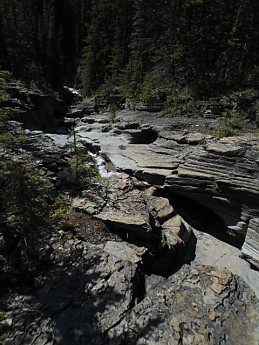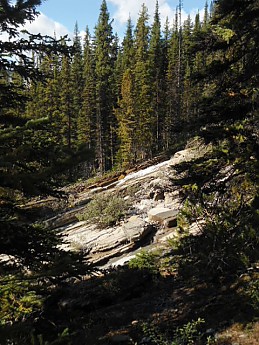 From the side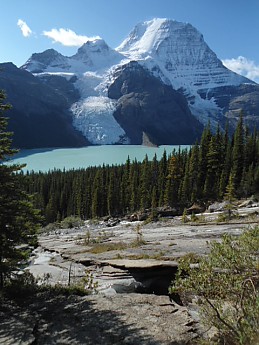 and down again.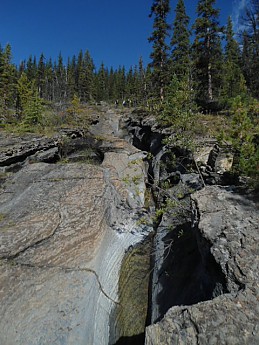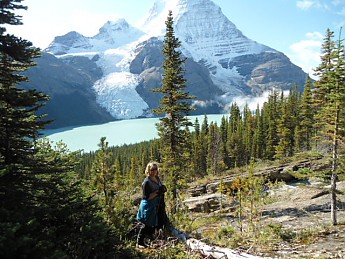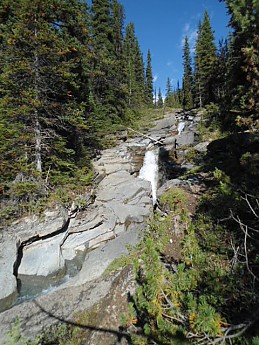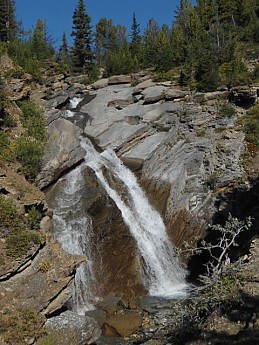 Kind of interesting, and quite unique.
The trail turns away from the creek, and we soon came to a junction. Nice spot for a rest, and we got a few photos. Elevation gain to here about 300 metres.
Our second destination was Hargreaves Glacier and Hargreaves Lake. The alluvial delta we'd crossed coming up comes down from Hargreaves and has created Berg Lake by blocking its outflow, so we were curious to see the source. That meant a steady walk southwest through the top edge of the treeline.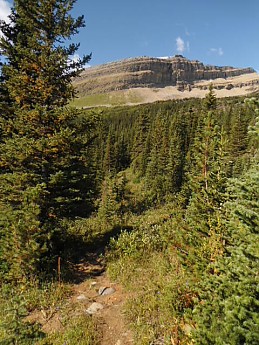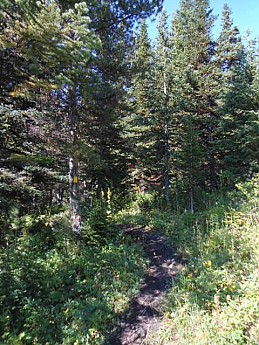 We re-crossed the creek...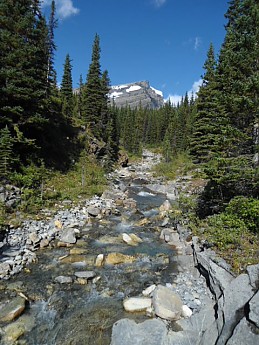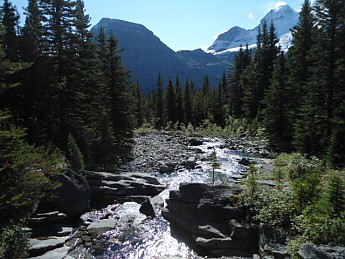 then in and out of the forest.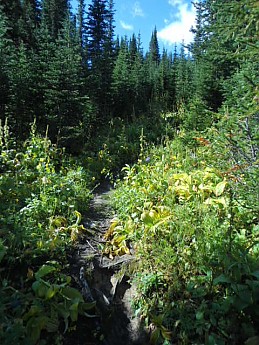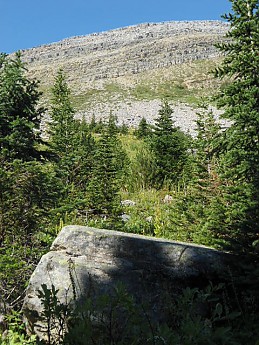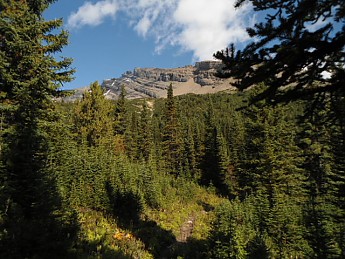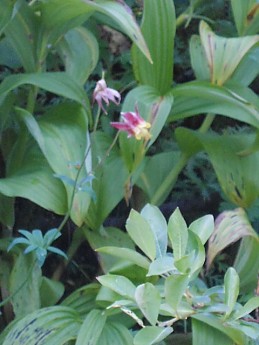 Then we met this guy...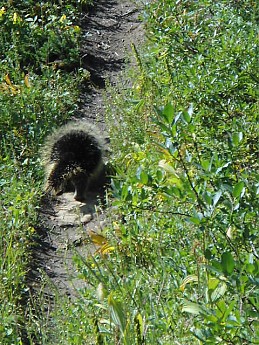 If you've ever met a porcupine, you'll know they aren't very fast. I had no inclination to pass him (and there wasn't a lot of room), but he seemed to prefer waddling away down the path in front of us. We tried making noises so he'd head off into the forest, but all that did was make him waddle a bit faster.
Kind of like being stuck behind farm equipment on a busy highway, all we could do is sit back and enjoy the scenery. It was nice, but it was a slow walk.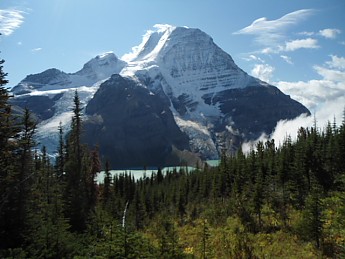 As we neared the moraines guarding Hargreaves glacier, the porcupine decided the bush was more pleasant than being followed by a bunch of hikers and we were finally able to get by.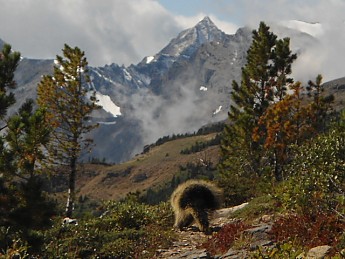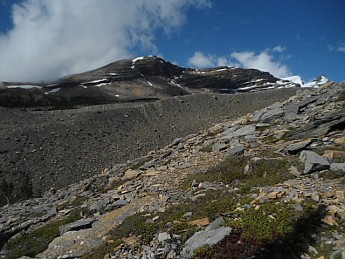 We hiked to the top of the moraine overlooking the lake...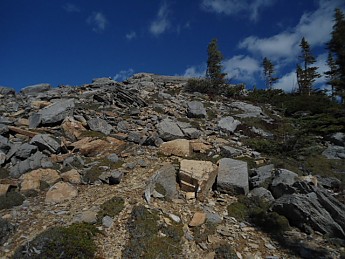 and were greeted with these spectacular views:
A nice spot to stop for lunch, and we paused for half-an-hour before heading back down to return to the lake.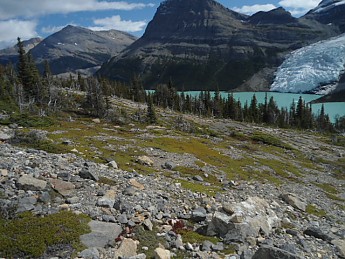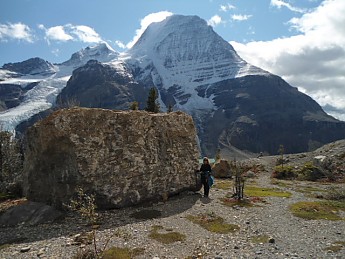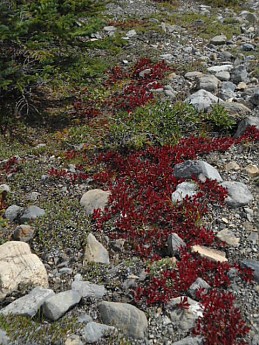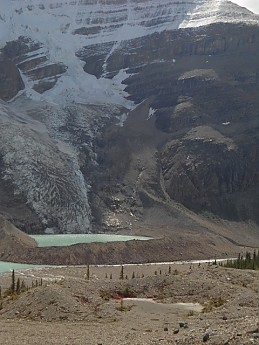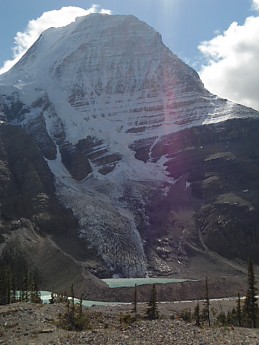 Then an easy walk beside the lake back to the campsite. Same great views but from a different level.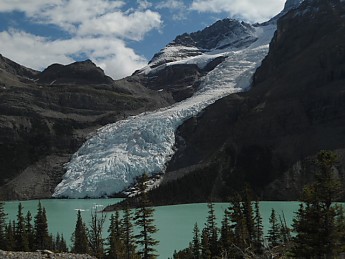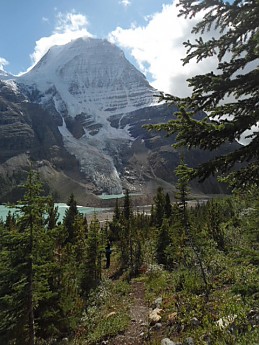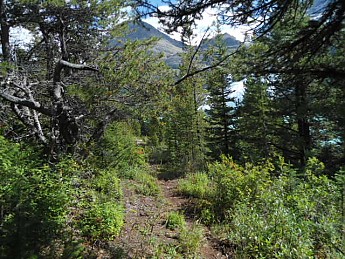 So what do you do when you've finished your planned hikes and it's only 3:00 in the afternoon? Do another one, of course!
From the Berg lake campsite, it's only 4 km to Robson Glacier. We'd been looking at Mist and Berg Glaciers, both of which come down off the slopes of Mt Robson, but the real Robson Glacier was tucked in behind on the other side of the mountain.
First a walk across the alluvial plain at the head of the lake...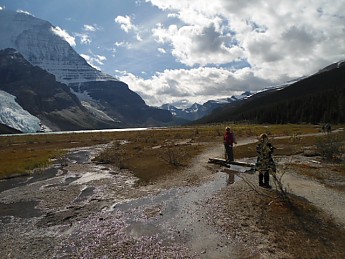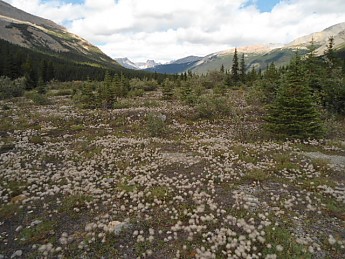 Nice views up the valley, but we followed a level trail along the Robson River.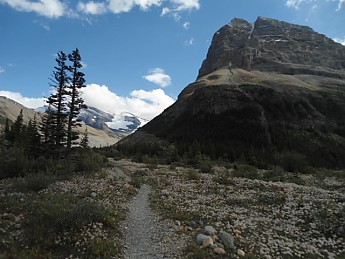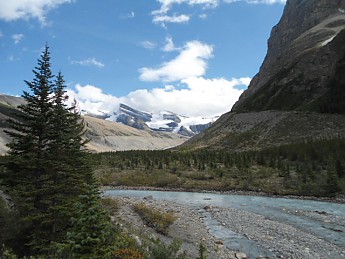 And a first glimpse of the glacier...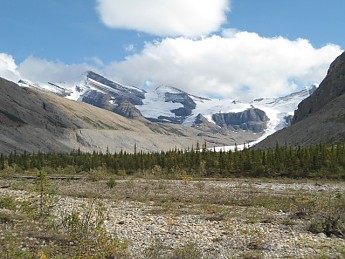 Interesting sign posted by the Alpine Club of Canada back in 1911. It shows the location of the glacier's toe back then and lists the amount of recession at 15 metres per year.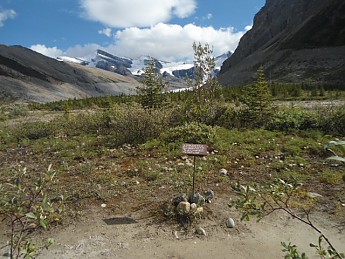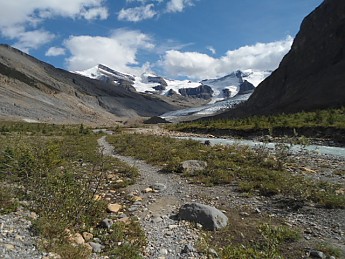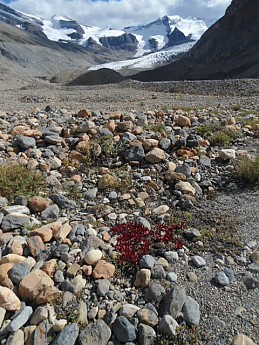 Then the lake...


with much warmer ponds trapped between the gravel, and an occasional iceberg melting in mid-stream.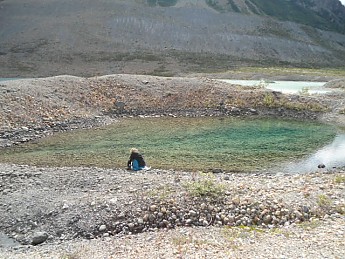 And back down. Almost as much to see coming back as going up!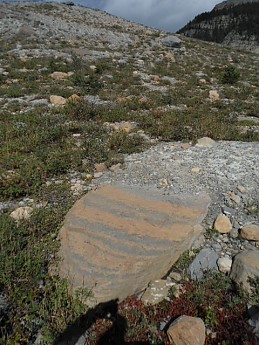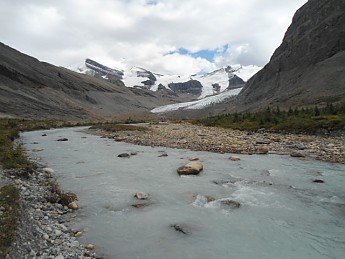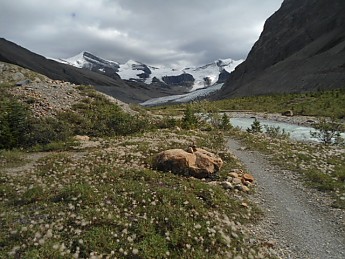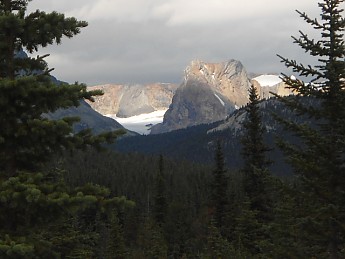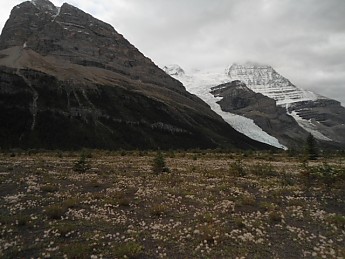 Rearguard Mountain in front, Waffl in the centre and Mt Robson behind.
And across the lake.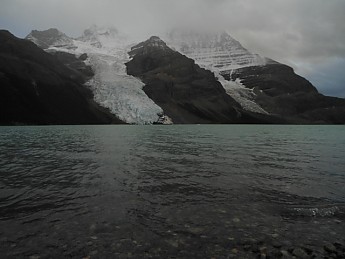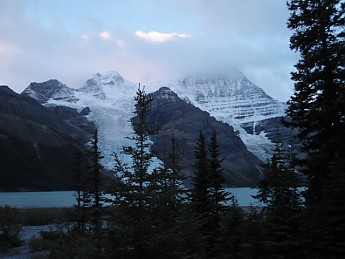 When we woke up the net morning, it was to steady rain (again!) and the battery in my camera was almost done. I grabbed these last two photos...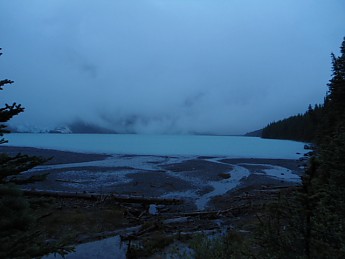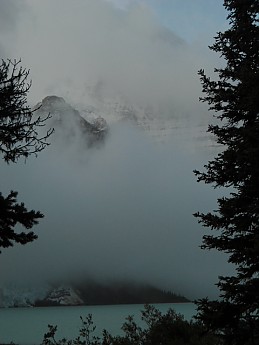 ...then everything went dead.

And farewell to Berg Lake, for this year anyway.