7:58 p.m. on September 12, 2012 (EDT)
pillowthread

TOP 25 REVIEWER
REVIEW CORPS
2,571 reviewer rep
1,403 forum posts
It wasn't much of trip, really…just a 20-mile out-and-back solo day-hike on the Pictured Rocks National Lakeshore Trail. But it was noteworthy for me because it was my first "SUL" trip as far as my "dry" base-weight goes (UL= <10lbs, SUL= <5lbs, XUL= <2.5lbs, not counting food, fuel, and water). I had an exceptional hike, and, moreover, I ate the best apple of my life at the midway point. Apple notwithstanding, I want to focus here upon the kit that I carried, and what I feel made it work so darn well that day. Now, I know that "Ultralight" is a mindset, and indeed one that I have been practicing for a while now, and this "SUL" barrier is a stupid, arbitrary one that ultimately means nothing, but I'm still excited, and I'd like to share why. So there.  
Living in Munising, in Michigan's Upper Peninsula, means having access to some of the best hiking in Michigan, and maybe the Midwest. I started at Sand Point, just outside of Munising proper, walked/ran to Mosquito Beach, and came back in 6 hours' time. The trail follows a ridgeline which contours the Lake Superior coastline, dipping down to the beach at a few spots, and then climbing back up the few hundred feet. The trail itself is a combination of wonderfully soft conifer duff interspersed with gnarly roots, long lengths of soft sand, and bits of hard-pack.
Tried out many new pieces of gear on this walk, something I don't normally do. More commonly, I make one alteration to my gear list at a time and note the accompanying changes in experience; this trip saw no less than 8 new items…
1.)    Mountain Laurel Designs Burn backpack: A wonderful pack that replaced a Salomon Raid Revo 30. 2300 cubic inches including the beautifully-designed pockets back and side. No frame, but extremely-well contoured , padded shoulder pads and hip-belt. 11oz.
2.)    Zpacks 40-degree sleeping bag: Ha! I've never seen such a warm bag pack so small. Pertex Quantum outer shell, 7d inner, 900 fill-power down, .31 cuben baffles. Single 3/4 zip underneath; no hood. Joe raises the bar, again. 14.2oz in the long, wide size.
3.)    Klymit X-Lite sleeping pad: This thing is a feat of engineering. Designed to be used inside your sleeping bag, it inflates in two or three breaths, and works amazingly well for both back and side sleepers. The temperature rating is the rating of the sleeping bag. For the weight it uses quite durable fabrics, and you get a head rest! 6.1oz.
...yeah, that's me folks...my very first gear video...
4.)    La Sportiva Vertical K trail runners: I've been hiking in trail runners for a few years now, and think them perfect for most of my walks. The Vertical K's are a game-changer, in my opinion. They provide the cushioning of a 14-ounce runner at half the weight. The radical sole design is the key, with no rock plate and cut-outs which provide incredible flexibility. The sock-like upper provides no support, further allowing your foot to move as it should, while keeping out sand. 7.2 oz per shoe.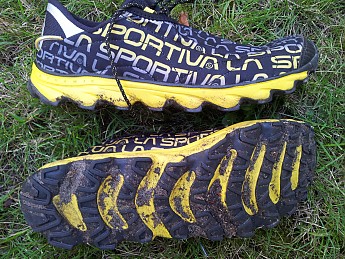 5.)    BlackRock Gear Hadron S down hat: A 900 fill-power down-and-7d hat that weighs less than my venerated Mountain Hardwear Micro Beanie and is exponentially warmer. This piece doubles as my head insulation when sleeping in the Zpacks bag. I really can't believe how warm it is for the weight. 3/4 of an ounce for the large size.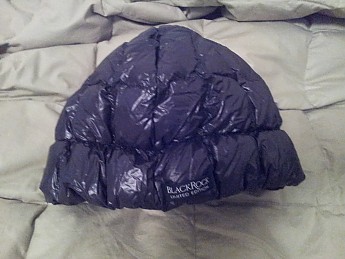 6.)    Patagonia Simple Guide pants: One pair of pants to rule them all…But seriously, simple stretch-nylon "soft shell" pants been my go-to leg coverings for a while now. These replaced a pair of Lowe Alpine Sierra Lite softshell pants because the fabric is just a touch lighter in weight, making them even faster to dry and more versatile. The Simple Guide's dry in a flash, and are soft enough to wear to bed and as a baselayer under insulated pants. I roll up the legs when I want shorts, and wear these pants from the high mid-80's down into the 40's. 12.3oz for the mediums.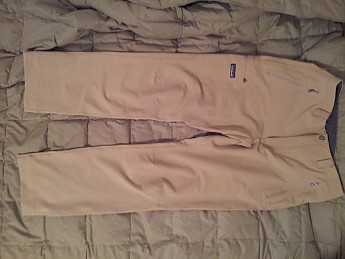 7.)    Evernew 640ml Titanium cooking pot: I've been looking for a pot this size for a while, and I have found a really good one…just large enough in diameter to slip a 110g canister of fuel down into it, and just tall enough to boil enough water for a big freezer-bag meal. I almost exclusively eat meals which require just the boiling of water—Pastas, Quinoa, and par-boiled rice with dehydrated veggies and stuff—so often don't want anything more than a pot with handles. Speaking of handles, the ones on the Evernew are perfect:  long enough to extend outside of "heat cone" created when using a canister stove, and securely spot-welded to the pot itself. (No rivets FTW!)  2.5oz.
8.)    Zpacks Cuben Dry-Bag, size medium: I like putting my down into waterproof sacks. It's a measure I take to keep things as dry as I can. This dry-bag replaced a medium-sized Sea-To-Summit eVent compression sack at 6 oz. It is seam-taped, and totally, totally waterproof. It's like a force field for whatever you put inside of it. .6oz.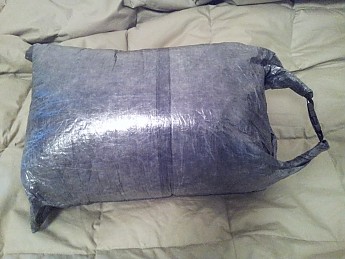 Now, the Zpacks dry-bag stuff sack was purposely sized to fit tightly at the bottom of the Burn pack, which it does. Lots of people just stuff their sleeping bags into the bottom of their pack (including me, at times), letting it expand as it will, filling up the voids to make efficient use of space. With the bag in a sack specially designed to press-fit into the bottom of a given frameless pack, however, one effectively re-creates the design of the "original" frameless Rivendell "Jensen" packs, which, IMHO, were far ahead of their time. These Rivendell packs used separate compartments to create a "virtual" frame for the pack by using the very items you put into the pack. In my application, the lower "compartment" is the press-fit dry-bag, which snugs up perfectly into the lower back when the hip-belt is fastened, creating a "shelf" onto which everything else in the pack is loaded.
As far as packing the rest goes, I then fold up the X-Lite against the back-panel, put everything else in, and blow up the X-Lite to take up the extra space. Doing such effectively creates the remainder of the virtual frame, as the pad can be blown up as much or as little as needed to keep the load snug and tight within the pack body. With everything now sitting on top of the sleeping bag dry-bag "shelf", a natural flex line is created which allows the upper portion of the pack to move as needed. Plus, the X-Lite creates a nicely-padded back-panel.
I ran a portion of the trail, and the Burn performed wonderfully in this application. Thin enough in profile to allow a full arm swing even with a 32oz Gatorade bottle in each side pocket.  I had to make adjustments to the pack when running, tightening the sternum strap and shoulder straps, but these could be made on the fly, within the first few paces of breaking into a running clip. I was quite happy actually, because for a hiking backpack the Burn snugged up nicely for running…I almost forgot it was there. Not much bounce at all, and I wasn't even using the optional (but included) bungee cord compression system. Now, though I was trail running with a forefoot strike, I imagine that the bungee system properly secured would keep the pack tight even running in a full gallop on asphalt.
The rest of my kit was appropriate for the trip: My water treatment was Aquamira re-packaged into small dropper bottles, a single-AAA battery-powered headlamp (ITP brand, 3-levels, regulated; awesome, BTW), Silnylon tarp, Vargo Jet-Ti stove, Polycro ground sheet, multi-purpose bandana, etc...I said above that this was my first SUL trip as far as base-weight is concerned, but I have to attribute the comfort not to just the weight, but to the whole system as realized: The fit of the Burn, the way I was able to pack things, the lack of sharp things poking me in the back, the shoes!
Oh my, the shoes…my feet and legs felt better after that walk then they have in a while, and they feel better a day later—as I write this—than they maybe ever have after a 20-miles-in-six-hours day-hike. I've been wearing "minimal" footwear for a few years now--Vibram Five Fingers, New Balance Minimus runners, not to mention just going barefoot—and the La Sportiva Vertical K's are revelatory. With a 4mm heel-to-toe drop, they are not as minimal as some offerings, but for a long-distance shoe they are a very good compromise when compared to something like a Brooks Cascadia. (Which is also a fantastic shoe in its own right!)
Now, about that apple…it was a Gala so crisp, with such a perfect balance of tart-and-sweet, and with such flawless white flesh, it was as if I had picked fresh from a tree just aside the trail, one fed from some magical ambrosial stream. As I sat on one of the many overlooks, gazing out across the seeming-endless expanse of the Gitche Gumee, that apple seemed the best I ever had. Maybe it was the pack, maybe it was the shoes, or maybe it was some quite-rare combination of things which allowed me to relax and enjoy my walk more than I have in quite a while. And that's really why we take these trips, isn't it?...To get away, to recharge, and to enjoy the simple pleasure of a really good apple. 
A few trail shots...
Not too bad, eh?