3:29 p.m. on October 4, 2012 (EDT)
Ashleigh

4,096 reviewer rep
603 forum posts
On Saturday, my friends and I drove from SC to Brevard, NC. On the way to the Blue Ridge Parkway, we stopped at DuPont State Forest. It is a beautiful area that has three waterfalls: Hooker Falls, Triple Falls, and High Falls. The Hunger Games was filmed in the forest and one scene included Triple Falls.
http://www.romanticasheville.com/hunger_games.htm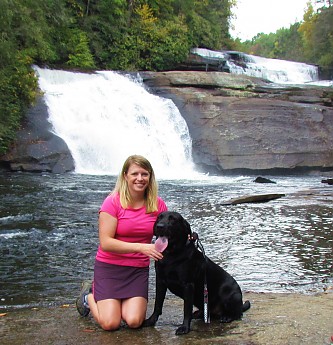 Brice and me in front of Triple Falls
You can actually walk down to the bottom right of the falls and stand beside it. It is AWESOME. We didn't this time because we were in a hurry. Last summer, we did go down there. If you are looking at the picture, there is a section to the left that is hidden by the tree. Behind that tree, is an awesome "sliding rock" and a deep pool beneath it. I swam in the pool, but quickly had to get out because there were a couple of snakes in there! Be cautious if you do go there because there is a very strong undertow in that water!
This was a nice little day hike. There was some uphill, but I would classify it as moderate. I am not sure of the exact distance, but I would guess that the loop that we did was somewhere between a mile to a mile and a half. When we left DuPont, we continued on to Pisgah National Forest and headed up the Blue Ridge Parkway to the Black Balsam area (MP 420).
We always park on the side of the road, where the Art Loeb crosses the Forest Service Road because it is the easiest access to Black Balsam Knob. It is about 1/2 mile and 400 ft of elevation gain to the summit.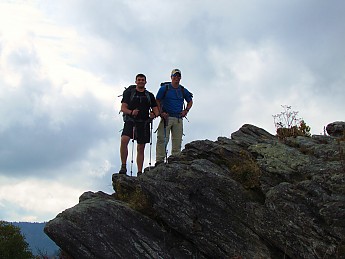 Blake and Jay on a rocky outcrop on the side of Black Balsam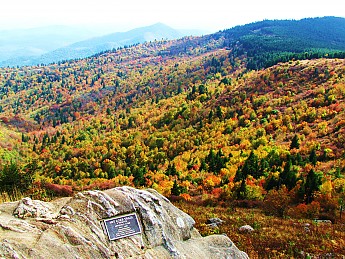 Black Balsam summit, elevation 6214
You can see that the colors are coming out! They aren't peak just yet, but still very pretty! I am sure they will be peak this week, but there is zero chance of us missing the South Carolina/Georgia football game on Saturday!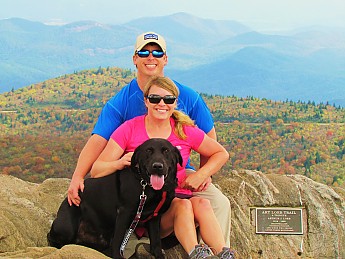 Family photo (Jay actually proposed to me here in April 2010)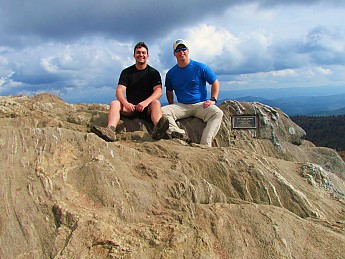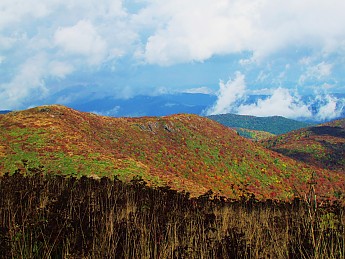 Crazy clouds rolling in around Tennent Mountain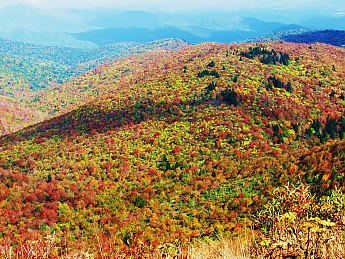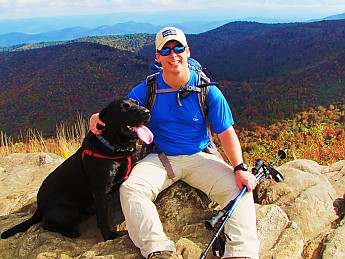 Jay and Brice in between Black Balsam and Tennent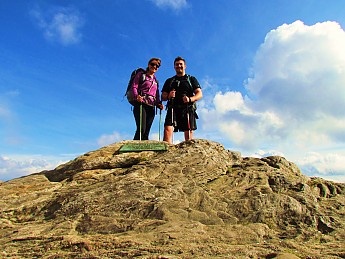 Katie and Blake on the 6040 Tennent Mountain summit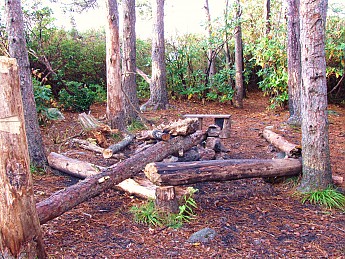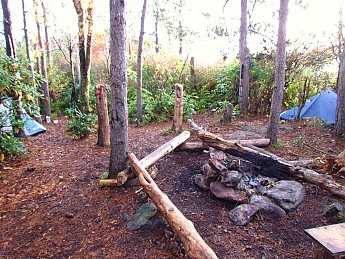 Aaaaaah....our perfect campsite. This is just off the Art Loeb right above Ivestor Gap, hidden up on the hill. Have you ever stopped earlier than you planned because you found a fantastic campsite? That's what happened here. It had everything you could want...firepit with wood, seats, trees all around to block wind and rain, lots of flat areas for tents, and killer views just outside the site. The trees also had lots of limbs broken off, so it was very nice to be able to hang our packs up!
Here at camp, I made one of the best backcountry beverages that I have ever had! One cup Apple Cider (I used Alpine powdered cider) mixed with one shot of Butterscotch Schnapps. It tastes just like a caramel apple! It is the perfect fall/winter beverage!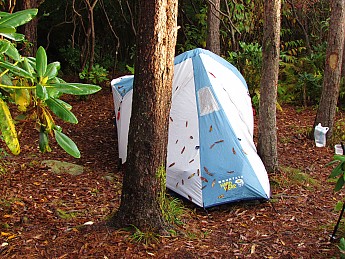 We brought the Mountain Hardwear Viperine 2 this time because it has such a large vestibule. Brice slept comfortably in there with both of our packs and boots. It was worth the extra two pounds in this case. It did rain that night and we all stayed completely dry, as usual in that tent. I love the vestibule size, the window, bathtub floor, and the fact that it is free standing. I don't like that there is only headroom in the front and that it weighs 5lb 2oz.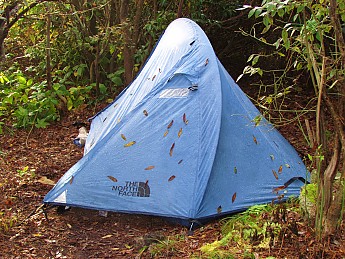 Blake and Katie's The North Face Canyonlands 2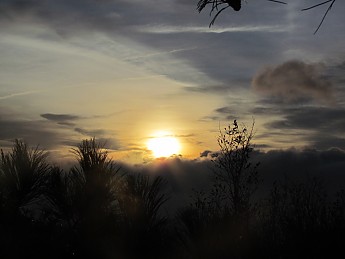 EARLY morning sunrise. When it started, all of the exposed area at the bottom of the tent was golden light. It looked so cool that we had to get up and go see the real thing!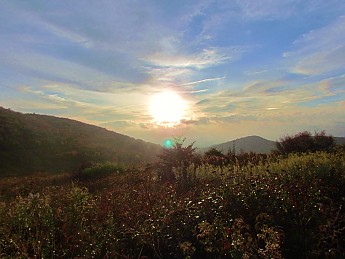 Sunrise over Ivestor Gap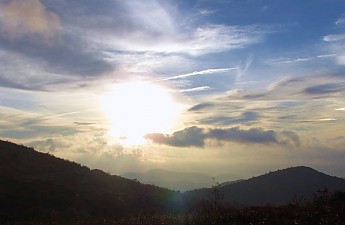 It was very hard to actually capture the sun because it was so bright!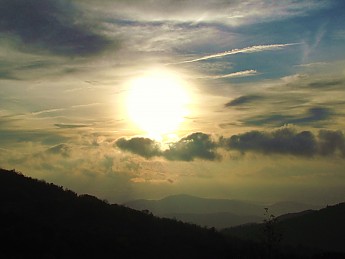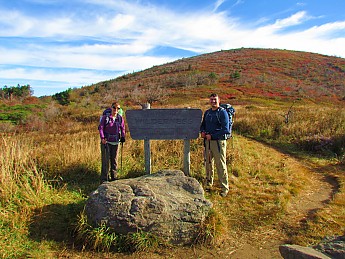 Katie and Blake in front of the Shining Rock Wilderness entrance. Flower Knob is behind them. We turned around here because we had to get back to our respective cities of Columbia and Charlotte...work comes early on Monday mornings!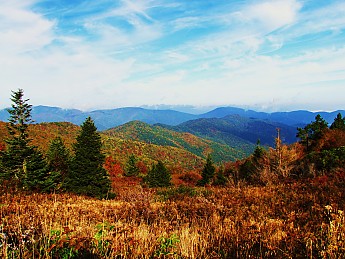 It sure was hard to leave this view behind!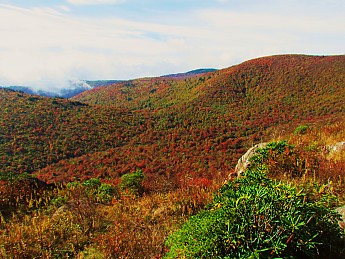 On the way back up the side of Tennent Mountain (Black Balsam on the right)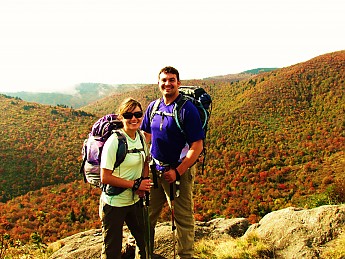 Blake and Katie on the side of Tennent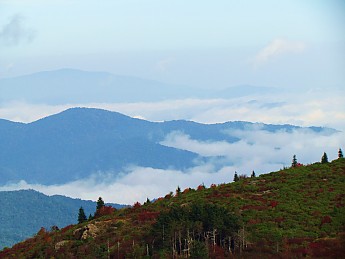 Crazy Clouds!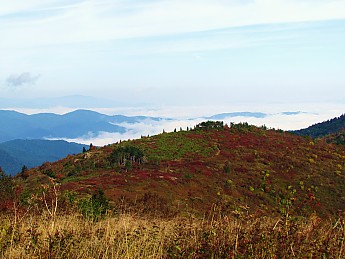 This is the knob that we camped on...right in that little grove of trees at the top. You can see the Art Loeb trail leading up to it.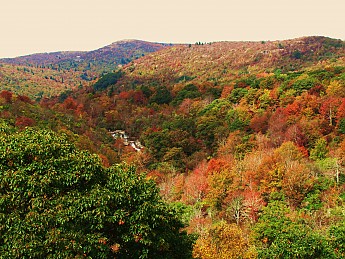 On the way out, we stopped to take a few shots of Graveyard Fields.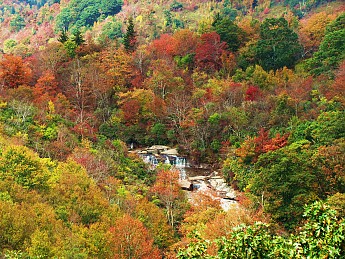 That's the end of the pictures! We ended the trip by stopping at The Waffle House in Hendersonville. I have to admit...it was one of the nicest experiences that I have ever had at a Waffle House! The food was awesome and the staff were on their A-game! It was a nice way to end such a great trip!