6:30 p.m. on October 15, 2012 (EDT)
giftogab

592 reviewer rep
1,522 forum posts
Two of my Seattle friends came to visit and we drove over to Death Valley to hit some of the high spots (and low spots) and it would help me find out the lay of the land for future adventures.
So we loaded up ACE the Super Pilot and hit the road on Saturday morning and drove up I 95 from Vegas to Amragosa. Before heading into the park, we stopped at Ash Meadows Wildlife refuge.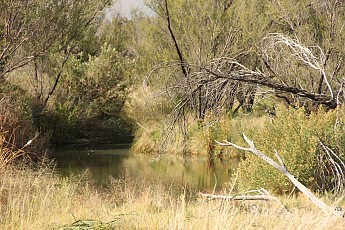 This are is a wonderful spot for a quick sandwich while you are on a road trip. I would come here again and will when the pup fish are out in abundance in the spring.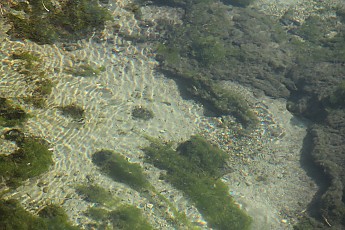 We enjoyed the quiet walk along the boardwalk that takes you through the marsh.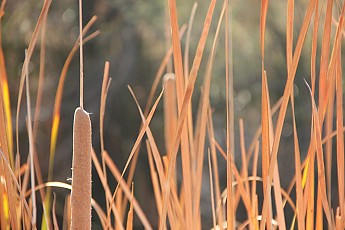 AND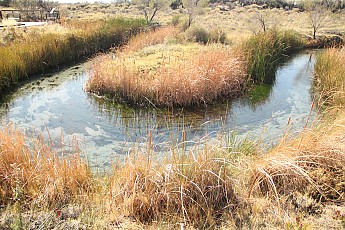 The Mesquite trees had these ball like elements that at first glance appear to be some sort of nest. In fact, they are a growth that appears to be completely different than the structure of the rest of the tree. Solve that mystery for me?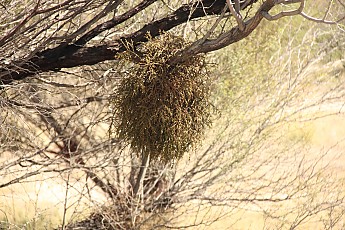 The pool furthest from the parking lot was awe inspiring. It had the clearest water I've ever seen: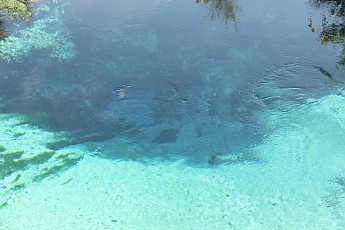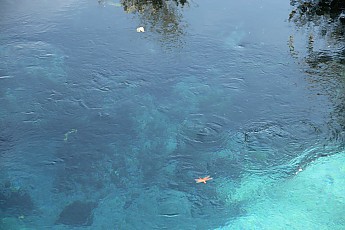 And with that it was time to head on out to Death Valley.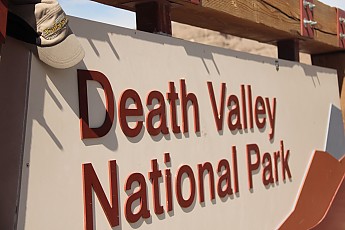 Our first stop was to drive to Dante's View at 5,700 feet. We parked and then hiked the small distance to the peak. Very small walk...but I was wearing flip flops.
Here is the view from the top.
Then on to Furnace Creek area where our first stop took us to that point where you go from above the ocean to below it without even getting wet. Well, aside from the slight perspiration of a warm day.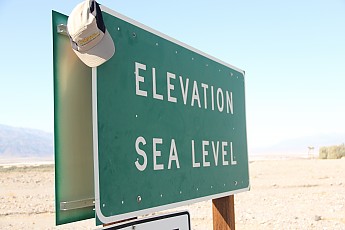 Onward we went to see the Devil's Golf Course.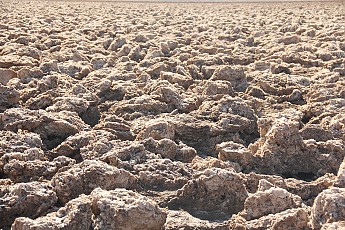 This was big chunks of rock and salt deposits that were treacherous to walk through and astonishing to look at.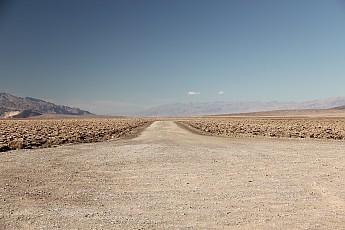 We headed down this road (reminding me of North by Northwest with Cary Grant) toward Badwater Basin for our next stop.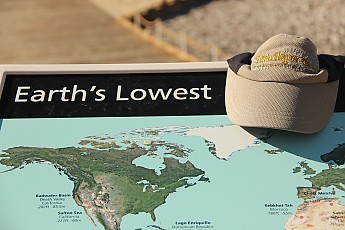 Badwater Basin is the lowest point in the Western Hemisphere. From right here, I would seek that low point of 282 feet below! Seems we are always looking to go up....today, I was going DOWN DOWN DOWN!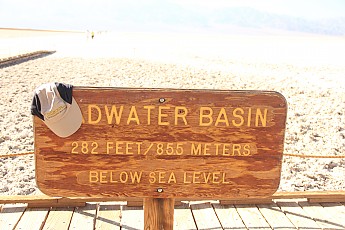 So out on the salt we went where the temps were over 100 on this fine October day.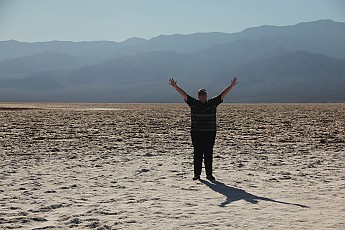 And with that, I had stood at 282 below and 17,600 above during 2012. not a bad spread of altitude for an old chubby girl!
Next, it was off to the SAND DUNES!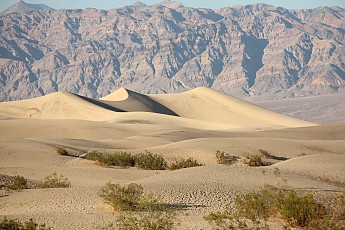 We were beginning to lose light and didn't have time to go all the way out on them. Next time, I will go in the wee early morn so that all the and is blown to a smooth naturally rippled surface rather than a cacophony of shoe prints from the myriad tourists. Can I use the word cacophony that way?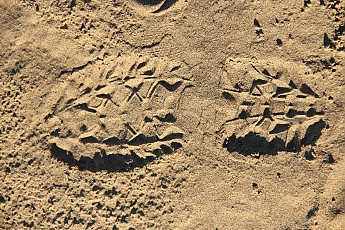 Above you see my own Columbia hiking shoe.
The next place was a nice little slot canyon Mosaic Canyon.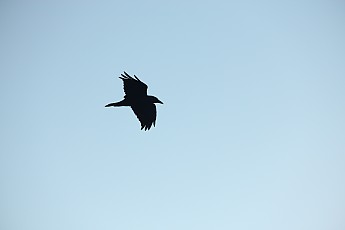 WHAT WAS THAT???? The ravens were plentiful!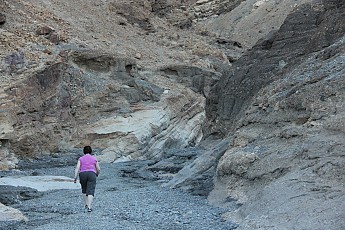 This was to be about a kilometer in to the back of the slot. I don't know how far a kilometer is but the European guy at the car park told us that was how far it was. Turned out to be just right as we were losing sun and got in and out in just enough time to drive back down the rather un-road like road to the man drag. Sit back and enjoy a few pix of mosaic canyon: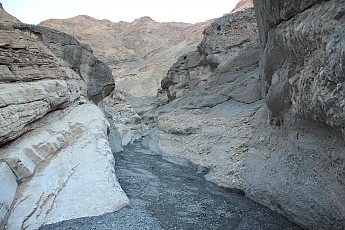 The picture below shows one of the strata in the canyon that had some event that PULVERIZED the rock....thus, MOSAIC.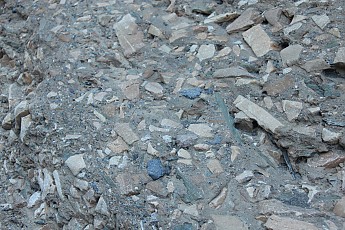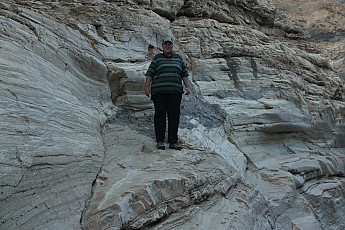 The day was ending and we had to start heading back to Vegas.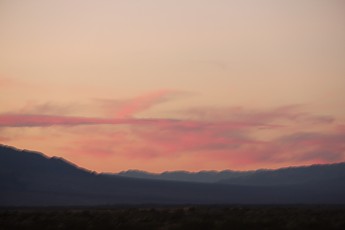 But first, there were some Lights we had to see before we saw the Vegas Lights: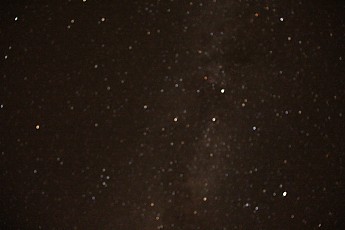 These two pictures are my first attempts at shooting the stars. Not a good job but I still like it. You cannot see 1/8th this many starts when in town.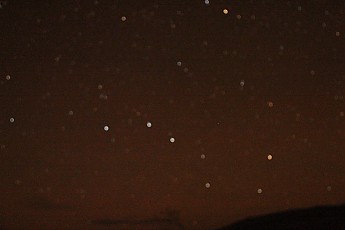 That is the big dipper caught on the Canon 60D. It was ugly, but it was real.
So after 400 miles, 6 dollar gas, a few light hikes and a lotta fun in the sun, we had left Vegas at 8 AM and returned at 11 PM. My friends thought I was weird packing down coats and lights and first aid kits when we were mainly driving. I told them I had seen too many episodes of "I Shouldn't Be Alive" and did not want to be the subject of the next one when something unplanned happened. So we showered and headed to bed. We had to sleep fast because we needed to leave the house by 6 AM in the morning to launch our kayaks below Hoover Dam for a 13 mile paddle the next day. PLAY OUTSIDE!