2:16 p.m. on December 14, 2012 (EST)
BigRed

TOP 10 REVIEWER
REVIEW CORPS
2,829 reviewer rep
921 forum posts
Well our sudden winter here in Trondheim didn't last long. All of the snow was erased by a couple of weeks of above freezing temps. Then it got cold, with temps in getting down into the low minus teens Celsius (single digits F) on a lot of nights, and often sticking down there during the days because here in Dec the sun barely crawls up over the horizon and so doesn't deliver a lot of warming power. All of which means good potential for ice skating. I was away for the first icy weekend, and before the next weekend it snowed just a few cm over the ice -- not enough to stop us from skating but to cover up some of the beauty of the ice. So no "crystal garden" like we had two years ago, but we did get back out on Jonsvatnet a coupe times over the weekend, where we found some new ice and and still plenty of natural beauty to go around. So I added some new shots to the old Crystal Gardens gallery from two years ago, but here also are a few favorites.
Some ice pillars in the splash zone from before this part of the lake froze over.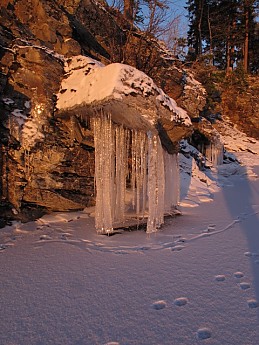 Icicles and setting sun, 2:36 PM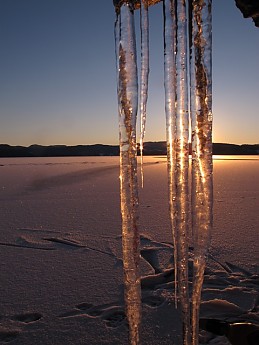 An ice knob in the splash zone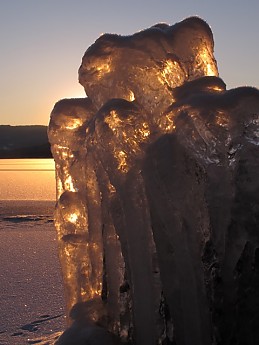 My daughter on some slick new ice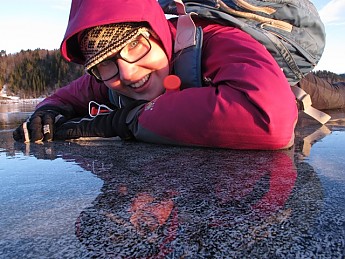 And with an ice plate tossed up along the edge by wind and waves before the complete freeze-over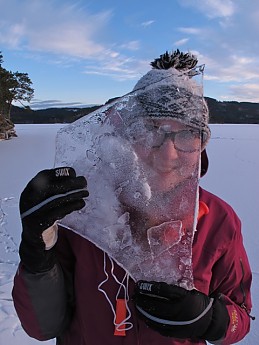 A curious "elephant's foot" formation in the splash zone.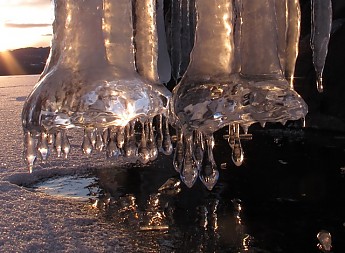 My Dutch friend Ron on some good ice near the S end of the lake. We skated 10+ km upwind then turned around and had a real fast trip back.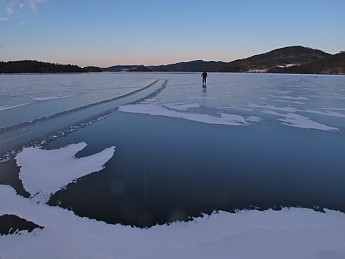 A "flakescape", flakes of ice or snow crust frozen into new ice.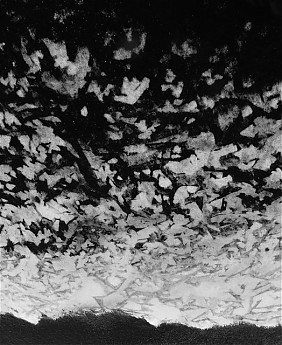 Much as I like skiing in good snow on steep slopes, that flatworld of ice can be really beautiful and fascinating. I was actually hoping it wouldn't snow for another week but we got 15 cm on Monday, so that's probably it for the season. My buddy Christophe plans to go out kite skiing on the lake tomorrow, though. Now we're just waiting for a bit more snow to start skiing again.