9:17 p.m. on January 4, 2013 (EST)
hootyhoo

164 reviewer rep
95 forum posts
I went to Citico for a 6 day trip. But it got cut short by a break in at my vehicle.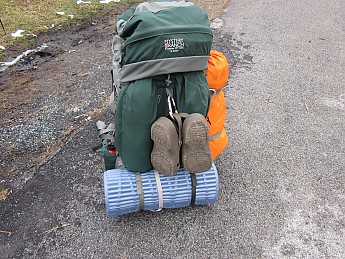 I drove through a thick cloud fog at 10MPH to finally climb above and reach Beech Gap. It was a pretty cold start.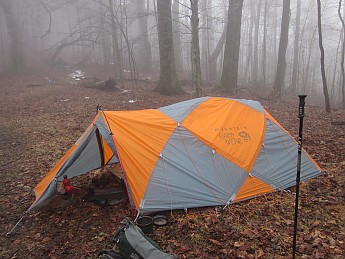 An easy walk in to Cold Spring Gap and the fog begins. Later while cooking it would be so thick that a sideways wind was saturated with moisture. The cold was in the wind chill. This spot is great for wind loving campers.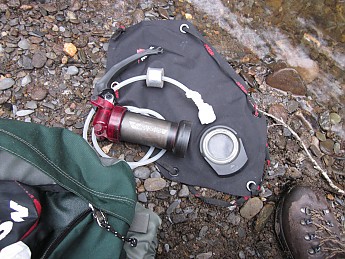 Getting a little water down the hill. I used the top lid from the MR pack to carry my filter and water bag - it worked better than I expected.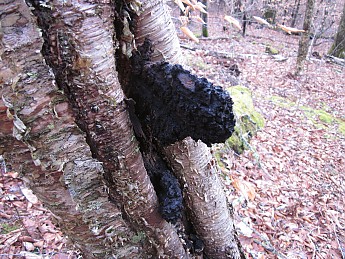 I hunted around in the birch trees and found a good supply of Chaga to make tea during my trip.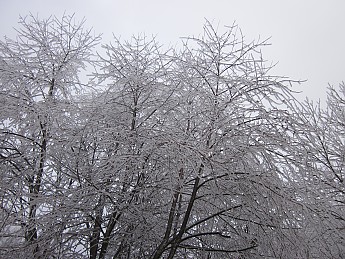 During the night the trees got a good ice coating.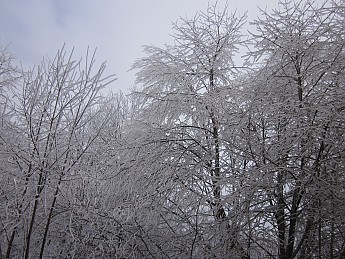 No sun in sight.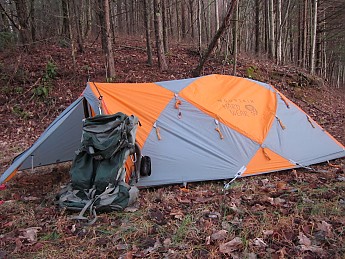 My dog was limping from an injury he got this summer. I decide to carry his gear back to the car and re-organize the plan. I relocated to Long Branch Trail and put a nights worth of his food in my pack, left all but one nights worth of my food in my car and headed out again. Camp at Long Branch.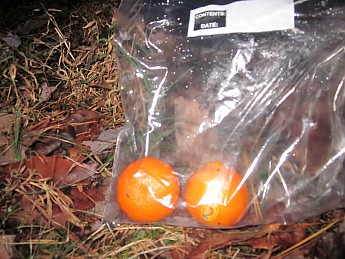 Tangerines are good anytime, and especially on the trail.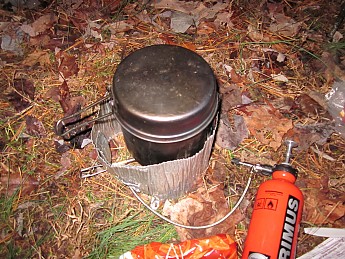 Primus Omnifuel stove for this trip. I love this stove.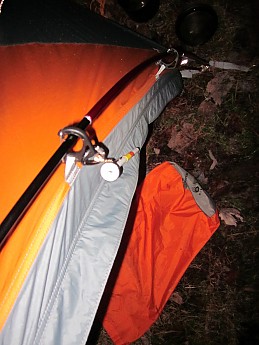 Temp is at 28 degrees with a slight wind. Its 10 degrees warmer in the tent with me and the dog. I woke this night at midnight and was laying there trying to go back to sleep when all of a sudden a large animal walked right up to the tent and then must have gotten spooked because it ran crashing through the woods. Scary. Possible suspects - bear, pig, or deer.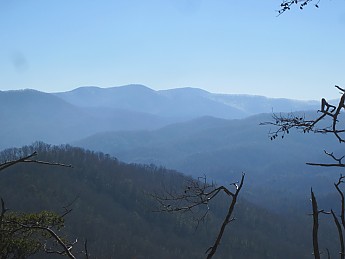 Day three was spent exploring some of Long Branch and heading back to the car to get more food. I can carry the next three days of dog food and my food so the plan is too head back up the high ridge and enjoy some winter camping. The dog got a reprieve from the cold and from the load and he is walking a lot better today.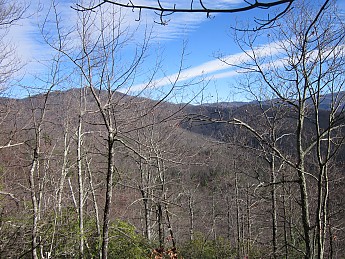 Beautiful views from this trail.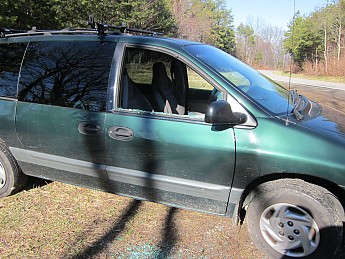 And here is where it all goes bad. Someone broke out my window and stole all my food, the dogs pack, ect...All these items were hidden in the van and not visible. I have parked here for years as well as other places in the area and never had an issue. Oh well, what can you do?
Dusting for prints. This guy was pleasant, professional and thorough. A really nice guy. I do not carry a cell phone while hiking and don't even bring one for the ride. I flagged down a TDOT road-crew supervisor and he radioed his office in Harriman who then called Madisonville PD and voila. The TDOT guy stayed and we talked for an hour while waiting for the po-po to arrive. 
I was sad about having to leave, but a car with a missing window would be just be asking for trouble. 
As a side note - I asked the deputy if he knew the story behind the burned-out car that was a Beech Gap (see TipiWalter Trip Report) and he told me that it was a murder that was done somewhere else and the car and body were driven to Beech Gap and lit on fire. How would you like to walk up on that scenario? Scary.
Highlights include massive gun fire and four wheelers in the Wilderness at 8pm on the second night. It sounded like a squad was laying down suppressive fire on some four wheel mounted calvary troops. Not sure what that was about.