4:47 p.m. on April 3, 2013 (EDT)
Ashleigh

4,096 reviewer rep
603 forum posts
In June 2011, my husband and I got married in Yosemite. I already posted Trip Reports on the wedding and The Mist Trail, but I never finished the rest of the trip. We are going back this June for our 2nd wedding anniversary and  my 30th birthday, so I am finally inspired to finish reporting on the trip.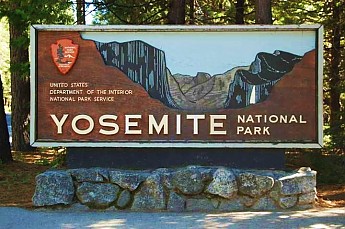 Since there is so much to Yosemite, I am going to try my best to organize it into the following sections: The Mariposa Grove, Glacier Point Road, The Valley, and Tigoa Road/Tuolumne Meadows.

MARIPOSA GROVE OF GIANT SEQUOIAS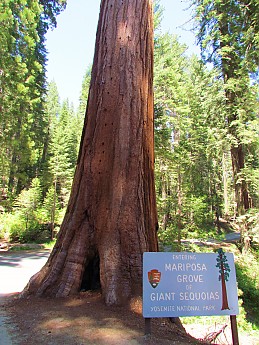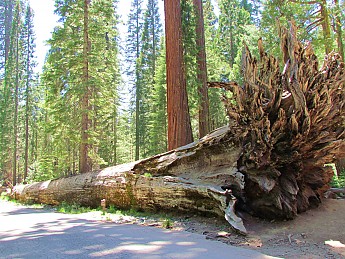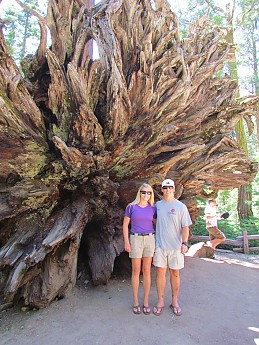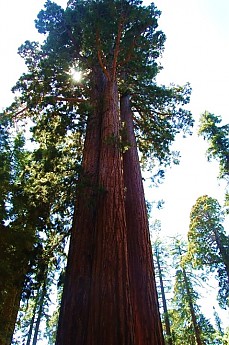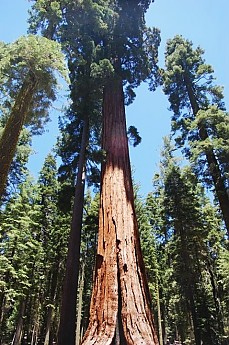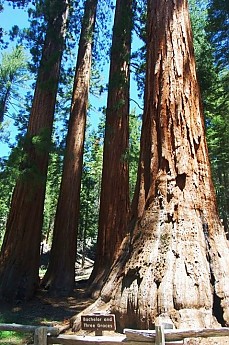 Bachelor and Three Graces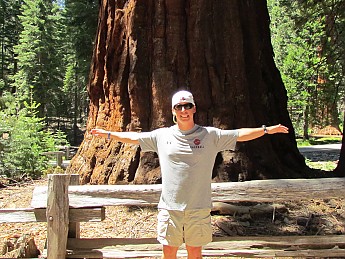 GLACIER POINT ROAD
While driving Glacier Point Road, we made three stops: a hike to the Sentinel Dome summit, Washburn Point, and Glacier Point.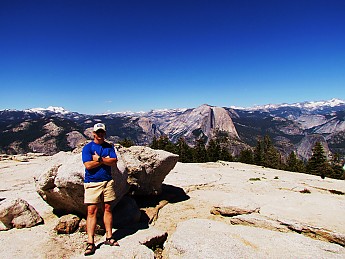 Jay on Sentinel Dome summit
Ashleigh on Sentinel Dome summit


Half Dome and Cloud's Rest from Sentinel Dome summit
The Yosemite Valley "inside out" from Sentinel Dome (El Cap is to the right and Three Brothers to the left)
Yosemite Falls from Sentinel Dome

After we hiked down from Sentinel Dome, we drove up to Washburn Point. You don't even technically have to get out of your vehicle here to get a great view.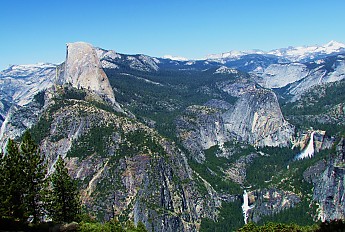 Washburn Point view: Half Dome, Vernal Fall (bottom), Nevada Fall (top) and Liberty Cap (beside Nevada Fall)
Half Dome from Washburn Point  

After Washburn Point, we drove a few more miles up to the top of Glacier Point. When you leave the parking lot, the first thing you see is an amphitheater, where you are rewarded with an amazing view of Half Dome, Vernal Falls, and Nevada Falls, but if you continue to the left up the hill, you will come to a little stone observation hut and the actual Glacier Point is just past that.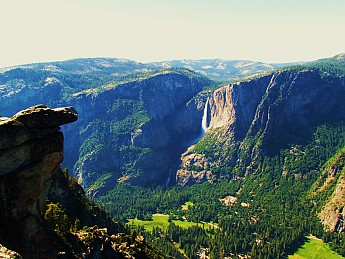 Glacier Point (left) and Yosemite Falls (right).
Jay and I at Glacier Point from near the amphitheater  
The Valley
Artist's Point is the first view of the valley you get when coming up Wawona Road, just before entering the Wawona Tunnel for the jaw dropping Tunnel View. I honestly don't remember exactly where this was, but I think there was a small parking area and we pulled off the side of the road and walked down a big slab of granite for a very short walk and found it. This was the very first thing that we saw in the park, so I was so excited and overwhelmed that I can't remember all the details.
I read that we needed to stop here in some guide book, so we did. I am really glad that we did because while Tunnel View was an unbelievable view, the amount of tourists and vehicles there really took away from it.  The photo below is of Jay, Eric, and I. Eric was deployed for work at the time and was able to fly over from Afghanistan for the wedding. It was super special to be able to spend the day before the wedding with him!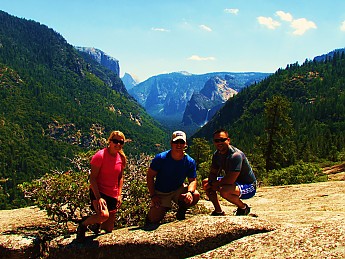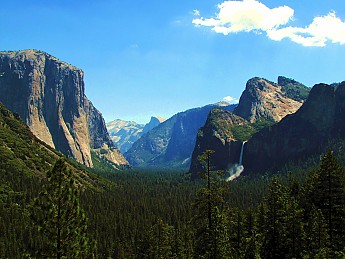 Tunnel View
This view is what brought us to Yosemite. I am from South Carolina and unfortunately somehow, I did not know much about National Parks until I started hiking and subscribed to Backpacker Magazine. When I opened the June 2009 issue, there was a two page spread of Tunnel View. I couldn't believe how beautiful it was. I instantly wondered where this was and decided that I HAD to go see it for myself.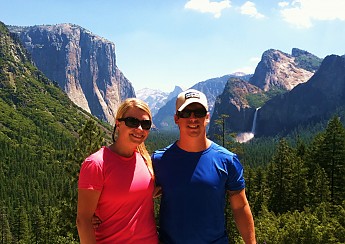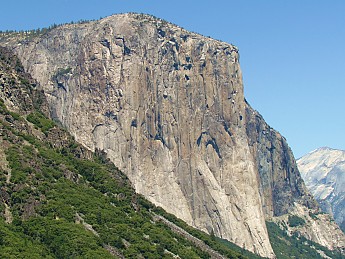 El Capitan
Bridalveil Fall 
We did actually take the short hike to Bridalveil Fall, but I didn't get many good pictures from the bottom because the wind/spray from the falls was too intense. This waterfall seriously has its own weather system!
While on that topic, I should mention that the waterfalls were especially explosive that June because of there was a lot more snow that winter and spring than normal. Some of the park rangers that I spoke with said that the waterfalls were the best they've been in 50+ years! I hear that they usually peak in May, so I was very happy to see them still running that hard in late June.
On our only overnight trip in the park, we took the Pohono Trail up to Inspiration Point. The section of trail that we took was only about 2.6 miles (one way) and gained about 1000 ft of elevation. The trail continues to Glacier Point, but due to a jam packed agenda, we didn't go that far.
The Pohono Trail
Inspiration Point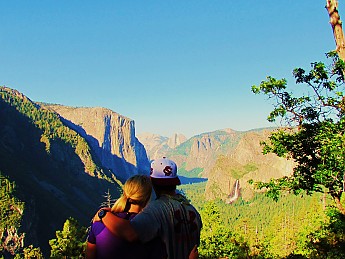 Not even debatable, the best campsite we've ever stayed at. This view was much better to us than Tunnel View because there were no tourists or cars in sight.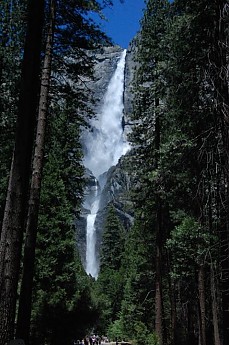 Full shot of Yosemite Falls, the tallest waterfall in North America, and the fifth tallest in the world
Yosemite Falls is 2,425 feet tall and its elevation is 5,404'.
Upper Yosemite Falls
Lower Yosemite Falls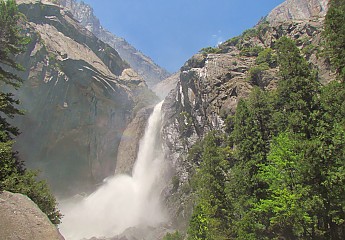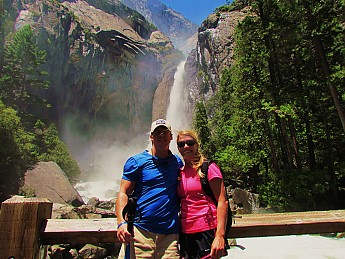 There is a bridge at Lower Yosemite Falls. You WILL be drenched if you go over there. There is a very short walk to reach it.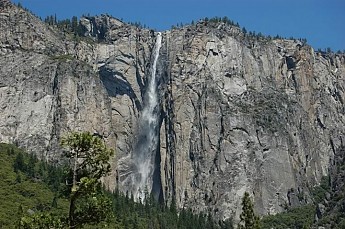 Ribbon Fall is the tallest single fall in North America, at 1612'. It flows off the west wall of El Capitan. We could hear this fall thundering all night at our campsite at Inspiration Point. It was awesome!  
The day after the wedding, about half of our group was going to do an overnight trip to the top of Yosemite Falls, but somehow the driver of our vehicle (not naming names!) forgot where exactly he or she parked and we had to look for it for several hours. With so much time wasted, there was no way we'd make it to the top with enough daylight, so we decided we'd just try to make friends in Camp 4 and stay there.
*Note, this was a terrible idea* As soon as we got our camp set up, a ranger found out about us and kicked us out, but told us that we could stay Backpacker's Camp behind the Ahwhanee since we had backcountry permits. That was an adventure in itself trying to find that in the dark, but we eventually found it.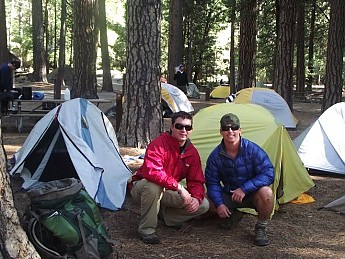 Jay and Blake in Backpacker's Campground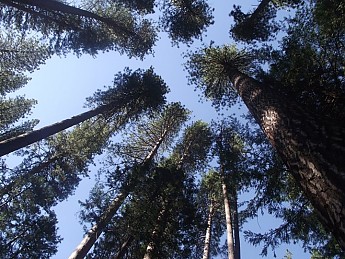 Giant Ponderosa Pines in Backpacker's Campground

The next morning we woke up and decided to do The Mist Trail. I already did a report on The Mist Trail, but I think a few of these are good enough to repeat.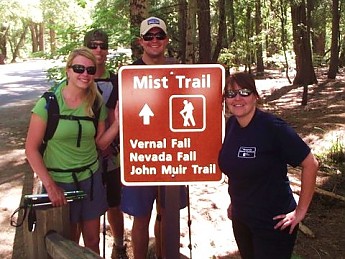 Ashleigh (me), Jay, Blake, and Ashley (my college roomate)
Jay and I in front of 317' Vernal Fall
594' Nevada Fall
Nevada Fall and Liberty Cap from the John Muir Trail (JMT)

The next day, everyone left and Jay and I headed across the park on the Tioga Road, which is one of the most scenic roads in America. Every turn has a jaw dropping view.  
Tioga Road/Tuolumne Meadows
We were very glad the Tioga Road was open. It opened only a week before we arrived. We were so afraid that it would be closed due to snow.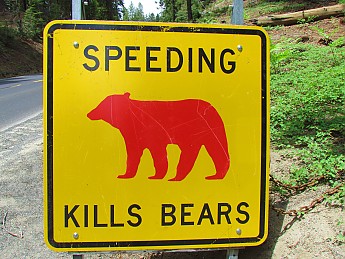 One of many of these signs in the park
Tenaya Lake is the first major scene that we came to on Tioga Road.
Tenaya Lake from Olmstead Point
Half Dome from Olmstead Point
Marmot at Olmstead Point

After Olmstead Point, we finally reached Tuolume Meadows.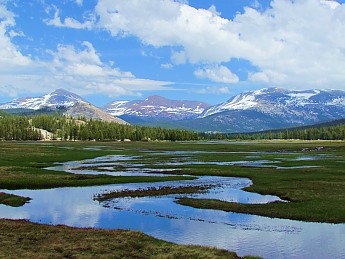 Mt. Dana, Mt. Gibbs, and Mt. Lewis with the Tuolumne River
Lembert Dome
Mule Deer feasting in the meadow
Mt. Gibbs
View of the meadows from Pothole Dome
Cathedral Peak from Pothole Dome
Tioga Pass
The Tioga Pass is at the end of the Tioga Road. It is the Northeastern Boundary of the park and accesses the Eastern Sierras. 
Honestly, I can't remember if these two photos were right after the Tigoa Pass or right before it, so they are either Tioga Lake or Ellery Lake. I am guessing it is Ellery Lake, which is just outside the park's boundary.  
That is the end of our Yosemite journey. We also went to Mammoth Lakes, which was fabulous! This was the best trip of my entire life!