1:52 p.m. on April 15, 2013 (EDT)
Peter1955

1,379 reviewer rep
1,339 forum posts
Mt Robson is the highest mountain in the Canadian Rockies at 3,954 metres. Located just past the Alberta/BC border, it's an incredible summertime destination. 
I was wondering about the trails, and while I knew we couldn't risk the extreme spring avalanche hazard at elevation, even getting to the trailhead was a beautiful drive. To get there from Edmonton involves a pleasant four hour drive up to Jasper NP, where we stayed just outside the park gate. The next morning it was another 1.5 hrs through Yellowhead Pass, across the Divide and down the other side. 
Frazer River and old RR bridge:
Robson River: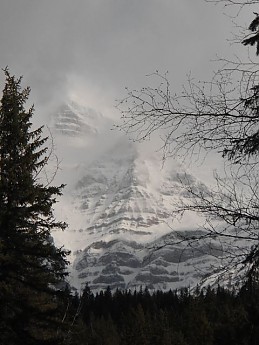 Our plan was to see if we could get to Kinney Lake, a round trip of about 16 km, but it turned out the problem was the trail conditions. We did the first few hundred metres with ice cleats, stumbling over old postholes and X-country ski ruts, ridges, bumps, deep drifts and bare patches. Spring is NOT the time to tackle a well-used winter trail!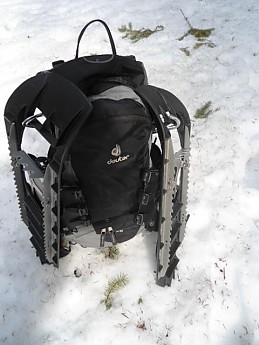 We switched to snowshoes hoping they would level out the path a bit. Just a bit better, but still not enough to make the proposed 16 km walk into a pleasant jaunt. And really, 'if it ain't fun, why do it?' The mountain will be there next month, and I actually have a client who has offered a helicopter fly-in to Berg Lake at Mt. Robson in August. That's the easy way!
We walked back out and drove back to Jasper looking for Spring.
The Valley of the Five Lakes is at the bottom of the Athabasca River Valley, and offers good early-season trails. At a lower elevation, the trails are mostly bare and dry at this time of year, so we made the short drive south along the Icefields Parkway.
Nice! Very little snow, just a few icy patches, and even some crocuses blooming on the southern exposures.
I'd rented a cabin downriver for the weekend, and we headed back. There was an inch or two of fresh snow the next morning, but it made for a nice morning walk.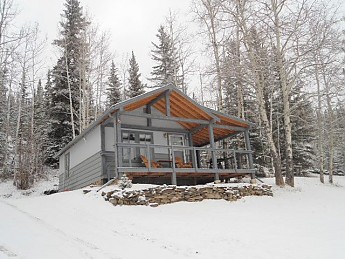 Stream heading for the river - nice to see it opening up.