8:54 p.m. on May 19, 2013 (EDT)
Bunion

0 reviewer rep
123 forum posts
I got the chance to come up to "heaven" again, earlier this month (May, 2013) and wanted to highlight another short, "easy-to-moderate" trail to share with folks who may be reluctant to get out into the woods otherwise.
I took the hint from Tim Homan's great book "Hiking Trails of the Cohutta & Big Frog Wildernesses" where he talks about the Grassy Gap trail as one that fits the bill.  Grassy Gap crosses the Bark Legging Lead (ridge) in the valley area below Big Frog Mountain to the west side.  
Easy search found the Sylco Campground (only has picnic tables, a clear stream, and the outhouse you see in the background) to be one that is nearest to Grassy Gap...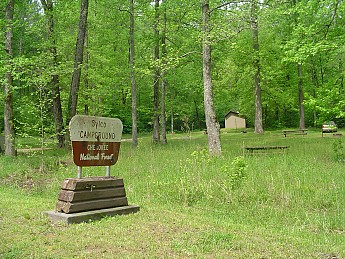 so I set up a base-camp tent and tarp--location is just about 15 miles east of Cleveland, TN, on Forest Service road 221.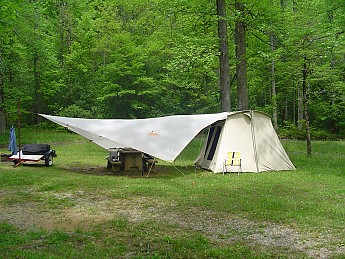 After a night's sleep from the 10 hour drive from the Gulf Coast, I drove the 2 miles farther up FS 221 to the Wolf Ridge trail junction...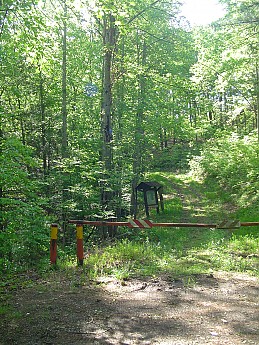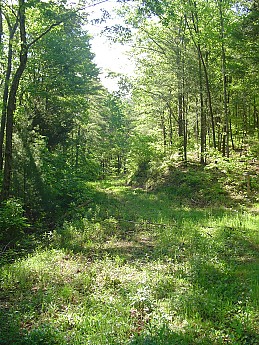 ...which followed a scenic course, a "moderate" walk at worst, looking out toward the west, and heading south toward an intersection with the Grassy Gap trail: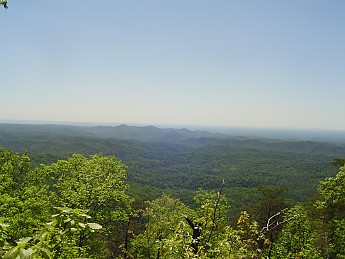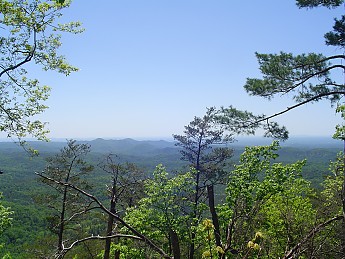 finally coming to the intersection with Grassy Gap trail which starts from there and goes northeast (take a left at these signs).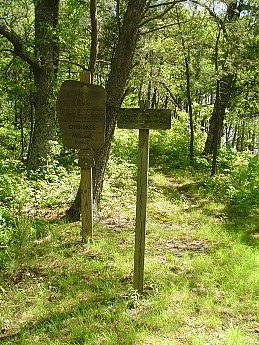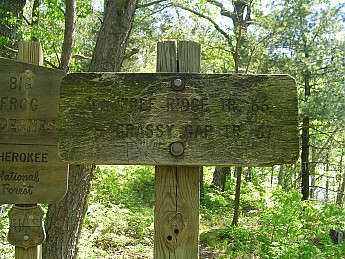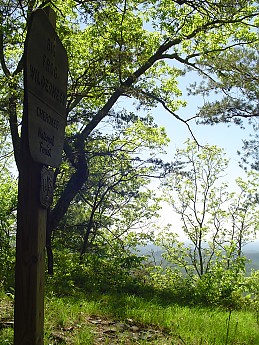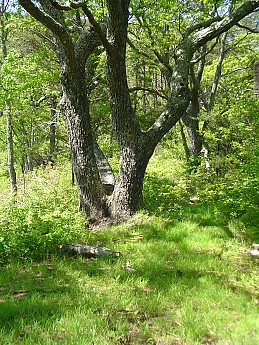 Grassy Gap is an "internal" trail, beginning and ending without leaving the wilderness.  This trail (built by the CCC in the 1930's) "maximizes scenery and minimizes leg strain" (Horton, 173) by taking an enjoyably level course through steep, rugged woods and bouldered streams for 5 miles, through hollows, around ridges, and mostly under tall canopy.  In honor of the "'Bark' Legging Lead" in these woods, I took some bark-and-leaf photos--it may be fun to make some of the distinctions.  So, here I go, down from Wolf Ridge a ways...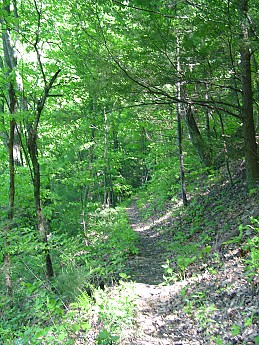 ...to camp for the first night at one of the stream crossings.  There are no clearly established campsites (no level ground, in fact!) until you get to the bottom of the trail at its intersection with Big Creek trail at about mile 3.3.  I found a semi-level spot next to a dry creek bed here.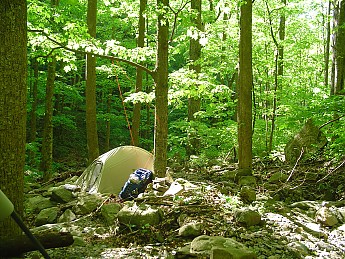 Next day I finished a total of 6 stream crossings before getting to the valley bottom crossing with Big Creek trail.
Here, stopped to soak my feet a while here and found it hard to leave.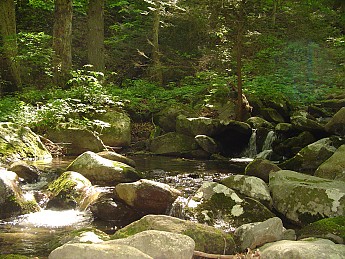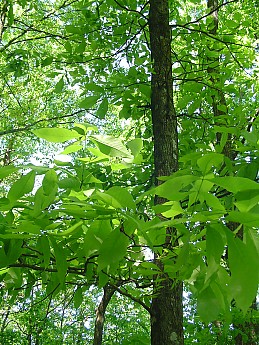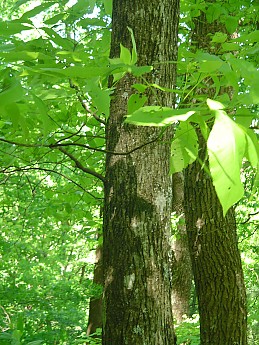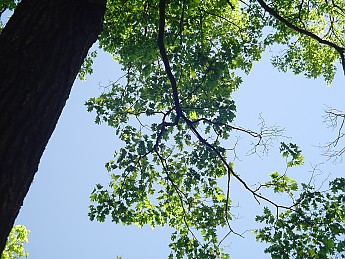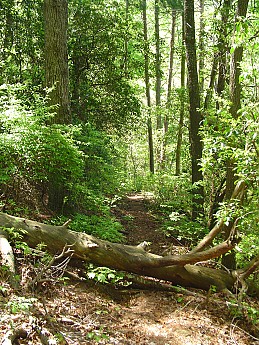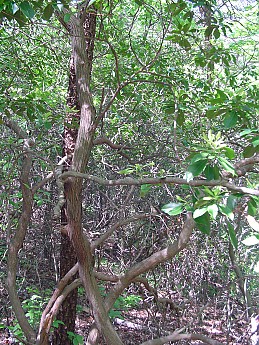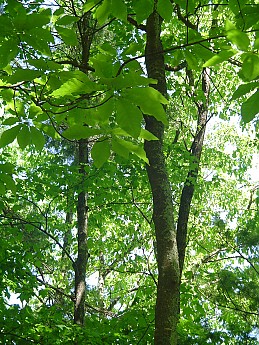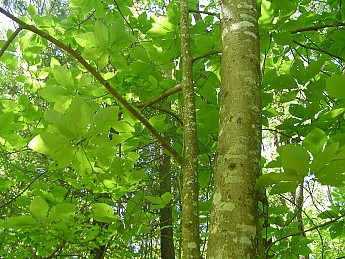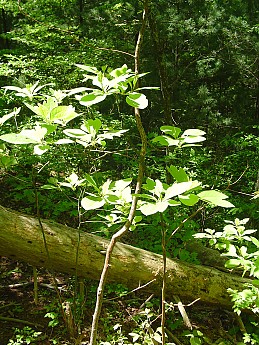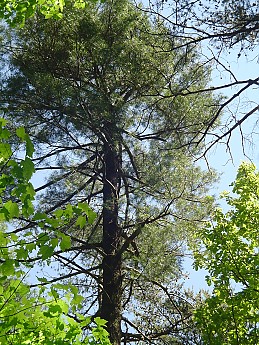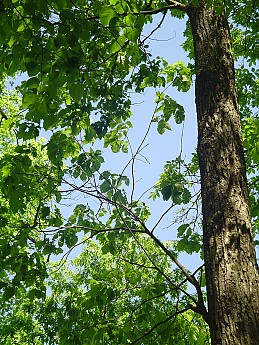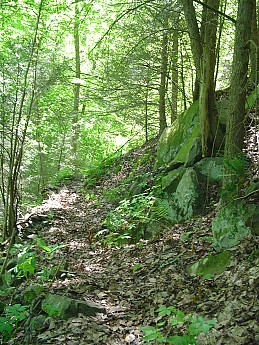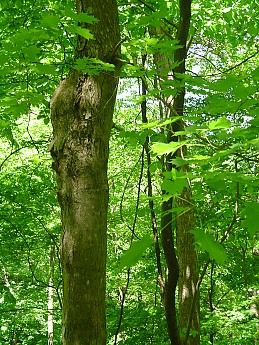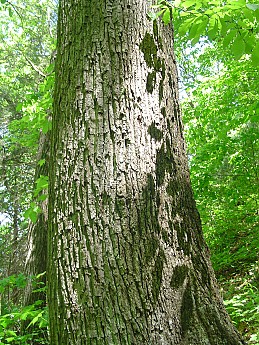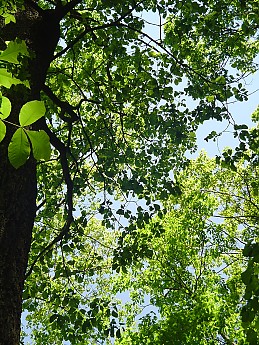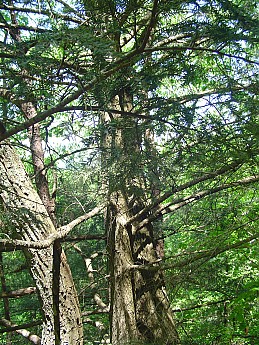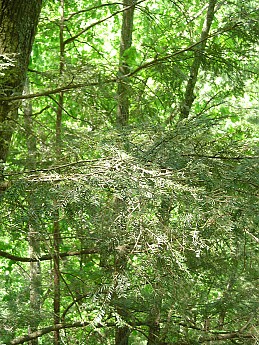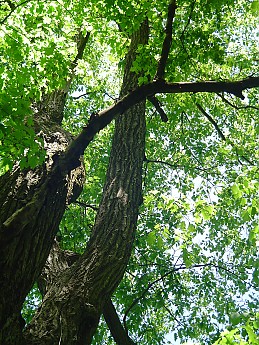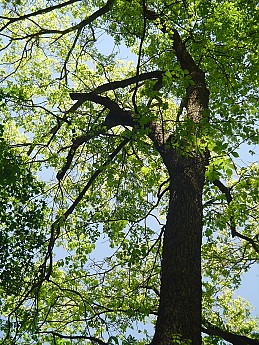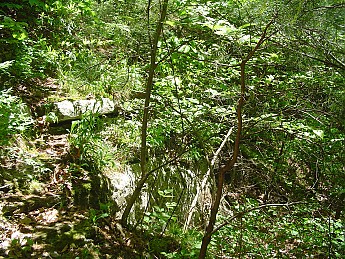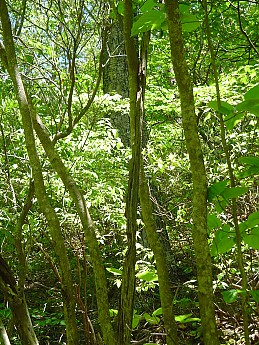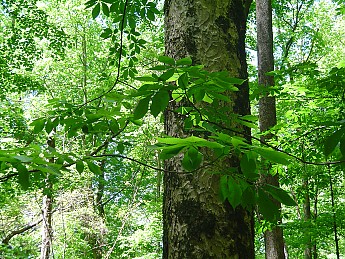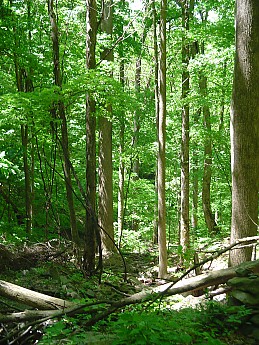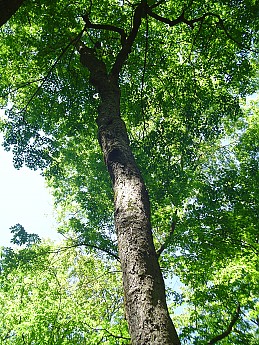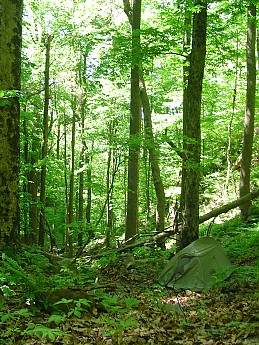 I came to this cairn at another steam crossing near the end, cleverly added my rock to it, and made the second night's camp here.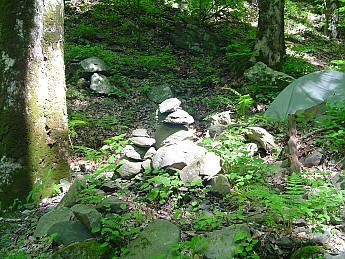 Looking up at the canopy from the stream bed.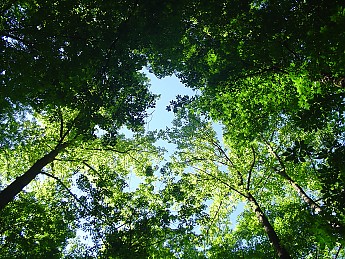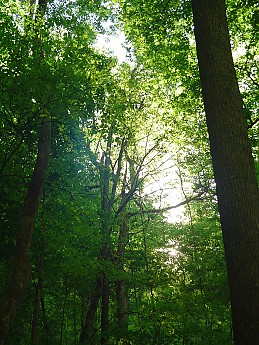 shagbark?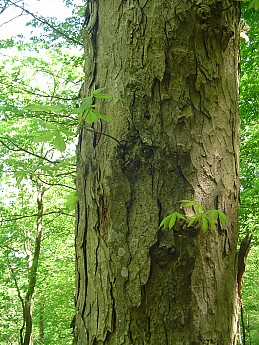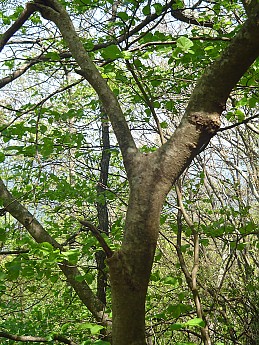 I took Big Creek trail south from its intersection with Grassy Gap trail, finding it very under-maintained, not to mention much more strenuous compared to Grassy Gap trail, though someone had, thankfully, marked it with red surveyor's tape along the way.  Here I finally fight my way up to eye level with the Big Frog trail and it was like finding a 4-lane highway!  Notice another cairn marking this intersection (mid-right side)...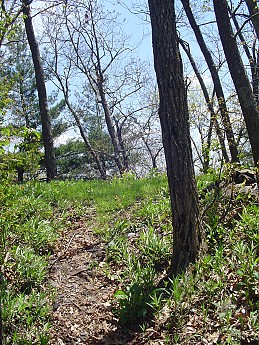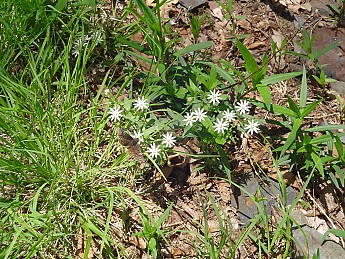 that cairn again; I guess they're replacing sign-posts and figure the hiker has a map and compass?!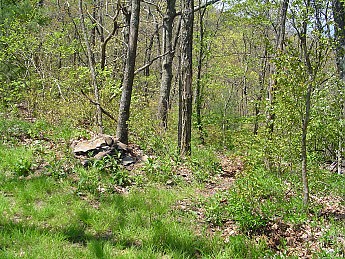 Here, I rest a bit, take a short left-turn trip (north) to check out Chimneytop,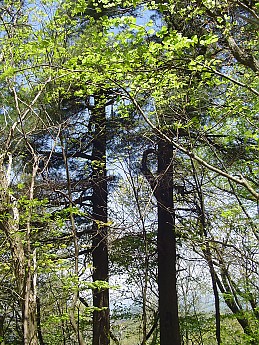 then headed southward to Big Frog summit: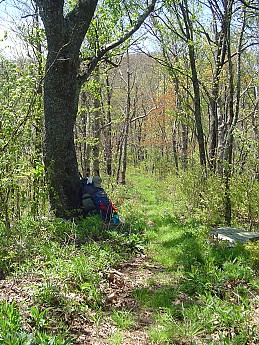 A good time.
I'll leave you to search other reports that do much better justice to the Big Frog and Hemp Top trails (see the "Search" window in the upper right corner).  My "loop" ends when Hemptop trail meets up with Wolf Ridge after dropping down to the west from Big Frog toward Chestnut Mountain, then going west on Wolf Ridge trail less than a mile back to where we started at Grassy Gap trail.  The meeting of Hemptop with Wolf Ridge trails is also marked only by a cairn, I believe, so Mr. Homan encourages us to add to the pile for it to serve us better.
Hope you enjoyed the pictures.  I had a wonderful trip to these beautiful woods, and am glad I finally got off the porch to do it.  Happy Hiking!