12:31 a.m. on May 21, 2013 (EDT)
Rick-Pittsburgh

1,711 reviewer rep
3,962 forum posts
Last Wednesday(May 15th) I finally was afforded the opportunity to put pack to back and boots to trail on my usual stomping grounds-the LHHT.
This was a multi-task trip as it not only served as a bit of a decompression for me from day to day life but it also gave me the chance to do a bit of gear testing and a little trail maintenance. 
As some of you may know I have been doing a bit of whining(backcountry withdrawals) because I missed my 2 favorite seasons this year (Fall & Winter)due to work. 
Well, I was out for 4 nights and 5 days. 
...and boy did I need it.
Wednesday: 
So day one starts off with me being dropped off at the rt31 parking area. As you can see in the photo below Big Blue(my Osprey Argon 85) sat this trip out.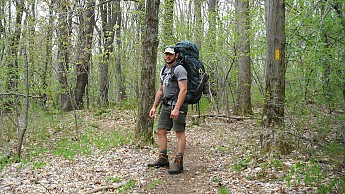 I make the somewhat short trek to the shelter area and set camp for the night.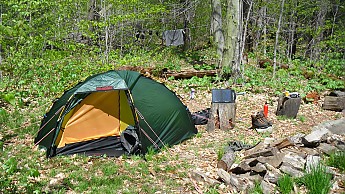 I was set-up by 1pm so this gave me a chance to do what I really love to do. Play with some of my gear and look for bugs & critters.
I made friends with a lil eight legged buddy that was quite jumpy. He sure like the gold toned poles on my Soulo.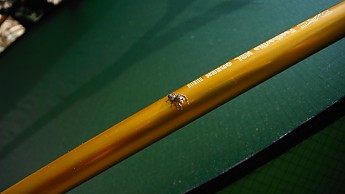 Shortly after one of his friends arrived and then a few more. I suppose there was some type of eight legged family reunion going on. 
I noticed that there was quite a bit of White Trillium in the area.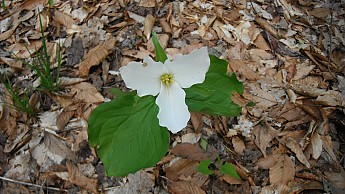 So I decided to sniff said White Trillium and this was the result.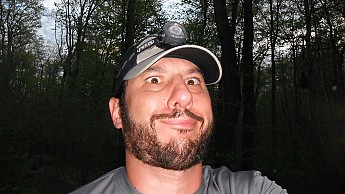 So shortly after my "euphoric experience" I decided to call it a night. I have to say I did have some very vivid dreams.
Thursday: 
Next day it was somewhat over-cast. I packed up all of my gear and hit the trail for the trek to Grindle Ridge. 
I traveled through two counties on this section of trail and it wasn't long until I made it to the county line.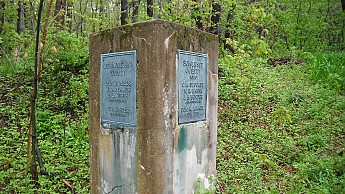 Shortly after I cross the county divide I finally make summit !!!!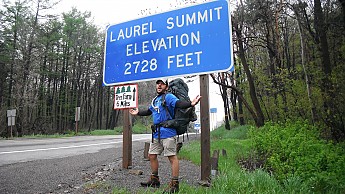 ...okay, not much of an accomplishment but it did grant me an opportunity to see how dialed in my ProTrek was.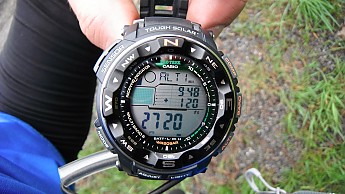 I have to say 8ft isn't all that bad and being I was slightly below the peak of the ridge the reading may have been closer than I had initially realized.
So after fiddling with my wrist gizmo for a few and contemplating becoming a tree wrangler(j/k) I made my way from the side of the road and back onto the trail. 
As I meandered along I found that someone had left me a bunch of cottage cheese by a tree.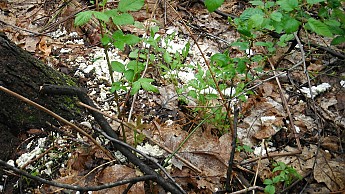 After contemplating having an on-trail snack I decided that this batch would be better off left alone so I continued along my way.
As I traveled along I made my way to a section of evergreens on the trail.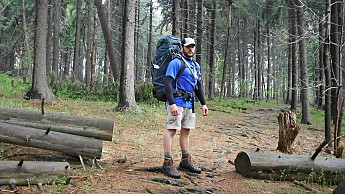 I just love these sections of trail. I am not quite sure why but nevertheless. 
After stopping here for a photo op I continued along my merry way until I caught a glimpse of the tower that sits atop of the ridge which was in my line of travel.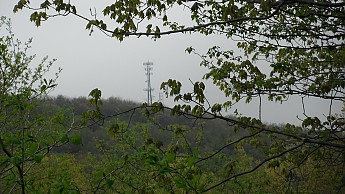 Well, I made my way to the top of the ridge where the tower in the previous pic resides and I have to say it was quite chilly. I decided to stop to have a bite to eat and I actually had to put my shell on.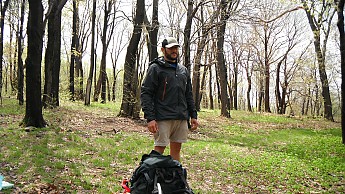 As I made my way down the opposite side of the ridge I ran into a Red Trillium.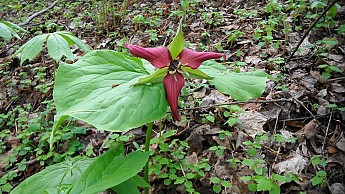 I decided not to sniff this one from the effects of what happened when I took a whiff of the White. 
Last thing I wanted was to be walking down a yellow brick road in the land of Oz with flying monkeys chasing me around...
I continued on my way through Seven Springs Ski Resort. 
I looked behind to see where I was and could see the tower where I just had lunch.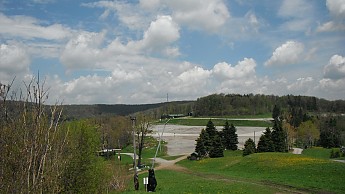 I could swear that I faintly heard the sound of the Red Trillium on the wind saying "come to me Rick." 
Blasted Trillium, leave me alone !!!
Anywho. :)
Seven Springs is very quiet this time of year. 
As I plodded up the ridge/through Seven Springs I eventually came to a structure on the trail that wasn't present the last time I was up here. 
I am not sure if someone was practicing bushcraft or maybe building a future home but nevertheless it caught my attention.
Come to think of it maybe the chipmunks were building a night club.
Hmmmm...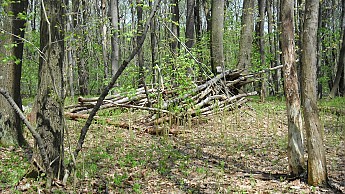 Eventually I made my way to Grindle Ridge and set-up camp for the night.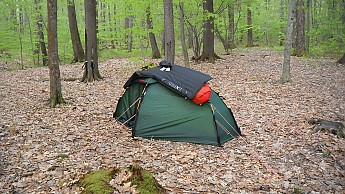 This was an uneventful evening that pretty much consisted of my hanging of a bear bag and checking my eyelids for holes.
Friday:
So I wake up all bright eyed and bushy tailed to be greeted by a new friend.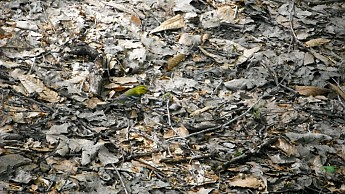 Tweety and I had a really good conversation and then parted ways.
I am on trail once again making my way to the rt 653 shelters. This pack seems to be acquaintances with Big Blue. Once again I received the whining from my back saying "I need a break, blah blah blah."
After taking an ear beating for a bit I succumb to the unrelenting complaining and eventually give in.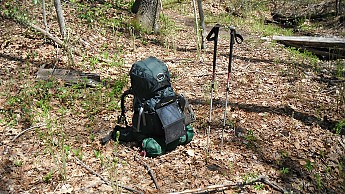 As Big Blue's cousin took a nap I looked around the area and it looked as though the ferns were slowly awakening from their slumber.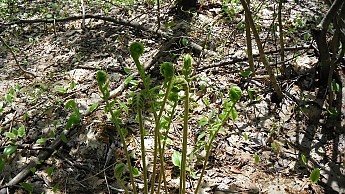 Eventually the trail will be over-taken by them and it will somewhat look like Jurassic Park. 
I eventually come to a section of rock slots and notice that someone wasn't a fan of their Dr. Scholl's footwear.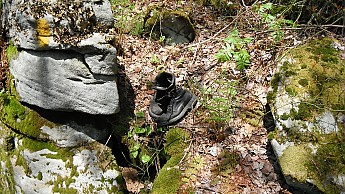 ...I wonder if the individual that left them there hiked out Cody Lundin style. 
That would be seriously hard on the dogs. 
I decided to snag up a photo of one of the numerous rock slots on the trail.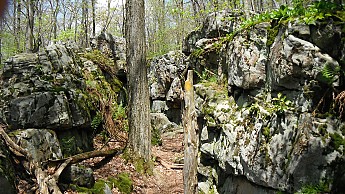 As I made my way through the rock slot I once again encountered the evil Trillium but this time the White & Red combined powers to form the extremely powerful Painted Trillium.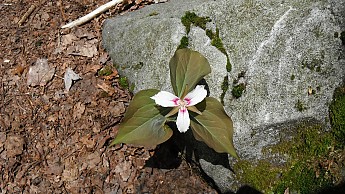 After a long drawn out battle with temptation I stood my ground and prevailed over the powerful Painted Trillium. 
No more flower power for me. 
I then made my way to the Middlebrook overlook.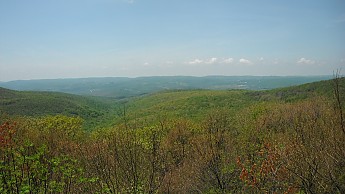 Once again I utilized this time to have a bite to eat. Seems like I eat a lot now that I think about it. 
Must be the side effects of the Trillium from day 1. 
I then pass Dietz cemetery which is near rt653.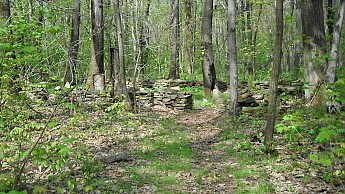 ...and then make my way into the rt653 shelter area. 
I called it a night very early because I was getting up at 2:30am to get a head start on trail. The next days trek was somewhat of a long slog and the terrain was fun for a lack of better terms.
Saturday:
...Or should I say morning of the spider?
As planned I woke up at 2:30am so I could get an early start on trail. 
There was an over-abundance of spiders this morning.
These blasted eight legged pains in the rear end were everywhere. In my boots, in my pack, etc etc...
It was somewhat annoying but I just kinda laughed at the whole thing. 
So after I "eradicate" all of my eight legged friends I pack up all of my gear and get on my way at around 3:45am. 
I eventually run into an old friend while doing a lil low light early morning trekking.
SIMON !!!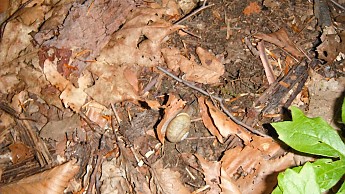 After chatting with Simon for a few we say our goodbyes and go our separate ways. 
As I continued along I ran into a bunch of whitetail deer hair on the trail but nothing else, no bones, or any other type of remains for that matter.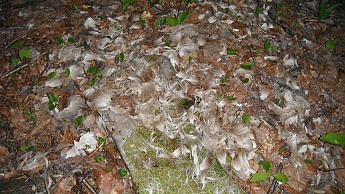 It was somewhat of an odd scene. The hair looked as though it was just shaved off. 
I also found one lonely glove on the trail. I bet someone was missing this when the temps dropped.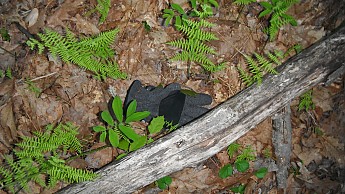 I then make my way to the midway point of this section of my trek-Cranberry Glade Lake.
I decided to sit at the lake and "veg out" for a bit. After awhile I decided it was time I get on my way. The Ohiopyle shelter area was calling. 
If any of you have read my previous trip report from last July I was hammered with a flurry of back to back to back storms when I approached the ridge above the Ohiopyle shelter area. 
Well, I can say the weather was beautiful which gave me the opportunity to spend a lil time at the vista at the top of the ridge.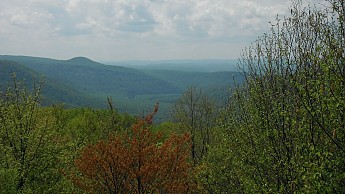 After I chomp down an orange staring off into the horizon I made my way to the Ohiopyle shelter area. 
Nothing really interesting happened at this point other than me setting up camp. 
All of the shelters were rented out and this area was quite busy. 
I did meet a gentleman who was in his late 50s that was fairly new too hiking/backpacking and was going for the the whole 70. He was asking me about water along the trail and other various question in regards to the trail itself. 
He also showed me his trekking poles which consisted of 2 paint poles from Lowe's with handles and tips that he made. 
He then picked up one of my Leki's and was asking me various questions about them. 
He really seemed to like them and honestly I had to fight the urge to not give them to him but I feared that if I did he may take my act of kindness as an insult towards the poles that he was so proud of.
I have no idea how they would work but if they worked for him then that was all that mattered right?
Part of me wishes I would have offered him my poles(I kinda want a new pair anyways) so maybe I will see what I can do to get his addy from DCNR from his registration and maybe shoot them to him via Fed-ex or something as a surprise.
He was a really nice guy. 
So after our conversations I feed my face and hit the sack. I was gassed.
Sunday:
The next morning I was greeted by Mr. Toad.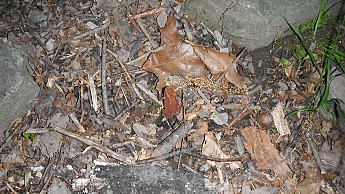 I packed up my gear, and then walked around the shelter area looking to see if there was anything that needed addressed. 
I ended up stripping down a large deadfall tree limb that was blocking access to a camping area and moved it out of the way. 
I then drank a bit of coffee, ate some peanut butter, and got on my way. 
This is a pretty rough section of trail(a lot of ups & downs.) There is also quite a few streams on this section of trail.
On the way out there are quite a few switchbacks and it looks as though someone decided to shorten the distance by blazing their own trail.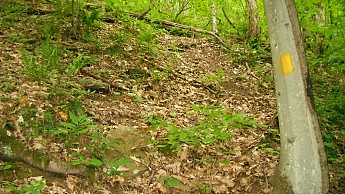 More switchbacks.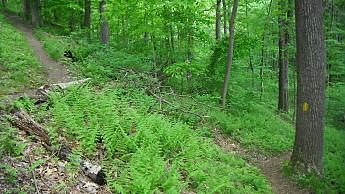 I slowly make my way down the last of the "big hills" and stop to take a shot of Sugarloaf Mountain.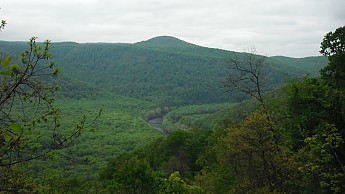 Another shot of the view from the ridge.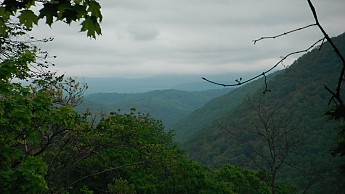 Then I make yet another descent...
...as you know that which goes down typically goes back up so more switchbacks.
Woo-hoo !!!
At one point their is this sign.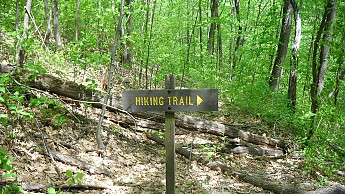 I have always scratched my head at this sign being you are already on the trail but I suppose this is to cut down on the confusion and keep some folks who are not all that familiar with the trail from unintentionally bushwhacking. 
I dunno. It is about the only rational conclusion I can come up with. 
After a few more miles I am almost in Ohiopyle. 
I noticed this on a large rock.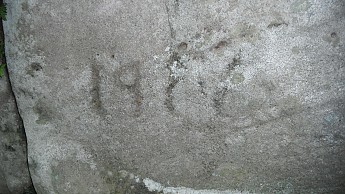 I have never noticed this before and found it quite interesting. I may have to do a bit of research and find out what this is about. 
No sooner than I notice that I look down and see SIMON IS BACK !!!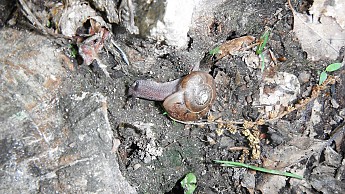 He just wanted to say goodbye and tell me not to stay away for as long as I did this time until I make my next trip back. 
I make my way down to the last over-look of Sugarloaf and the Yough river.
Pretty purple flowers(still resisting the urge to sniff.)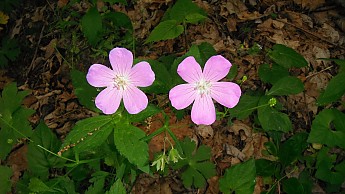 I also noticed something that kind of bothered me a bit.
The Eastern Tent Caterpillar.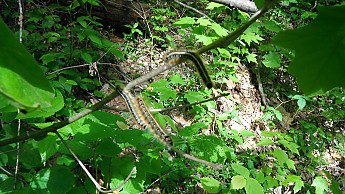 Well I am getting to flatland. It is all coming to an end. :(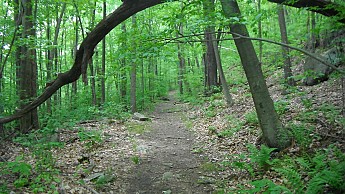 I still have a chance. I can turn back now.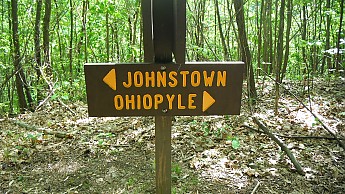 Too bad I had to be up for that thing called work Monday morning at 5am or I just may have turned around and kept on going. 
Well that is a wrap.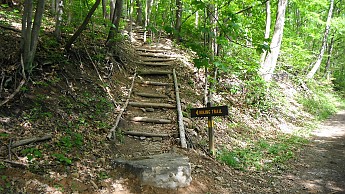 Over-all it was a really great trip. Weather was calling for a 40% chance of rain everyday I was up there but other than some rain at night it was pretty smooth sailing. 
The biggest concern I had was how the boots I just recently bought would perform and I have to say they worked extremely well. 
So well I didn't even need liners. 
Not a single blister; not even a hotspot. 
I did run into quite a few folks on trail. One individual in particular I actually hiked a section with which was quite enjoyable and a break from my usual solo trekking that I always seem to do. 
I met quite a few runners that were getting dialed in for the upcoming 70 mile ultra. 
I also handed out quite a few TS stickers and spread a bit of Trailspace cheer. 
Maybe some of which will check our little community out. ;)
Anywho, enough of my rambling. 
Thanks for taking the time to look at my trip report. 
Hopefully it doesn't take me anywhere near as long to post another.
Happy hiking.
-Rick