12:59 p.m. on June 6, 2013 (EDT)
BigRed

TOP 10 REVIEWER
REVIEW CORPS
2,847 reviewer rep
930 forum posts
My new Trailspace beanie arrived just in time – the day before my birthday. I like to use my June birthday to get in one last ski day, weather permitting. We had a green light forecast -- clouds in the morning, breaking up in the afternoon -- so my wife, daughter, dog and I headed out after supper on my birthday eve for the 4.5 hour drive from Trondheim to Romsdalen. We arrived at the lovely little campground below and across the Rauma River from the Troll Wall at about 10:45 PM, still more than half an hour before sunset. After all that time in the car, Ralph seemed about as happy as I was to be there.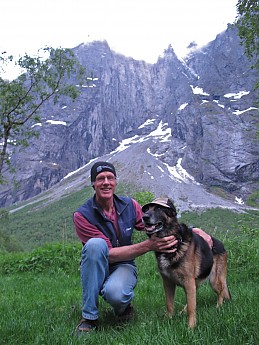 This campground has a little tenting ground well away from the cabins and RVs and on a flat terrace that sits high above the river, with an out-the-door view of the Troll Wall and its enormous talus slope running right down to the raging river.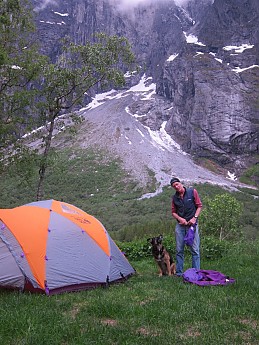 My daughter has her own tent, but Ralph gets to stay with us.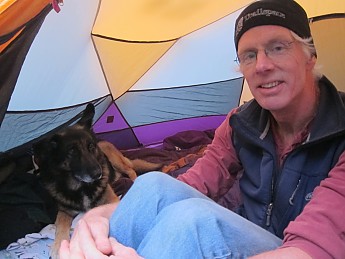 We took it slow in the morning, which in our case meant a 9 AM departure, after coffee and granola and a birthday present from my wife.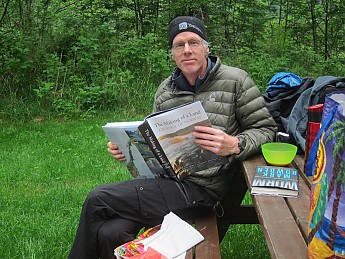 We drove up the famous hairpin turns of Trollstigen, a mountain road that ascends to over 700 meters (photo taken in the afternoon).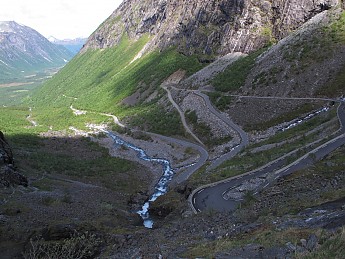 Normally there's still plenty of snow through June right down to the road up there, but we had a low snow year and a record warm May, so we had to walk a short distance along a trail to get to the first snow stripes. Our original goal was Finnan, a 1700 meter peak, but the good snow sort of led us more in the direction of Alnestind (1665 m) (I've done them once each on previous birthdays).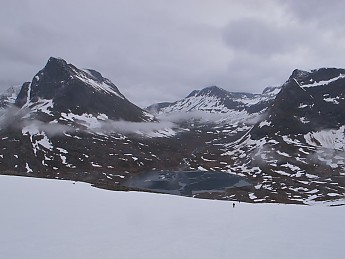 It was still cloudy and cool, and my daughter said she didn't feel up for the climb, so the women went down after a few hundred meters of climbing. 


I joined forces with a fellow from Lillehammer who was also (otherwise) going solo.Things got pretty white now and then on the way up, but the clouds came and went and we just kept on going.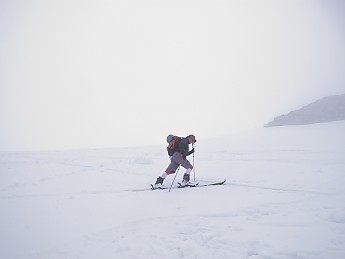 It gets a tab bit steep up near the top of the slope leading up to the ridge, but once it rounds off there's only about 50 meters flat to get to the summit cairn.  Here's a summit selfie: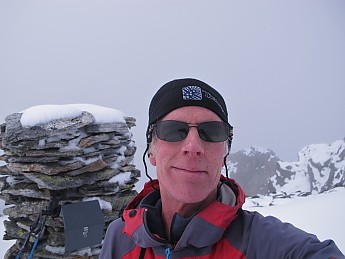 The clouds started to break up as we stripped off our skins, beginning with peek-a-boo views in different directions.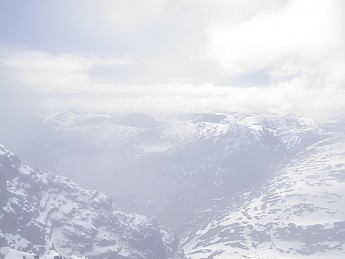 We got a nice view under the clouds down towards Innfjorden.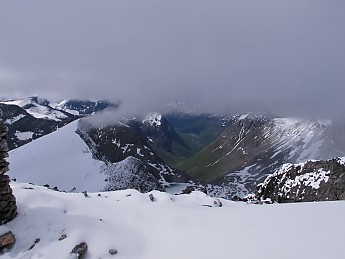 And by the time we headed down things were really opening up.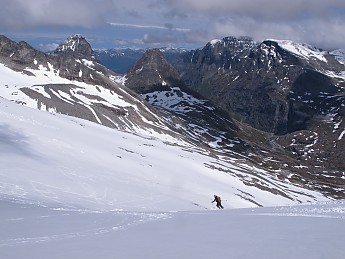 The descent took all of 15 minutes, and we were able to stay on snow right down to the road, to just a few hundred meters walk back to the parking area. In the morning we had stopped briefly to check out the new low profile gift shop / cafeteria building at the top of Trollstigen, which replaces a couple of pretty shabby tourist traps that were there before so it's actually a change for the better. On the way back up past thewe stopped at the also new roadside Troll Wall  visitor center for a cup of coffee and a teeny weeny birthday cupcake…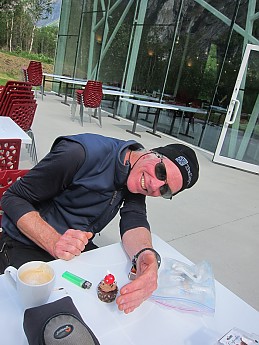 …followed an hour or so later by a fly-by fancy dinner at the Skifer (slate) Hotel in the ski town of Oppdal.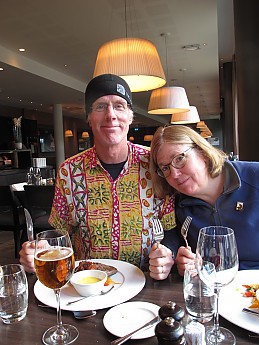 We even got home and unloaded in time to watch a few episodes of our current favorite TV series. Now that's what I call a happy birthday! Thanks, Trailspace, for a very nice birthday present – as you can see I really like it!
Here's a map of the tour: