12:09 p.m. on June 17, 2013 (EDT)
FromSagetoSnow

TOP 25 REVIEWER
REVIEW CORPS
6,158 reviewer rep
1,625 forum posts
Father's Day weekend this year my oldest son and I hiked to Camp Muir (10,000ft+), the middle point of the Disappointment Cleaver Route.  Why didn't we summit? I need more crevasse rescue training before we are ready for that trip, but its on "the list." This is another step along the way to summiting in the future.
Driving in.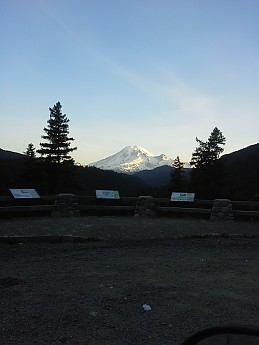 We woke up at 2am and left God's Country (Eastern WA) at three and got to Paradise trailhead and started hiking at about seven.
I'd been watching the weather and webcams a lot lately and my diligence was rewarded with bluebird  skies, perfect temps and nice firm snow.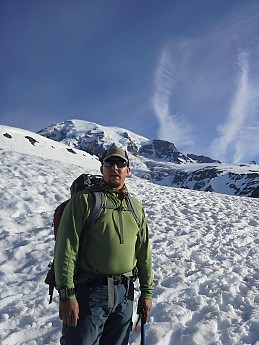 A marmot in my son's way, begging for a handout.  We told him to get a job and moved along.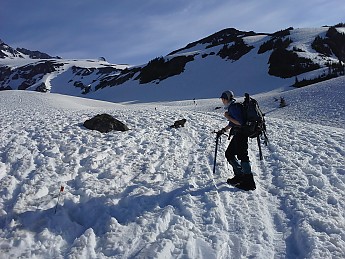 Backpacker Magazine listed this trail as one of the top ten most dangerous hikes in America but on days like the one we had and with decent gear and planning it was pure fun.  At about 9,000 feet I started feeling the effects of the thinner air and once Camp Muir came into view it felt like we were making no progress whatsoever. 
From L to R: Mt. Adams, Mt. Hood, Mt. St. Helens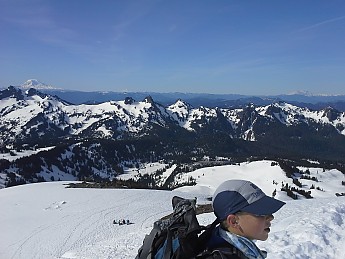 What kept us going after the trailhead coffee wore off was energy goo (the Clif brand if you are interested) and Roctane.  We eschewed solid food to avoid slowing down.  Gummi bears would have been nice though.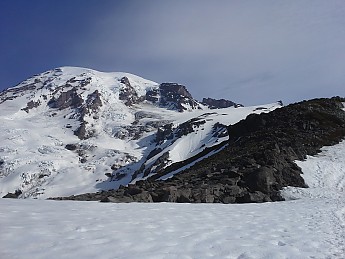 At Camp Muir after five hours and 5k feet elevation gain we had 5-8mph winds and oatcakes for lunch. I was happy with the pace, I had planned on six hours.
My son had a nap after eating.  I asked him if he was going to eat his M&Ms.  He said, "I don't have any."
I asked, "Where were the ones I set aside for you to bring?"
"I ate them last night," he said with a sheepish grin.  "Can I share yours?"
Did I share or was this time for a lesson? Of course I shared.  Like it says; If your son asks for M&Ms will you give him rocks to eat?   Or, something like that.
He can sleep anywhere.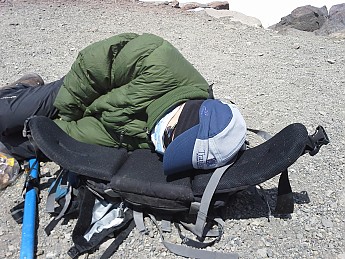 This was a busy weekend at the DC route.  This is not the route for solitude but I was fine with that this time.  Maybe next time we'll go up the Emmons Glacier route.
At Muir. Mt. Adams (12k ft.) in the background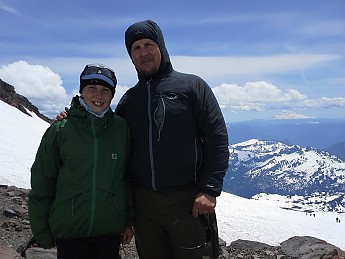 Climbers heading up Cathedral Gap to camp at Ingraham Flats: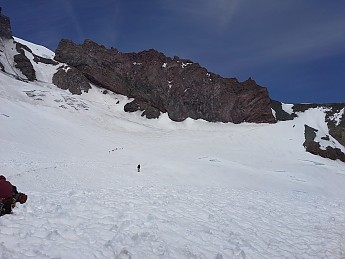 I wore a Foretrex 401 GPS.  I had preset several waypoints on it from the really cool guide map I bought online.  If we got off track (impossible this day) and I lost my map and compass I could get to Muir or the TH by following the waypoints.  I kinda over prepared but oh well. 
Paradise lodge, at the TH: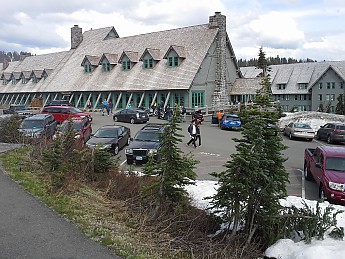 On the way down the snow has softened to the "oatmeal" stage which made for perfect plunge stepping/running.
I was quite sore the next day.  I'd heard of the R.I.C.E. method for pain relief, I tried another one I have developed myself and found useful.  Its called the "4I" method; Ice, Intoxication, Ibuprofen and another I that isn't TS appropriate.