5:53 p.m. on July 3, 2013 (EDT)
Ashleigh

4,096 reviewer rep
603 forum posts
This trip sure was an adventure! We encountered two bears, vampire mosquitoes, one billion switchbacks, and an enchanted forest, while hiking to the top of the largest waterfall in North America and one of the largest granite monoliths in the world. To sum it up, the only word I can think of is epic.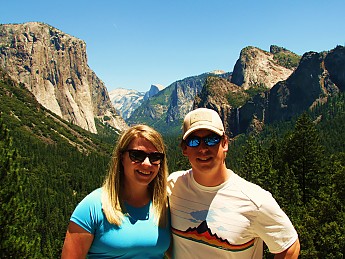 We stopped at Tunnel View on our way into the valley. In case you aren't familiar with Yosemite, this is one of the most famous vistas in the world. El Capitan is on the left, Half Dome is peeking around the corner, the waterfall is Bridalveil Fall, and the three big rocks behind it are the Three Graces.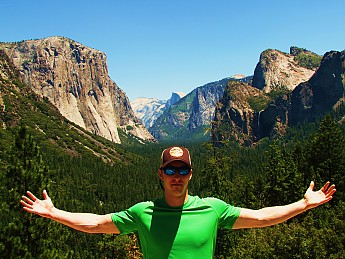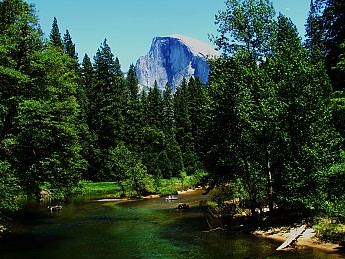 Half Dome and the Merced River from Sentinel Bridge, approaching Cook's Meadow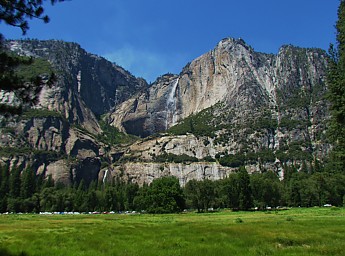 Yosemite Falls from Cook's Meadow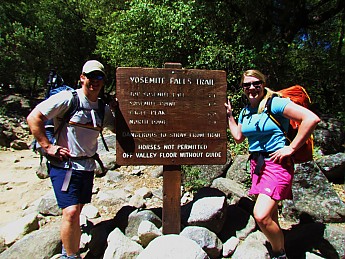 Jay and I at the trailhead in Camp 4
I have no idea why, but for some reason when I read the description for this trail, I did not give it near enough respect. It gained 2800' over 3.2 miles via an endless series of exposed switchbacks and stairs. That is equivalent to two Empire State Buildings on top of eachother. Yikes. That was just to the top of Yosemite Falls. Our destination, El Capitan, was still five miles away.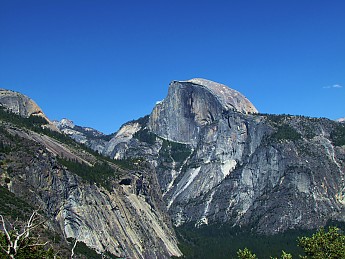 View of Half Dome from Columbia Rock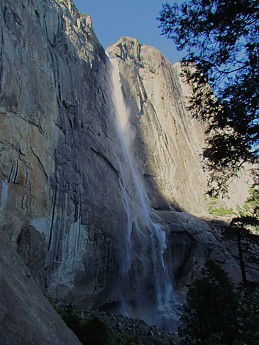 Upper Yosemite Fall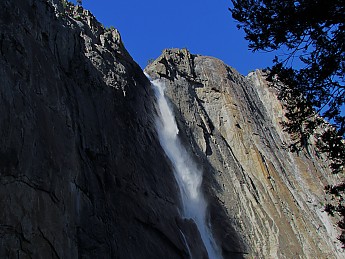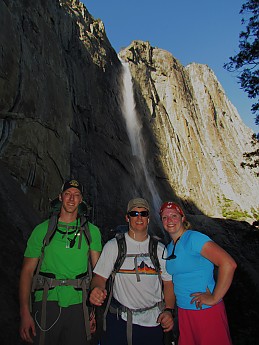 Yep - that is a Duck Dynasty bandana I am wearing. We were pouring sweat at this point! Give this trail respect, because it is nothing short of a BEAST for a 3.2 miler.
Since we had another 5 miles to go, we skipped the top of the falls (.2 miles) and Eagle Peak (.3 mile) and opted to hit them on the return trip. On the way to El Cap, we walked through this crazy forest that I swear was enchanted. It was kind of creepy going through it at twilight! It reminded me of the Cascades. We bathed in bugspray, but these VAMPIRE mosquitoes attacked us pretty much the whole time we were in the forest. I am from the swamplands of South Carolina, so I am very familiar with mosquitoes, but these were a special breed! The coolest thing about the 5 mile trek through the forest was that we only saw four other people. This was so nice, seeing as how we had just come from the Yosemite Falls trail that was loaded with people! We finally came to some exposed rock face on the back side of El Cap and saw a decent spot to camp that was mosquito-free. We kept going further, but we ran into a massive bear, so we retreated back to the rock face and camped there. I am convinced that because the bear heard my commanding yells of "GET OUTTA HERE BEAR" that he also retreated. We didn't see him again, thankfully. :)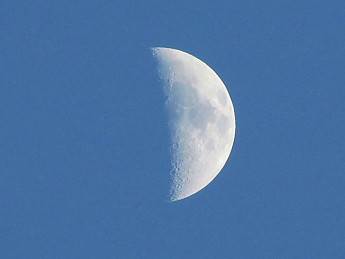 Twilight half moon from our campsite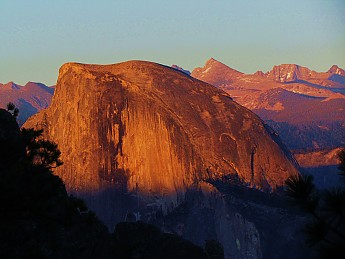 We didn't get the typical stars because the moon was so bright, but we did catch some pretty sweet alpenglow. Here is Half Dome from our campsite.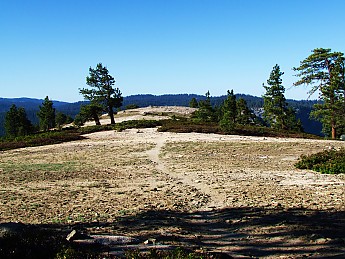 Early the next morning, we headed for the summit of El Cap, which was a very short walk from our site. I did not expect to see trees on the summit!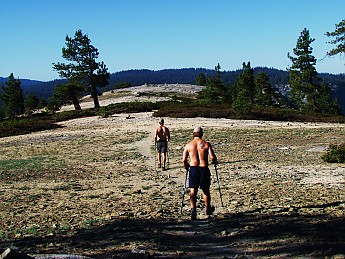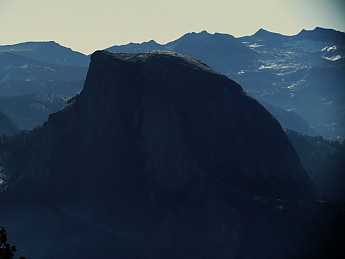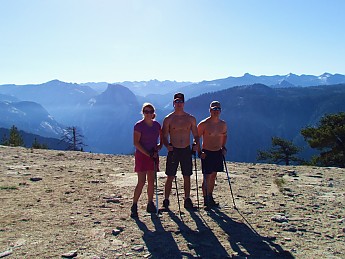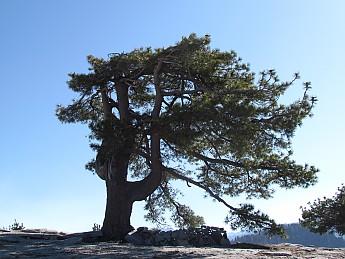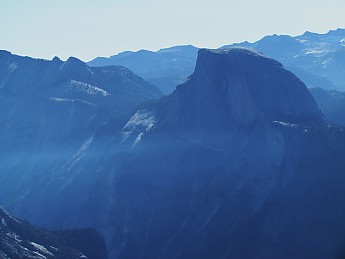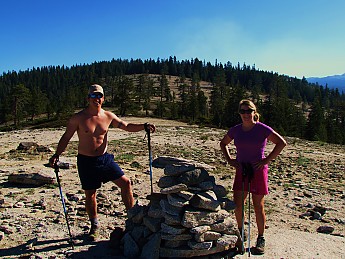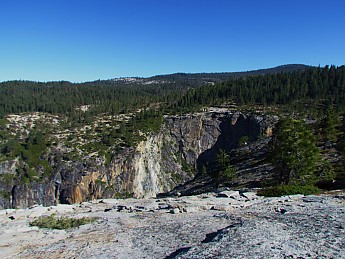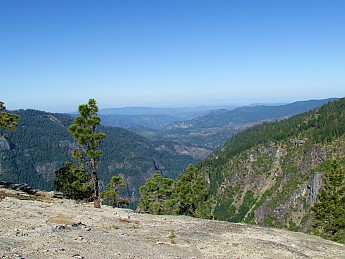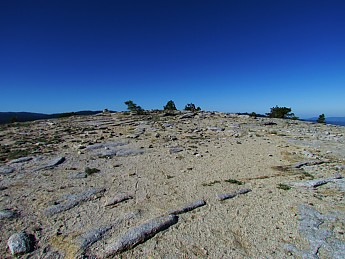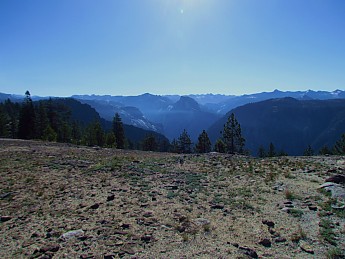 Last view from the summit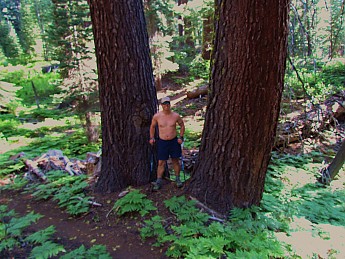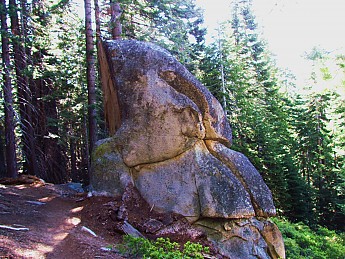 Half Dome-shaped rock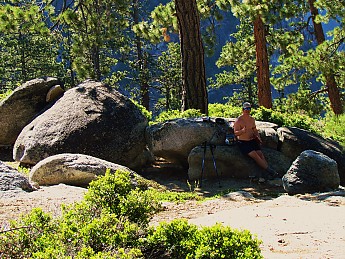 Our campsite with a fabulous view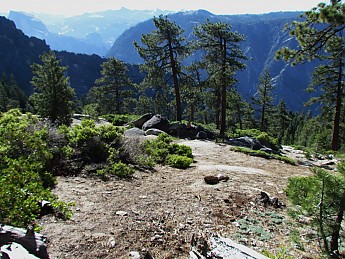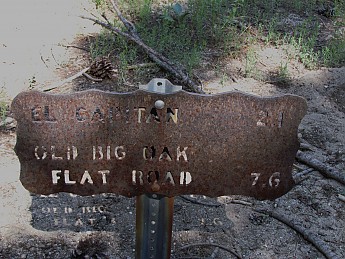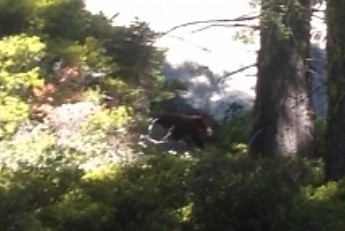 On our way back through the enchanted forest, we saw another bear! He was not near as large as the first one, but he was still pretty big. He was very curious. We didn't want to stay in his space for too long, but Pack was able to snag these shots of him.
I read that we should take the .3 detour to Eagle Peak. It was pretty straight uphill, but it was well worth it!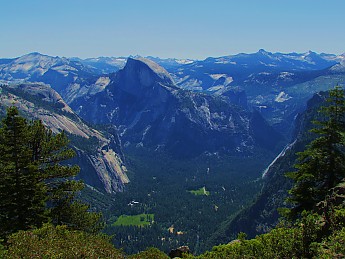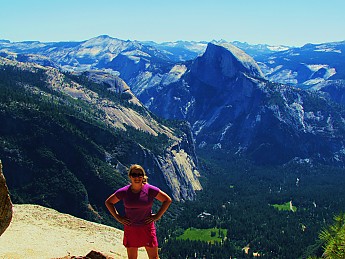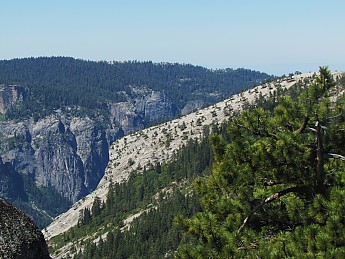 El Capitan from Eagle Peak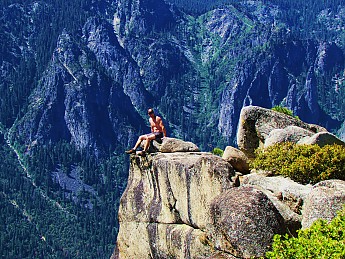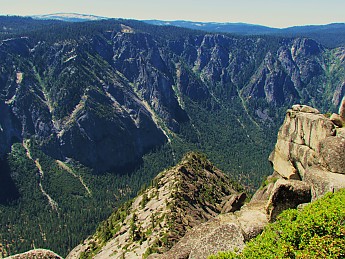 Eagle Peak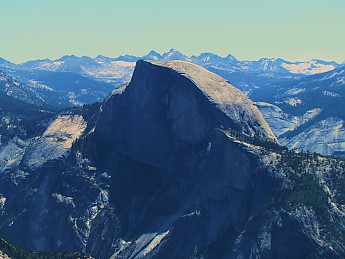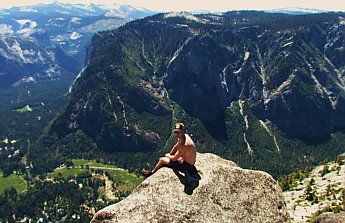 Jay's feet with quite a long drop off below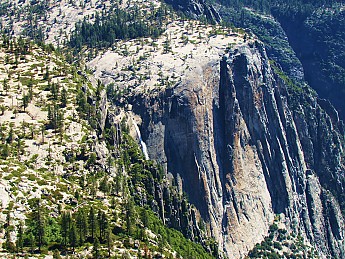 Yosemite Falls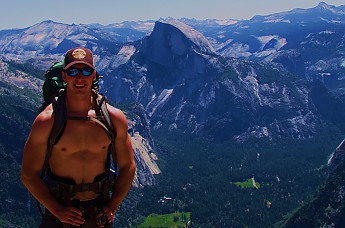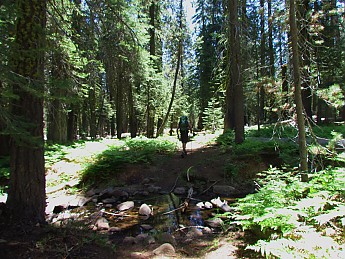 The vampire mosquito-infested enchanted forest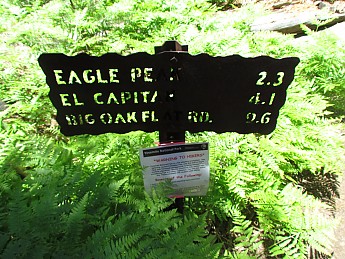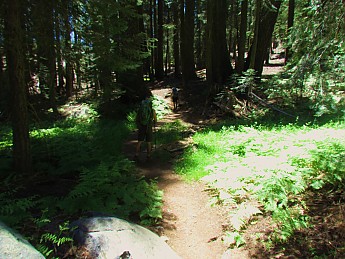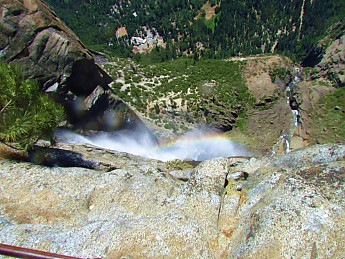 The view from the tallest waterfall in North America, Yosemite Falls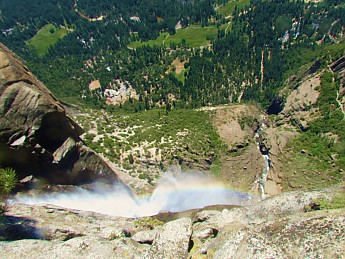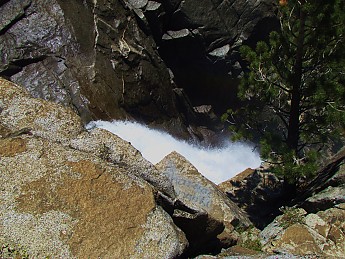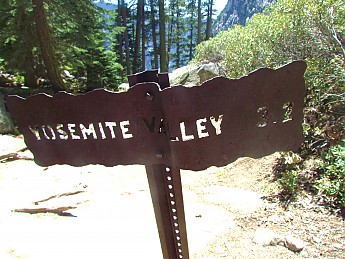 Sign at the top of Yosemite Falls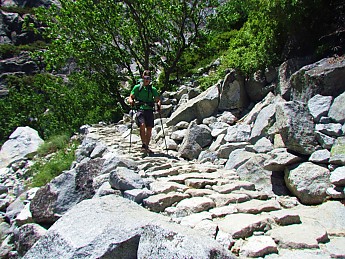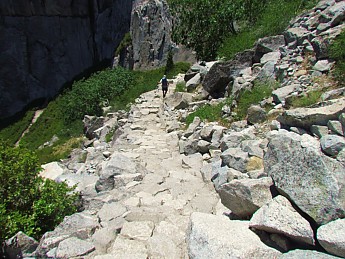 Evil switchbacks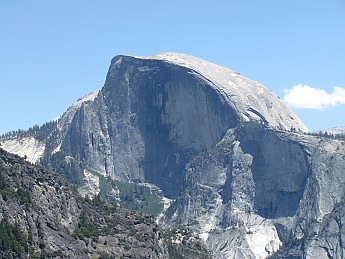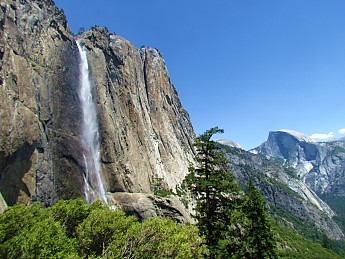 The only view in the valley of Yosemite Falls and Half Dome in the same frame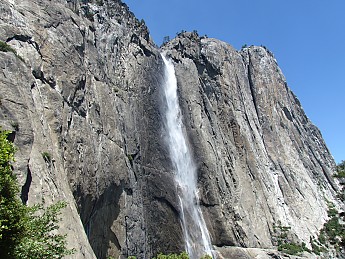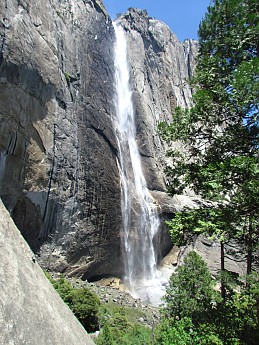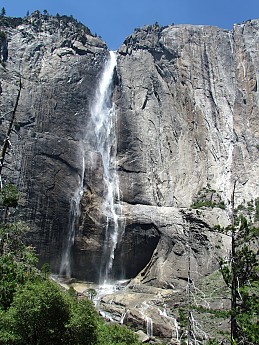 We ended the nineteen mile hike with a stop in the village for some pizza. Then we headed across the park to Mammoth Lakes and stayed at the Sierra Nevada Lodge for the night. We we lucky enough to be able to have a nice post-hike soak in their hot tubs! What an epic two day adventure!