6:56 p.m. on July 11, 2013 (EDT)
GaryPalmer

244 reviewer rep
5,245 forum posts
I finally got a memory card reader for my old memory photo stick and I worked on the pictures last evening.
From Flagstaff I rode up to the Little Colorado River which is 50 miles northeast, then I rode to the main Colorado with a little hitch-Biking as I was riding against a head wind so I stuck out my thumb when cars went by. I got a ride from a area called the Gap near the Echo Cliffs to Bitter Springs, then rode down to the Colorado River and up to House Rock before starting to Hitch-Bike again against the wind and go a ride to Kanab Utah and rode on up and over to Mount Carmel and the Thunderbird Lodge where I applied for a job I had in 2005-06, got hired and have been working ever since April 16th.
The following images are from the Little Colorado River near Cameron AZ and the main Colorado River where Navajo Bridge crosses it.
My touring bike on hwy 89 near Cameron AZ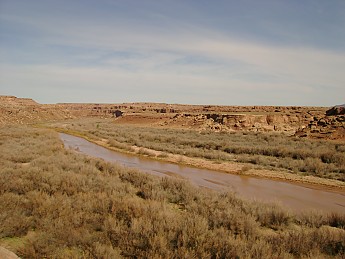 The Little Colorado River looking northwest where it flows towards the Grand Canyon and the main Colorado River 56 miles away.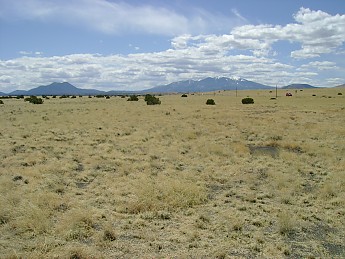 The San Francisco Peaks behind me about 50 miles away, Sunset Crater is the mountain on the left.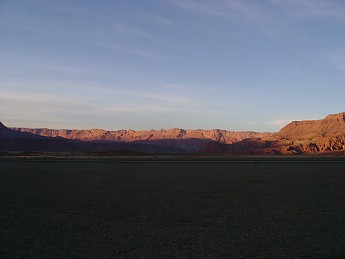 Just before sunset I arrived at a small Indian trading post and sat up camp. This is the Vermillion Cliffs that are on the opposite side of the Colorado River where I will be the next day.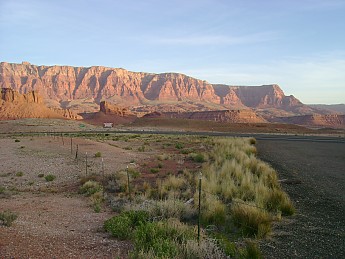 Sunrise on the same Vermillion Cliffs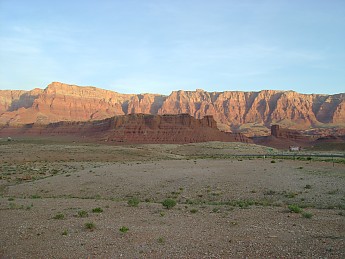 Looking farther SW along the sun rise on the cliffs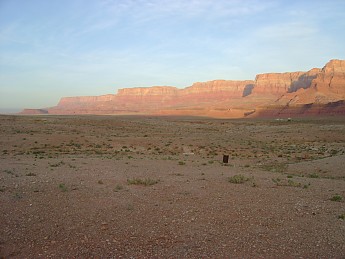 This is the northern end of the Echo Cliffs which are on the east side of the Colorado River
Looking north on the Colorado River from Navajo Bridge.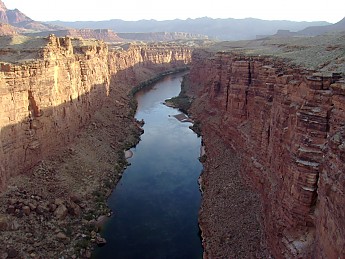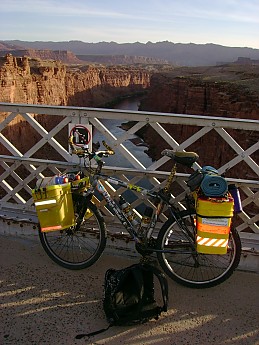 My bike on Navajo Bridge over the Colorado River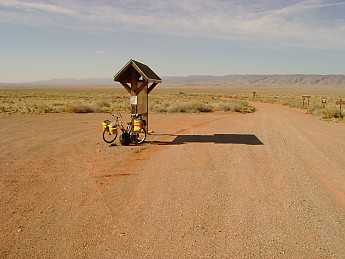 From the Colorado River at Navajo Bridge I rode as far as The House Rock Road . The long ridge in the distance is the North Rim of the Grand Canyon.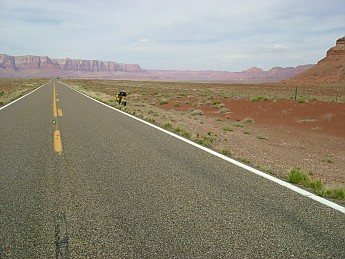 Looking back from House Rock Valley towards the Vermillion Cliffs on the left and the Echo Cliffs to the right
From here I Hitch-Biked to Kanab Utah and rode on to where I am now.