8:29 p.m. on July 14, 2013 (EDT)
Danny Wang

490 reviewer rep
189 forum posts
This is my first Trip Report so I apologize in advance if there's anything I left out, etc etc.  I'd also like to thank our fellow member Speacock for all of the great advice on trip planning in the Sierras.
I finally was able to clear my schedule for a couple of days and rushed up to the Jennie Lakes Wilderness 7/12-7/13.  I was originally planning on staying till the 14th to complete the entire Jennie Lakes loop, but had to cut the trip short to 2 days because of extenuating circumstances.  So instead of the entire loop, I did a quick solo overnight at Weaver Lake and on my way out, did the Congress Trail just to spend some time in the Giant Forest with a few hundred other of my newest friends.
I left Los Angeles at approximately 8:45 am and began my drive up towards the I-5 to the 99.  Turned off and went on the 63 for a beautiful drive through farmlands and fields.  I stopped at a local Thai restaurant in Visalia for some wonton soup and was able to reach Kings Canyon/Grant Grove by 2.  After a quick gander in Grant Grove, I drove on the General's Highway to the Big Meadow Trailhead.
As you can see.. the Big Meadow Trailhead is aptly named: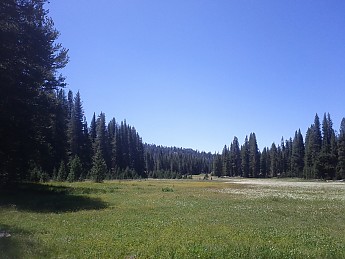 A small foot bridge leading over a creek marks the entrance to the trail: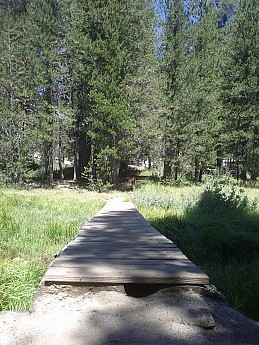 After approximately an hour of hiking, I came across a sweeping view of the Sierras:

Here's the sign for the Jennie Lakes Wilderness.  I always loved the font used for trail signs!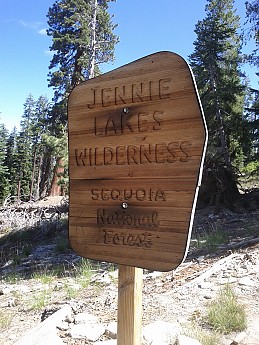 After a couple of hours of hiking and meandering, I reached my destination of Weaver Lake: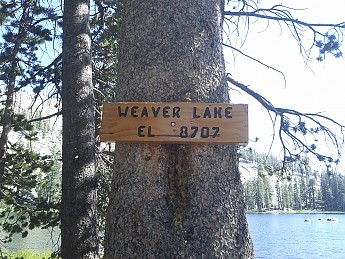 As Weaver Lake is very accessible, I was definitely not alone.  There was one large party of about 12 high school kids accompanied by 3 adults, and a couple other parties of 4-5 scattered around the lake.  However, I didn't mind being around others and was just thankful as to how easy I was able to leave the hustle and bustle of Los Angeles and be at an alpine lake by mid-afternoon.
After setting up camp, I was able to enjoy the late afternoon sunshine: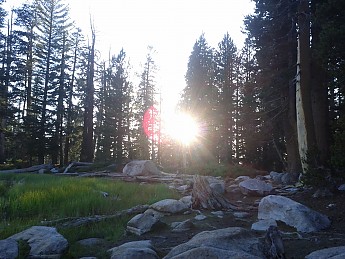 As the afternoon turned to dusk, the wind died down and the view from Weaver Lake was stunning.  I don't think it really got dark until 8:45-9:00 PM.  I was able to find a primo campsite and enjoyed my dinner by the lake.  Carried in a box of Bandit Cabernet (which isn't all that bad) and sipped it as dusk turned into night.  Had a blast watching the trout leap up from the lake.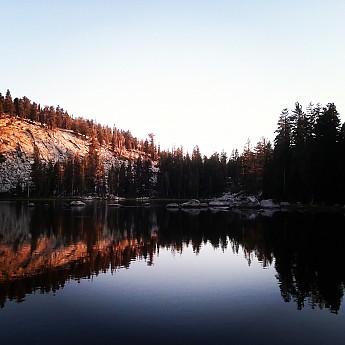 As night fell, I put the rest of the Bandit back in the Backpacker's Cache and retired for the next morning...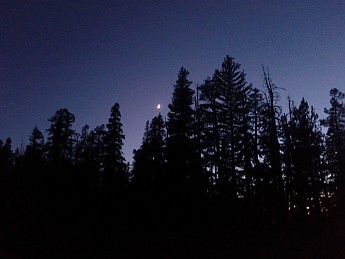 The hike out Weaver Lake was quick and I saw lots of people coming up the trail for day trips, as well as to camp.  I also ran into some volunteers doing trail maintenance, which was great to see.
After driving out of Big Meadow, I headed down to the Giant Forest to walk the paved trails.  As I previously mentioned, I didn't really mind that this trip was a little crowded, in which I obviously chose destinations that had a lot of people.  I was mostly just thankful to be up in the Sierras!!  Plus, I did get a kick in hearing the multitude of foreign languages and visitors within the Giant Forest.  It's pretty neat to think that people all over the world marvel at a place that can be so easily accessible for Californians.
Of course, I did the very popular Congress Trail: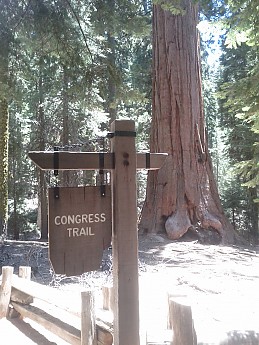 Got a quick glimpse of the Sherman Tree: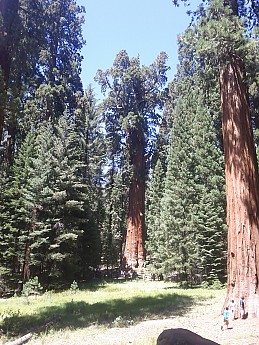 And marveled at the beauty of the Sequoias:
Once again, very much thankful of being able to live in California and experience such great natural beauty.  Now.. if I can really clear up the schedule and REALLY get out there.. that'll be the ticket!  But for now, I'm more than content with what I was able to experience in the past couple of days.