8:19 p.m. on July 15, 2013 (EDT)
Shyne

9 reviewer rep
47 forum posts
My buddy Nate from Atlanta called me last minute Friday at lunch to ask me if I was going backpacking over the weekend. I responded with "OF COURSE!!" He was itching to go, so we met up Saturday in Maryville and set off toward the Citico/SlickRock Wilderness.
The first part of the adventure was trying to get to Farr Gap! Though it would have been easy enough in a truck or jeep, we came in a car. We came through Vonore down Citico Creek Road.........from the moment you turn off 360 its a gravel road with ruts and you still have about an hour, give or take.  You can go up the Cherohala Skyway, then by Indian Boundary, which is how we went home.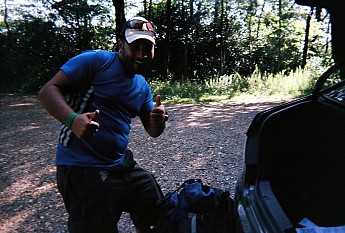 But we did eventually make it up Double Camp passing Mill Branch Trail(96), Crowder Branch Trail(84) and Rocky Flatts Trail(100) all along the way. Making notes because I intend to Hike them all in good time but this is my first visit to the Citico Wilderness.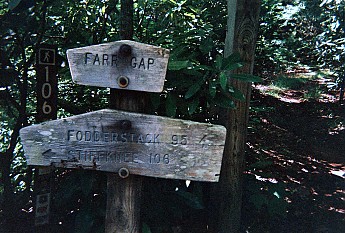 To the left is the Stiffknee Trail(106) down the Slickrock Creek, we decide to go right up the Fodderstack/BMT (95/2) away south from Farr gap. It climbs for a bit up to the ridge, but that is expected. I found the spring that Tipi told me about. The picture didn't come out, but it's right off the trail.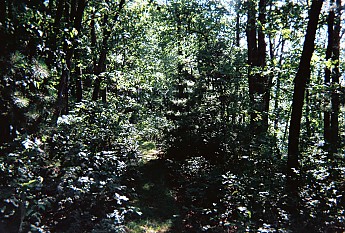 This nice little grassy path is after you get up to the ridge before you ascend the Little Fodderstack.
I don't know if you can tell, but this goes up pretty fast and was the beginning of our climb up to the the Little Fodderstack.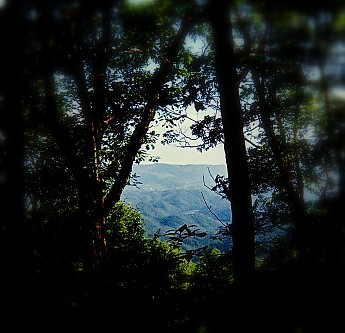 on the way up I caught this overlook. I think those are the Smokies and the little Tennessee River but I'm not sure. I am sure that it was really a pretty sight.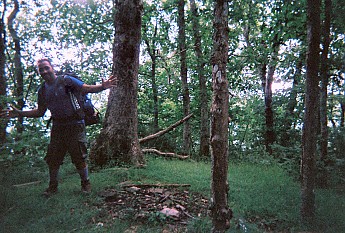 We found this little campsite right just south of the Little Fodderstack. It's right off the trail and looks out on the SlickRock valley. I didn't see any water near by, the only I know of is that seeping spring right off the trail by Farr Gap and Crowder Horse Camp Spring. After going up and over the little Fodderstack we ride the Ridge up and down to the Crowder Branch Trail Junction (84).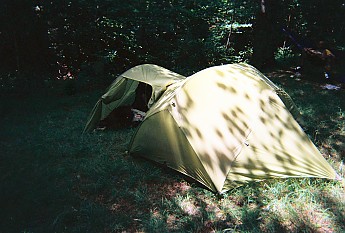 Here is what Tipi Walter calls Crowder Horse Camp, and it is NICE. This is like a 5***** Star Hotel of backpacking sites. It has a spring in the back that I took a picture of but didn't develop. Its a box spring north of the camp down a little path. This is my tent set up. I have a MSR Hubba Hubba (2man) with the MSR gear shed. Its a little excessive but a nice addition. Gives you 30 extra square feet and lots of space to store gear. I also bought it to give my dog a place to sleep besides IN My tent. Nate is in the back right corner of the photo in his hammock.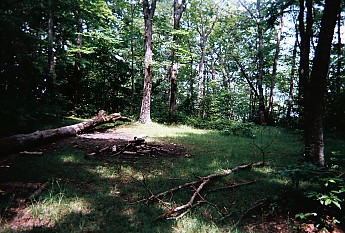 Like I said I had never been here so after we made camp I went and looked around. At the intersection of 95/2 and 139 was Tipi's Crowder Camp just where he said it would be. It is right off the trail and sets up on the ridge. Nice camp, I am going to have to stay here some time. The rest of the evening we thought we heard wild hogs to our south and north....we find fresh prints everywhere....then we forget and have a great dinner, made a fire and slept.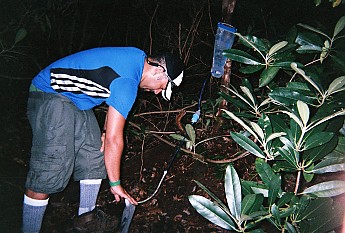 After breakfast we need more water so we go down to the spring before we set off back to the car. Here is Nate using my gravity water filter set up. Then on the way back!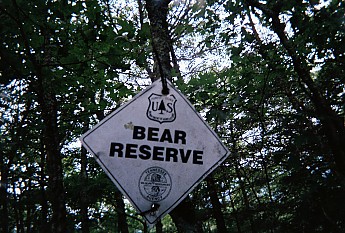 On the way.......I love these signs....it must be some weird part of me that loves danger.....or just makes me feel like I'm awwwwayyy from from it all...you know? anyway.....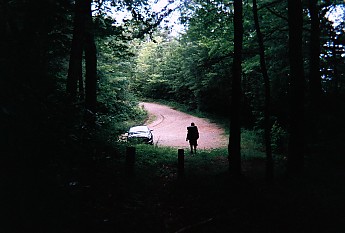 We made it back to the car!! What a nice trip!! We take Indian Boundary way to get home but on the way out we found the trail heads for the North and South Forks of the Citico and Flatts Mountain. This was a heck of an introduction of this area for the both of us and I am sure we will do it again. Well for me I'll be doing SlickRock Creek trail next week!! Hope you enjoyed the photos!