11:24 p.m. on July 29, 2013 (EDT)
MPaint

0 reviewer rep
110 forum posts
I've been lurking on the boards for a while and love reading about all the nice places folks hike.  I live in the middle of Indiana and hiking isn't as picturesque as most other places, but still you can get out and hike for a couple of days.  Big thanks to Hoosier Hiking Council who build and maintain these trails!!
I hiked back and forth along the southern end of the Tecumseh trail Thursday and Friday night and hiked out Saturday.
Started at Yellowwood and hiked north on the Tecumseh to Prange Pond my first night.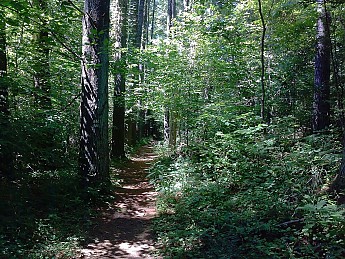 Trees along the trail.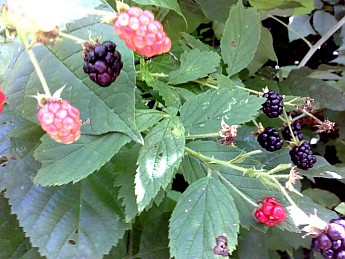 There were a bunch of these along parts of the trail.  Blackberries? Rasberries? Mulberries?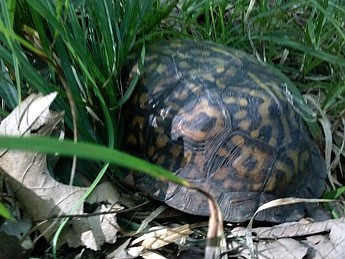 Eastern Box Turtle (about the size of a football).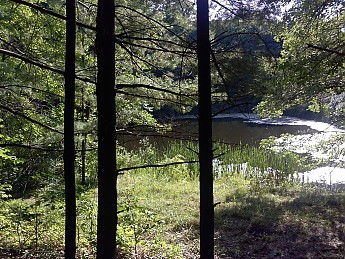 This is Prange Pond.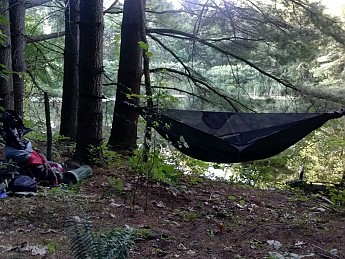 This is my typical setup before I hang the tarp over it in case it rains (Hennesy Hammock). Just as the sun started to set all the frogs started croaking and I thought to myself, "this might be a long night."  But a little while later (10-15 minutes), I noticed they all quieted back down.  It was kind of weird, like they all said good night at the same time and went off to sleep.  Which was good because I was tired.  I started at 3pm and hiked about 6 miles.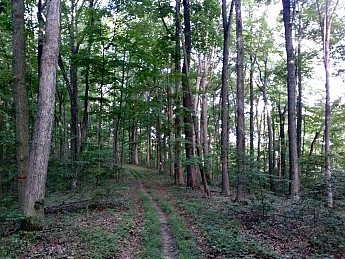 Hiking back the way I came the following morning.  A typical view hiking along a ridge.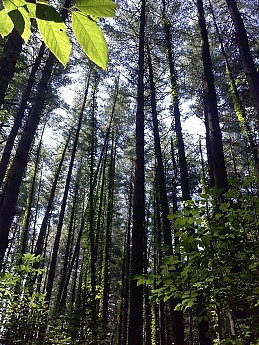 View up into the trees.  I guess a lot of this land had been cleared by homesteaders who tried to farm, but the soil is rocky and unsuitable for farming.  So after it was abandoned the Forest Service or some angency planted pines to stop erosion.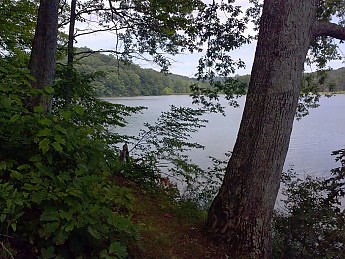 Here's a glimpse of Yellowwood Lake.  Now I've hiked past where I started and am heading south.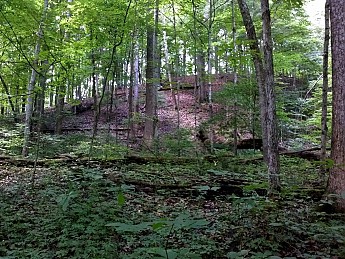 Here's looking up High King ridge.  It doesn't look like much but it's a steep hike.  I ate lunch on top.  I met a day hiker that said she was prepping for the John Muir Trail.  I imagine High King ridge is just a bump compared to the JMT.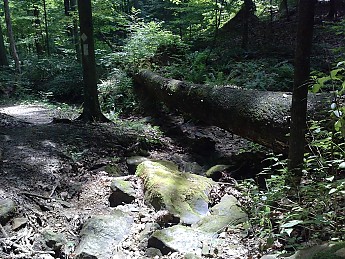 Dry Creek.  I found water nearby.  I carry two 20 oz. Gatorade bottles all the time, but I filled up a 32 oz. bladder too, as I understand there isn't a lot of reliable water for the next 6-10 miles.  It was a section of the trail I hadn't hiked before and I wasn't as prepared as I needed to be.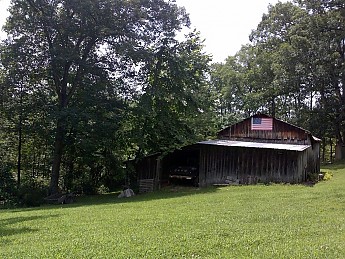 After a few miles the trail follows a couple of roads for maybe two more miles.  By the time I hit the start of the road-hike, I already drank 40 oz of water.  I don't know how I drink so much water!
So by the time I finished the road hike and re-entered the State Forest, I was already down to 32 oz. of water.  I had to make a decision.  I could go forward and hope I found water at the terminus (5-6 miles); or I could back-track (5-6 miles) to where I knew there was definitely water.  So I took a nap.  About an hour later, I woke up, brushed the ants off, and back-tracked to the definite water.  I also had an inkling that it might be raining Saturday, and figured it might be nice to be close to the car.
By the time I got back to the water, re-filled my bottles, drank 20 oz. and went right to sleep.  I think I hiked about 19-20 miles with all the back-tracking.  I awoke to rain on the tarp around 10pm.  And it just rained harder and harder all night.  Good sleeping weather though; i slept about 11  hours!  I got up and broke camp in a down pour!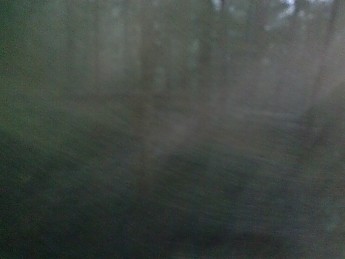 When I got to the top of High King the rain slowed and I was hiking in a mist.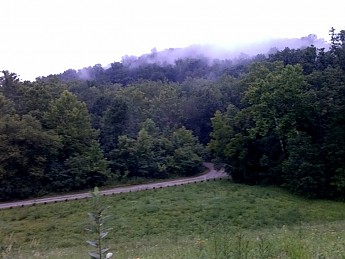 Here's the view looking back up High King.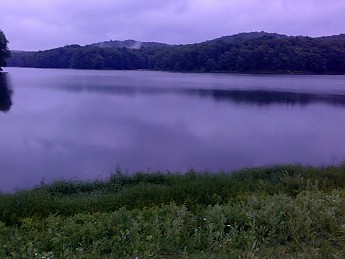 Here's a shot of Yellowwood.  I don't remember it being purple, but you get the idea, it was rainy and misty.  Oh and I walked up on a couple of bucks that gave me a snort before they bounded into the brush.
I was glad to be back in the car and driving home to my family, but I laugh to myself when I think about walking in the pouring rain.  Walking in the rain was fun, but it's something I haven't done on purpose since I was a child.  If I didn't backpack, it's just the kind of thing I might never have done again.