1:46 p.m. on July 30, 2013 (EDT)
LoneStranger

TOP 10 REVIEWER
REVIEW CORPS
6,811 reviewer rep
1,270 forum posts
Baxter State Park July 21-25 2013
Planned Itinerary
Day 1: Enter via Togue Pond Gatehouse (South entry)  Park at Roaring Brook camp and climb Chimney Pond Trail 3.8 miles to Chimney Pond.
Day 2: Saddle Trail up to tablelands 1.4 miles NW Basin Trail to Davis Pond 3.2 miles
            Bonus Option 1: Baxter Peak 2 miles rt
            Bonus Option 2: Hamlin Peak .7 miles rt
Day 3: NW Basin Trail from Davis Pond to Russell Pond est 5.3 miles
Day 4: Russell Pond Trail to Wassataquoick Stream Trail to Wass Stream LTs est 1.8 miles
            Bonus Option: Ledge Falls 1 mile rt / Grand Falls 4 miles rt
Day 5: Wassataquoick Stream LTs to Roaring Brook camp est 5.8 miles.
This trip is basically a repeat of one I did with my nephew last June that kicked my butt. This time I knew what to expect and was better prepared for it. If I can find a new victim partner next year I will probably do it again as I don't think I'll ever get tired of some of the spots along the way.
Disclaimer: All mileage is based on BSP signs and may bear no relation to actual distances. It also includes BSP terrain and may bear no relation to your preconceived notions of distance.
Day 1: We drove up from the mid-coast area and arrived at the parking lot by about noon. Roaring Brook camp is a car accessible campground and parking area for day hikers and campers accessing a network of trails. We were lucky enough to find an empty spot and stopped to scarf down some sandwiches my wife was nice enough to send along with us then signed in at the ranger station.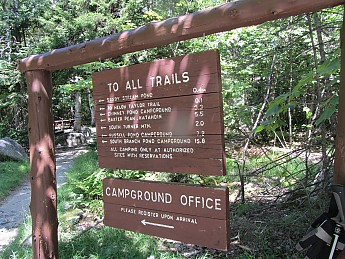 Just a minute down the main trail we came to our turn off towards Mt Katahdin.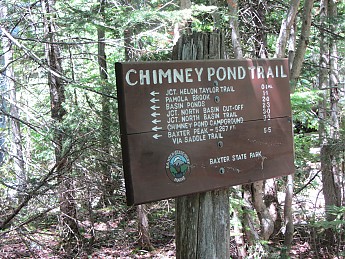 This trail sees a huge amount of traffic during the Summer, mostly a mass of day hikers bagging the peak, so they have built a few of these bridge sections to protect the gullies from erosion. After last months trip to the North part of the park where we saw no footprints and were hard pressed to tell the difference between the trail and bushwhacking I couldn't help but laugh at this.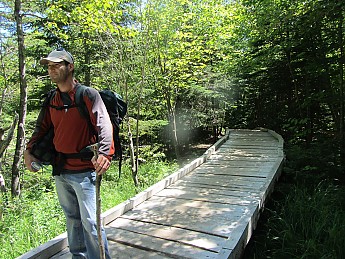 A peek at Roaring Brook along the trail. Pretty tame at this water level but still sounded nice.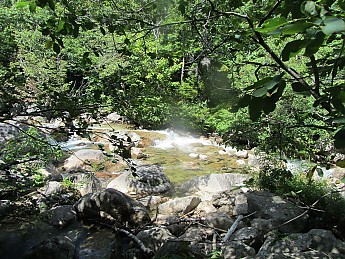 This trail is a nice warm up for the trip, not very long and only about 1500' of net elevation but lots of rocks to get your feet ready to work the next few days.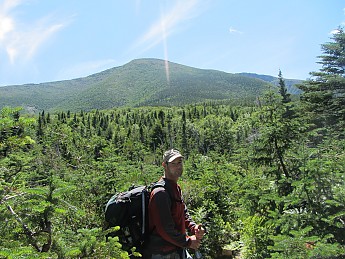 Still a bit below Chimney Pond. A nice view of the wooded side of Pamola with the Knife's Edge just beyond.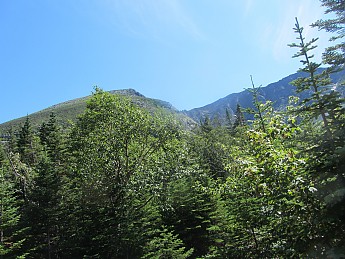 Our first good look at Baxter from this side.  I love the feeling of knowing that I'm not going up there today, but tomorrow I just might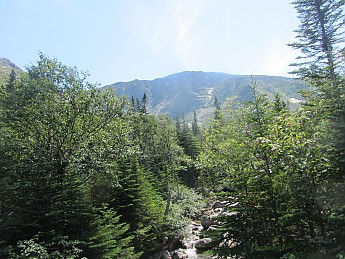 Chimney Pond. No foot washing here!  They have an outflow pond beyond the bunkhouse for that.  This tiny pond has to slack the thirst of an awful lot of hikers before the snows fill it back up again.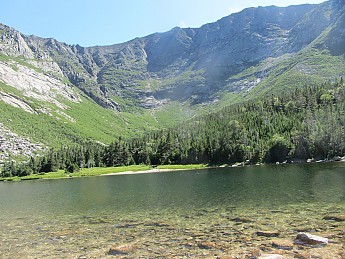 The Dudley Trail follows that ridge up to Pamola where it intersects with the Helon Taylor before the start of the Knife's Edge.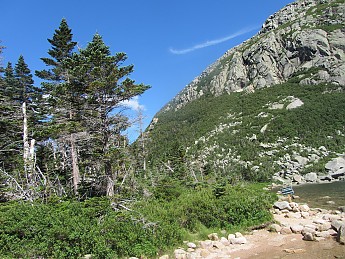 The ranger station looking up from Chimney Pond. You can see their solar array to power their radio systems. This camp has 9 LTs and an 8 man bunkhouse which are easily accessible and usually filled to capacity the whole season. These rangers have a great spot but a tough job to do there.  We were blessed with a nice quiet crowd this year, but last year there was a lot of late night noise.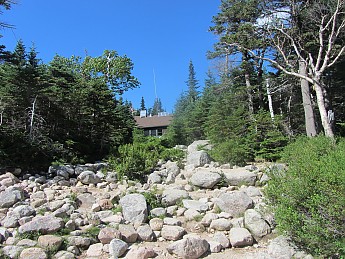 I traveled a bit lighter on this trip just bringing a bug net. My partner in crime opted to use his 1 man tent without poles as a bivy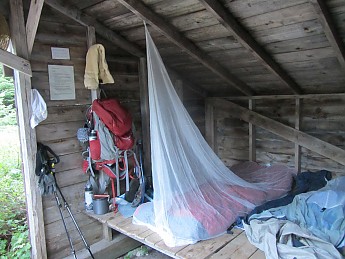 These are just as I snapped them, no edits. I didn't know what would show up in the camera and while this doesn't really do the moment justice it does give you some idea of what the sunset did to the mountains.
Day 2
Sunrise also did some nice things to them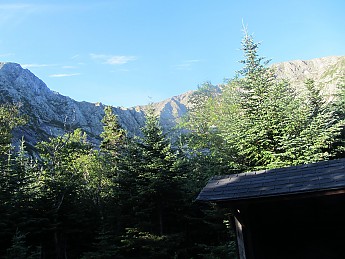 We got an early start with ambitions of hitting one or both peaks if we got to the Saddle in good enough time. The first mile is a moderate ascent via a pretty rocky trail.  The treeline here blends into low bush and the heat of climbing combined with some small runoff channels made things pretty humid.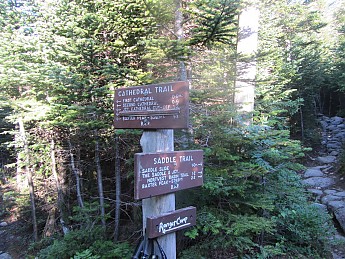 We started being rewarded with some views and the occasional puff of breeze as we started to climb above the brush.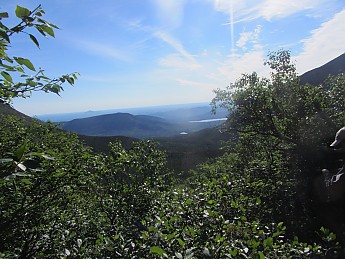 Then we hit the bottom of the Saddle Slide;  less than a half mile of trail left according to the park signs.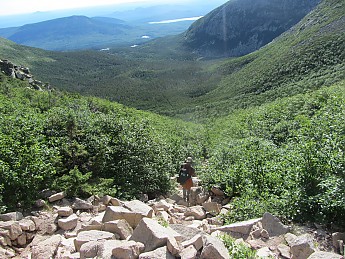 The signs can't convey the joy of schlepping a full pack up this trail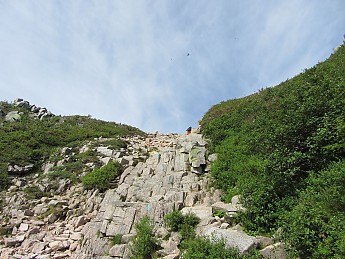 Nice views though. If you look closely you can see a trail crew member chasing us up the rocks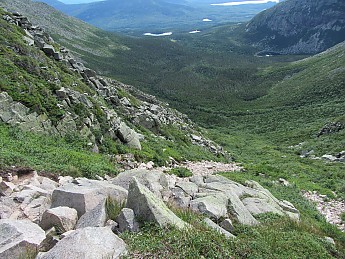 Can you see that victory smile? This rock pile kicked my butt last year and left me with a scar on my wrist but not this trip!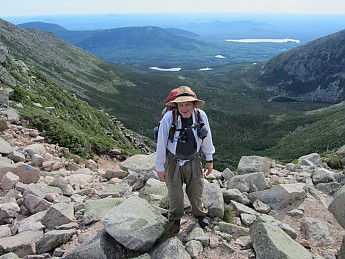 We'd made great time so far and since it was only a mile in the wrong direction we opted to hit Baxter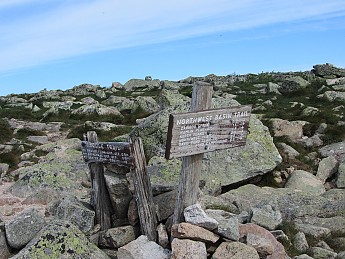 We met a nice thruhike couple at the peak enjoying a whoopie pie so once we'd taken some pics for them they offered to take one for us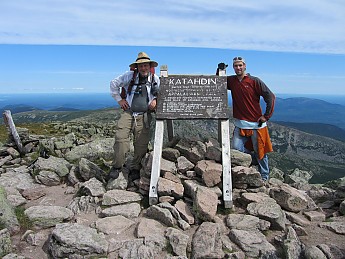 Some haze but still nice views from the top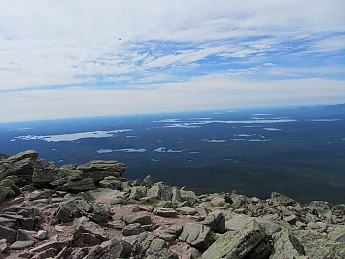 Knife's Edge from above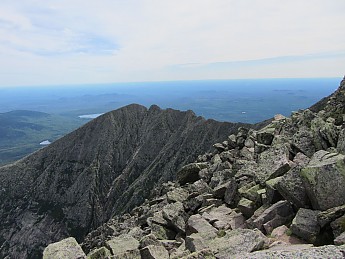 Chimney Pond from above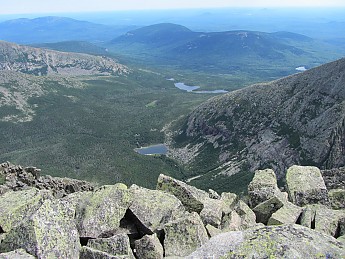 Looking across the top of Cathedrals towards Hamlin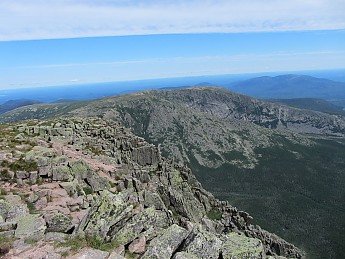 Tablelands. I took a lot of pics here but really, none of them do it justice, so I'll just post the one.  It is a place you just have to be to actually see and there never seems to be enough time up there before you have to leave.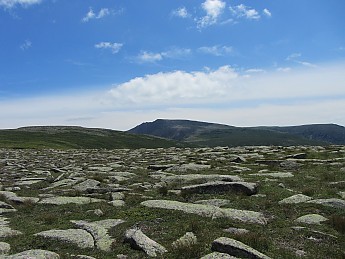 Brothers to the left. NW Basin and Davis Pond to the right and the valley leading to Russell Pond in the middle.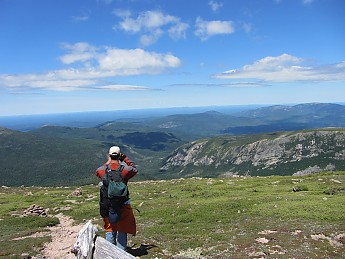 Some tough trail descending towards Davis Pond with Harvey Ridge looking bigger the farther down we went.  Steep and rocky sums it up I guess, but buggy and wet should probably be included.  There is a reward at the bottom though…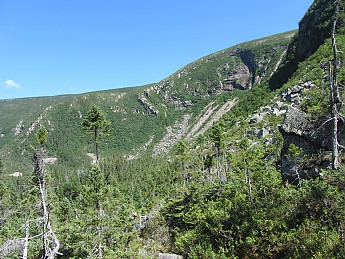 Davis Pond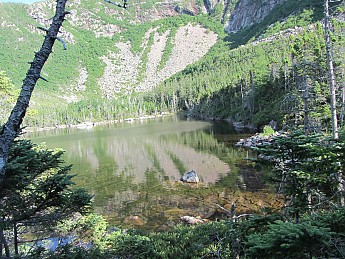 Waterfall about half way down the ridge. There is another neat cascade when this flow finally reaches the pond but I'm always too tired at this point to walk to where you can get pics of it. Maybe next year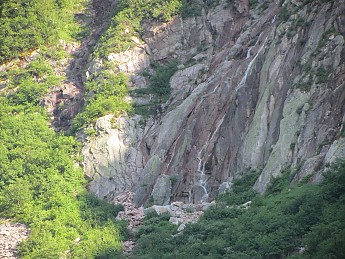 Another of Baxter's famous latrines
Day 3
Last of my pics for a while. Rain started just before we left Davis and didn't stop until after we reached Russell 5.5 hours later. I was glad I tucked my camera safely away and put my pack cover on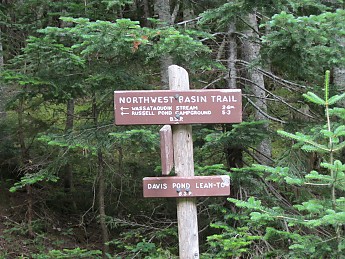 Leaving Davis we climbed a bit at first, then crossed the edge of Lake Cowles before heading back down towards the stream which I think is technically an early branch of the Wassataquoik. The trail goes right into the water when you get there and follows the rock slab/stream for about a quarter of a mile. We were focused on keeping our boots out of the water and almost missed our exit.  The trail from here stayed under tree cover but the rain was coming steady now. 
The terrain alternates between rocky and muddy with plenty of up and down as we continued our descent towards the Wassataquoik crossing. We switched to water shoes as this one was an over the knee, very rocky one.  The water was actually painfully cold by the time I got half way and I was motivated to get out before my feet went numb.  Definitely not a good place to fall in heh.
The section after the crossing wasn't as muddy as last year but still was a mess.  Last year we wore our water shoes for about half a mile and waded through the muck.  This year I put my boots back on and was able to avoid filling my boots with the stuff.  Once we cleared this muddy section the trail smoothed out with only a few minor crossings to rock hop.  This part always reminds me of the trails of my youth in WI and MI's UP…buggy, damp, but comfy footing making it easy to go as fast as you please.
Five hours of rainy hike brought us to the Russell Pond outflow crossing which had much better rocks for hopping this year.  Last year everyone got wet feet thinking they could make it and this year we only had one boot get dipped.  Of course after all the rain I'm not sure it really mattered at this point heh.
We were happy to finally see Russell Pond camp and were looking forward to getting out of our wet clothes.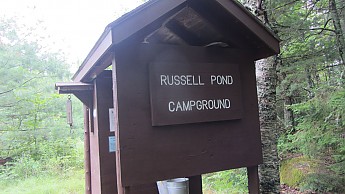 Of course I'd reserved the most remote of the LTs and we still had some hiking to do.  Well worth the effort when we finally found the site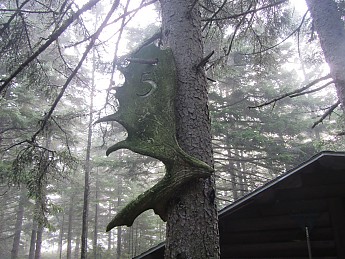 Still a light rain falling at this point but I hopefully hung my trail clothes and pack cover while my partner enjoyed a well earned afternoon nap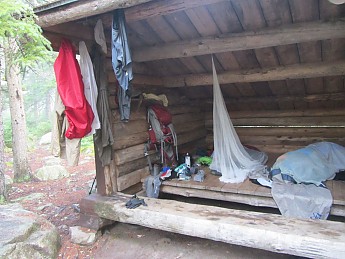 My new favorite Baxter latrine. Flow through bugs and pretty wet in the rain, but oh the views hehe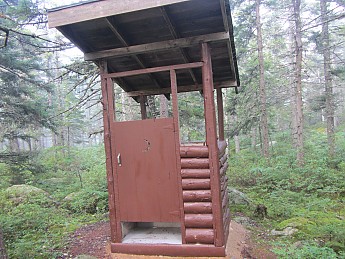 Speaking of nature breaks…
Day 4
Things started out sunny and then clouded over by the time we were ready to roll.  We took our time with coffee and breakfast as we only had a short hike for the day and we didn't want to arrive at our next camp while its current residents were still there.
Clouds gathering over Russell Pond canoe racks and dock.  There are two LTs, one on either side of where I'm standing to take this shot.  Good spot if you have a larger group and intend to enjoy the pond.  Also a good moose spotting area.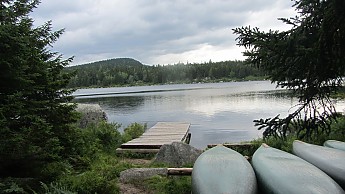 You can easily hike back out to Roaring Brook from here either directly or via the Wassataquoik Stream Trail but we were only going as far as the crossing and a LT there.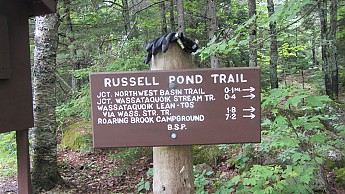 Again this section reminds me of the trails I walked as a kid.  Lots of ferns, soft dirt under foot, but we didn't have these nice trail bridges.  Russell Pond has a crew camp so the trails in this area get a lot of attention.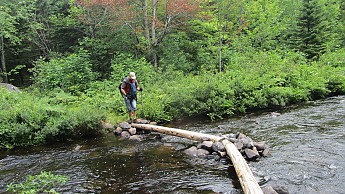 We weren't sure what this was so I grabbed a couple blurry pics.  It seemed like a fungus but there was this bee working it over.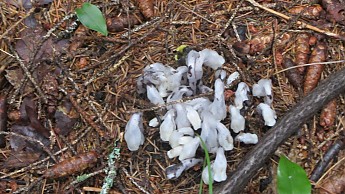 This is the New City area. I've never dug into the history of it but some crazy folks seem to have tried to settle this area at one point.  There is a double bottom plow and several previously cleared areas along with an extra wide trail here, but nothing else remains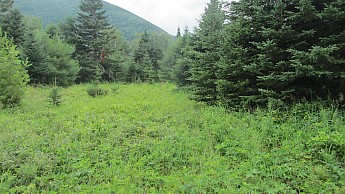 Well some things remain I guess.  This doe seemed pretty disinterested in us.  I couldn't get her to stop eating long enough to get her head in the pic so I have several of just her butt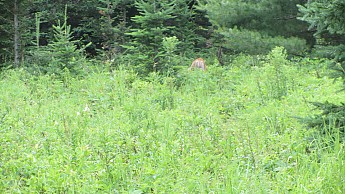 Another marvel of modern engineering.  If we'd had some of these on the June trip we could have at least used them to build a raft but even the trail crews don't go up there heh.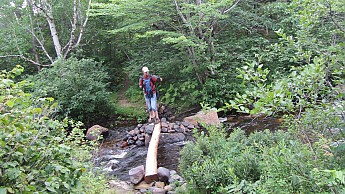 Trails up to the falls stay on this side of the stream so you can day hike from Russell without a water crossing unless you fall off a bridge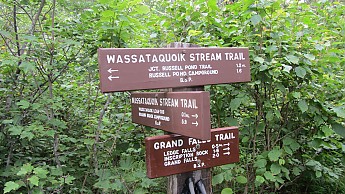 View of Wassataquoik Stream crossing beyond our LT firepit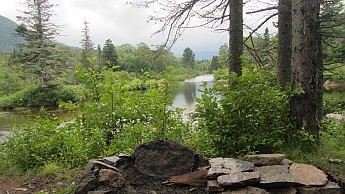 With showers coming and going I opted to hang out around camp while my buddy decided to try the day hike up to the falls.  Here he is crossing back over towards the falls trails.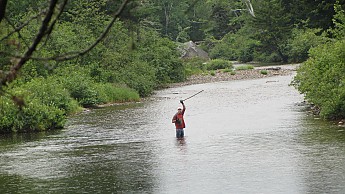 This pub table didn't get much use by us but the birds seemed to like it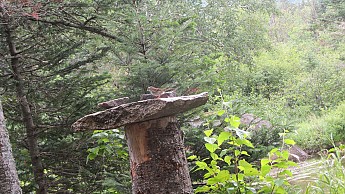 While the bees seemed to prefer this perch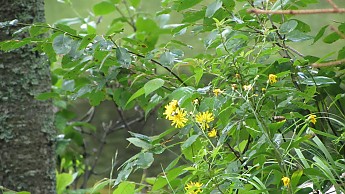 I considered breaking out my fishing gear, especially when I saw a few signs of things rising from a pool I had my eye on, but then opted to enjoy a juicebox of discount Cab Sav and take a few dozen pics of Russell Mountain in differing light.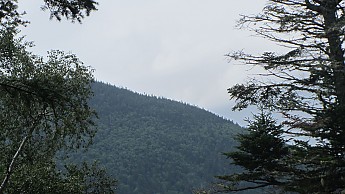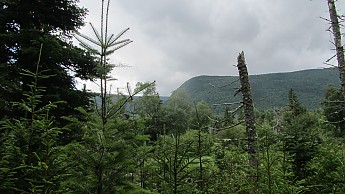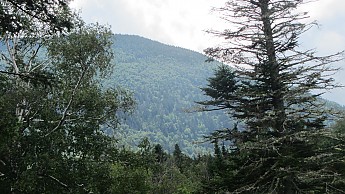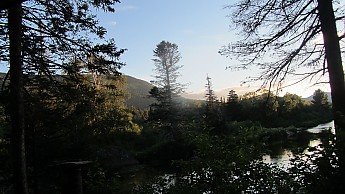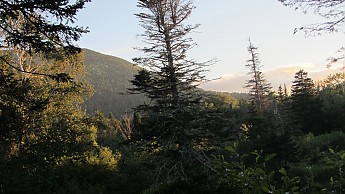 These unnamed explorers spent some time deciding if they should cross here.  Once they finally reached the other side I shouted a warning to them about the second crossing before they put their boots back on. 
The second crossing is just a tad too long to jump and having to take your boots off again so soon can lead to cussing so I felt it was worth my effort heh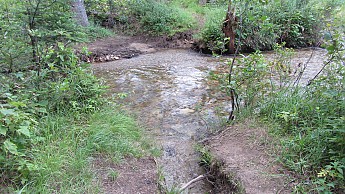 Day 5
Our last day started off with some great sun.  My partner slept in but I was up early guzzling coffee and taking pics.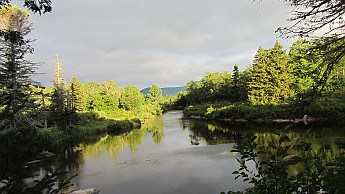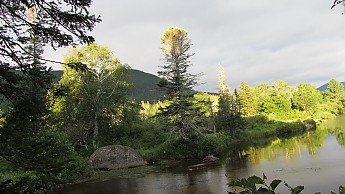 Though we had private privy privileges this was not one of Baxter's finest.  Even the open air design couldn't help this heavily used one so I documented it from a safe distance for your protection.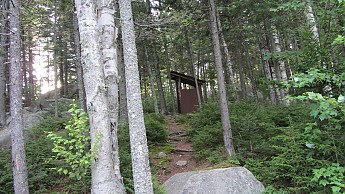 These ducks came paddling up stream while we had our breakfast.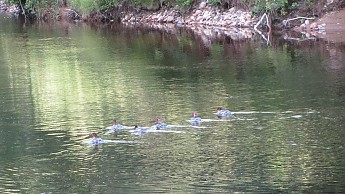 The trail out to Roaring Brook from here is either root, rock or mud for the most part.  Not much elevation change but lots of little hills and small drainages headed into the Wassataquoik.  With tired feet it seems longer than it is but there were lots of things to see along the way…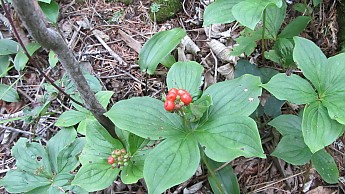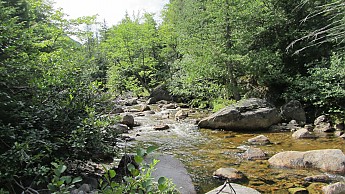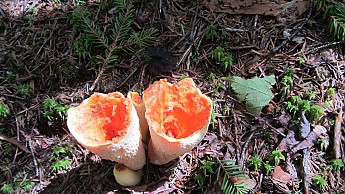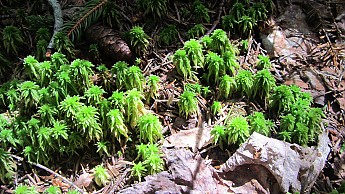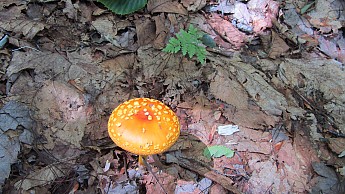 My buddy making use of his drinking straw filter.  A young man's tool heh, I'd fall in the water if I tried to lean over like that with my pack on and probably need help getting up even if I didn't get wet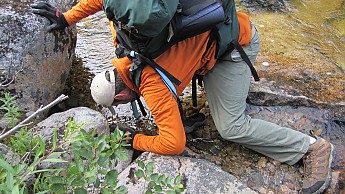 Looking up towards Katahdin from near Whidden Ponds area. Can't help but think it looks like a place a person should visit some day and then realize we just did heh. Seems very different up close than it does from way over here.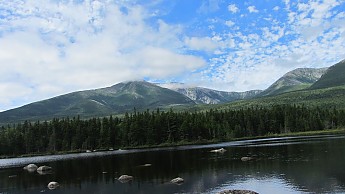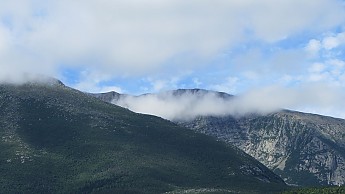 My map doesn't have a name for this ridge…might be the back side of Russell Mt.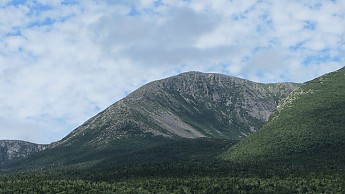 Good moose area but we were there wrong time of day.  Plenty of tracks and poops but we didn't see any on this trip.  I guess my buddy will have to come back to try again heh.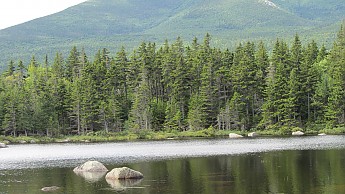 Running out of trail now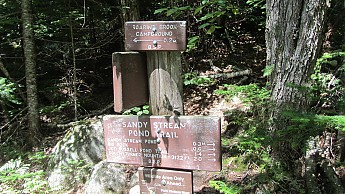 Beautiful bridge up ahead but I know once we cross we'll have closed our loop.  Always a bittersweet moment.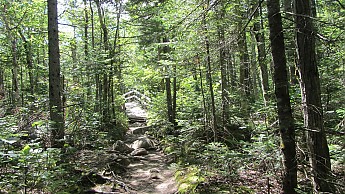 Gear notes:
Really happy with the relationship my feet and the Keen PCTs have formed.  With the right socks, even filled with water, they get along great.  Now that I've tested them in both high and low, rock and mud, wet and dry I think a review is in order.
Bug netting worked pretty well.  I had one night where bugs got inside, not sure if they came through the mesh or if I gave them an opening as I rolled around in my sleep.  Definitely a weight and space savings over bringing the Tephra 22 body to keep the bugs off.
Easton poles have survived another trip.  I am used to destroying poles pretty fast because I use them a lot to protect my feet on descents.  These too are probably ready for a review.
Food notes:
I brought a mix of MH and my own meals for this trip.  I'm finding the MH breakfast wrap is becoming too big for me.  I'm either going to repackage them into smaller portions or come up with some other solution.  Too much waste to carry if I can't force myself to eat the whole thing.
My shrimp fra diavolo with angel hair pasta turned out pretty well.  I need to amp up the spice a bit I think or change the name, but the flavors were great.
This time I tried my curry sauce with beef instead of chicken and a lot less rice than last time.  I also tossed in too many veggies and that worked well too. I think I may just focus on shrimp and beef meals going forward since they rehydrate so much more easily and well compared to the chicken. I've tried both cubes and shredded but both require too much time to rehydrate and I'm not comfortable soaking them at lunch time and carrying around a bottle of hot soggy meat all afternoon.
Trip notes:
With only one 5.5 hour hike in the rain this wasn't the epic tale the June trip was and I'm OK with that heh.  I got my revenge on the Saddle Slide from last year and had enough left in the tank to summit Baxter.  Bugs and mud were much less trouble this year than last on this route. 
Also I worked out a new water system with an extra two liter bag along for camp water.  This let me use one good pumping session at the end of the day to make the next day's trail water and both dinner and breakfast water all at once including enough to share with my partner at times.  Getting that out of the way all at once soon after making camp left me feeling like I wasn't wasting so much time on the chore.
Big thanks go out to the folks who make this park work.  From the gate guards, to the trail crews and especially the back country rangers they all do a great job of trying to keep the inexperienced safe while letting the rest of us find some real wilds to visit.
Now that my two big trips of the Summer are over it is time to plan some short solos and hopefully a four nighter with the family.  We are thinking maybe two nights of car camping followed by two nights of backpacking once we use up the fresh meat and cocktail ice hehe.  I guess I should start stacking firewood pretty soon too, but a man has to have his priorities.