2:02 p.m. on August 8, 2013 (EDT)
BigRed

TOP 10 REVIEWER
REVIEW CORPS
2,987 reviewer rep
946 forum posts
Daughter #1 finished up her year in Grenoble at the end of July, and during her stay had accumulated an extra bicycle and a whole lot of other gear purchased at French prices, so my wife and I volunteered to drive down, with Ralph as co-copilot, to help her get it all back to Norway. From Jotunheimen we drove down to Larvik on the south coast and took a four hour ferry across to Hirsthals at the northern tip of Denmark. Camped there for evening and morning walks and runs on an endless beach, then took two days to drive through Denmark, Germany, and a little corner of Switzerland to get to Annecy in the Haute-Savoie region of France, just a little bit SW of Chamonix and the big Alps. This put us in the Prealps, which includes a bunch of different mountain chains many of which are made of white limestone. In Annecy we rendezvoused at an upscale campground with our friend Christophe and his family -- he grew up in the area and so knows it like the back of his hand.
We started out with a short family day hike in unsettled weather, then on day two Christophe and I pulled a 5:30 AM start to try to get to the top of La Tournette (2351 m, the highest peak near Lake Annecy) before the afternoon weather came in. The trail takes a complex route up through beautiful green pastures and then a limestone cliff without ever getting too hairy.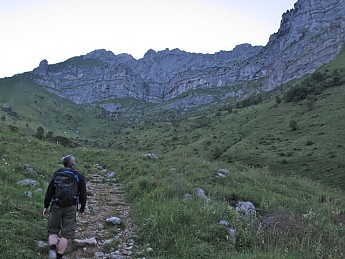 We weren't too far along before we met a couple of big male bouquetin (ibex) at pretty close quarters.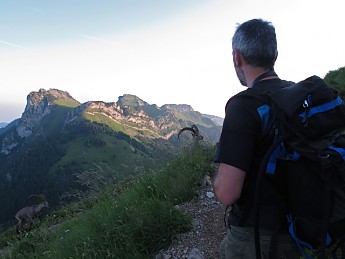 They've been protected long enough that they aren't too shy, and we followed them up the trail a ways before they went off on their own.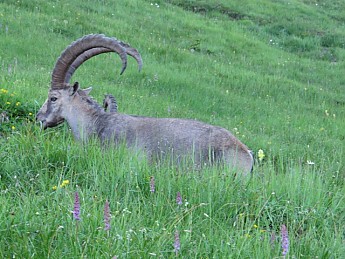 We ran into another just below the summit.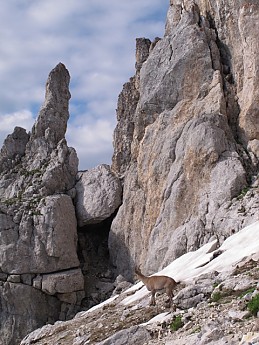 On top we were treated to great views extending from the limestone peaks around Lake Annecy...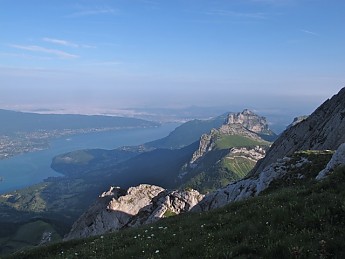 ...to a hazy Mont Blanc off in the distance.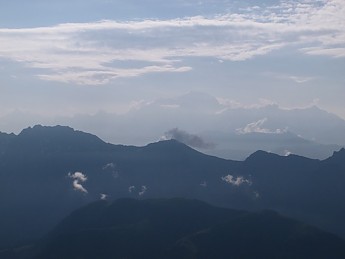 Here's Christophe at home.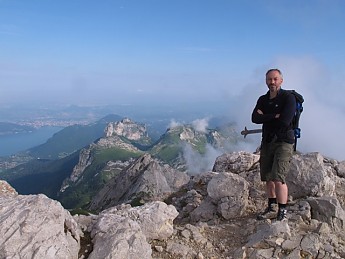 The next day Christophe and co. headed off for the next stage of their own vacation, but meanwhile Molly came up from Grenoble so she/we could watch the penultimate stage of the Tour de France, which started in Annecy with a mountain top finish nearby. We parked down in one of the villages near the lake, hiked up about 12 km, and positioned ourselves about 500m from the finish to watch the show. It was a bit of a zoo and I suppose worth doing once, but I'll spare y'all the pictures.
We moved on to Grenoble that night and the next morning set out for the Grand Veymont (2341 m, on the left below), the highest peak in the Vercors mountains, which are a looong limestone ridge that looks down on the Isere River.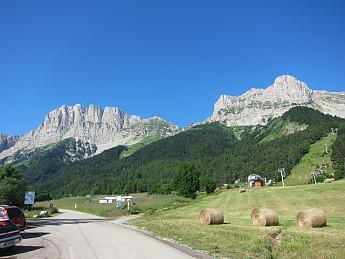 Ralph below the Grand Veymont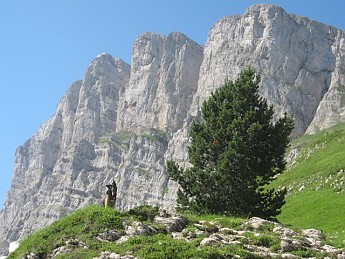 Lilium Martagon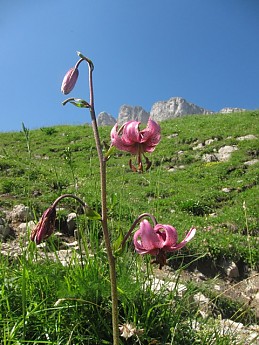 It turned out that dogs aren't allowed in the natural area around the summit, so only Molly and I summited. From the top we looked over at Mont Aiguille, a sort of plateau detached from the main ridge that is one of those peaks that draws attention whenever it's in sight.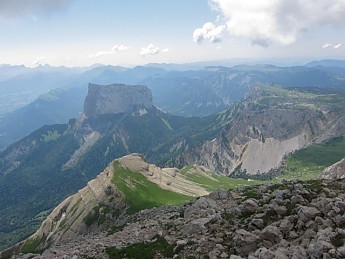 That evening Molly and I also motored up the Dent de Crolles, another limestone peak in the Chartreuse mountains (my camera battery died but I may get some pictures from Molly later). On the way down we found a big cave entrance with a lot of cold air blowing out of it. We went back in about 50 meters -- I had a little LED headlamp but we had a reservation at one of Grenoble's many fine eateries and so had to move on. We later found out that it is one of the deepest and most complex cave systems in Europe and a birthplace of modern caving, first explored during and after WWII by none other than Petzl among others.
The next afternoon I took a run up the Moucherotte at the northern end of Vercors for a long look back down toward the Grand Veymont.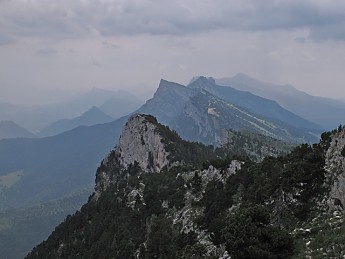 Then Nancy, Ralph and I did a three day hike in the Belledonne mountains east of Grenoble, which are made of metamorphic and so have a whole different look and feel. We went in over a top called the Grand Colon, with sweeping views over the Isere valley, Vercors and Chartreuse, as well as the Belledonnes.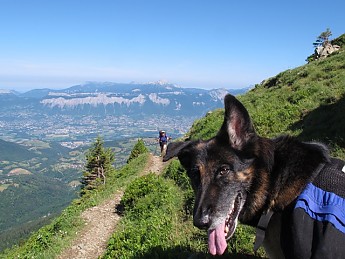 We stopped for lunch and a swim at a little alpine lake, with these big stemless gentians (Gentiana acaulis) among the many alpine wildflowers near the lake.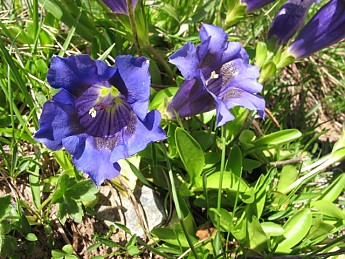 We stayed at the Col de la Pra refuge.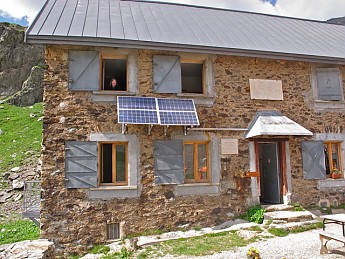 Dogs aren't allowed in, so instead the just lent us a tent so Ralph and I could sleep out on the deck -- fine with me!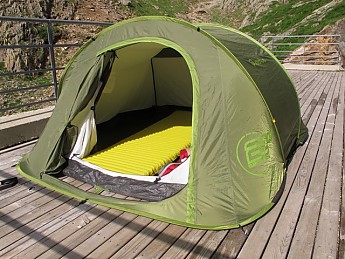 It was a Quechua "2-Second Tent" with two continuous super flexy poles so the whole thing can just be folded up into a disk about 50 cm/18 inches in diameter and maybe 15 cm/6 inches deep . You see a lot of these, and bigger models at commercial campgrounds here. You basically take it out of its storage bag and give it a shake and there it is. It's too heavy for backpacking and my daughter has heard reports of broken poles, but I was surprised how functional and reasonably well-made it was, with a full double wall and a tough bathtub floor made out of reinforced "blue-tarp" material. I think it's a bit tricky and takes a lot longer to fold up -- I didn't get to do this because it was still a little damp in the AM so the refuge staff took care of it. 
Evening brought a little cloud and rain which added some drama.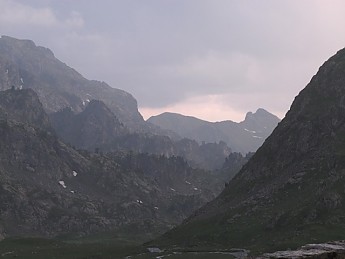 On day two we went over Col de la Pra, down to a lake...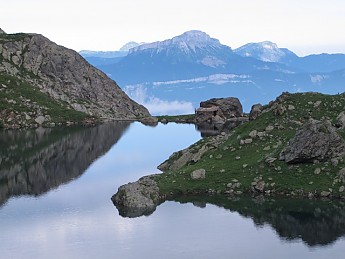 and over two more cols...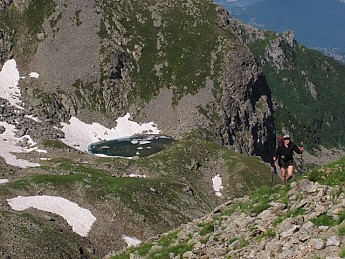 with more wildflowers like this Linaria alpina along the way...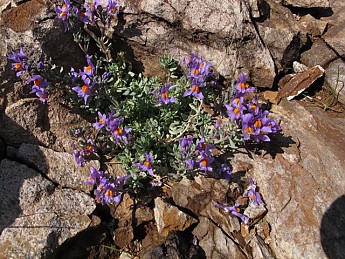 ...and a final 600 m climb to get to Refuge Jean Collet.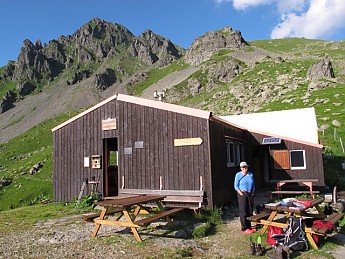 The refuge is on a natural flat spot in otherwise relentlessly steep terrain and so has fantastic views. We were advised not to take the high route there without ice axe and crampons, but sometime I would love to do it and summit the Croix de la Belledonne, or maybe even Grand Pic de Belledonne, which requires a little climbing.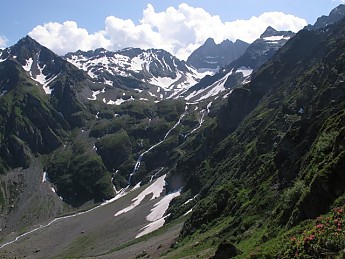 We had some good evening light looking down on the little village of Gorge.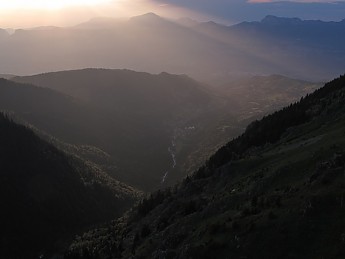 Day 3 was we went down and took a long traverse back to our car. We were happy to give a French brother-sister duo a ride back to Grenoble, should have got their picture. We stayed two more nights at our favorite apartment-hotel back in Grenoble before heading north. We went a little slower and took some time out to stop in various French and German towns with deep histories dating back to the middle ages. From the town of Ribeauvillé near Colmar we hiked up to the ruins of three different chateaux on a ridge overlooking the town. Here's Saint Ullrich, the biggest and most complete one: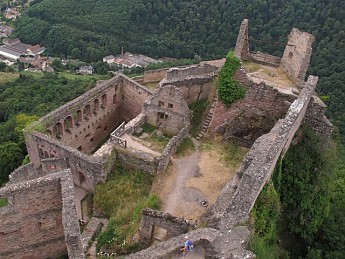 This is in the Alsace region which traded hands between France and Germany up until WWI, so there are a lot of German names around as well.
That's all for now!