8:16 p.m. on August 12, 2013 (EDT)
Peter1955

1,379 reviewer rep
1,339 forum posts
Every year, I do a 'Backpacking Prep' at a local recreation area. There are 140 km of trails, but with the preparation I can break it down into 3 days of about 12-15 km each. 
A lot of people have the idea that backpacking is just like walking, without realizing how much of a difference carrying a 40 lb pack makes. The 'Backpacking Prep' lets them find out exactly what's involved. Curiously, perhaps 3/4 of them vow never to do it again!
First things first. At the trailhead, I did a quick equipment check. When I saw her arriving with a huge pack and 5 Safeway bags, I sorted through the gear and supplies that one woman had brought. I trimmed her down to just what would fit into her pack, but I got a bad feeling about the hike.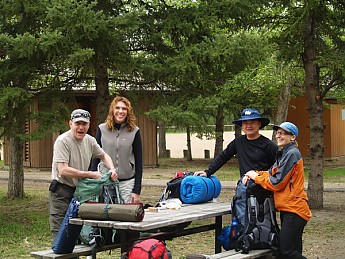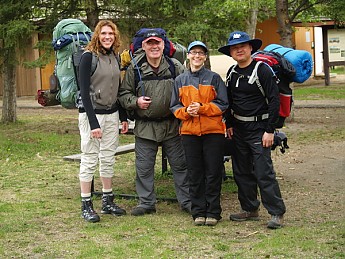 Just a small group, but ready to roll.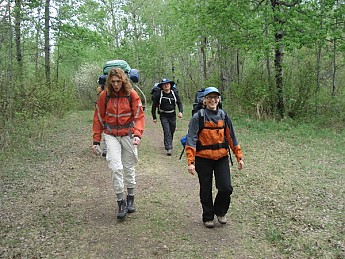 Our first day began at noon and involved only 12 km from the TH to the first shelter at Running Dog. The elderly Belgian was slow but steady, the Chinese and the skinny little Dutch girl were reasonably fast, and the taller woman began complaining by the end of the first kilometre. 
It seems she'd spent a fortune on new gear a day or two before the hike. Needless to say, the salesman upsold her on everything - a top-of-the line Osprey pack, new Salomon Quest 4D boots, and every little extra he could think of. For food, he'd told her to buy beef jerky, and she'd followed his advice. 
We started off with a risk of showers, but while it stayed overcast, the rain held off.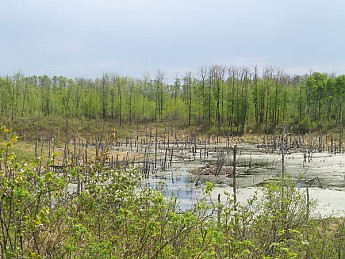 The Cooking Lake/Blackfoot Recreation Area is knob-and-kettle terrain, formed by the melting glaciers. The result is a large marshy area that is perfect for beaver. Fascinating to see all the stages of beaver meadows and ponds, all within a few kilometres.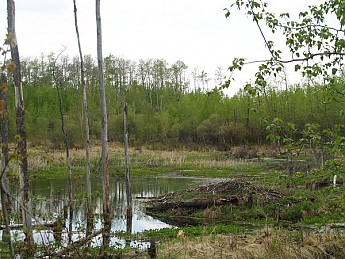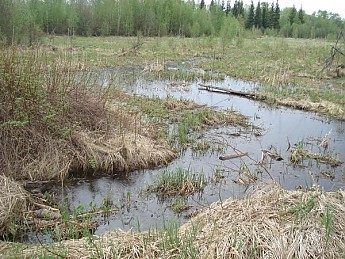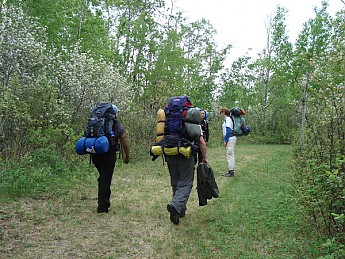 We made it to the first stop in about 3 1/2 hours, allowing time for a snack break and a moderate, relaxed pace. Lesson learned - backpacking is more about pacing than speed. For myself and the other three more experienced hikers, it was a pleasant walk, but the tall woman began complaining about her sore feet on the last long downslope. 

We stopped at the shelter and set up camp...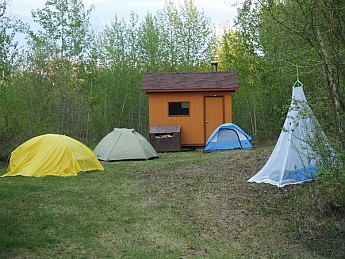 then I sat down to figure out what the problem was.
First her boots: when I got them off, I discovered that her toenails were perfectly manicured, and WAY too long. They were banging into the toes of her boots. Cute, but not very efficient. She had also layered up in two pairs of heavy wool socks. 
I loaned her a pair of thinner merino wool socks and handed her a pair of nail clippers. I have to pin the blame on the salesman - while Salomon Quest 4D are the epitome of out-of-the-box comfort, he'd simply sized her boots improperly. 
We cooked dinner and relaxed. then bunked down for the night. 
The next morning was still overcast, and there had been a few light showers overnight. The people in tents were fine, but the Belgian in his mosquito net had done some scrambling to drape a tarp over it. The rest of us just took our tents down from the inside and packed up. 
A new complaint from the tall woman; her boots were still too tight and she was having a hard time getting them on comfortably, even with shorter toenails and thinner socks. We'd shared some of our food with her the evening before, but apparently, all the salt in the beef jerky she'd been eating was making her swell up. She was also tired: not used to sleeping outdoors, every little noise had woken her up. 
Back on the trail, with more sights to see and places to go.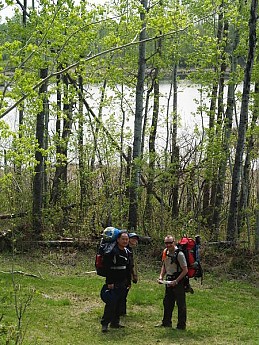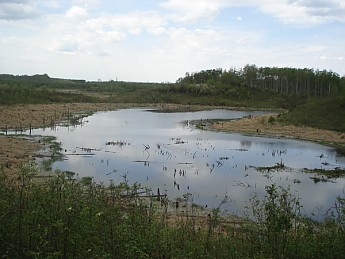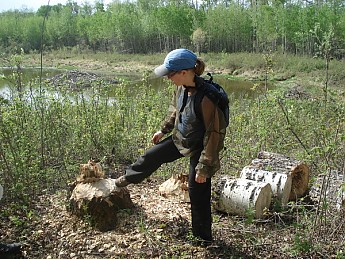 Complaints all the way, mainly directed at the salesman at the camping store, and vows to return all the equipment. Fortunately, our route to the next site included a return trail part of the way back to the TH. While I'm not in the habit of abandoning people, at the trail junction I suggested she return to the parking lot instead of completing the hike. That was what she wanted, and  she was ready to go as soon as we'd talked. She'd been sharing a tent with the Dutch girl, so we had to shuffle sleeping arrangements, but I made sure she had a map and a cell phone, and she headed home. 

Peace!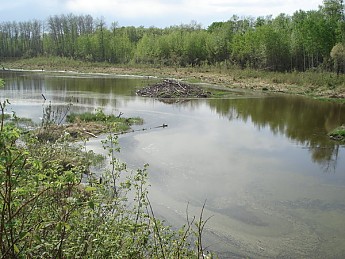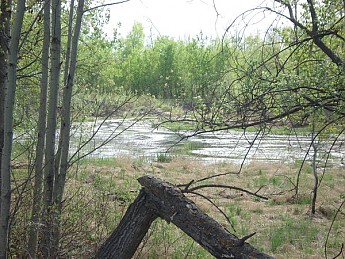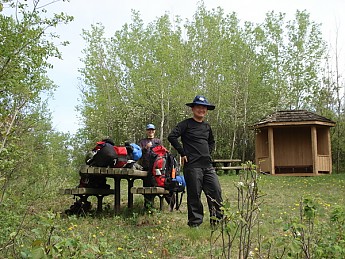 The next campsite was about 15 km away, but we had a whole day to do it in. Nothing to it!

We settled in, making camp and cooking dinner.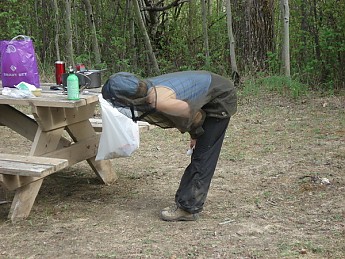 It was still early, so after dinner we decided to go for a walk. We were camped at Lost Lake, but had access to Islet Lake as well. Evening is the best time to see beavers, and waterfowl return to their lakes and ponds.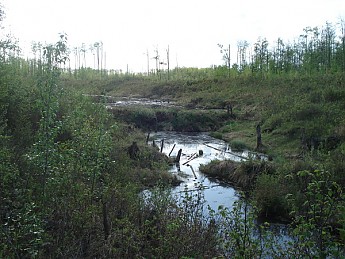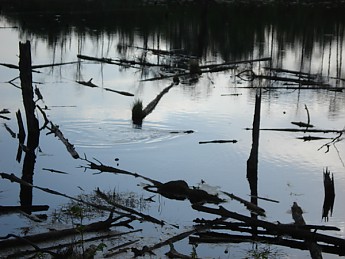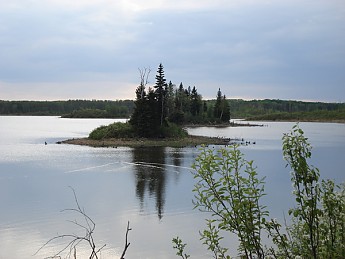 The next morning, we messed around a bit by Lost Lake, then headed back.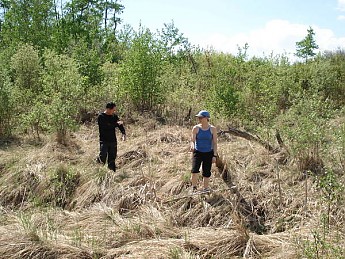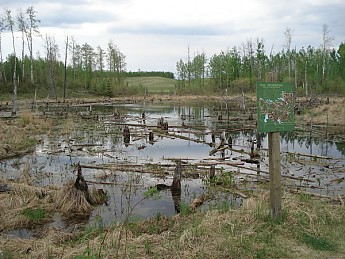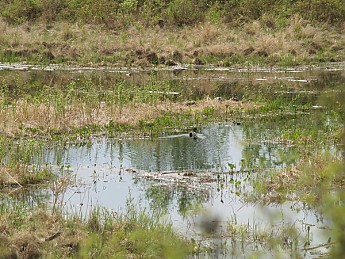 All in all, a nice weekend (once we sent the badly-prepared woman home) and everyone learned a lot. I found it interesting that the old Belgian was game for more backpacking trips, but the Dutch girl, a runner, swore she'd never do it again.